multimedia
Improve the quality of your sound files with audio denoise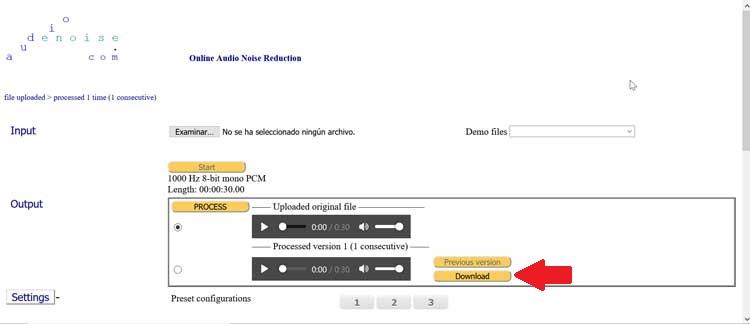 Currently, the demand for high-quality audiovisual products is increasing and to achieve this we must use the appropriate programs. The treatment of audio files is something that is carried out more and more frequently, whether for personal or professional use. One of the problems we don't find when recording audio is annoying background noise. To solve it we can use an online tool like Audio Denoise .
When recording our audio files it is important to take a series of preventive measures to improve their quality, how to avoid external noises . Fortunately, the software related to audio file retouching has advanced very quickly, so it is not necessary to have to use complicated tools to be able to edit them.
Either by files that we grade by us or by audio files that we have downloaded like this from the Internet and that contain background noise that has managed to frustrate us on more than one occasion, you should know that it is possible to eliminate it easily. To solve this problem or simply improve the voices we can use a program like Audio Denoise, which we will talk about below.
Audio Denoise helps you improve the quality of your audio files
Audio Denoise is a web application that we can access from our favorite Internet browser with which we can eliminate background noise from recordings and audio files . Therefore, it will not be necessary to download any type of software to our computer. This application works in the Cloud and has been created to clean and improve all types of audio files, from the most homemade to the most professional.
The best thing about this online application is that it is 100% free and that it does not require any type of registration, so to be able to use it it will be enough to access its website . This application can be used by both novice and professional users. This is possible because it has a simple user interface, although in English, and with a good number of customizable controls that will help us to get a good job with our audios.
Tool adapted for novice and expert users
If we are novice users of audio editing, we will not need much technical knowledge. To obtain a good result, we just have to load the file using the button «Select file» and then click on «Start». In this way, the program will take care of everything else by performing the process automatically. It will be in charge of taking a sample of the noise without another sound to make and check the map of the frequencies that compose it in order to attenuate it.
But we are not always going to get the best results the first time. In case of having a little more knowledge in the matter, Audio Denoise has the necessary parameters to adjust the audio file to our needs.
In this case we find some parameters that will help us to control the noise reduction with a little practice. In this way we can control the type of noise model by means of adapted distribution, mean or autoregressive model. Depending on the type of noise we choose, the values ​​of other characteristics such as the amount of noise reduction, the tracking of the noise modulation, the complexity of the noise model or the smoothing will be modified . Additionally, these values ​​can also be varied manually.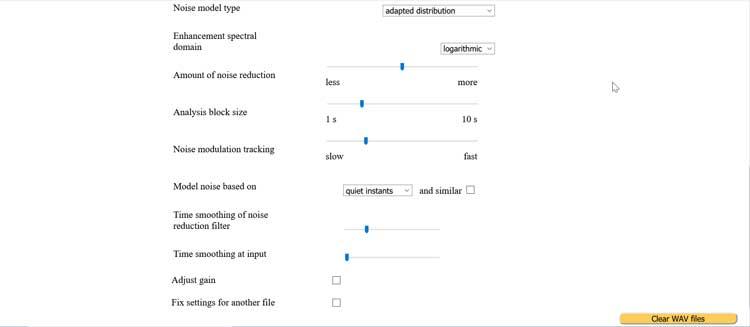 The application shows us a box where we can listen to both the original audio and the resulting audio. From here, after the different modifications that we make, we can compare the variations and check if we obtain the desired result. Once finished, we press the «Download» button to download the file with all the variations obtained.
Disadvantages presented by Audio Deniose
Many are the advantages that we can find when using this program that we are talking about. This is especially evident in the case that we have the habit of working with audio files, whether for personal, leisure, or professional issues. However, first of all we will tell you that the user interface at first may seem a bit confusing, at least until we get used to it. At the same time, it can give us the impression that it is somewhat outdated, although it is no less functional for that.
On the other hand , and even more important, it is that we must bear in mind that for the moment, this application of which we speak is only compatible with the format WAV . Contrary to what happens with other programs of this type, here we can only work with a specific file format. That is why, as you can imagine, if we have files in other formats such as MP3 or AAC, we must convert them previously. But hey, at the same time we find a multitude of simple applications, and even online platforms, that solve this little problem for us in a matter of a few seconds.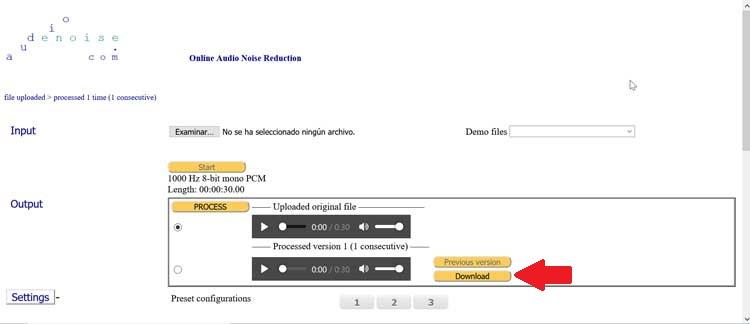 Alternatives to Audio Denoise
If we are looking for a tool with which to eliminate ambient noise from our audio files, we propose a couple of alternatives to Audio Denoise that you should take into account:
Audacity
It is a very popular digital sound recording and audio editing software as it is completely free. It has a large number of editing tools for our audio files. One of these functions is the possibility of eliminating annoying ambient noise from any audio file in a simple way and in a few steps. Audacity is cross-platform, so it can be used on Windows, Linux or macOS computers. We can download it for free from their website.
Adobe Audition
We are facing a professional audio editing and post production tool that will turn our computer into a multitrack recording studio. This program offers many advantages when it comes to improving the quality of an audio, allowing us to quickly eliminate noise of variable bandwidth such as background sounds, murmurs and wind. We can test Adobe Audition for free by downloading its seven-day trial version from its website. To be able to use it permanently, it is necessary to pay for your license that we can acquire from 24.19 euros per month.