multimedia
Gimp keyboard shortcuts you should know to better edit your photos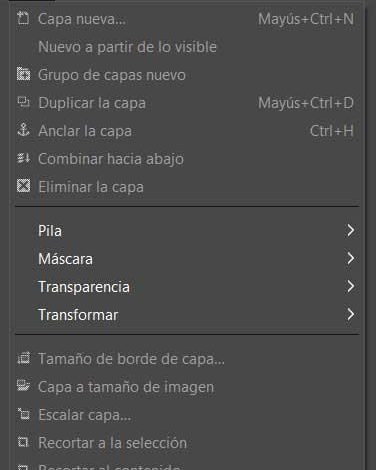 GIMP is one of the most powerful photo editing related programs out there today. In fact, we can find a somewhat more professional proposal, but for a fee, as with the popular Photoshop . In fact, for a multitude of habitual users of photographic retouching, both proposals are comparable in a multitude of functions, both basic and more advanced.
However, as we tell you , the open source project, GIMP, is capable of meeting the needs of most users. It puts at our disposal functions of all kinds, from the most basic, to some very complex and professional. That is why over the years it has become one of the most popular and used proposals of this type around the world.
To all this we have to add the fact that thanks to the developers working on this project, GIMP has not stopped evolving and improving over time. How could it be otherwise this is achieved thanks to the updates that the program receives from time to time. But of course, how could it be otherwise, users try to get the most out of the program at all times, either in one way or another.
It must be taken into consideration that when we talk about image editors today, we are referring to one of the most used programs. They do not have to be of the complexity of this proposal, there are much simpler and more affordable, but most users use them. This, for example, allows them to adapt their own photos before sharing them on social networks, or sending them by mail to other users.
Take advantage of GIMP and edit photos more effectively
That is why in these lines we are going to show you how to work with this software in a more effective and fast way. This is something that we are going to achieve thanks to the keyboard shortcuts that most current applications implement . Thus, once we get used to its use, we will save a good amount of time and effort in our photo editing work.
It is important to know that these types of keyboard shortcuts that we are going to talk about are not exclusive to this powerful photo editor. In fact, most of the programs that we use on a day-to-day basis, have these types of elements in order to try to facilitate our work with them. Furthermore, some of the combinations that we will show you here are equivalent to those of other Windows programs , but the most important ones are exclusive to each software solution.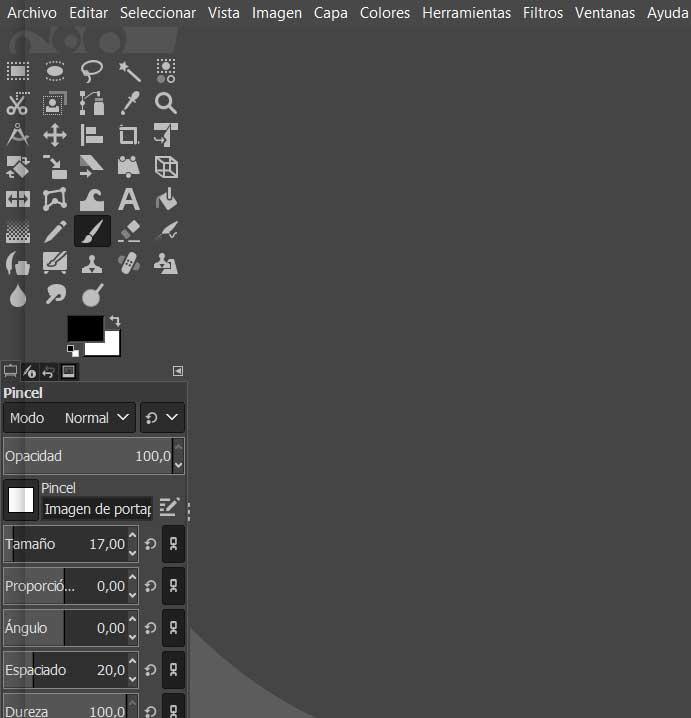 Keyboard shortcuts to use GIMP like a pro
Therefore, we have made a selection for you with the keyboard shortcuts that will be most useful for you and that we show you here.
Menu file
New image: Ctrl + N
Open image: Ctrl + O
Open image as new layer: Ctrl + Alt + O
Duplicate image: Ctrl + D
Save image: Ctrl + S
Save as: Shift + Ctrl + S
Exit: Ctrl + Q
Open recent image 1: Ctrl + 1
Open recent image 2: Ctrl + 2
GIMP Features
Rectangle selection : R
Select on ellipse: E
Free selection: F
Magic wand : U
Scissors: I
Dropper: O
Move: M
Cut and resize: Shift + C
Rotate: Shift + R
Scalar: Shift + T
Tilt: Shift + S
Text: T
Fill: Shift + B
Mix: L
Pencil : N
Brush : P
Eraser: Shift + E
Airbrush: A
Clone: ​​C
Edit menu
Undo: Ctrl + Z
Redo: Ctrl + Y
Copy selection: Ctrl + C
Dimension selection : Ctrl + X
Copy visible: Ctrl + Shift + C
Paste as new layer: Ctrl + Shift + V
Paste to clipboard : Ctrl + V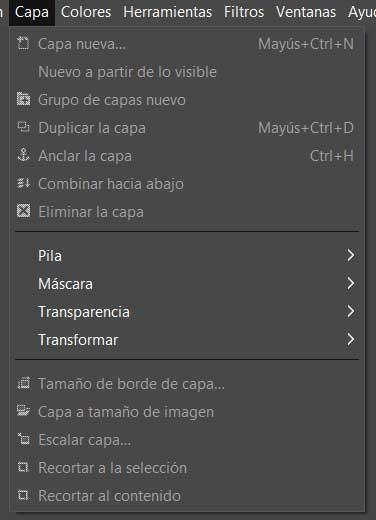 Work with layers
Select layer above: PgUp
Select layer below: PgDn
Select first layer: Home
Select last layer: End
Merge Visible Layers: Ctrl + M
Make item selections
Toggle selections: Ctrl + T
Select all: Ctrl + A
Deselect: Shift + Ctrl + A
Invert Selection: Ctrl + I
Make selection floating: Shift + Ctrl + L
Select from a path: Shift + V
View menu functions
Main menu: F10
Drop-down menu: Shift + F10
Full screen: F11
Quick mask: Shift + Q
Close document window: Ctrl + W
Zoom +: Ctrl + mouse wheel
Zoom -: Ctrl + mouse wheel
GIMP Dialog Boxes
Layers: Ctrl + L
Brushes: Shift + Ctrl + B
Patterns: Shift + Ctrl + P
Gradients: Ctrl + G
Tool Options: Shift + Ctrl + T
Palettes: Ctrl + P
Window information: Shift + Ctrl + I
Navigation window: Shift + Ctrl + N
Close window: Alt + F4
Jump to next control: Tab
Salt to previous control: Shift + Tab
Enter a new value: Enter
Activate current button or control: Space
Switch tabs: Ctrl + Alt + PgUp
Open location: Shift + L
Upload folder: Alt + up
Download folder: Alt + down
Home folder: Alt + Home
Close dialog: Esc
It is true that the number of proposals in this regard are more than we might suppose. But yes, it is not necessary that we memorize all of them, but that we get used, little by little, to using those key combinations that interest us the most. And we must bear in mind that in this case we are facing a free program that many compare with the powerful Adobe Photoshop. That is why its use is not easy if we want to enter and make the most of its functionalities.
In fact, this is something that is extended to most of the applications that we use daily at the moment. Therefore, it is recommended that we try to get used to using the most common functions in this way through these keyboard shortcuts .