multimedia
Erase any annoying element from a photo with the help of inpaint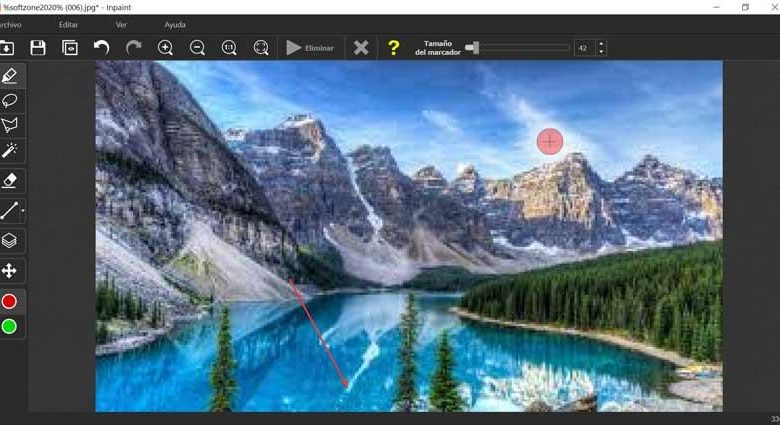 Since the advent of digital photography, its use has been growing among users. Either with a compact camera or our mobile phone, taking photos and then uploading them to our computer is quite common. One of the problems that we run into when taking photographs is the presence of unwanted people or objects in them, which ends up spoiling the final result. In order to eliminate it, we can use a program like InPaint .
Possibly the best known editing program for removing unwanted objects from photos is Photoshop. However, the popular Adobe application is not suitable for all users, as it requires prior editing knowledge. So, as an alternative, we are going to talk about an application like Inpaint that will help us with this task quickly and easily, making it ideal for all types of users, even those who do not have any previous experience.
Inpaint, remove objects as if by magic
Inpaint is a program compatible with Windows and macOS that is responsible for performing basic photo editing tasks . Its operation is simple but very effective, being aimed at beginner designers, web developers and home users. Thanks to it, we can eliminate unwanted objects from our photos without the need for any special knowledge of photographic editing.
This photo editing program has simplified tools with which to obtain good results, including a tool similar to the Healing Brush found in Photoshop with the content recognition mode activated. Like the Healing Brush, the tool attempts to replace any bad or damaged texture with a good texture from another area to create a perfect repair to an image. That is, to eliminate the object, fill the gap left by it with a similar texture, without noticing what was there.
Inpaint main features
Remove unwanted objects from an image.
Perform facial retouching.
Repair old photos.
Arbitrary merging of multiple images into one.
Cloning objects.
Restore empty areas in panoramic photos.
Use Inpaint without having knowledge of photography
Once we run the application we find its main menu with a simple interface and in Spanish. At the top we find the "File", "View", "Edit" and "Help" tabs, as well as tools such as Open, Save, Undo, Redo, Zoom in, Zoom out, Adjust zoom, Delete and Delete selection. To insert an image, simply click on the "Add" button and select the desired image.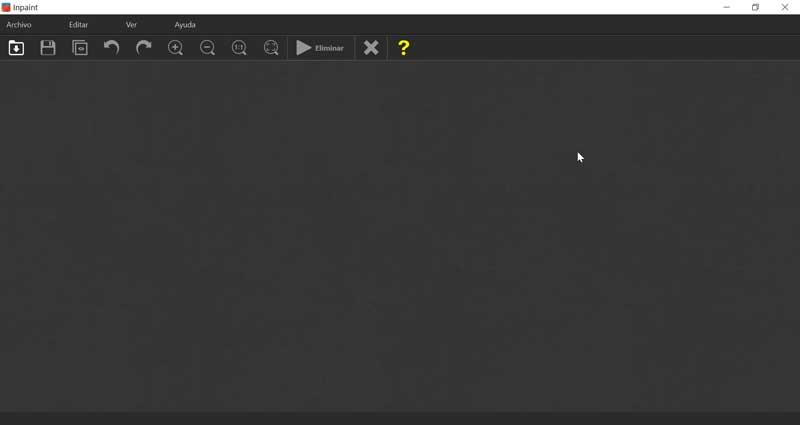 Once we have added our photo, in the left column there is another toolbar in which it is included with its main functions. Here we find tools such as the Marker, Lasso, Polygonal Lasso, Magic Wand, Eraser, Guide lines, Multi window, Move images and Mask.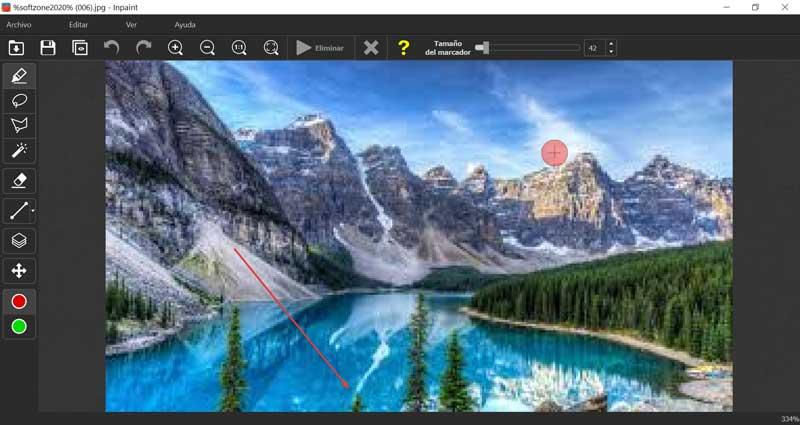 Deleting any unwanted elements from the photo is a fairly straightforward process. We will only have to select the area that we want to erase which will be shaded in red. We can configure its size from the "Marker size" section in the upper right part and use the elements in the left column to delimit the area we want to eliminate.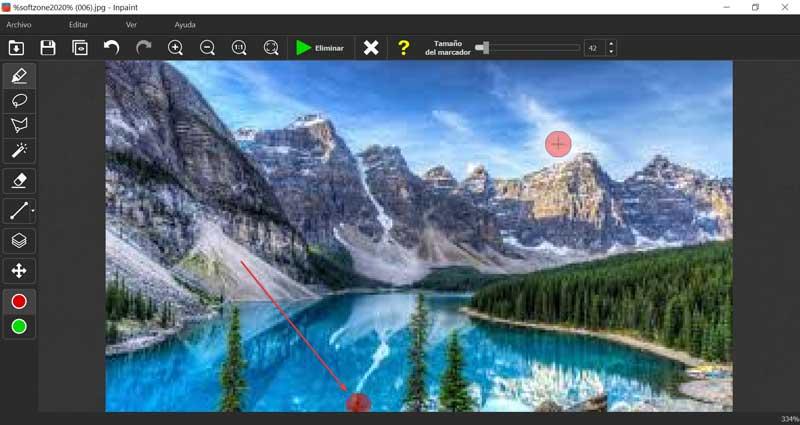 Once done, we will click on the "Delete" button in the shape of a green triangle and the program will take care of deleting the selected area, incorporating pixels of a similar texture in its place and achieving a satisfactory result in this case.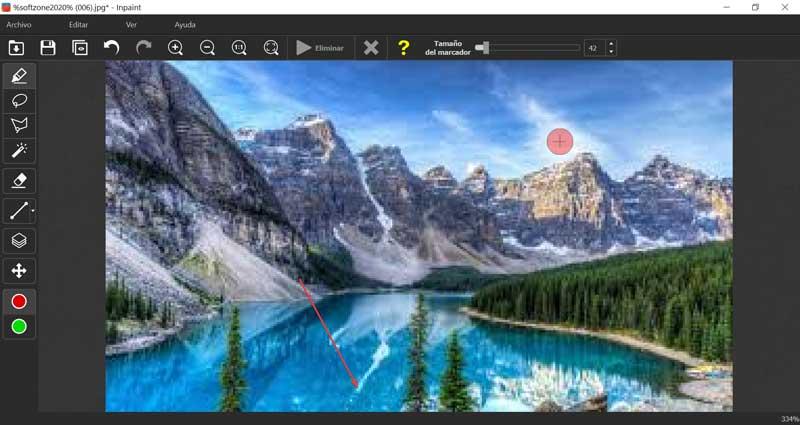 Conclusions
In general, the results offered by Inpaint are good, although everything will depend on the degree of difficulty that we demand from the application, especially with the colors. Since the program takes care of supplanting the selected part with adjacent pixels, the final result will be determined here. It is a good option to eliminate unwanted objects such as logos, watermarks, people, text, etc., as long as they are well defined.
Download Inpaint for free
Inpaint is a program compatible with Windows and macOS that we can download from its website . Despite the fact that the download is free and allows us to carry out the elimination work when saving our results, it will inform us that we can only do it if we register for which we must pay for its license, which has a cost of $ 19.99.
In case we do not want to download any software to our computer, it is also possible to use its online application, compatible with JPG, PNG or WebP formats, with a maximum size of 10Mb and a maximum resolution of 4.2 megapixels. Likewise, when saving the results we must buy credits redeemable for images. For example 1 credit equals 1 image. If we buy 10 credits the price of $ 4.99.
Advantages of using the desktop version
Higher restoration quality with a better painting algorithm.
There are no image count limitations.
No limitations due to image size.
No limitations on file size.
Guide for adjusting the restoration process.
Alternatives to Inpaint
If we are looking for an editing program with which to erase unwanted objects from our photographs, we can find some alternatives to Inpaint such as:
GIMP
It is a free software developed as an alternative to private and commercial software such as Photoshop, so we can do editing without paying a euro. Among its functions is the possibility of eliminating any type of object or person from our photographs. We can download it for free from their  website.
Aporwesoft Watermark Remover
It is a desktop software for Windows that will help us eliminate any unwanted object from photos and videos, such as watermarks, texts, logos, people, etc. We can download this program directly from this link.
LunaPic
It is a web service that has the ability to remove online objects from our photographs, so it is presented as a good option if we do not want to download software on our computer. We can start using LunaPic without registering. Just click on  this link  to access your website and load the desired image