multimedia
Edit your videos quickly and download them in mp4 with movie maker online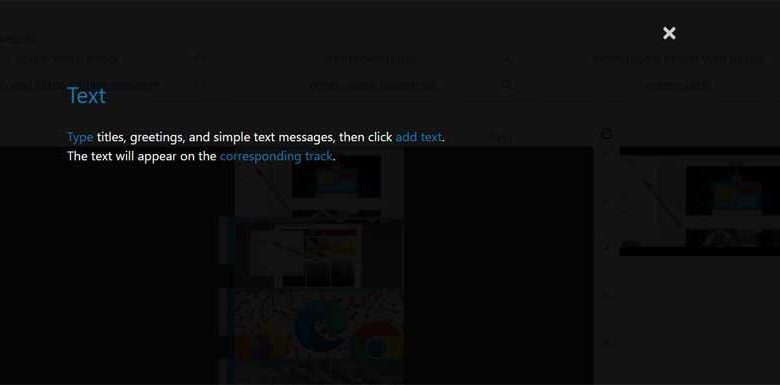 It is very possible that if only a few years ago they had told us what we can do today with a conventional PC in multimedia environments with video editing, we would not have believed it. The truth is that technology has advanced a lot in this regard, as we have seen.
When we talk about multimedia environments, we refer to projects related to photography, video or music files. In fact, in these times, with almost any PC, we can make adjustments to our images, or edit videos without too many complications. It is true that only a few years ago these treatments were limited to a few professionals, but things have changed a lot.
Much of the blame for all this lies with application developers, who are making things easier for us, at least in home environments. To this we must add that many of these tools, working in the cloud, will not require as many computer resources as in the past. This is the case of the solution for home video editing that we are going to talk about in these lines.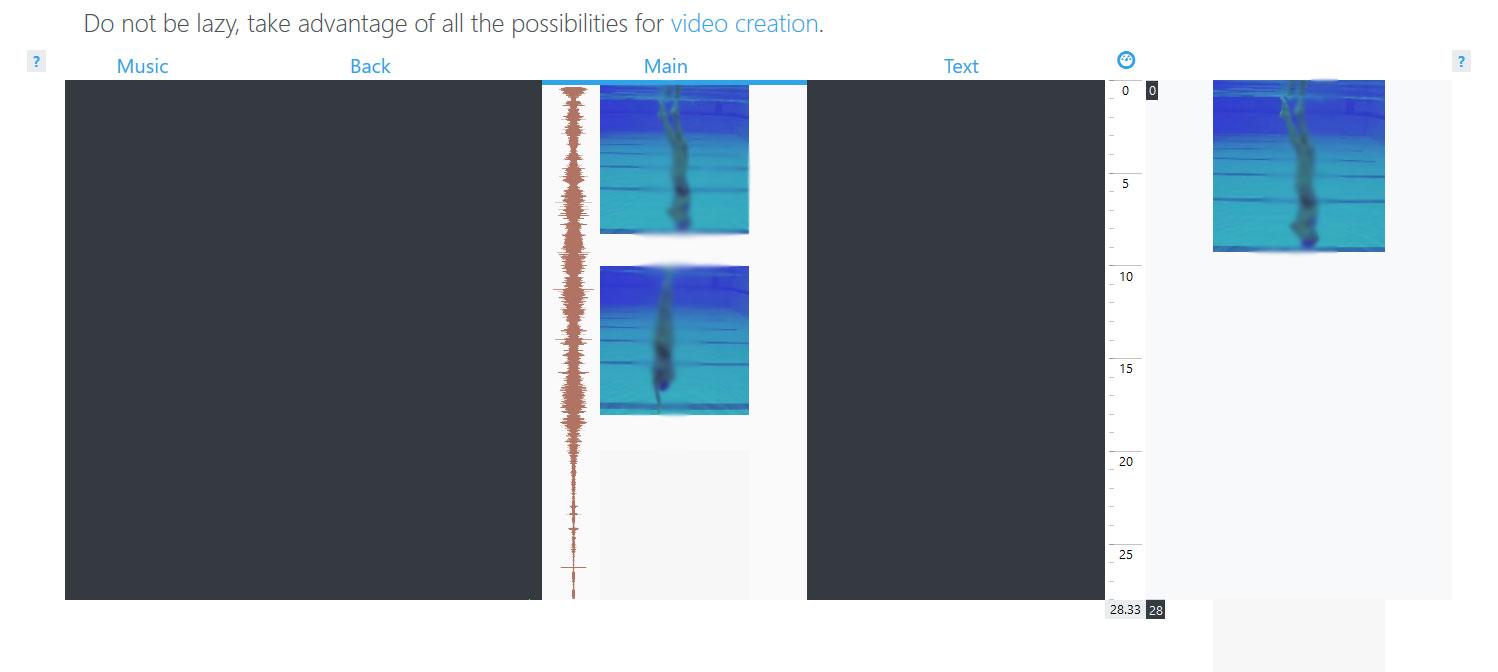 Specifically, it is Movie Maker Online, a simple free proposal that works from the web browser. As we said, it is actually a simple video editor in the form of a web application that will help us "play" with our personal projects. Thus, the first thing we will do is upload the content in question to the platform as such. And it is that the advantages with which the fact of working in the cloud will bring us, are many. On the one hand, in this way we will have the opportunity to save disk space by not installing anything on the PC locally.
In the same way, the performance or power of the equipment we have, will not be so important, since the application as such runs remotely. In short, this is carried out on the servers of the developer of the video platform.
A somewhat confusing, but functional user interface
Also if we take into account that everything related to the edition of these specific contents is sometimes demanding in terms of hardware, it is better to be online. It is true that the initial interface that it presents can be somewhat confusing, but it is enough that we drag the multimedia content to the beginning of it to upload it. The upload process may take a while, everything will depend on the size of the file, so that we can go to the work desk. Say that sometimes, in this type of work especially, we work with somewhat voluminous files. But yes, once loaded in its entirety on the platform servers, we will see that we can edit it in a more fluid way.
One of the strengths of the web application is that it offers us the possibility of working with various additional elements to the video . So we can add elements such as texts, music, transitions, etc. We see all this cataloged in the different sections that make up the main interface of the platform. Of course, it may take us a bit to get used to how the timeline works in this case.
We tell you this because we are used to it being horizontal, however in this case its operation is horizontal, which can be a bit curious. The rest of the components and behaviors are more or less the same as other proposals. To the timeline to which the video has already been added, we add the components and modifications that we want.
Thus, on the left we see that we can add music that we select from our disk drives, or on the right we can integrate personalized texts . However, at the same time, we recommend you scroll down the screen to see the rest of the available functions. Here we will see a good number of options to apply to the videos that we can retouch so that it adapts to our needs. We can also add new video components to the project to work with all of them together.
Additional elements that we can use to create a video
As we mentioned before, the use of this specific program may seem somewhat confusing and complex, at least at first. But the truth is that as we work on projects from here, little by little we get used to it. Thus, once we have taken control of a good part of the web application, we can take advantage of it in a more effective way.
In fact, we will soon realize the possibilities we have from here. This is largely due to the additional elements that we can use in Movie Maker Onlineto carry out our projects. Thus, so that the video content is as complete as possible, we have the possibility of adding personalized texts to it. To do this, we just have to click on the link called Text in the main interface. In addition, it will be completely customizable, both in content and in appearance. In fact, we can even specify the time that it must be visible on the screen. You have to know that in this type of program, although they focus on video, other elements are of enormous importance. Here we can include objects such as still images or texts that we include here.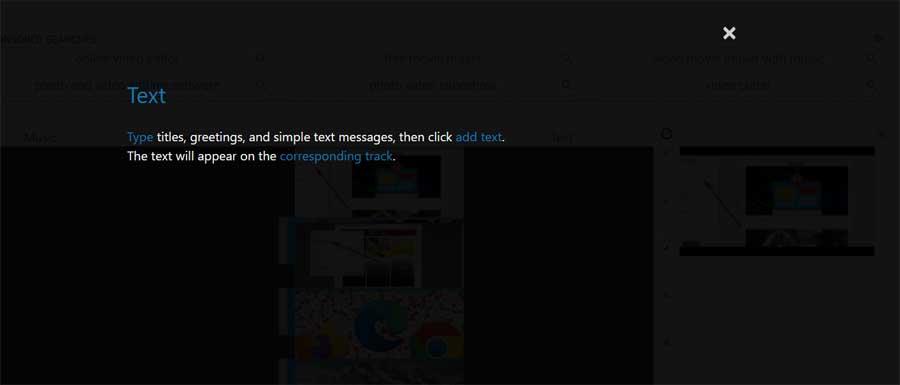 But that is not all that we can add in an equally simple way, but as we mentioned before, we can add photos and even a soundtrack. In addition, as with the aforementioned case, we can customize these in a fairly deep way.
Therefore, we could say that this is a good proposal for those who, for free and online, wish to enter the world of video editing . What's more, since you don't need to install anything on the computer, the process and work will be faster than usual.
Other tools available in Movie Maker Online
How could it be otherwise, this online software that we have told you about, has a good number of tools that will be very helpful. All of them focus on improving our video projects and we can use them if we wish. In fact, most of them are those that we find in a conventional way in other installable programs of this same type.
Enter some of the most outstanding here, it is worth mentioning a multitude of transitions that we can use in our videos to go from one scene to another. At the same time we have several predefined filters with which we achieve much more striking and spectacular results. What's more, these are elements that in many occasions could be considered key in the video editing sector. Thanks to these transitions we achieve spectacular results in the passage from one clip to another. And the same can be said of the filters that the program makes available to us. All this in order to facilitate our work to a great extent, but with minimal effort on our part.
We will also have the possibility to play with the speed of certain sections of the project, rotate it, convert it to grayscale, or cut certain parts that we do not need. We have already told you before about the powerful tools to add text elements, to which we add the power to make the spectacular mirror effect in our video works. Therefore, now we only have to try all this first-hand.
And it is that as it happens with this type of programs, both photo and video editing, a good part of what we will achieve will be given by experience. As we use the video platform that we have talked about, the better results we will obtain. It's all a matter of trying all the features presented here to get the results we're really looking for.