multimedia
Edit videos on windows with these open source programs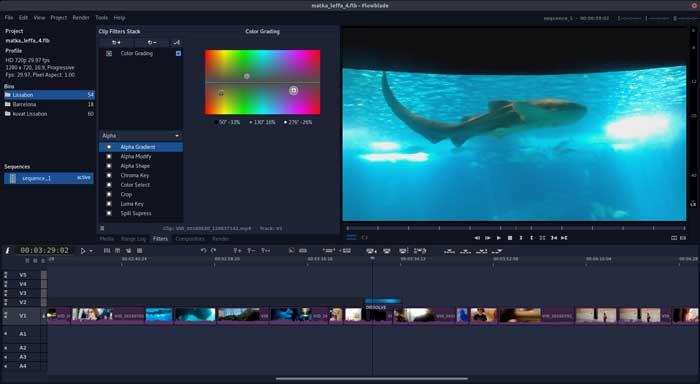 On some occasions we may have needed to edit video files and we have found that the most popular programs are paid. If the use we are going to do is sporadic, it may not be worth paying for it. In this way, we can use open source software to edit videos . To help you find the right one, today we propose the best options for all types of users.
Open source video editing programs may not have as many features as we can find in professional paid versions. However, this does not mean that they cannot be good options for both basic and advanced edits. Whether we are looking for an editor to cut a video or to make a more complete edition, surely some of these open source video editors can help you.
Open source video editing programs for Windows
If we use Windows as the operating system, we have at our disposal a good variety of free and open source applications available with which we can edit our videos.
OpenShot, professional editing software
It is a professional software with which it is possible to modify videos up to 5K resolutions, allowing us to create quality compositions. The program supports a wide range of image, audio and video formats (MPEG-1, MPEG-2, MPEG-4, x264, Cinepack, WebM, Sorenson codec, H.261, H.263, H.264). The application will allow us to cut files at any time and introduce all kinds of effects, transitions and 3D animations to customize it to our liking and to improve the final result.
OpenShot is an open source, free and multiplatform program that we can download from its website .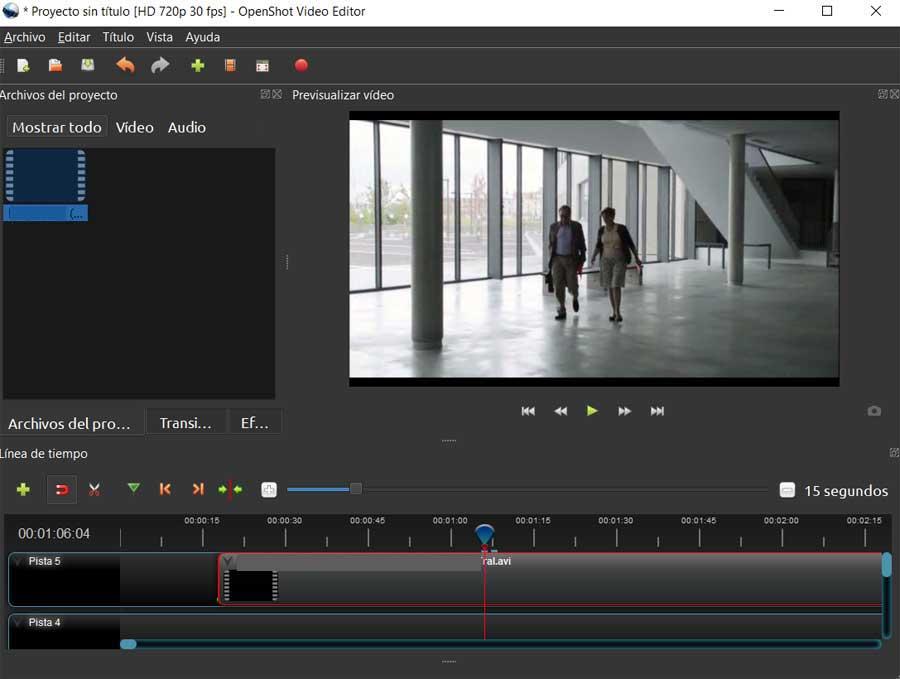 Kdenlive, specialist in video montages and editing
This application is designed to make montages and edit videos. It responds in the most demanding way to all types of montages and editing, starting from a basic level up to the most elaborate and professional projects. Kdenlive will not allow you to handle any audio or video format, without having to convert or re-encode them. We also have a wide variety of effects and transitions, as well as a large number of tools with which to create 2D titles.
Kdenlive is an open source program that we can download for free from the developer's website.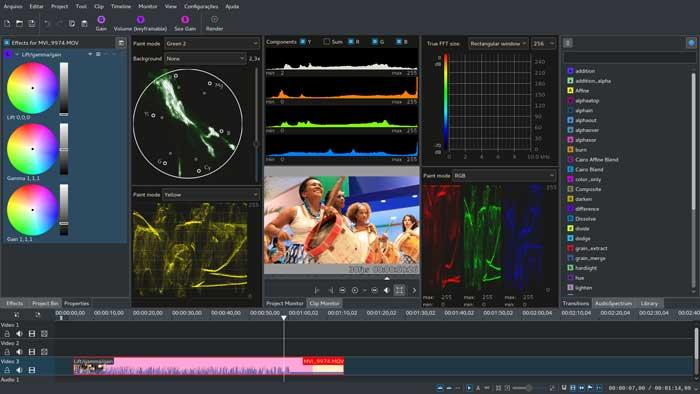 Avidemux, ideal for simple tasks
In this case we are facing a video editing program specially designed to perform simple tasks, such as cutting, filtering and encoding, far from the great tools of other programs that are much more complex and full of options. It supports a large number of file formats, including AVI and MPEG. In addition, it is compatible with DVD, MP4 and ASF, using a wide variety of codecs. It also includes the possibility of correcting the desynchronization between audio and video, as well as correcting the image and adding filters, more than enough functions for a good number of users.
Avidemux is an open source, free and multiplatform tool that we can download for free from its website .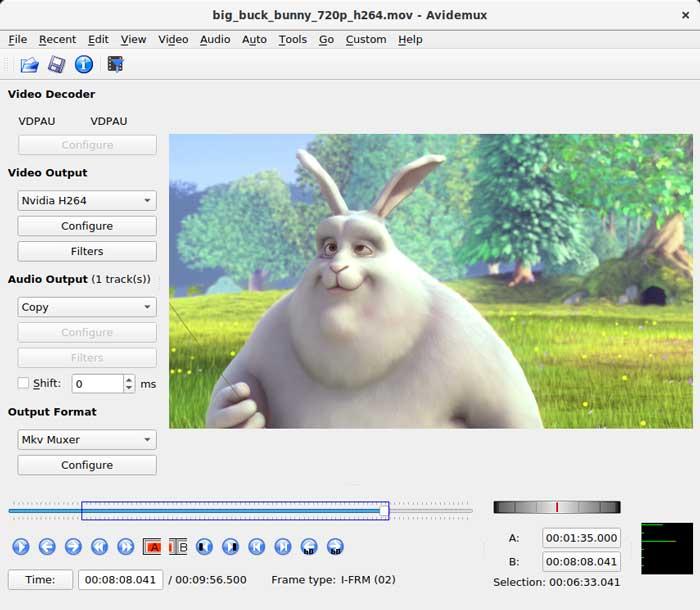 Shotcut, allows you to edit videos up to 4K
This is a powerful video editing tool that has compatibility with the most popular video, audio and image formats. With it we can mix fragments between files and mix or combine both the resolution and the frame rate of the video, being able to work in resolutions up to 4K . It also allows us to add images or music, as well as take screenshots from the webcam. Another very useful function is that it has a history, thanks to which we can use them to check all the changes made and return to a specific point of it in case we need it.
Shotcut is an open source and multiplatform program that we can download for free from its website .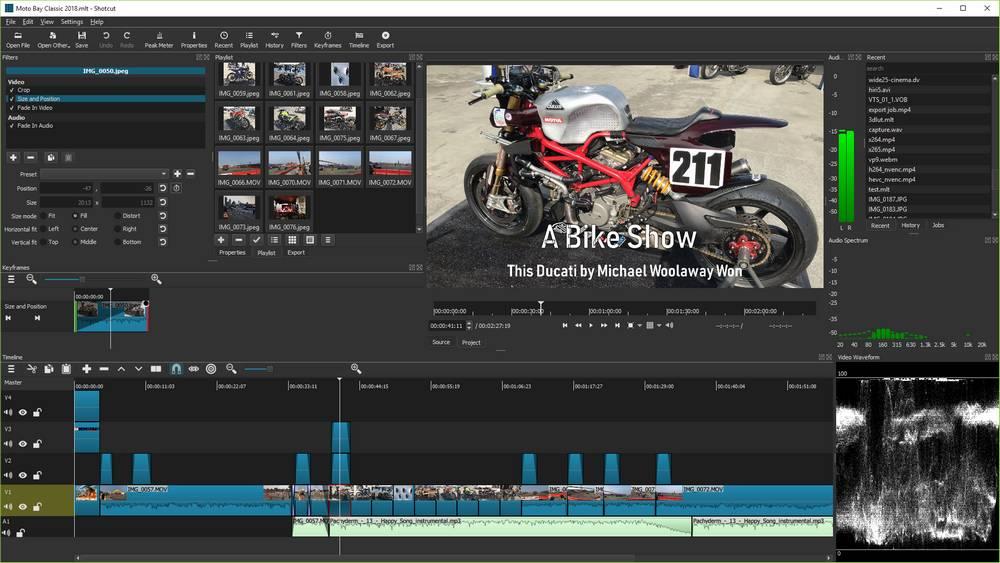 Blender, get professional results
It is a powerful video editing software that has all kinds of tools to achieve a professional result. It has up to 32 slots to add video, images, audio, scenes, skins and effects. It allows to preview and control the speed, as well as to add transitions and keyframes . The application will also allow us to perform basic tasks such as cutting and splicing videos, so that it can be used for any task we need, from the simplest to the most advanced.
Blender is a free and open source multiplatform application that we can download from its website .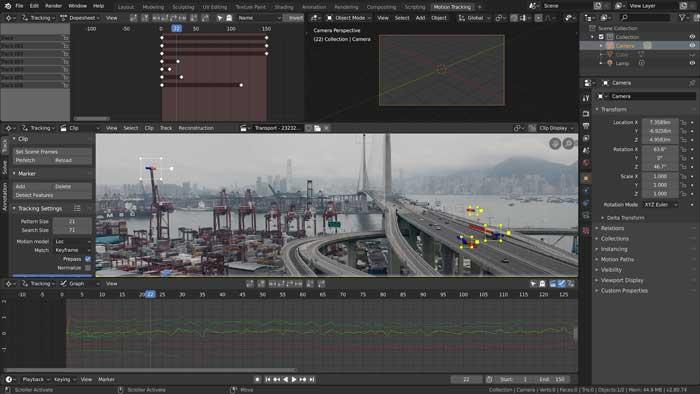 Olive Video Editor, non-linear tool with great functions
This application is a feature-rich non-linear video editor that was created with the goal of providing a free alternative to professional video editing software . At the moment, the project is under development so it is not completely stable, although it is usable and deserves to be taken into account. It features hardware accelerated playback, video and audio effects, as well as a comprehensive set of editing tools. In addition, it has full screen mode and support for Unicode file names.
Olive Video Editor is a free, open source, cross-platform tool that we can test if we download it from the developer's website .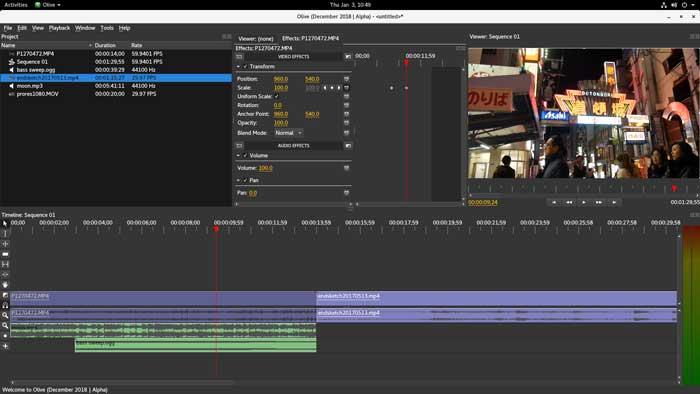 Lightworks, aimed at very advanced users
We are talking about a professional video editor aimed especially for users with very advanced knowledge, which will allow us to master clips and video montages in various formats. This software not only offers us integrated tools for editing but also incorporates intelligent file management options. In this way, we can import videos and store them in collections and containers. It has all the basic assembly functions such as replacing video clips or differentiating parts by colors. It also has layers, filters, color correctors, and effects for professional results. This editor has the possibility of synchronizing multimedia files, adding videos, audio and images, as well as modifying the speed options.
We can download Lighworks from this link.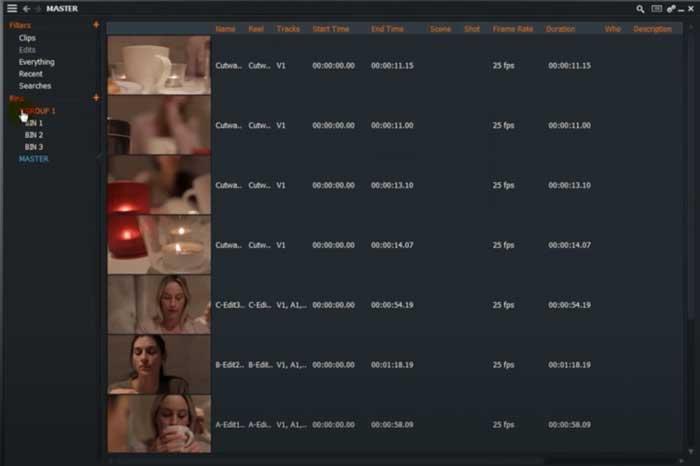 Open source video editing software for Linux
If we choose to use some of the Linux distributions to edit videos, we will also have different open source options with which we can obtain excellent results. And it is not because they are free, we are going to stop obtaining software with good quality and suitable for all types of users.
Pitivi, complete editor with more than 70 transitions
It is a non-linear video editor that is compatible with OGG Video, WebM, and a wide variety of formats. It has a user interface integrated with Gnome for the interface to be as familiar to its users. Just by importing our videos, Pitivi will offer us a wide range of tools, with the possibility of dividing, cutting and grouping all our videos into parts. The application has more than 70 transitions and more than 100 video and audio effects to achieve the best results with our editions.
Pitivi is a video editor published under the LGPL license, which we can download from its website .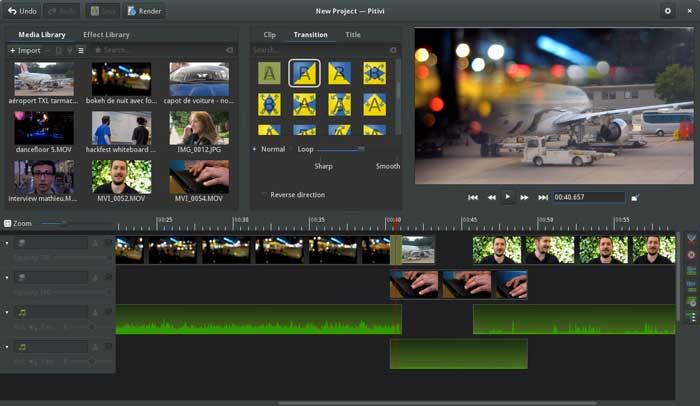 Cinelerra GG Infinity, allows you to edit videos up to 8K
We are facing an 8K video editing tool with which we can handle renderings, composition, motion tracking, among other functions that is constantly updated every month. It has LV2 support and works with multiple cameras. In addition, it has a text editor with which to create titles and texts for our videos. It also has the ability to trim unsightly parts of the video, as well as rearrange sequences, add sequences, and improve visual detail and audio quality.
Cinelerra GG Infinity is designed by professionals, but it can be used by all types of users. If you want to try it, you can download it from its official website .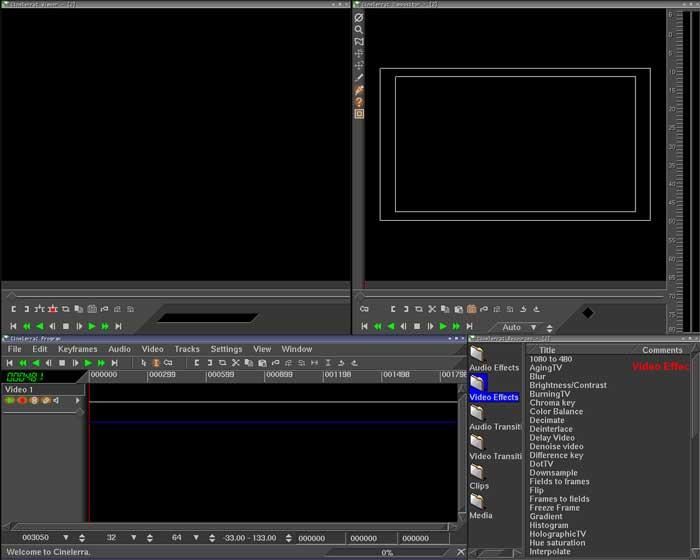 LiVES, video editor with advanced features
It is a video editor, designed to be simple as well as powerful. It has a good number of advanced features and is compatible with the latest free video standards. LiVES combines the performance of real-time editing and non-linear editing to deliver a professional-quality product. With this software we will have all kinds of tools, with the possibility of mixing and changing clips from the keyboard, adding effects in real time. We can also cut and edit our videos by combining them with each other, thanks to the multitrack timeline. For more advanced users, we will have remote control or create scripts to use as a video server.
To test LiVES we will only have to download it completely free from its website .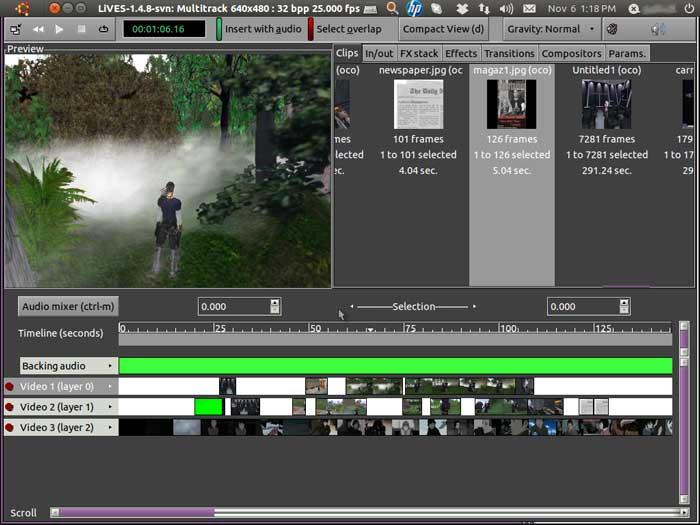 Flowblade, editor optimized for beginners and experts
This is a non-linear and multitrack video editor released under the GPL3 license . It is optimized to be used by beginners to the most expert users. It has compatibility with 146 formats, with 48 codecs for videos, as well as 58 codecs for audios available. It also has tools to combine and mix images and audios, as well as the possibility of adding, moving and trimming our video clips in a simple way. There will be no shortage of drag-and-drop support for videos on the timeline and a large number of image and audio filters.
If we want to try Flowblade, we just have to access its website to download it for free .