multimedia
Edit videos and montage at all levels with pinnacle studio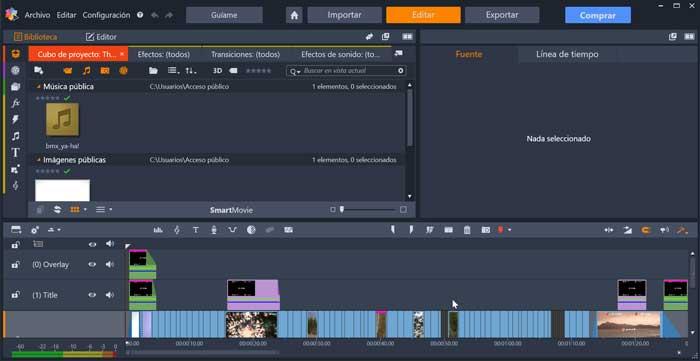 There are many users who, for work, study or simply for hobby, require the ability to edit videos in a professional way to always obtain the best results. To achieve this, we can opt for Pinnacle Studio, one of the most popular video editing tools on the market.
When it comes to video editing work, we may require a professional tool with which to obtain remarkable results at all levels. If we have sufficient knowledge and experience in the matter, there are tools that will help us obtain the best results.
Edit professionally with Pinnacle Studio
Pinnacle Studio is a professional program for producing and editing movies with high quality results, as it includes the necessary tools to be able to capture, edit and export videos. It includes support for HD and 3D content and to be able to make our montages adding all kinds of transitions, preview the results and save everything in the cloud.
This powerful video editor has a simple and intuitive interface, as long as we are not inexperienced in the matter, so that we can carry out the entire process of creating a video in a few simple steps how to capture, edit and record. In addition, we will have a wide library of videos, transitions, real-time effects and multitrack editing, among others.
With this program we can edit HD and 4K video projects in unlimited tracks. We just have to drag and drop the content to the screen or insert the clips in a totally intuitive way with the snap tool to have the best level of precision.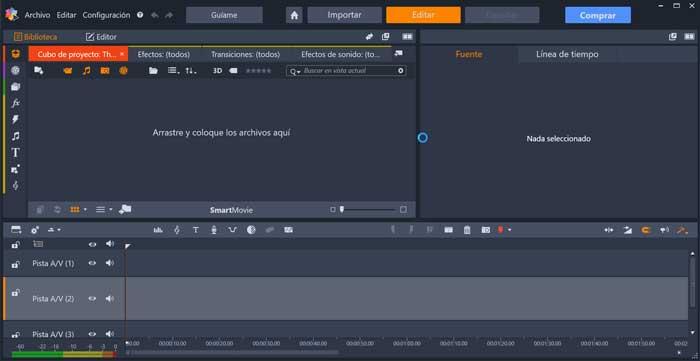 The application comes complete with all kinds of video editing tools . Among them, the full digital grading, video masks, multi-camera editing or green screen effects stand out among many other features.
Edit your videos professionally by overlaying clips, graphics and titles to create the most creative designs. You can also create all kinds of picture-in-picture effects by placing new content on a static object such as a computer screen or a mirror.
To highlight the presence of video masks . A tool with which we can perform all kinds of tasks, such as improving subjects and blurring faces, even eliminating unwanted objects, customizing transitions or effects, or creating clones of subjects.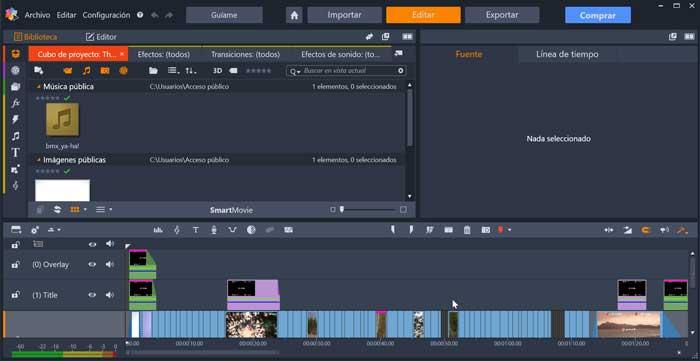 Pinnacle Studio supports the most popular video, image and audio formats.
Supported import formats :
Videos : 3GP, AVCHD, AVI, DIVX, DV, FLV, H.264, MKV, MOV, MPEG1, MPEG2, MPEG4, WMV.
Audio : AAC, AC3, AMR, M4A, MP3, WAV, WMA.
Images : BMP, GIF, J2K, JPG, JPS, PCX, PNG, PSD, TGA, TIF, WMF.
Supported export formats :
Videos : 3GP, AVI, DIVX, DV, FLV, MPEG1, MPEG2, MPEG4, WMV.
Audio : MP2, MP3, MP4, WAV.
Image : BMP, JPEG, TGA, TIF.
Download Pinnacle Studio
Pinnacle Studio is a professional paid video editing program, of which we can download a trial version to test and check all its functions before checking out.
Available versions
When deciding to buy this video editing program, we will have to decide on one of its three versions available depending on our needs.
Studio : it is priced at 54.95 euros . It includes among its functions with more than 1500 effects, titles and templates, the possibility of editing HD videos in 6 tracks, multi-camera screen recording, split screen videos, selective color, Stop Motion animation, as well as training and learning videos.
Studio Plus : it has a cost of 89.95 euros . It includes all the content of the Studio version, along with more than 1800 effects, titles and templates and the possibility of editing HD video on 24 tracks. Plus, it includes clip nesting, animated gifs, three- and four-point editing, keyframe controls, basic digital grading, motion tracking, wide-angle lens correction, and professional-grade audio tools.
Studio Ultimate : is available for 109.95 euros . It includes all the content of the Studio Plus version along with more than 2000 effects, titles and templates and the possibility of editing video in HD and 4K in unlimited tracks. In addition, it includes video masks, selective vectorscope, alpha channel export, NewBlue Audio Essentials, 360º video editing, keyframes for digital grading, split screen video with keyframes, seamless transitions, motion tracking with mosaic blur, as well as more formats and compatibility.
In general, the Studio version should be sufficient for many users. In cases of intensive treatment with 4K or 360-degree videos, we are surely interested in opting for its Ultimate version.
Minimum requirements
The minimum requirements necessary to run a program like Pinnacle Studio are usually quite high. Therefore, it is convenient to take them into account before deciding on your purchase.
Operating System: Windows 10, Windows 8.x, Windows 7 (64-bit only) recommended.
Processor: Intel Core i3 or AMD A4 3.0 GHz or higher. Intel Core i5 or i7 at 1.06 GHz or higher is required for AVCHD and Intel Quick Sync Video support. 4th generation Intel Core i7 or later or AMD Athlon A10 or better for UHD, multi-camera or 360 video
RAM: 4 GB or more (more than 8 GB recommended for UHD, multi-camera, or 360 video).
Graphics card: minimum resolution of 1024 x 768; 256MB of VGA VRAM minimum (512MB or more recommended for hardware decoding acceleration).
Sound card : Windows compatible sound card
Hard disk space: 8 GB of hard disk space for full installation.
Internet connection required for installation, registration, and updates. Registration is required in order to use the product.
Alternatives to Pinnacle Studio
Pinnacle Studio is one of the best programs for professional video editing. But in case you are not convinced, you can opt for some of the following alternatives:
Camtasia Studio
It is a program designed to record everything that happens on the computer screen and edit videos directly on it. We can access their website to download a 30-day trial version from the following link . The cost of the license is 269.05 euros in a single payment.
Adobe Premiere Pro
It is a software oriented to professional video editing, endowed with the best tools for it. You can download a trial version from their website . It has several price plans that can be purchased from 24.19 euros per month.
Final cut pro
It is one of the most popular video editing programs on the market, of which you can download a trial version from its website. It is compatible with Windows and Mac OS computers and can be purchased from 39.99 euros per year.