multimedia
Edit and convert your mp3s to any format with avs audio converter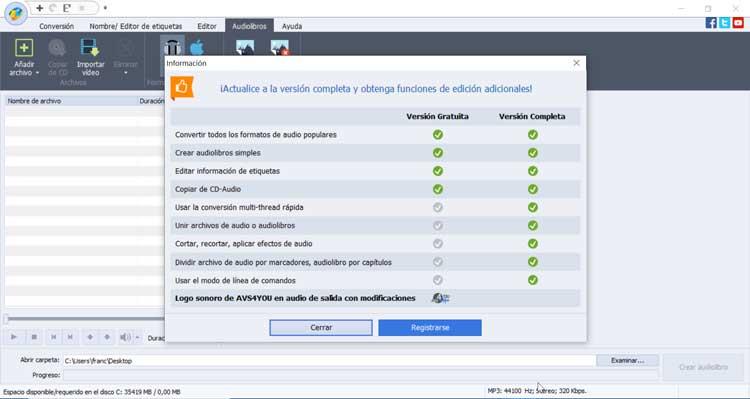 There are many users who love sound who require the need to be able to convert audio files in different formats. Generally, the most used and popular format is MP3, but sometimes we may need to convert our audio files into other different formats. For this we need a program like AVS Audio Converter, which we will talk about below.
Currently there are a large number of audio formats, but only some of them are the most popular and used such as MP3, WAV and OGG, among others. In case our player is not compatible with any of them, we will not be able to reproduce them. Similarly, if we want to transfer our music to our portable player and it does not support the format, we will not be able to listen to them either. That is why the use of an audio converter such as AVS Audio Converter, can be very useful, since we can transfer sound files from one format to another quickly and easily.
No more audio format problems
AVS Audio Converter is an audio file converter aimed at all audiences, from the most advanced to the most inexperienced. It allows the conversion of files of all kinds of formats (MP3, WMA, WAV, etc), being able to handle all APE files and encode them to any supported audio format.
Another utility to highlight is the possibility of exporting the audio of our videos, since it has support for DVD, MPEG, MP4, AVI, DIX, among others. It is also possible to convert our audio tracks into M4B, the format used for audiobooks . We can divide the chapters, add markers and set the sound quality. In addition, it has an integrated editor that allows us to cut and delete parts, join files and apply effects, as well as modify additional text information in our audio files.
Supported formats
Read : MP3, MPEG3, WMA, WAV, M4A, M4B, M4R, AAC, AMR, AWB, OGG, MP1, AC3, MP2, ALAC, FLAC, AIFF, AIF, AIFC, AU, VOX, MPC, MP +, MKA, RAW, PCM, GSM, AVI, IVF, DIV, DIVX, MTV, AMV, MPG, MPEG, MOD, MPE, MVV, M2V, WMV, ASF, DVR-MS, DAT, IFO, VOB, VRO, M2TS, M2T, MTS, TOD, TS, TP, DV, MKV, OGM, OGV, OGA, OGX, RM, RMVB, RAM, IVR, MOV, QT, M4V, MP4, 3GP2, 3GPP, 3GP, 3G2, FLV, SWF, MID, MIDI, KAR, APE, QCP, MPA, RA, SHN, VOC.
Writing : MP3, WMA, WAV, M4A, M4B, M4R, AAC, AMR, AWB, OGG, MP2, ALAC, FLAC.
Main functions of AVS Audio Converter
Once we start the application, its main menu appears completely in Spanish with a very intuitive graphical interface with all its functions organized by tabs at the top. Here we find the options for "Conversion", "Name / Tag Editor", "Editor" and "Audiobooks". To begin we must add a file or import a video. To do this we can drag and drop it or use the plus symbol (+) that we find at the top or use the "Add file" and "Import video" buttons.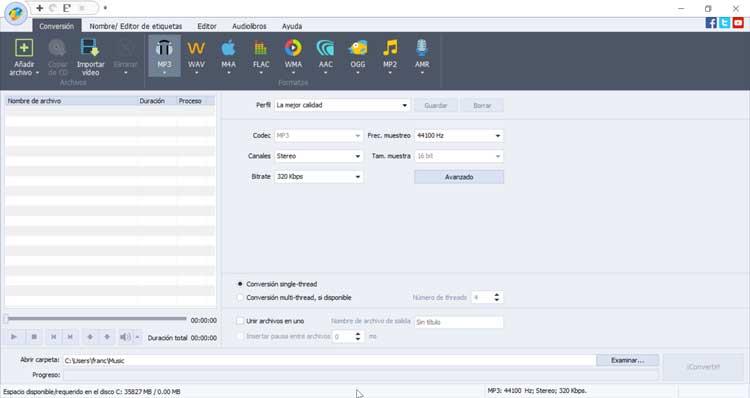 Conversion
Once we have added the file, we can easily convert it to any format from the Conversion section. At the top we can see shortcuts to the most popular formats such as MP3, WAV, M4A, FLAC, WMA, AAC, OGG, MP2 and AMR.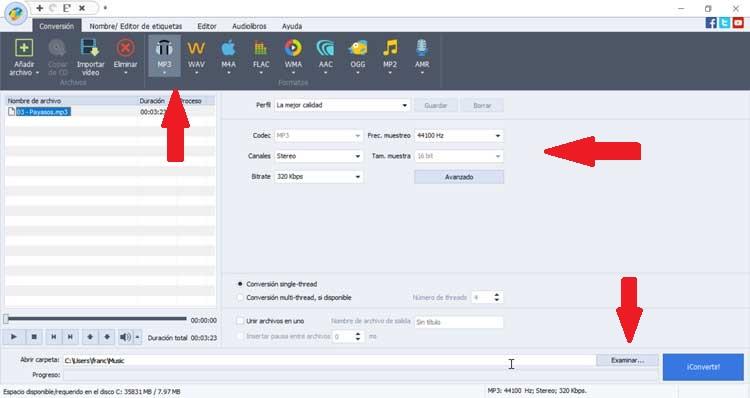 Once the desired format has been selected, we can configure several of its technical sections, such as the profile, codecs, channels, bitrate, sampling frequency and sample size. Once we have configured all the data to our liking, we must select the destination folder where we want our conversion to be saved and, finally, click on the Convert button! In a few seconds we will have our conversion completed.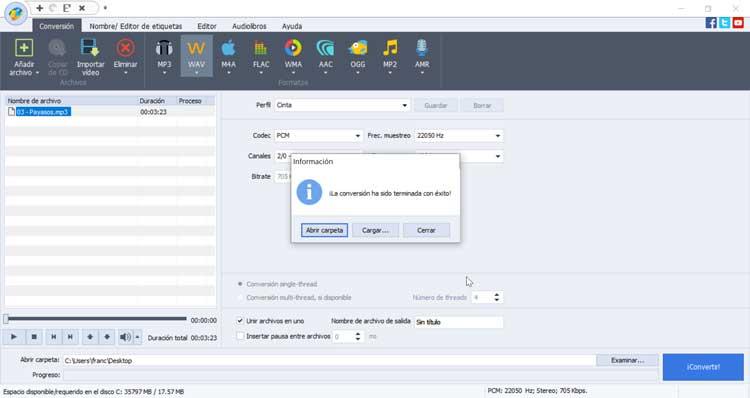 Name / Tag Editor
From this function we will have access to all the information in our files, as well as their labels that we can modify to our liking. Both the track, the title, the artist, album, etc. Once finished, we just have to click on the button «Apply the result». We also have a button to Load image, in case we want to select a thumbnail for our file.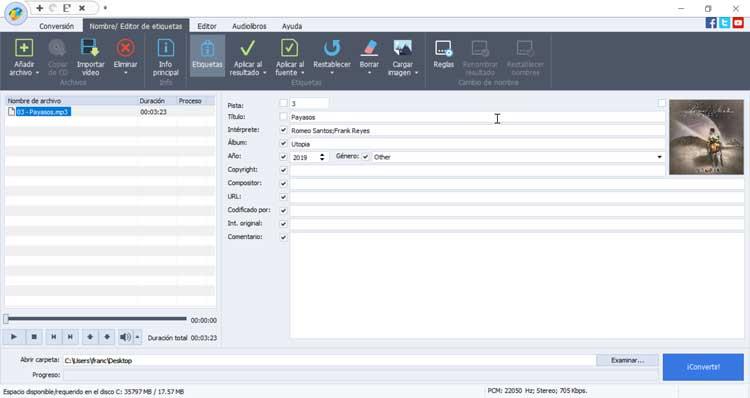 Audiobooks
From this section we can convert our file into an audiobook . The program allows us to put the title, author and interpreter, as well as the year of publication of the book. We can also choose if we want to divide the file by chapters, divide the time and load a cover image. Once finished, we press the "Create audiobook" button and we will have it available in a few seconds.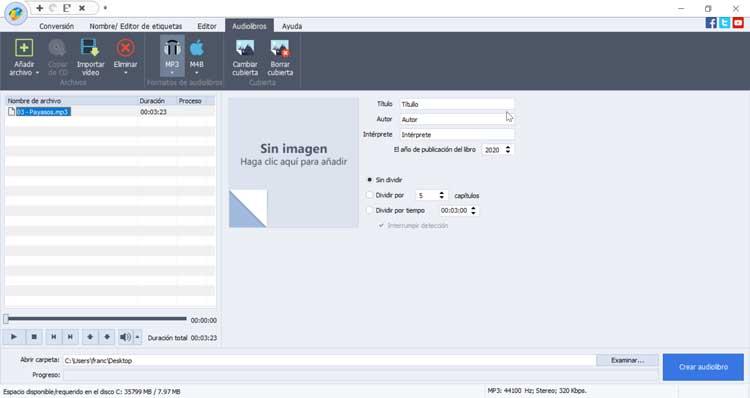 Download AVS Audio Converter
AVS Audio Converter is a free application that we can download directly from its website, being compatible with Windows in all its versions from XP to Windows 10. Its latest version available is 10.0.1.607 and the installation file has a size of 49 MB . The installation is done through its wizard quickly, without at any time trying to get us to install other unwanted third-party programs.
It should be mentioned that not all functions are available in this free version. For this we will have to purchase a pack of 5 AVS product packages, consisting of Video Editor, Video Converter, Video Remaker, Audio Converter and Audio Editor, which has a price of 39 euros for the annual subscription or 49 euros for the unlimited subscription .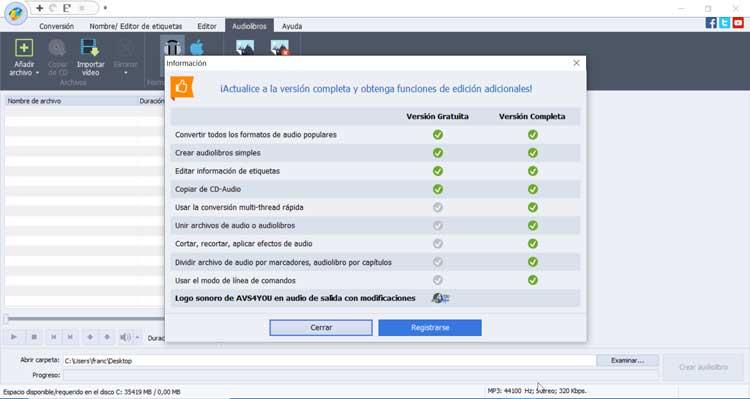 Minimum system requirements
Processor: Intel / AMD or 1.86 GHz equivalent (2.4 GHz or higher recommended).
RAM: 1 GB (2 GB or higher recommended).
Video: Windows 7/8/10 compatible video card.
DirectX: Microsoft DirectX 9.0c or more updated.
Audio: Windows 7/8/10 compatible sound card.
Alternative audio converters
If you are looking for an audio converter to change the format of your sound files, we suggest a couple of alternatives to AVS Audio Converter:
MediaHuman Audio Converter
With this audio conversion program we can easily convert our sound files into different formats. It is compatible with a large number of formats, including AC3, MP2, MP3, WAV, FLAC, among others. It is multiplatform so we can use it on computers with Windows, Mac OS and Linux. MediaHuman Audio Converter is a free application that we can download from its official website.
Freemake Audio Converter
This free tool allows us to convert audio files between different formats. It supports more than 50 formats, including the most popular ones like MP3, WAV, WMA, AAC and FLAC. In the same way, it also allows us to extract the audio from our video files. We can download Freemake Audio Converter from the developer's page .