multimedia
Edit and convert photos between formats for free with reaonverter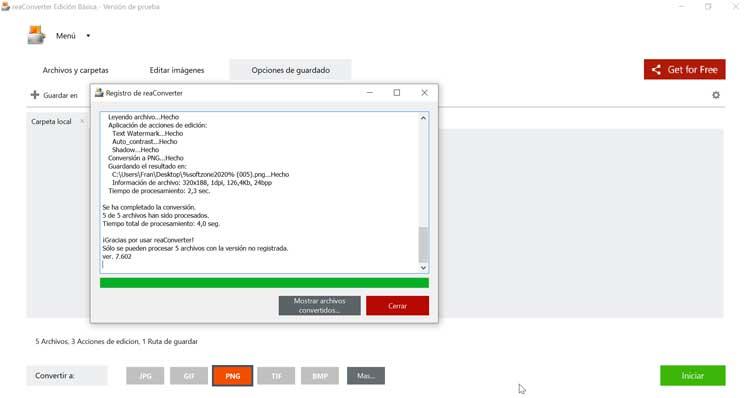 If we are users who work with images on a regular basis, we will know very well that there are different types and formats. JPG is generally the most widely used format, but not the only one. It is likely that at some point we have needed to change the format of a photograph to be able to work with it or view it on another compatible device. For this we can use a program like reaConverter, with which we can convert images, and also do it in batches.
ReaConverter features
reaConverter is a very effective program that enables us to convert a large number of image formats in a single operation, including from the most popular to the most rare and archaic. It has a very intuitive operation which allows us to make repeated image edits in a simple way. With its help we can retouch, transform and apply all kinds of edits and effects to any number of images at the same time.
And we are talking about a super powerful tool with a wide variety of features, so it represents an advanced solution for image processing and adjustment. Therefore, we can have complete and detailed control over our work at all times.
This program stands out for its complete integration with the Windows context menu so that we can manage all operations without having to open the program. It will simply be enough to select the image we want to convert and select if we want to perform a normal conversion or with modifications. It also has an option called Watched Folders, which allows us to perform many repetitive batch image editing tasks.
Supported formats
Read : JPEG, PNG, GIF, TIFF, BMP, PSD, FPX, MIX, PCX, TGA, JXR, WebP, CR2, NEF, ARW, DNG, RAF, PDF, EPS, PS, AI, EPI, SWF, DOC, DOCX, RTF, VSD, VDX, EMF, WMF, DWG, DXF, DGN, DWF, PLT, GBR, GBS, GBL, DRL, DRD, SVG, WPG, PCL, DRW, WMZ, DJVU, STL, 3DS, FBX, GBL, XGL, MS3D, SHP, KML, E00, GPX, GML, TAB …
Writing : JPEG, PNG, GIF, TIFF, BMP, PSD, PCX, JP2, MIX, TGA, JXR, WebP, PDF, EPS, PS, AI, EPI, SWF, EMF, WMF, DWG, DXF, DGN, DWF, PLT, GBR, SVG, WPG, PCL, DRW, MIF, STL …
Convert large number of images quickly
Once we execute reaConverter, its simple main menu appears, with an intuitive interface and completely in Spanish, so it can be used by all types of users regardless of their level of experience. At the top we have the "Files and folders", "Edit images" and "Save options" tabs with which we are going to work.
Add your images
Within the "Files and folders" option we find the "Add files" tab, which we can use both to add files individually and complete folders . In addition, it also allows us to load an image embedded in a text file. Once we have loaded the necessary files we can go to the "Edit images" tab.
Edit them and add effects
From this tab we can perform editing tasks such as resizing, rotating, cropping images, adding borders and shadows, eliminating noise, and converting to black and white. It is also possible to apply filters (blur and sharpen), add watermarks, and apply effects (split blur, rotate, mosaic, ripple, etc). All the changes that we add will be applied to all the images that we are going to convert at the same time, in such a way that we save a great amount of time by not having to perform the operation one by one. The changes that we are introducing can be seen reflected in a preview on the right side.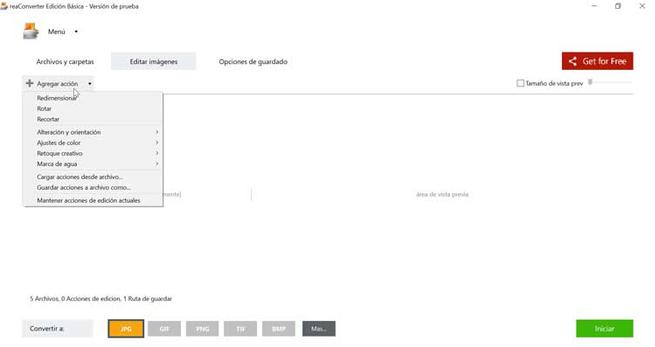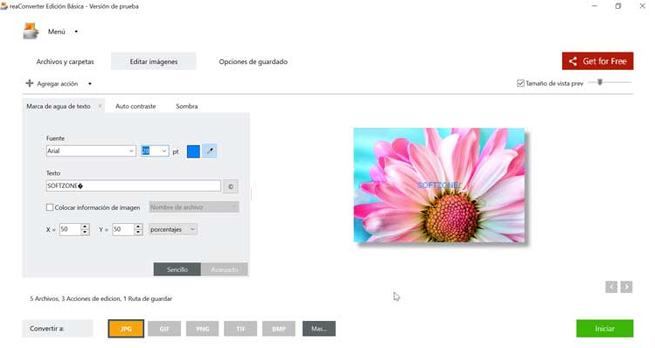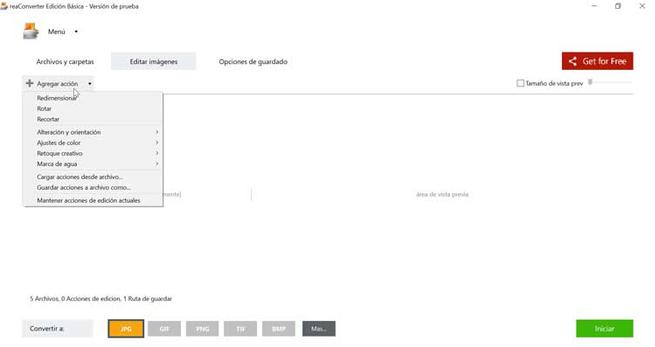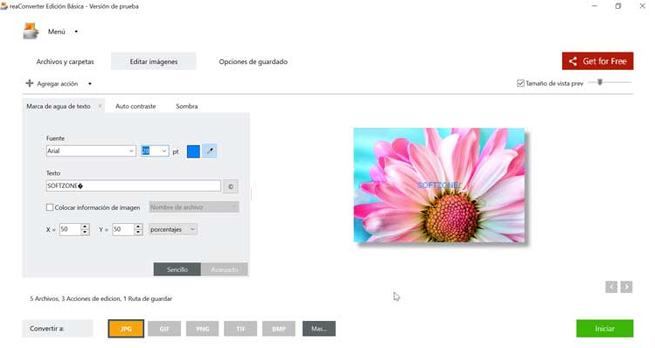 Choose where to save them and the conversion format
The next option we have available is the "Save Options". Here we must indicate the destination where our conversions will be saved. We can choose a local folder that we can choose within our hard drive or upload directly to a cloud storage service such as Dropbox, Google Drive, Box.com and OneDrive.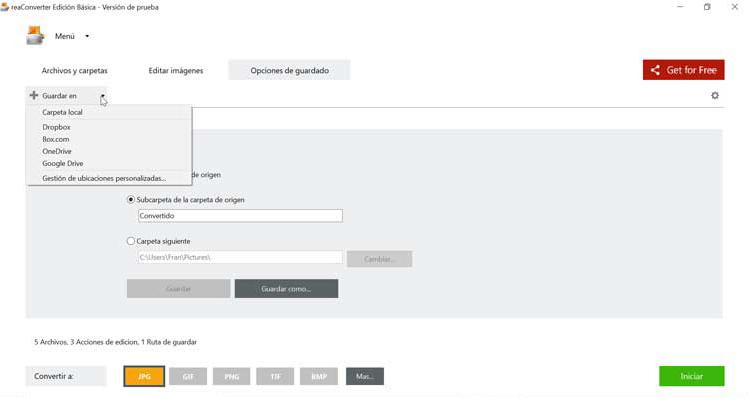 Now we only have to choose the file format to which we want to convert, something that we can choose at the bottom in the "Convert to" section. Once selected alone, click on the «Start» button to start the whole process. A window will appear where we can see the entire process and once finished, directly access the converted files.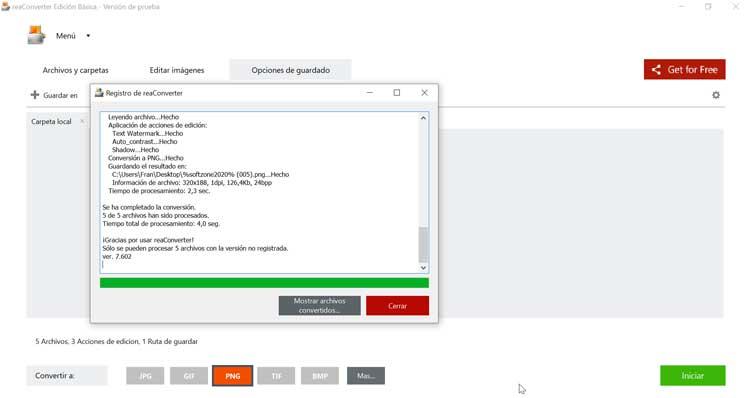 Download reaConverter
reaConverter is a program to convert all types of files, which has a free version that we can download from its website. It is compatible with the Windows operating system in its versions of XP, Vista, 7, 8, 10, Server 2003, 2008, 2012 and 2016. Along with the free version it has two paid versions so that we can choose the one that best suits adapts to our needs.
Basic – Supports seven read and write formats (JPEG, PNG, GIF, TIFF, BMP) along with a comprehensive set of image editing tools. This version is free, but we must register our copy to eliminate the limitations of the trial version that only allows handling 5 files per compression.
Standard – Supports 234 reading formats and 58 writing formats, along with a comprehensive set of tools for image editing. In addition, it includes integration into the Windows contextual menu and the Watched Folders function. Its price is 24.99 euros in a single payment.
Pro : It has all the benefits of the Standard edition, plus a command line interface and a Dynamic Link Library. Its price is 49.99 euros in a single payment.
Alternatives to reaConverter
If we are looking for a program with which to batch edit and convert our images, we propose a couple of alternatives to reaConverter to take into account:
AVS Image Converter
It is a program that allows us to automatically convert images from a large number of available formats. We will have complete freedom to resize, rotate, add watermarks and apply effects. We can also adjust certain image parameters such as brightness, saturation, hue and contrast. We can download AVS Image Converter for free from this link .
Contenta Converter
This is a professional program with which to convert all kinds of images to different formats, as well as change their size or name. Its features include batch RAW processing, the ability to convert multi-page PDFs to images and convert images to PDF photo albums. In addition, it has a preview option so that we can check the before and after of each image. We can download a free 30-day trial version from their website