multimedia
Easily record audio from your pc with nch software recordepad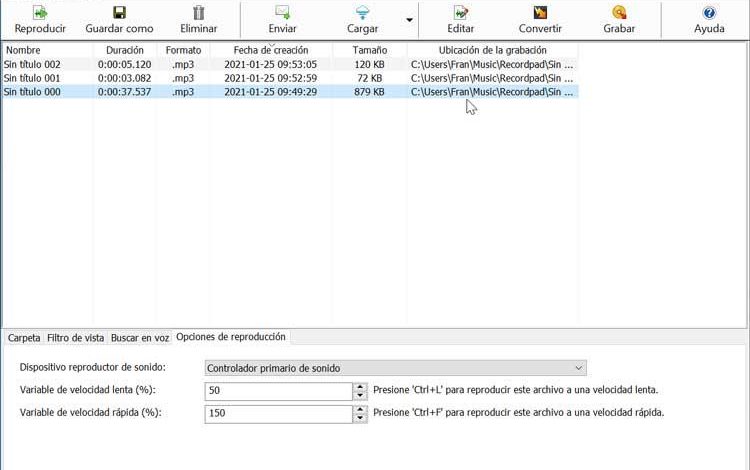 Sometimes we may need to use our computer to make voice recordings from the sound card or microphone. Either to record our own podcasts, to make a tutorial, digital presentations or even to recover and digitize the music that we have stored in the old cassettes. For this, nothing better than having a sound recorder like RecordPad, about which we are going to talk to you next.
RecordPad is a voice recorder that belongs to NCH ​​Software, and is ideal for both personal and professional use. With it we can record sound, voice, notes, music or any other type of audio. This audio recording software allows us to record from a microphone, a CD player, online input or another element with which to listen from the computer. The recordings that we obtain can be saved on our hard disk in WAV, MP3 or FLAC format. Optionally we can send recordings by email or upload them to an FTP server.
The program has a key combination system that allows us to keep control of the recordings using the keyboard, while working with other programs. RecordPad allows us to search and reproduce the recordings according to the format, date, duration and size. It also includes keyword search in audio recordings when voice recognition is installed.
It includes an MPEG layer-3 encoder that offers us content with a variable bit rate between 8 and 320 kbps with optional CRC verification and a joint stereo mode. It also features Wave encoding that offers sample rates between 6000 and 196000Hz in PCM, as well as many other codecs and bits. Furthermore, RecordPad can be automated and integrated so that it can be launched from other programs through command line options.
RecordPad allows you to record sound from your PC
When we run the application we find a main menu with a clean and simple design that gives us the possibility to select the audio device and channel. We can play, pause or stop the recording session, see the duration of the recorded file, check a list with all our recordings, as well as play, pause or stop the current selection and adjust the volume.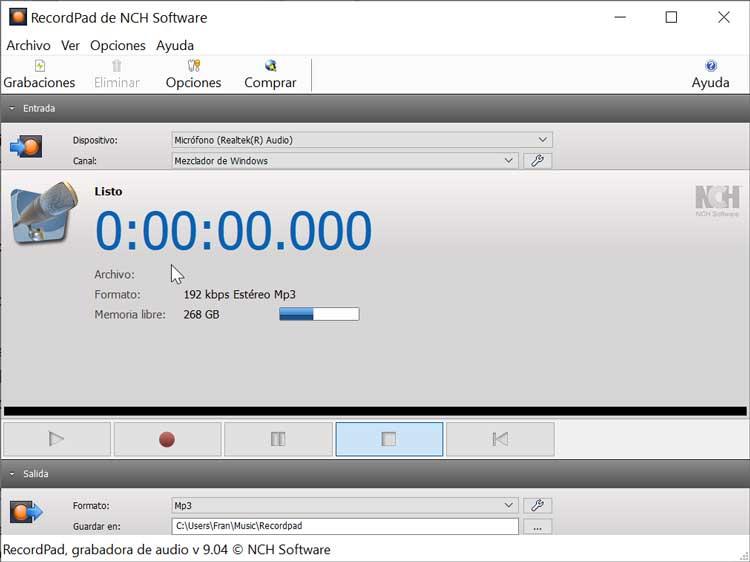 Input and output parameters
In the upper part we can configure the input parameters such as the Device and the Channel that we are going to use. For its part, at the bottom, we find the output parameters such as the format, MP3, FLAC and WAV, as well as the path where we want the recorded file to be saved. If we click on the wrench- shaped icon we can access the encoding options that will vary depending on the selected format.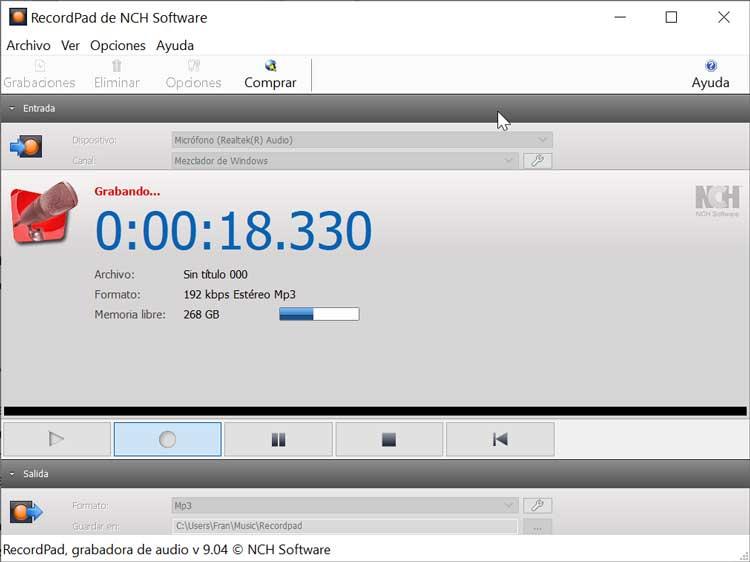 In this way, if we choose MP3 as the output format we can configure the constant bit rate (CBR) from 8 to 320 bits (kbps) or variable bits, as well as the channel's encoding mode (Estero, Mono, force, Joint). To start our recording, just press the red button (Rec) or press F5. During the recording we can pause it, stop it or repeat the recording. Once finished we can access the file by accessing the path that we have established. Also click on the Recordings icon at the top, from where we can search and play recordings.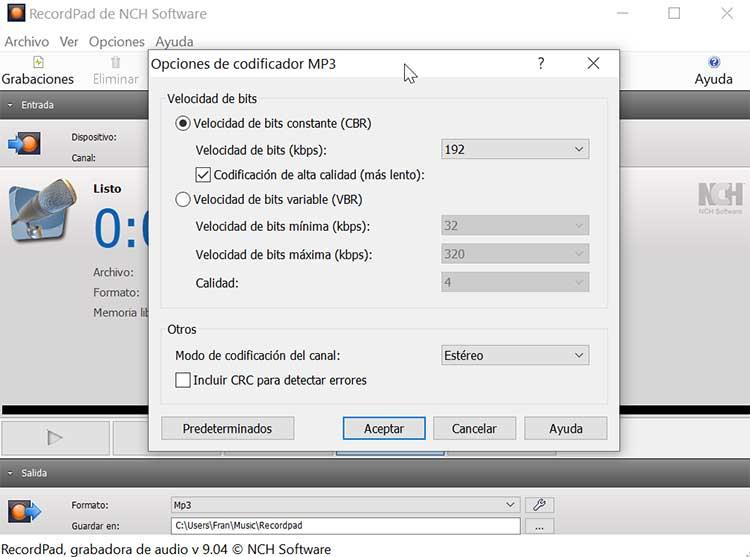 Access recorded files
From this menu we can play all our recorded files, delete them, send them by email or upload them to YouTube or to a cloud storage system such as Google Drive, Dropbox or OneDrive. It also has the possibility to Edit, Convert or Burn, but for this it will be necessary to have and download their corresponding programs.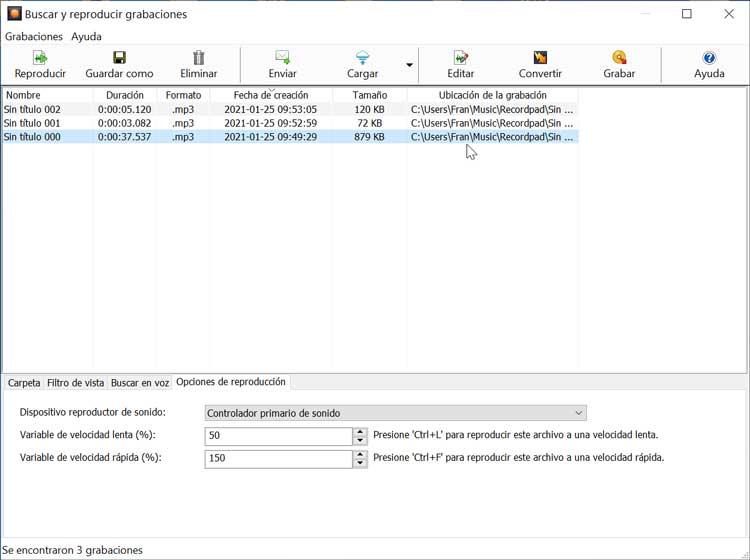 In the lower part of the «View Filters», we will have the possibility of viewing recordings with a certain duration or filtering by date . It also has the option to Search in voice and to be able to search for keywords or through voice recognition. Within the Playback Options we can select the sound reproduction device and choose the variable of slow and fast speed
Conclusions
RecordPad has a wide range of options to record audio or rip, having access to a large number of filters and effects that we can apply to our audio files. It also allows us to easily add and edit metadata and insert or delete a silence. It even has a bookmark feature that allows you to mark places within an audio file for easy future reference. The main flaw of this program is its lack of compatibility with various file formats, as it is limited to MP3, WAV and FLAC formats.
Download NCH Software RecordPad
NCH ​​Software RecordPad is a commercial program, so in order to use it permanently we must pay for its license. As a test and to see if it meets our needs, it is possible to download a free version from their website . The program is capable of running under Windows 10, XP, Vista, 7, 8 and 8.1, being compatible with 64 bit systems. In addition, it also works under Mac OS X 10.5 and higher and mobile systems with iOS or Android. Its price is $ 29.99 for its home license and $ 34.99 for its professional license.
Alternatives to NCH Software RecordPad
If we are looking for a program with which to record audio, we suggest a couple of alternatives to RecordPad to take into account:
Free Audio Recorder
It is a program that allows us to record audio and capture from various sound inputs, being compatible with MP3 and OGG formats. We can record from a CD player, microphone, line input, Internet radio or any other element with which we can listen from our computer. Free Audio Recorder is a free application that we can download from its website .
AVS Audio Recorder
This program allows us to record from different input sources, such as a microphone, external input devices such as a CD, cassette player or other audio applications. It offers compatibility with formats such as MP3, WMA, WAV among others and even burn our files to DVD. AVS Audio Recorder is a free program that we can download from its official website .