multimedia
Easily record and capture sound on your pc with free audio recorder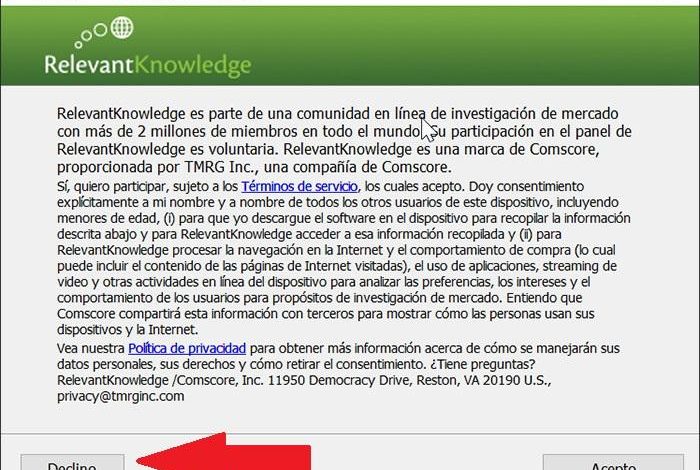 When we use our computer to record our own podcasts or we simply want to capture our voice from the microphone or recover the music that we have in our old cassettes, we are probably interested in the possibility of being able to record audio from our PC from the sound card or the microphone. For this, there are various programs that will help us to carry out the task with a high level of results such as Free Audio Recorder, about which we are going to talk to you below.
Free Audio Recorder is a program with free audio recorder functions that allows us to capture various sound inputs, being compatible with MP3 and OGG formats. Using this audio recording software, it will allow us to record from a CD player, microphone, line input, Internet radio or any other element with which we can listen from our computer.
Among the features that we can highlight of this program is compatibility with sound mixers and other system tools. It uses the latest Lame MP3 encoder, which is considered by many to be the best MP3 encoder today. We cannot ignore its compatibility with most modern sound cards, both multi-channel USB, professional and external. It is also worth mentioning that it is capable of supporting multiple sound cards on the same system, as well as performing the recording process on the fly without generating temporary files during the process.
Record voice and any sound from the computer
Once we execute the application, a small window appears that reveals its very simple main menu, in which we find the essential buttons for audio recording at the top. From them we can select the format to which we want to save the audio extraction and the "Start", "Pause" and "Stop" buttons, perfectly identified.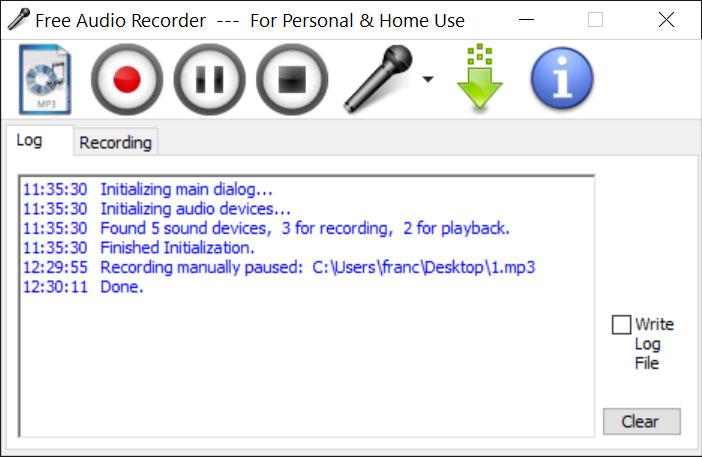 The first button that we find is "Quickly set the output format", from which we must select if we want to save the recording as MP3 or OGG format . The next button is the "Start recording" button that we will use to start recording . Once we press it, a window will appear so that we can choose the path where we want to save the file and establish a name for it.
Adjusts the recording parameters
Just below the buttons we find an interesting tab called "Recording", where we can adjust some parameters of the recording . For example, we have a «Recording Device», from where we can choose the recording device, such as the CD player, a cassette or the microphone to record ourselves, for example. It also has the option of "Resolution & Channel", where we must choose the resolution and the channel, being able to choose between whether we want to record in Mono and Stereo and in 8 or 16 Bit.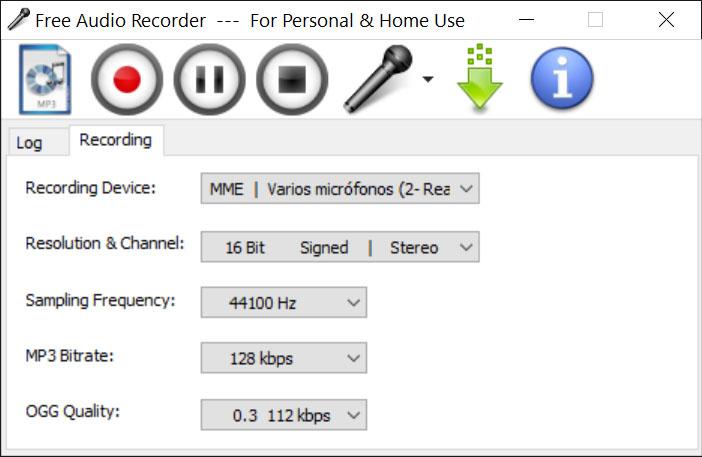 Another option that we can configure is the sampling frequency from 8000 to 44100 Hz. We can also select the MP3 bitrate rate, having a wide variety that go from 8 kbps to 192 kbps to obtain the best quality, along with a larger file size. In case we have chosen to save the file in OGG format, we can also choose its quality from 48 kbps to 192 kbps.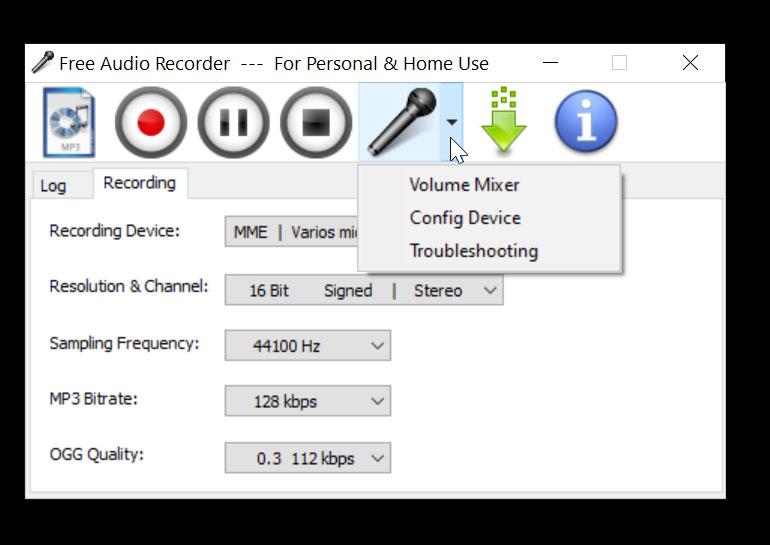 Microphone setup
Within the function icons at the top, it is worth highlighting the microphone icon that has a small tab, which if we click on it, several sound configuration options appear. On the one hand, «Volume Mixer» will be in charge of opening the Windows Volume Mixer, where it shows us the devices and applications that emit sound, so that we can adjust the volume. Another option is "Config device", which will open the Windows Sound window in case we want to make any adjustments and check that the devices are properly configured and that they work correctly.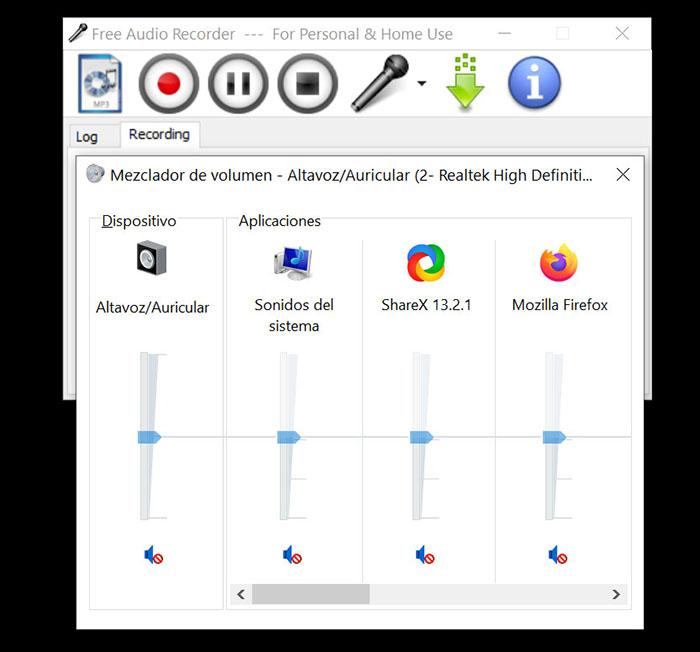 Download Free Audio Recorder
Free Audio Recorder is an application classified as freeware so it is completely free for personal use, without commercial or profit-making purposes, which we can download from its website . It is compatible with Windows 7, 8 and 10 in both 32-bit and 64-bit versions. Its latest available version is 6.6.9 corresponding to September 10, 2019, so it has not received updates from its developer for more than a year, which does not imply that it can be used perfectly.
From its website we download a small zip file of just over 1MB, which we must unzip and execute the only file that will appear AudioRecorder.exe . During the installation we must be careful as it will try to get us to sign up to an online market research community, so to avoid this we must click on the "Decline" tab.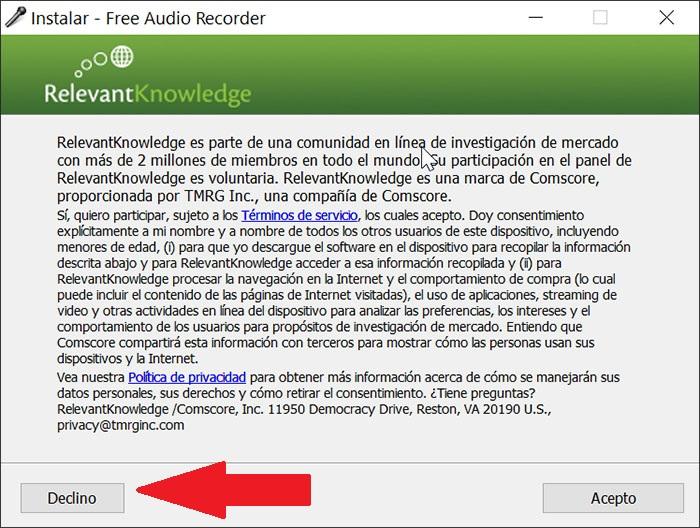 Minimum system requirements:
Microsoft Windows 10 / Windows 8 / Windows 7 (32-bit and 64-bit).
1.0 GHz or faster processor (1.8 GHz or faster recommended).
512 MB of RAM (1 GB of RAM recommended).
15 MB of free hard disk space.
Sound card.
Windows Media Player 11 or later (recommended).
Administrator privileges.
Alternatives to Free Audio Recorder
If we are looking for a program with which to record sound on our computer from an external source and Free Audio Recorder does not convince us, we propose a couple of alternatives to consider:
Audacity
It is undoubtedly one of the best programs to record audio and one of the most popular, as it has a large community that is responsible for continuing to develop and update the application. It is a free and multiplatform application that has a tremendously complete audio editor with which to make spectacular audio recordings. You can download Audacity from its website .
AVS Audio Recorder
This program allows us to record data from different input sources, such as from a microphone, external input devices such as a CD, cassette player or other audio applications. We can save the audios in different formats such as MP3, WMA, WAV among others and even burn our files on DVD. AVS Audio Recorder is a free application that we can download from its official website .
Free Audio Editor
It is a free audio editor that allows us to record any type of sound passing through the sound card such as a microphone or even a vinyl. It stands out for capturing any sound to edit and improve it, as well as creating and copying music CDs and combining different audio files. It also has a TTS option to transfer text to speech files. We can download Free Audio Editor from this link .