multimedia
Draw with your friends over the internet with this drawing program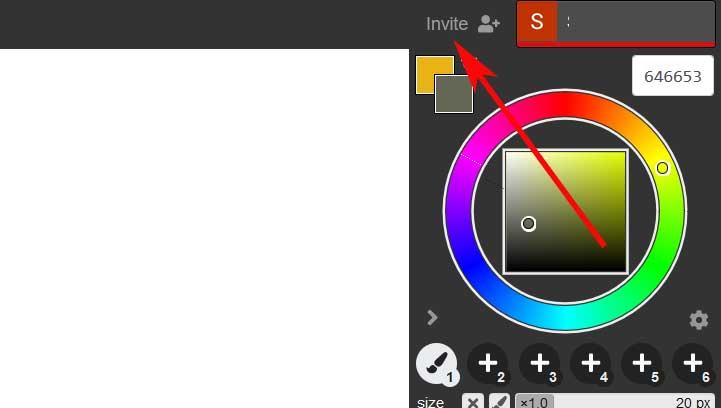 At the moment there are several software sectors that are booming, among which we can highlight web browsers or office automation. But these are not the only ones, since collaborative work or design can also be mentioned. Well, this time we are going to join the last two and we will talk about the program called Magma Studio that will be very interesting for you.
And it is that the developers of a multitude of programs and platforms try by all means to offer their users solutions that meet current needs. The hardware we have, increasingly powerful and versatile, also has a lot to do with it. To this we can add the Internet connections that we have, which allows us to work in the cloud without any problem.
Well, in these lines we want to talk about an interesting software solution that focuses on design, all through the Internet . Thus, as is logical to think, it presents us with a series of functions and tools that will help us in all this. But that's not all, since its developers go one step further in this regard. We tell you this because in addition to the functions that we are going to find here, they have also wanted to focus on the collaborative work that we mentioned.
How to start Magma Studio
Well, the first thing you should know is that when talking about Magma Studio, we actually find a free web application. This means that to get the most out of it we don't need to install anything on the PC. All the work with it can be carried out directly from our favorite Internet browser. Therefore, the first thing we must do to start taking advantage of its virtues is to access its official website.
In it, we will only have to register on the platform with a personal account so that the program can identify us . As you can imagine, this is important if we are going to make designs jointly with other users.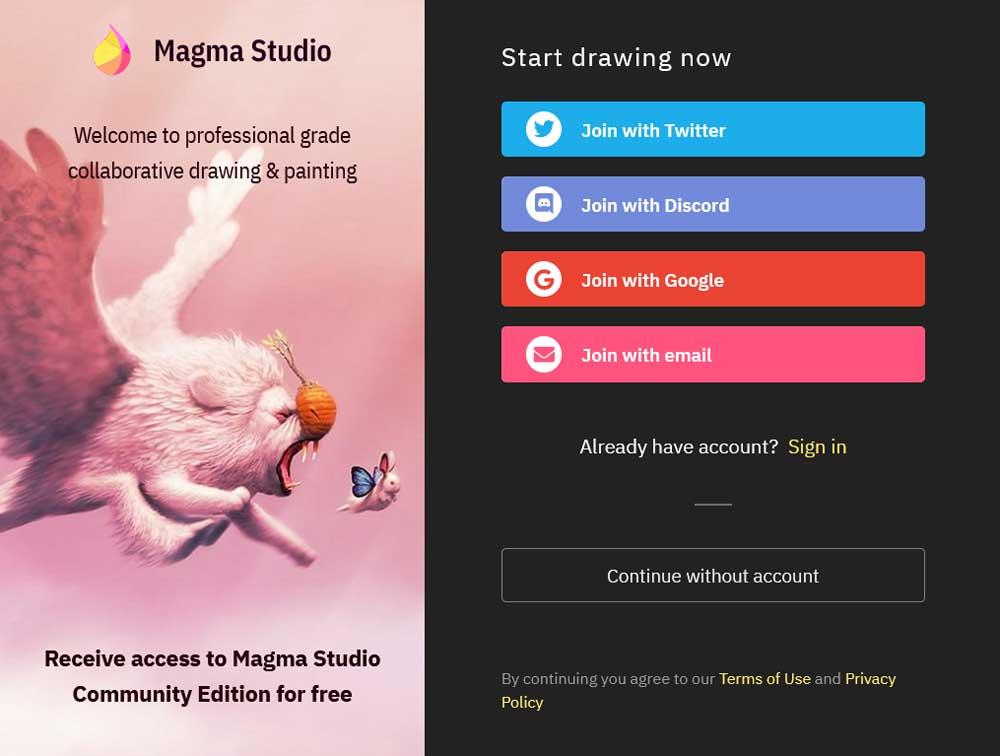 We have several options to make this registration, after which we can start with the design as such. Well, at this point we will tell you that the first thing we come across is the work desk to start drawing our personal projects. And it is that what we really find is a software that we can use from a browser that presents a multitude of drawing tools to work with others on this digital desktop.
In addition, we must bear in mind that thanks to its online nature, these users can work on a multitude of computers and devices. Either from a Windows PC, from macOS, an Android or iOS tablet, etc.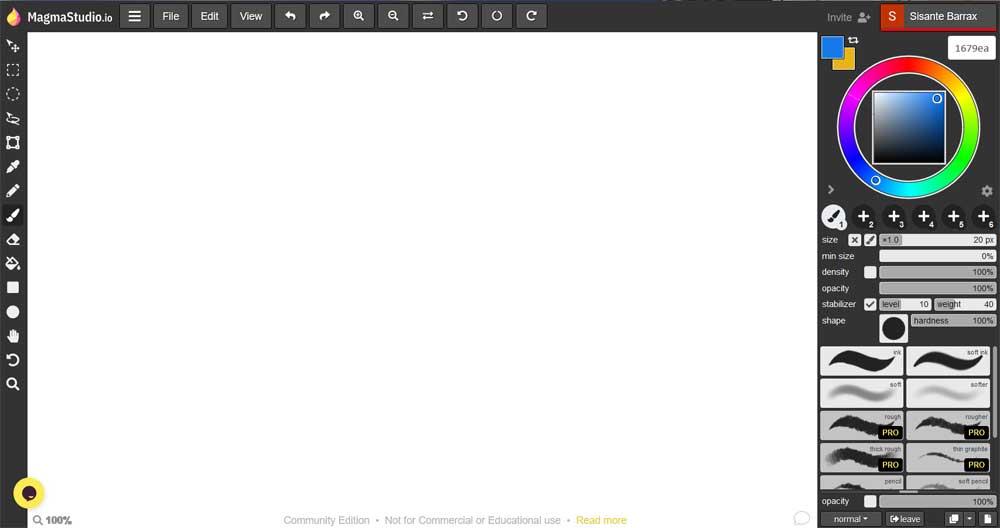 First steps in design work with Magma Studio
To say that the program as such presents us with the opportunity to work up to 30 people at the same time on the same project and in a single desk . And of course, this work not only focuses on drawing as such, but Magma Studio offers other additional functions so that we can interact with other users. We refer, for example, to an integrated chat system to work more comfortably and in a coordinated way. To open the corresponding chat window, just press the Enter key, for example.
If we focus on drawing and design work, say that in Magma Studio we find a common interface in this type of environment. In this way, on the left side of it, we will see the most common tools in these programs. We refer more specifically to brushes, eyedroppers, geometric figures, erasing, backgrounds, selections, etc.
Thus, as we go to rest for one functionality or another and mark it, its customizable options change and appear on the right side of the desktop.

Therefore, in order to carry out our design projects in this program, we use it like any other drawing solution that we usually use in Windows. As is usual in these types of applications, creativity and experience are everything. With this, what we want to tell you is that in order to achieve quality projects, there is nothing better than to start practicing with Magma Studio.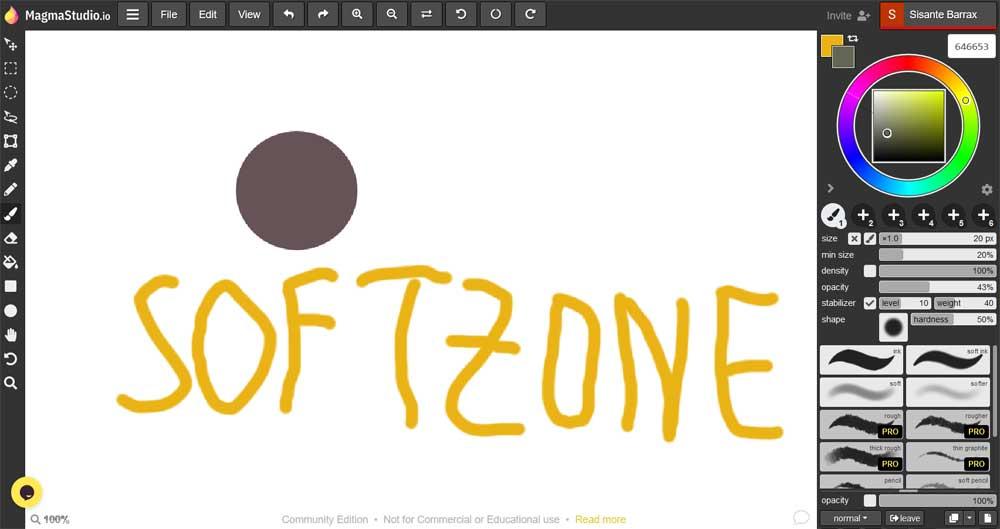 How to add other users to the project
As we mentioned before, up to a total of 30 users can participate in the same design project in this application at the same time. So if we start a new one ourselves, the next thing we may need is to add users to the cause. Well, for this we find a button in the upper right corner called Invite. By clicking on it, a link is added to the Windows clipboard so that we can share it with the rest.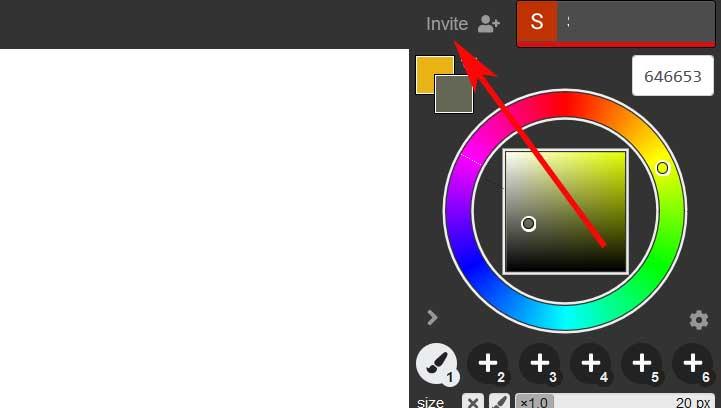 Then, for example, we just have to send that link by mail to those we want to join the project. We must also bear in mind that as we work, the changes made by all users are automatically saved in the cloud . Therefore we do not have to worry about saving the project from time to time.
How to use Magma Studio online
We already told you before that this is an online application that we can use for free for personal use. For this we only have to connect to the official website of its developers through this link . But at the same time we have two payment methods that focus on the commercial use of the application. In this case, the prices are $ 9.99 per month, or $ 99.99 per year; all with some additional functions.
Alternatives to Magma Studio
Krita
Here we come across an open source project that we can use to draw on Windows. In fact, for many it is one of the most advanced applications of this type with a multitude of tools and functions available. It puts at our disposal a very simple and quite customizable user interface so that users can adapt it to their needs. You can use it from this link .
MyPaint
On the other hand, we find MyPaint, a program to draw without distractions because it presents us with a full screen canvas to work on. In this way, in order to see and use the tools menu, it will only appear on the screen when we really need it. The program has a large collection of brushes, one of the most common tools in this type of solution. To test this solution, you can do it from here .