multimedia
Draw and edit with this free web alternative for paint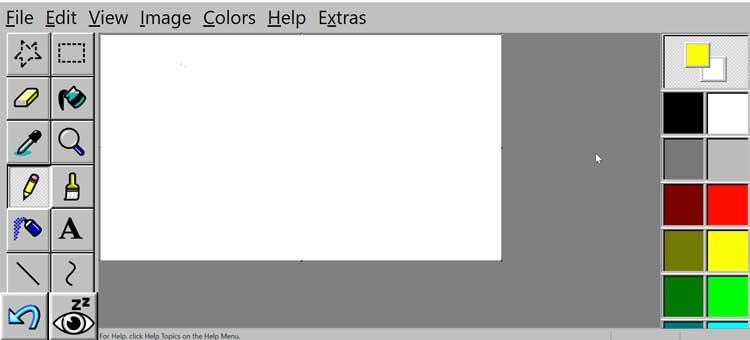 In our Windows 10 computer we have a series of tools that it incorporates by default and that we end up using more or less regularly. One of the most used applications is Microsoft Paint, the drawing application that has been accompanying us since Windows 1.0. Although Microsoft has tried to modernize the application, the truth is that many users prefer its graphical interface, which we can use directly from a browser through the JSPaint application .
With the arrival of Windows 10, Microsoft tried to replace the old Paint with the new Paint 3D version, but the truth is that it has never finished catching on among its users, who prefer the traditional version to make all kinds of quick touch-ups on any image . And, although it is an exclusive program for Windows, the truth is that other operating systems have tried to copy. Something that is at least curious, since there have been few times that it has been rumored about Microsoft's intentions to eliminate the application and leave it as an optional tool for download from the Microsoft Store.
Both to replace Paint in the case of Microsoft I ended up eliminating it, as if we want to use it from any other operating system, JSPaint was born. It is a web page written in JavaScript, which has become a true remake of Paint, the code of which is available on GitHub and that we can use from any browser . We are talking about a completely free web application that maintains the original interface of this popular drawing tool.
The experience of using classic Paint remains intact, although it has included some new tools such as transparent image editing, creation of animated GIFs, opening SVG files, additional keyboard shortcuts, unlimited undo function, automatic saving, support for its use on mobile and support for multiple users. This last option is curious and especially useful, because thanks to it we can share our link with an image and make it editable by someone else.
JSPaint, draw as in Paint but online
To start using JSPaint, just click on the following link and its recognizable interface will instantly appear on our computer without having to download anything. As we can see, it keeps all its tools on the left, the colors are still present in the lower part, in the center we find the canvas on which we can draw and in the upper part there is no lack of the classic toolbar organized by tabs. In it we find the sections "File", "Edit", "View", "Image", "Colors", "Help" and "Extras". If we click on each of them, its different functions appear displayed. Of course, everything is in English, since, at the moment, it does not have a Spanish translation.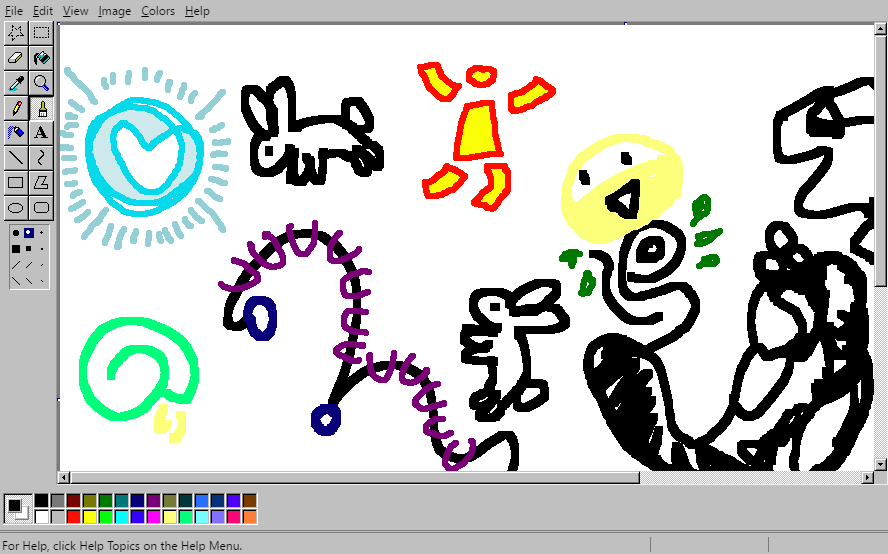 Discover its new functions from the Extras tab
JSPaint maintains the classic interface that we found in Paint in Windows 95 or XP, but if we wish we can change it. From the "Extras" tab, if we click on "Themes" we will have four additional themes to choose from, apart from the classic. Thus we will find a dark mode, a modern mode, a winter mode with a Christmas touch and a mysterious mode.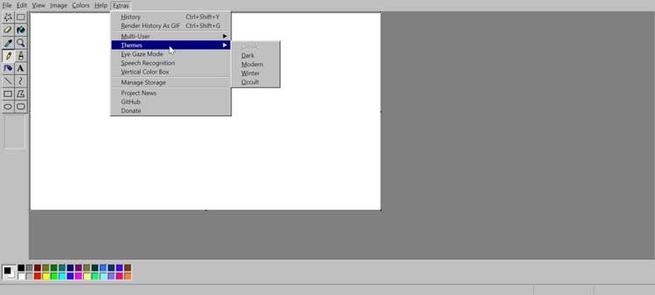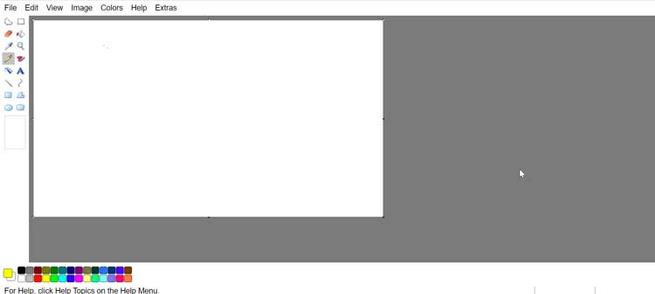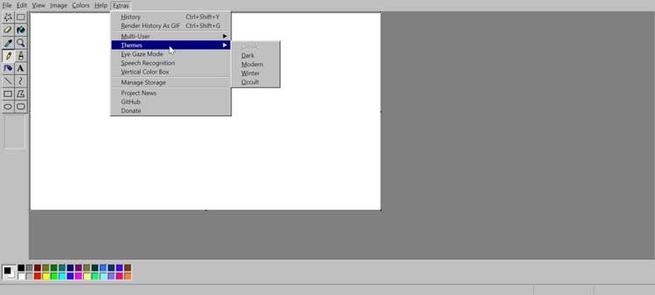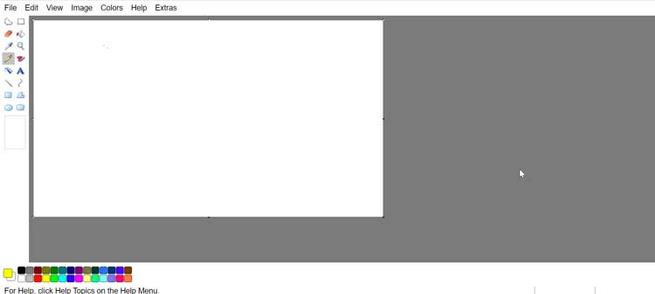 Within this "Extras" menu we will also find the possibility of enabling the option for multi-account support . To do this, we must access the "Multi-User" option and point to "New Session From Document". This will make the current document public. To do this we will only have to enter the name of the session that we will use in the URL to share and, finally, click on "Start". Once this is done we can see how the URL with our name has changed. Now we can share it with anyone who can make all kinds of modifications on the image it contains.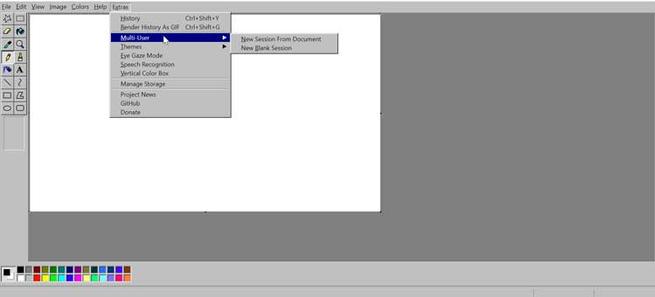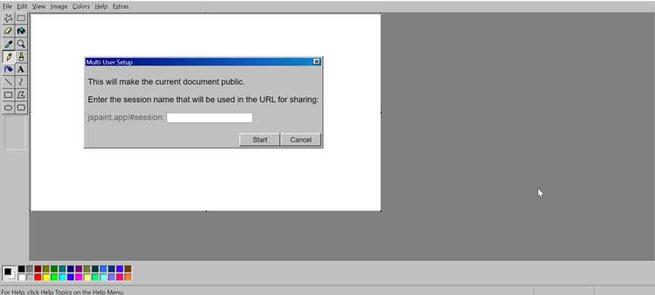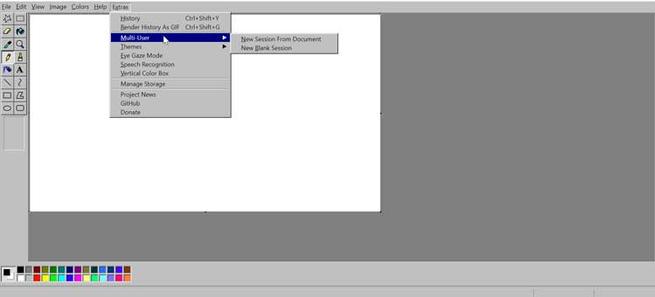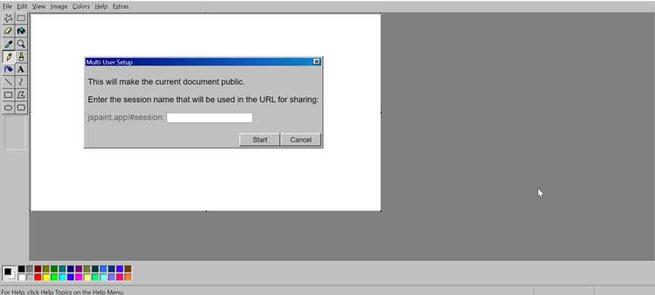 Another of the new functions that we find within the "Extras" options is that of "Eye Gaze Mode". When activated, it will zoom in on the entire interface . In this way, we will see how all the tools on the left side have increased in size and how the colors have become on the right side of the screen, also with larger icons. We also have speech recognition (Speech Recognition) for which it will be necessary to grant the necessary permissions so that the application can use the microphone.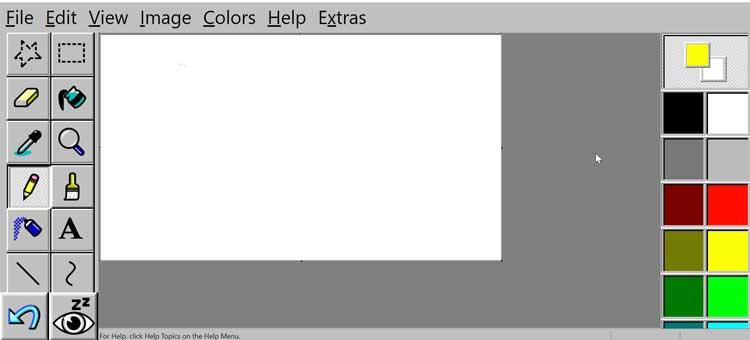 Conclusions
As we can see, JSPaint is a drawing tool that is not only faithful to the original Windows Paint, but improves it in every way. In addition, we can use it from any device with a web browser. And it is that not only does it include all its tools, but it also incorporates some extra features that make it an option to take into account to carry out any type of quick retouch on any image or make simple drawings, so that we do not need to use one much more complex, heavy and often paid editing application. Its main drawback, apart from the fact that it is only in English, is that it only allows you to save images in PNG format.
Other alternatives to Paint online
If we are looking for web pages where we can make drawings online, we propose a couple of alternatives to JSPaint to take into account.
DevianArt Wall
This online application allows us to make drawings online immediately. It is made entirely in HTML5, and we will have at our disposal a wide variety of brushes, which we can customize by regulating their opacity, size, drip, density, smoothness, etc. It also has a good number of tools such as layers and filters to be able to carry out our projects. In addition, it has an autosave function so that we do not worry about losing our drawings. You can access DevianArt Wall from here.
Sketchpad
It is a completely free web application with which we can draw on the Internet completely free of charge. It has a wide variety of tools such as brushes, pencils, layers, vectors, and different geometric shapes. When saving our drawings, it will be possible to download them to our computer in PNG format. To start drawing with Sketchpad, just go to its website .