multimedia
Do you have raw photos and want to open them in gimp? Let's see how to do it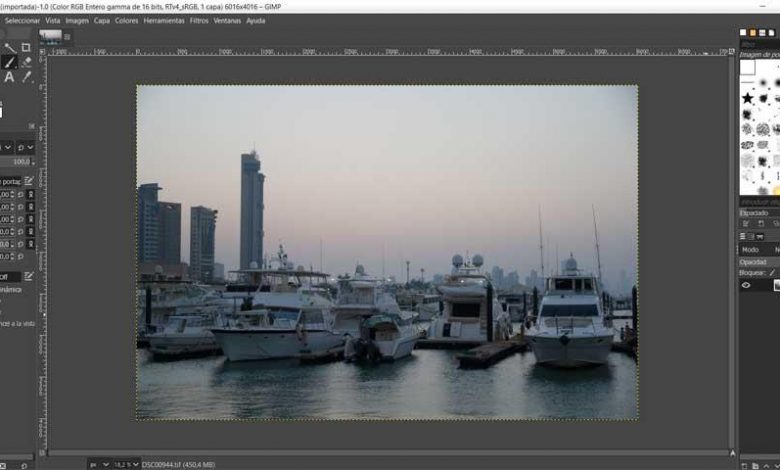 GIMP is one of the most powerful photo editors that we can find right now, also free. This is why many consider it a worthy replacement for Adobe's almighty Photoshop .
But of course, as usual, this is an application that has some shortcomings, although we can solve some of them. In this case we want to focus on a format that does not stop growing, RAW . Therefore, assuming that you are habitual of this application, you might be interested in how to open RAW images in the aforementioned GIMP. It should be mentioned that at first this is something that cannot be carried out natively, but we can take alternative paths for it.
To begin we will tell you that in the first instance, downloading GIMP from its website (http://www.gimp.org.es/descargar-gimp.html), when trying to open a RAW directly, the program does not allow it. Therefore, it will show us an error message indicating that we need to use a loader for these specific files.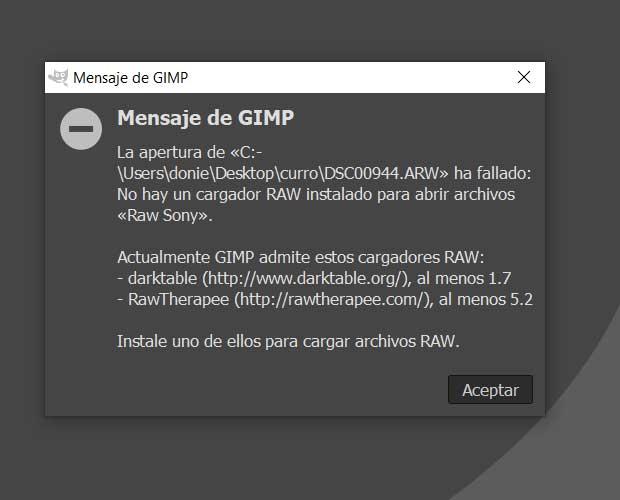 Download RAWTherapee to integrate into GIMP
That is why below we are going to show you how to solve this and thus we can open RAW files in GIMP directly. Therefore, as we can see in the error message, we can integrate a RAW program in GIMP just like RAWTherapee. Say that this is an application that we can download from this link and it is a free software with many functions focused on editing photos.
It is true that there are other similar alternatives of this same type, but this is one of those recommended by the developers of the open source program . It is also one of the ones that works best in this regard. Therefore, as you can imagine, we downloaded RAWTherapee from its official website.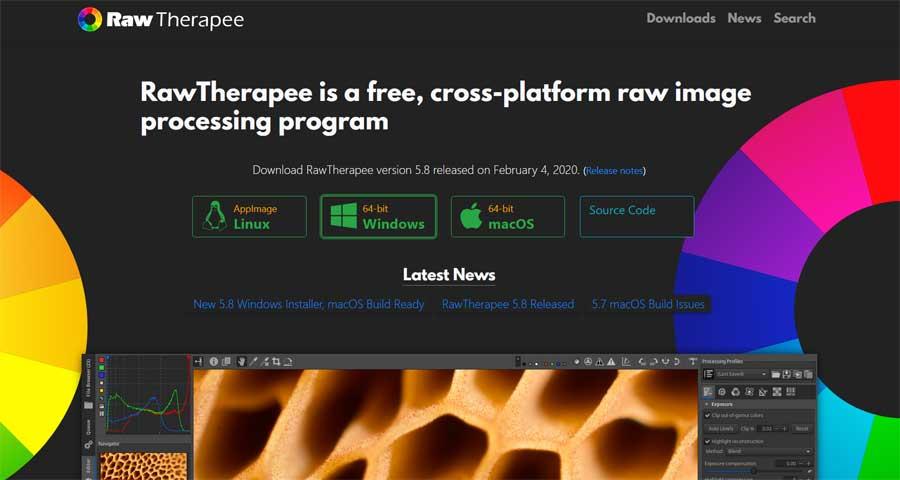 Configure RAWTherapee
After downloading the program we have to install and run it on the system and open it like any other. At this point, the first thing we do is change the preferences for this program. We are located in the menu called Preferences, which is shaped like a button with an equalizer located in the lower right corner of the interface .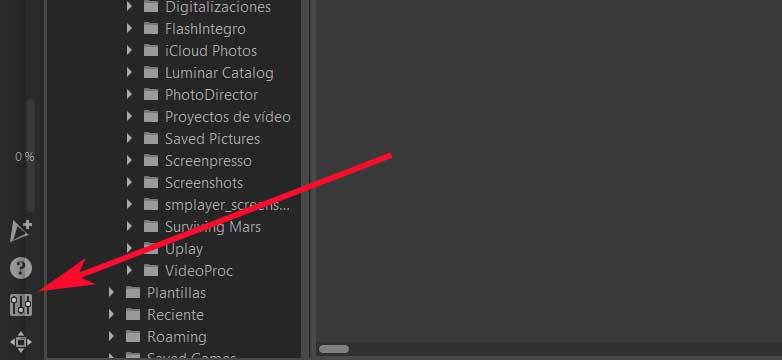 So, in the window that appears at that moment, we go to the External Editor section found within the General tab, at the bottom of it. Here we check the Custom Command Line option, where we paste the disk location file of the GIMP executable . As a general rule, we will find this in the Program Files / GIMP2 folder. Therefore we only have to copy and paste this location in the space mentioned above, as we see in the attached image.
After this we can edit the RAW image, either by opening it from the File Explorer or from the Locations section of the program's main interface. Once we have found the RAW image that we are going to edit, we double click on it. This will open on the screen like any other photo so that we can carry out the corresponding editing tasks on it. It is worth mentioning that this is a powerful photo editor that presents a multitude of functions related to this type of task and of course, with native support for the RAW format.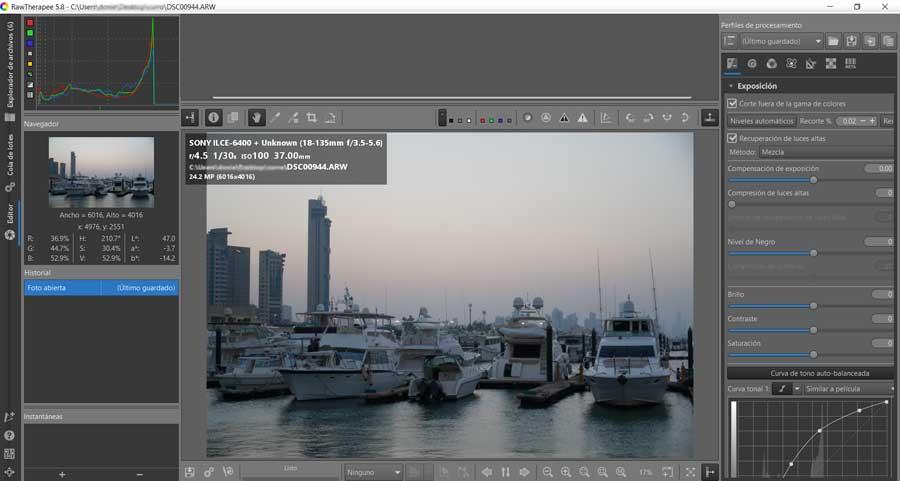 Once we have carried out the editing work that we want to carry out here, we will be ready to open it in GIMP.
Open RAW photos in GIMP
To do this we have to take a look at the bottom of the window that serves as the work desk in RAWTherapee . On the right side we will see a small button with a brush and a palette that says Edit current image in the external editor, which is the one that interests us.
Therefore, if we configure all the previous steps correctly, the photo that we have loaded here will now open without problems in GIMP. In fact, what RAWTherapee does is send the image in .tif format to the program that we are talking about. Then, before the image opens, an information box will appear. It asks us if we want to convert the image's color profile to GIMP's native RGB workspace . In this way we can keep the original color profile that comes from RAWTherapee, or convert it to the native color profile of GIMP. The usual thing is to opt for the Keep option, a button on which we press.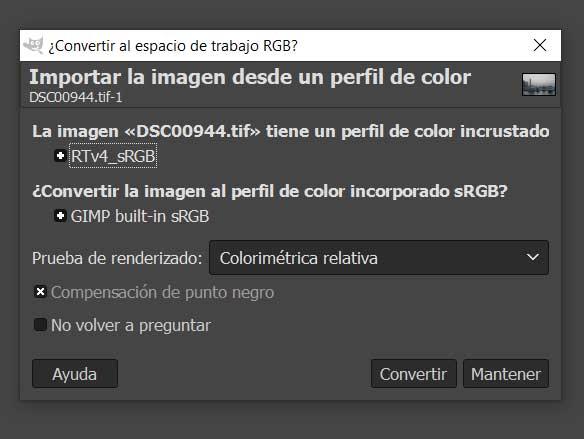 Once we accept this, the photo that we initially downloaded in RAW should appear on the GIMP desktop . As we have seen with the steps taken, although effective, this method is not what could be said comfortable. It is true that if we usually have photos in RAW format and want to open them in GIMP, this will be very helpful. Moreover, once we repeat the process a couple of times or three, we will see that it is something that we can carry out in a matter of a few seconds.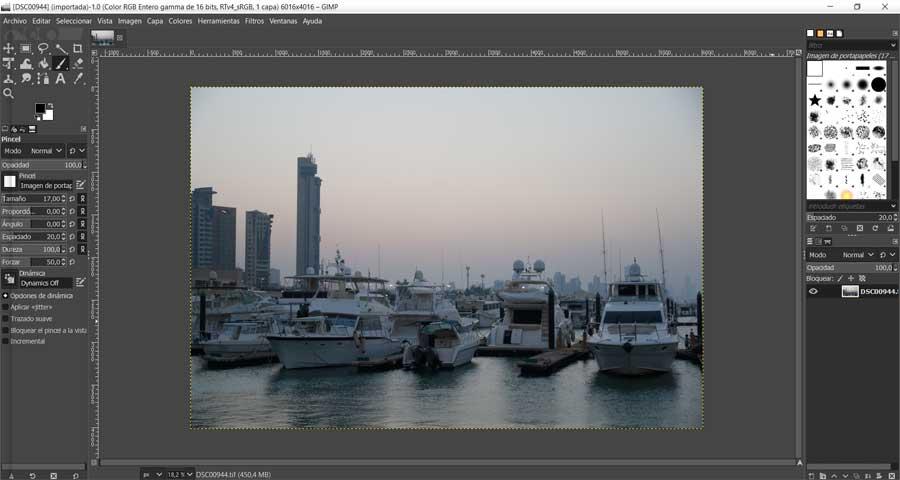 GIMP works to improve the opening of RAW images
With everything and with this, the developers of the open source program are working in order to improve this process that we have just described. In this way, what is expected is that in future versions of the program we can open RAW images more quickly and fluidly. In fact, this is something that is currently being tested in some experimental versions of the application, so it could reach everyone shortly.