multimedia
Cut and edit mp3 files in seconds with mp3directcutcut

Working with multimedia files is the order of the day, especially if we refer to the video, image or sound sectors. That is why at the moment we can find a good number of programs to be able to edit, convert or reproduce all these contents in the best way. This is the case of the program that we are going to talk about in these lines, mp3DirectCut, which, as you can imagine, focuses on working with audio files.
Keep in mind that MP3 sound files have been used for a long time on many devices and platforms. In fact, they have become a standard for many sectors and modes of use, hence the programs that deal with them. This is the case of mp3DirectCut, a very simple free application that will allow us to work with these files. And it is that as we tell you, these MP3 files are used in a multitude of devices, platforms or environments, both professional and leisure. Although we can find a good number of software solutions that deal with these files, not all of them offer us what we really need. There are many types of work that we can carry out here, so we must choose the program that interests us the most.
Advantages of mp3DirectCut for working with MP3
On many occasions we can find ourselves faced with the possibility that we need to make changes to an MP3 file, be they of the type of sean. This is something that we may need to adapt it and use it as a melody on the mobile, to integrate it into our own video composition, or to keep only one part. Well, mp3DirectCut will help us with all this. In addition, we can carry out all this in a simple way thanks to the user interface that it presents.
Therefore, in this case we find a powerful as well as simple audio editing program that will allow us to extract a part of an MP3 file , normalize its volume, etc. All of this will be of great help to us when adapting these contents to use them later where we need them. Similarly, as its name suggests, this is an application that aims to make it easier for us to extract certain parts of an audio file . As you can imagine, these types of common actions will get us out of more than one hurry on many occasions. Furthermore, this is something that becomes especially evident if we take into account the widespread use of these multimedia files.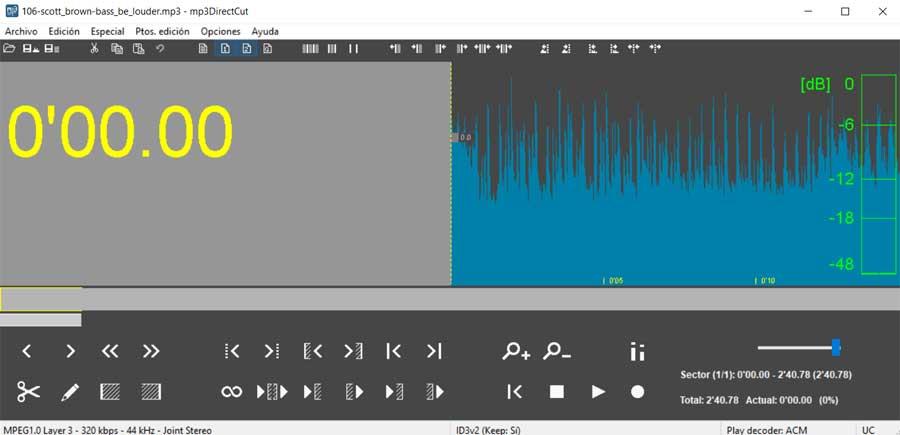 To do this, it presents a series of functions in its menus and controls that we can use in a simple and intuitive way. In fact, we can affirm that thanks to the interface that the program boasts, it becomes valid even for novice users in these conflicts.
Supported file formats
As we mentioned, this is an app that focuses on working with audio files, which allows us to adapt them to a great extent to our needs. It is for all this that, how could it be otherwise, it turns out to be compatible with various file formats of this particular type.
Therefore, to get the most out of this application, it is worth mentioning that in it we can load files in the following multimedia formats :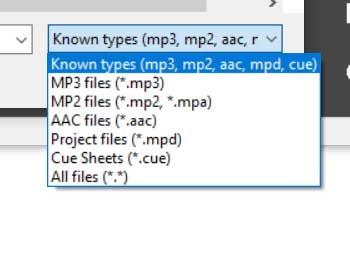 As we can see, it could be said that these are the most common file formats in this type of sector, with MP3 clearly in the lead. With everything and with this, if we need to work with other files of this type, from here we will also have the possibility.
Upload files to mp3DirectCut to be able to edit them
As we have mentioned before, this is an audio editing program that is characterized by its simplicity of use, something that we can see when we see its interface. In this way, in order to normalize or cut our audio tracks , the first thing to do will be to load the file to edit it later. This is something that we can carry out from the File / Open menu, so that we can select the corresponding file. In the same way, we can directly drag these files to the program's interface .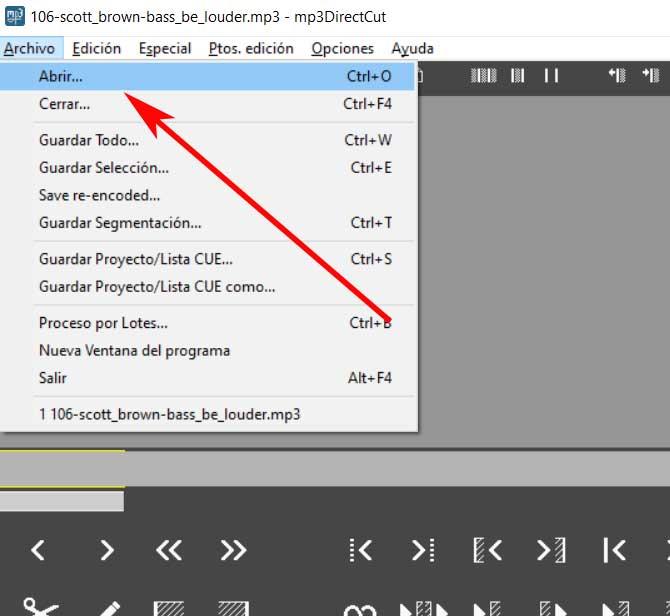 How to cut MP3 files withmp3DirectCut
Once we have loaded the file with which we are going to work, the corresponding track is created in the main interface of mp3DirectCut. In this way, just by dragging the mouse pointer over it, we will be able to select a part, for example. This will be marked as the section with which we are going to operate at that moment, for which we have several shortcuts at the bottom of the interface.

For example, to cut that marked part, we have an icon represented with scissors, or two magnifying glasses to enlarge or reduce the view of the loaded track. In the same way, we have two other controls to establish a starting and ending point of the mark that we make in the file track. Therefore, and as we can see first-hand, working with this specific program does not entail any difficulty. And by this we do not mean that it is less effective in its task, on the contrary, since we will obtain very good results.
Export new musical compositions
To finish, how could it be otherwise, once we have finished with the editing tasks, we can export the result to a new audio file. This is something that we achieve from the File menu, where we can either save the entire track, or just the resulting selection after the work done. At this point we will say that here we have the possibility of creating a new file in MP3 format with the creation we have made. Thus we will have, in a very simple way, a new file of this type to use where we want or need.
Therefore, if what we need is a program with which to quickly edit our MP3 files in a simple way, this is an excellent solution. It also supports working with the most used audio formats at the moment and has the necessary functions to extract parts of an MP3, or normalize its volume in seconds. For example, all this will be very helpful if we need to integrate or use the cut MP3 in a larger job such as a video editing project. At the same time it could also be part of a multimedia presentation or similar element.
How to download mp3DirectCut for free
On the Internet we can find many websites from which to download programs like the one we are talking about right now. However, we must take certain precautions, since they are not all to be trusted. We tell you this because we can find web portals with malicious software that infects our computer, with the risks that this entails.
But we must not be afraid, just be cautious, since we can find a multitude of websites to download free programs safely at this time. In these we can find a multitude of programs of this type, including the one that concerns us in these lines. In addition, we can always use the official website of the application developer, so we make sure, something that we achieve from this link .