multimedia
Cut a part of any video in seconds with virtualdub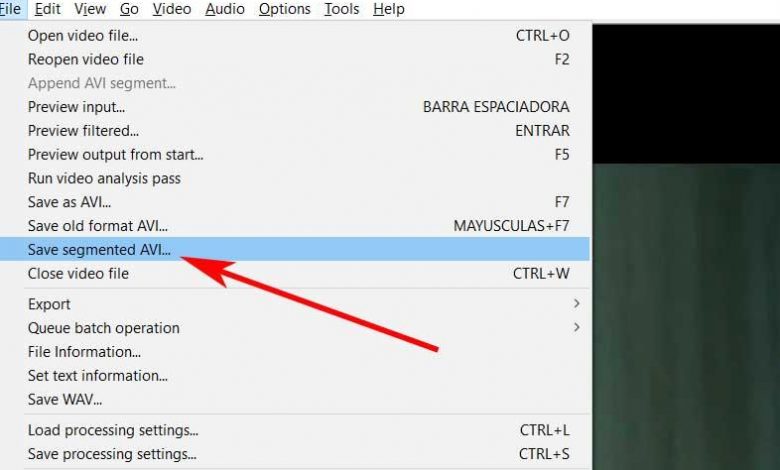 Largely thanks to the powerful equipment we have today, video editing tasks are the order of the day. This type of task only a few years ago was within the reach of some professionals in the sector, since hardware was needed that could not be acquired like now.
But it is that in addition to the power of the components of the team as such, we must also take into consideration that software developers also help. In fact, at this time we can already use programs for these very simple tasks, as well as free ones. This is the case that we will talk about in these same lines precisely. It is one of the most popular video editing programs out there, Virtualdub. This is a program that has been around for a good number of years and that has many functions that will be very useful to us.
Installation and first steps with Virtualdub
We have already told you that it is a powerful application for editing videos on the PC, which we can use without having to pay a single euro . But that's not all, it will also not be necessary for us to install it on the computer. For this, as you can imagine, the first thing we need is to have the program as such. Specifically, we are talking about a solution that is distributed under the GPL license and that we can download from its official website, from this link .
Also say that we have 32-bit and 64-bit versions depending on the architecture of the computer. Next we find a compressed file in which, after opening it, we execute the Veedub64.exe file to start working. Of course, although it works without problem, we must know that its creators have not sent updates to the program for several years. Well, once we put it into operation, we find its user interface .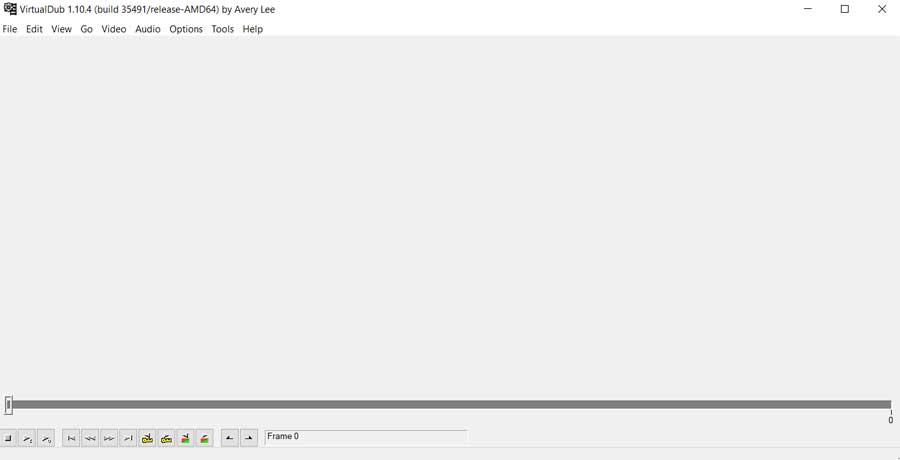 The Virtualdub user interface
Despite the years that the program has been with us, we will tell you that it has the most common video editing functions. Of course, first we will have to get used to its interface. We say this because it is not what could be defined as friendly, but once we get to it, we will see its effectiveness first-hand. This is made up of a large central panel that is where the video content is placed as such. Also in its upper part we find a series of menus.
Of course, do not look for a way to change the language, you work in English. In addition, the program has support for many formats, both video and images, but not for the most current. Well, once we know this, say that in the following we will talk about how to carry out one of the most common tasks in this type of work.
Specifically, we refer to the possibility of extracting a part of a video using only Virtualdub. Therefore, the first thing we do to do this is load it in the program's interface as such. This is something that we achieve through the File / Open Video File menu, where we already have the possibility to choose the file with which we are going to work later.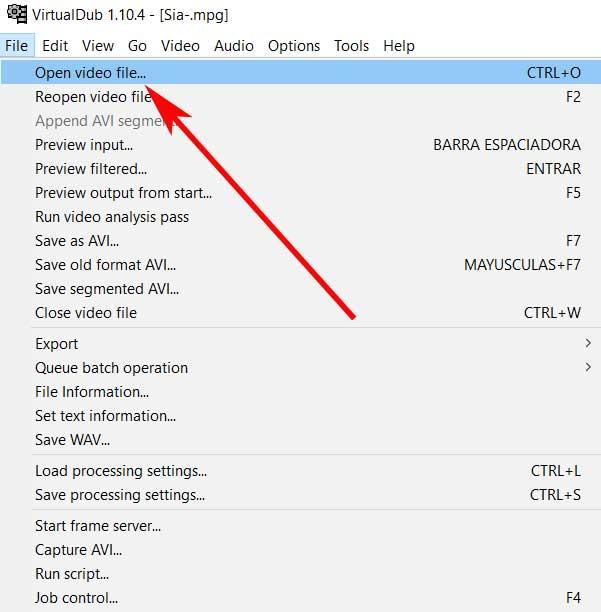 Upload and work with videos in Virtualdub
Once the video content, if supported, is loaded into the editing program, we take a look at the bottom of the main window. Here we are going to find a series of controls that will allow us to manage the loaded content . We will also see a timeline that corresponds to the duration of the video, along with some buttons. Say that the video, although loaded, does not start playing automatically. This is something we are used to in most players, but this is an editor. Therefore, to get it going, we click on the second button starting at the bottom left.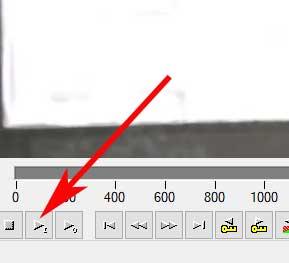 At the same time, along with this, we observe some other common controls for managing videos. We see one to end playback, others to move forward or backward more quickly, etc. But what really interests us in this case is a little further to the left. As we mentioned before, here we are going to extract a certain part of the video that we have uploaded. This is something that surely could have been very useful in some cases, and that we are going to see how simple it is.
How to cut a part of the video with Virtualdub
Of course, first of all what we have to do is place ourselves in the exact place of the content where we want the extraction to start . If we take into account that what we need here is to get only a part of the loaded video, it is best to use the timeline. This will allow us to locate ourselves at the exact moment of the video that interests us. Specifically what move on this line is pointing triangular we are in it.
Well, once we know this, we will see that as we move it, the program itself indicates exactly the moment of the video in which we are. This is something that we can measure both in time and in frames, both values ​​are modified in real time and at the same time, of course.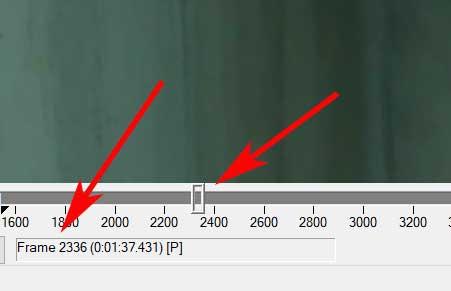 Once we have located exactly the initial position in which we want to start the extraction, we stop the video there, if it was in playback mode. It is worth mentioning that it is not necessary to start the reproduction to get into the position we need. Once there, right next to the commented time markers, we find two small black arrows. As you can imagine, the first one, the one on the left, refers to the initial extraction position.
Therefore, once located at the beginning, we click on it. Now we only have to define the end point of the video extract that we are going to save. Thus, we repeat the same as before from the scroll bar, to then click on the second of the black arrows. At that moment we will see how the video selection is colored with a bluish tone.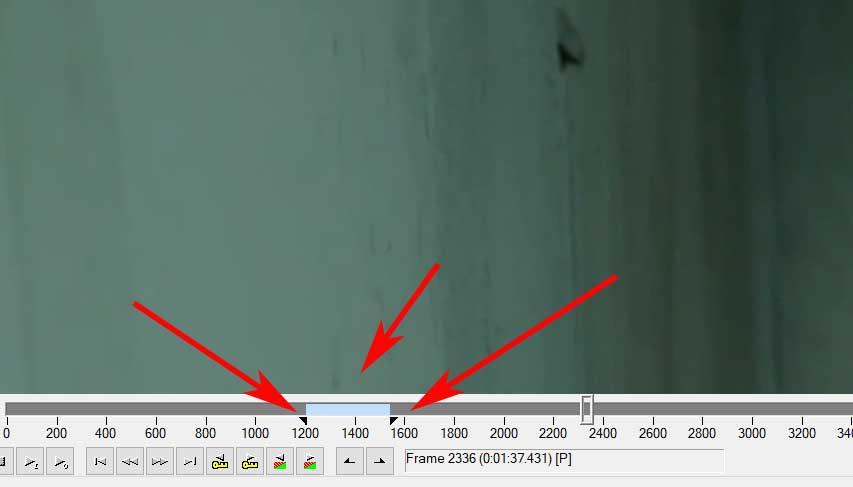 Therefore, to finish the process, now we only have to go to the File / Save segmented AVI menu option.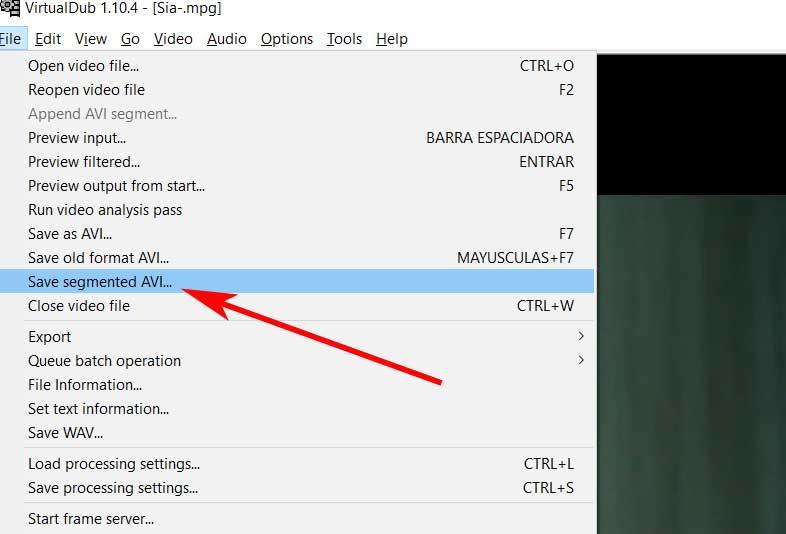 It should be noted that in Virtualdub with this what we really achieve is to have a video file that only contains the selection made previously, that easy. Therefore, as we can see, from here we can extract parts of a video in a matter of seconds once we have done it a couple of times.