multimedia
Create and edit professional level videos with easeus video editor

Video editing has now become an essential element in many professional fields dedicated to content creation, such as marketing or social networks. For this, it is essential to have a program capable of creating and editing video in a professional way with which to obtain the best results. In the market, we can find a wide variety of products, including EaseUS Video Editor, about which we are going to talk to you next.
EaseUS Video Editor is professional video editing software , but it is intended for both experts and those who have decided to start getting into the field. The program puts at our disposal more than 50 transition visual effects that allow us to add a professional touch to our videos, as well as the possibility of importing and mixing music tracks or recording narrations with the push of a button.
With this complete application we can trim, cut, divide, merge, rotate, mix video clips, apply effects, speed up or slow down the video speed, among other functions. In addition, it is compatible with the main video formats and allows us to import any multimedia file to the computer recorded with camcorders, DV cameras, web cameras, mobile phones, etc.
When it comes to editing our creations, we will have different options to export it later so that it can be played on Android mobiles and iPhone and other devices. We can also record them directly on DVD or upload them to YouTube or social networks such as Twitter, Facebook, among others.
EaseUS Video Editor is easier to use than it seems
Once we start the application for the first time, a window will appear where we must indicate the aspect ratio we want for the video. We can choose a 9:16 vertical screen designed for mobile phones, a 16: 9 wide panoramic screen or the classic 4: 3. Once selected, its main menu will appear.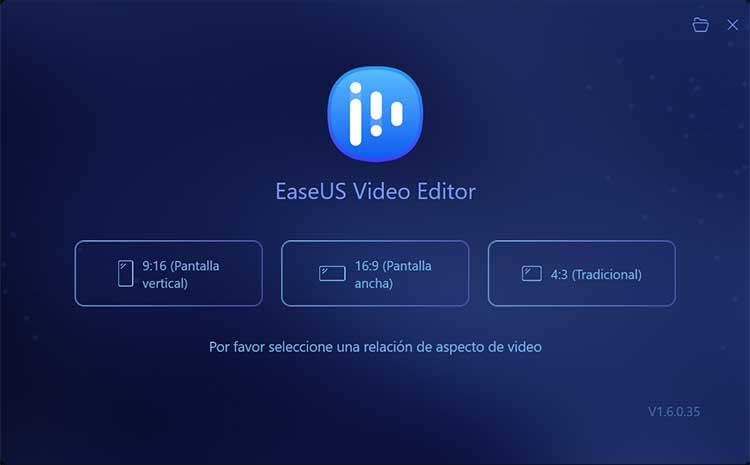 The main menu has a dark, minimalist look and is completely in Spanish. On the right side we can see a view of the video being edited, while on the left side we will have all the editing means that we can use for it. At the bottom we find the classic timeline that will help us edit each frame.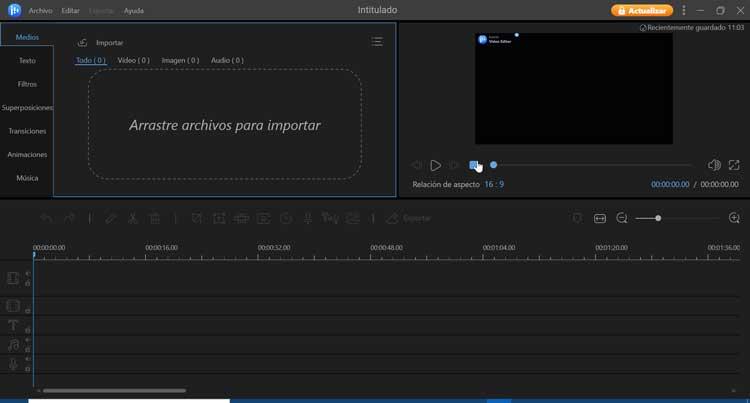 To start editing our video stored on our computer, we just have to drag it with the mouse to the upper left where the Media tab is located, so that we can have it at hand at all times and add it later to the line of time . Just above the timeline is a toolbar with the classic editing icons. Among them we find the functions of cutting, dividing, merging, rotating, mixing video clips and applying different effects, among others.
Large number of filters, animations and sound effects
If we look back to the upper left, we see that just below Media we find other functions such as "Text". From here we can add new subtitles to our video with a multitude of predetermined sources, although it also allows us to insert our own subtitles from the "Insert New Subtitles" button.
We also find the "Filters" tab where we can add a touch of special color to our video, both with the filters it incorporates and with the possibility of downloading another wide variety. From the "Overlays" tab we can add overlays to our video to give it an original touch. You cannot miss the "Transitions" tab, which will be very useful for, for example, creating a video with various photos. From here we can select how we want the transitions to be made between one and the other.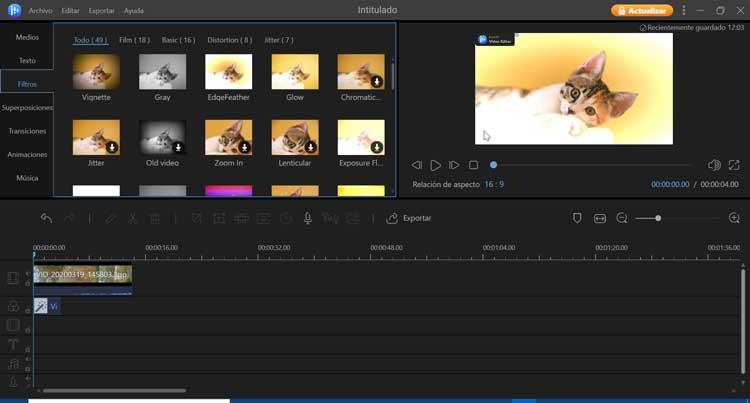 The next tab, "Animations", offers us the possibility of providing our video with different animations that are organized by categories. Finally, we have the «Music» section, which will help us to provide different sound effects to our creation. On the right side of the screen we can see at all times a preview of the result of our creation.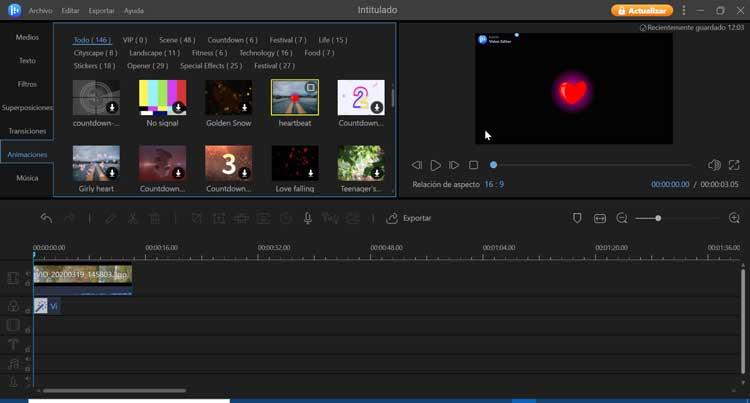 Once finished, we can only save it and export it from the "Export" tab that we will find at the top of the screen. From here we can select if we want to export it as a video or audio file or upload it directly to an online platform such as Goolge Drive, TikTok, DropBox, Facebook, among others.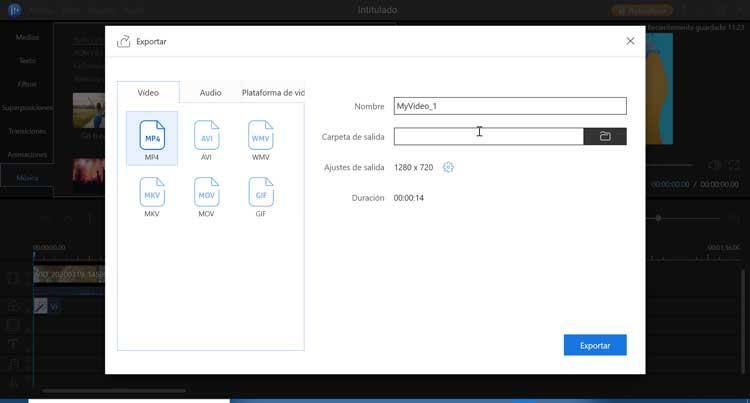 Download EaseUS Video Editor
EaseUS Video Editor is a commercial program so in order to use it we must acquire its license. If we want to test it beforehand, it is possible to download a trial version from its website. This version has no length limit to export and has all the available functions, although with limitations, since we will not be able to export the video at 1080p and it has watermarks.
When buying EaseUS Video Editor we will have three plans available:
1 month : we can acquire your license on a monthly basis, with auto-renewal and with the possibility of canceling it at any time. The license is valid for one month and comes with free updates. Its price is 29.95 euros / month .
1 year : it also allows us to obtain your license annually, with self-renewal year after year, being able to cancel at any time. Includes free updates throughout the period and the license is valid for one computer. Its price is 46.95 euros / year .
For life : finally, we can acquire the product with updates for life, and with a license for a computer for a single payment of 76.95 euros .

Alternatives to EaseUS Video Editor
If we are looking for a professional video editing tool, but EaseUS Video Editor does not convince us, we propose a couple of alternatives that we can take into account:
Magix Vegas Pro
It is a complete video editing software aimed at professionals, although it can also be used as a tool to create high-quality home videos. It has more than 300 filters and special effects, as well as a powerful image stabilizer with motion tracking and a 360-degree workflow. It is possible to download a free 30-day trial version from its official website. Its price starts at 299 euros.
Pinnacle studio
This professional program allows us to produce and edit movies in HD and 4K quality with high quality results. It has tools for capturing, editing and exporting videos and support for 3D videos. We can make montages with all kinds of transitions, preview the results and save them in the cloud. If we want to try it, we can download a free trial version from its website . The starting price is 54.95 euros.