multimedia
Create and edit free videos with templates with the help of these websites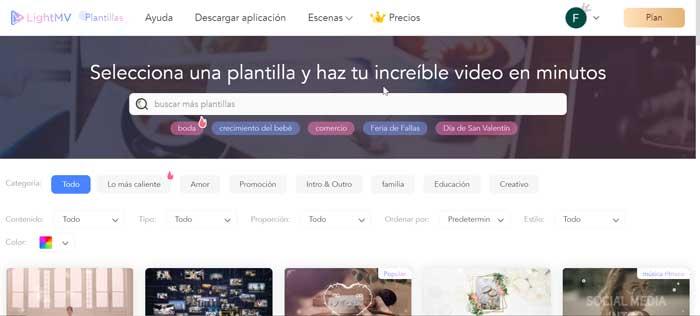 Video editing is an increasingly common task on our computer, especially if we are fans of making recordings with our mobile or camcorder. The main problem is that editing video is not a particularly simple task if we do not have a minimum knowledge. For this reason, there are specialized tools in video editing and, in addition, they have templates so they can be of great help, becoming our great allies to carry out these tasks.
On the Internet we can find different websites that are focused on video editing . In these cases, they also include the use of specially designed templates to facilitate all our work. The applications that we are going to see next offer all kinds of templates, especially focused on marketing, promotions, demos, product launches, advertising campaigns, etc.
In this way and with the help of these tools we will be able to carry out the editing treatment of our videos through templates and customize them according to our needs instead of starting the whole process from scratch. In this way we are going to see a series of proposals that are mainly focused on inexperienced users who want to take their first steps in editing, or for those who, due to time or need, require a program that helps them as much as possible through the use of templates.
Canva, a quality option and 100% free
With this web application it is possible to create high quality videos, even if we do not have knowledge of video editing. It has very simple tools and an extensive library with more than 250,000 predesigned templates and more than 100 types of designs, videos, animations and music tracks with which to make short and simple videos. Once our project is finished, we can download it without watermarks and share it on our social networks.
The best thing about Canva is that we are facing a free tool, with which it is possible to create and download videos as many times as we want. In addition, we will have 5 GB of storage to store our work. If you want to try it, just click on this link.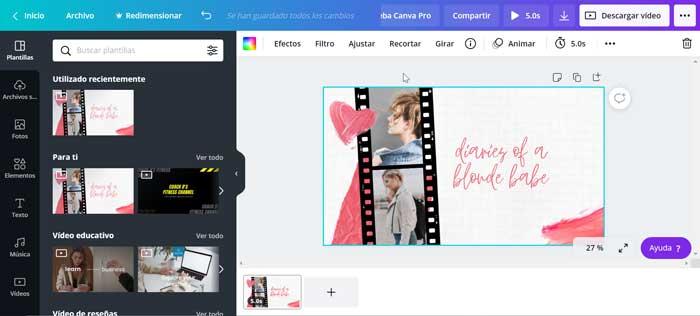 Kizoa, online montages with a wide variety of customizable templates
It is a web application for online video montages, as well as editing and creating presentations. With it we can easily make both personal and professional videos. Once we register, the editing screen appears with 13 categories full of fully customizable templates . In them we can add elements such as text, music and gifs. We will find templates organized by categories such as Christmas, New Years, weddings, love, business, family, among others. Once the template is selected, editor adds it to the timeline so that later we can add our content. We can share the final result on other pages or download it to our computer.
Kizoa has a free version that allows us to make videos with up to 1 minute with an HD resolution (720p) with 1 gigabyte of storage in the account just by accessing its website . It also has several payment options with a starting price of 29.90 euros.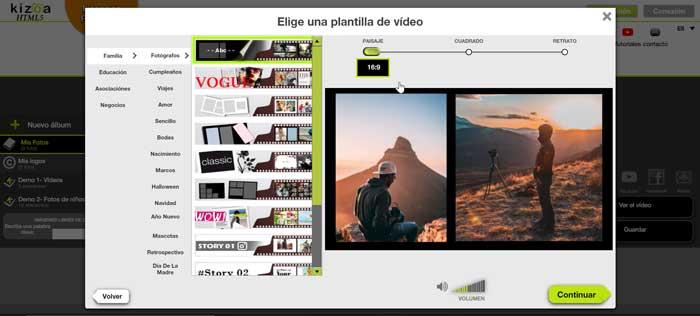 Adobe Spark has one of the best template selections
Another software developed to be used through a web browser is Adobe Spark. With this application we will have three different functions with which to create pages, messages and videos. If this web application is characterized by something, it is by having one of the best selections of templates, from advertisements, promotions, to events and stories, among many others, so we will surely find the ideal one for our needs. Once we start our new project, the application makes its extensive library of templates available to us, to later access the editor where we can add the video or images that will make up our project. It also allows creation from scratch if we wish.
To start using Adobe Spark, just go to its official website .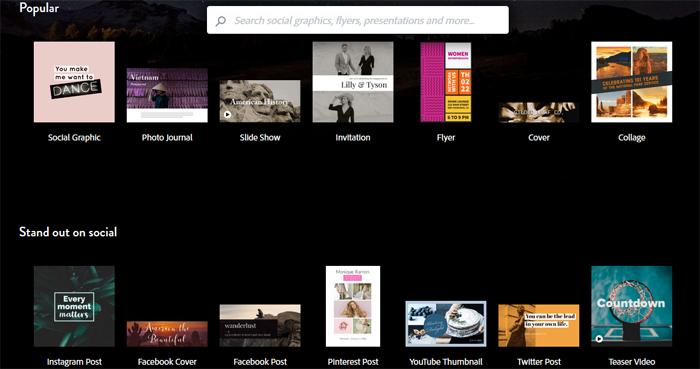 RenderForest, one of the most popular online editors
This online editor, is one of the most popular in the sector, it will allow us to carry out our work with templates . In it we will find promotional templates, logos, music, presentations, as well as elements that we can customize to suit our needs. Its extensive library of templates has a search tool, as well as different classification options, so that we can quickly find the most suitable one for each moment. Later we can open it with the editor and add all our content, testing different styles and incorporating different styles of background music.
RenderForest has a free version that allows us to make 360p quality videos with a maximum duration of 3 minutes, along with a maximum storage space of 500 MB where we can save our projects. We can start using it by clicking on this link .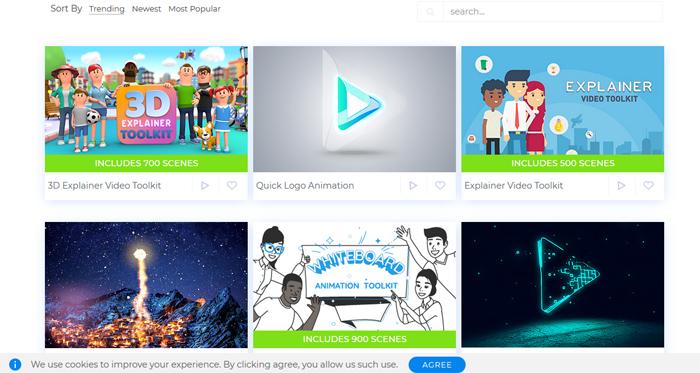 ClipChamp, edit videos with various aspect ratios
We are facing a very complete online video editing tool with which we can choose between five different aspect ratios: square, portrait, classic, cinema and wide screen. Once chosen, we can add a background and use different templates . We will have a library where we will find elements such as audio files and backgrounds to add to the editor and treat it together with our content.
ClipChamp has a free version that provides templates with a resolution of 480p and allows us to create an unlimited amount of videos. In addition, we will have up to 9 transition styles. It also has several pricing plans that start at $ 9 to get the most out of the application. If we want to try it, we just have to access its website .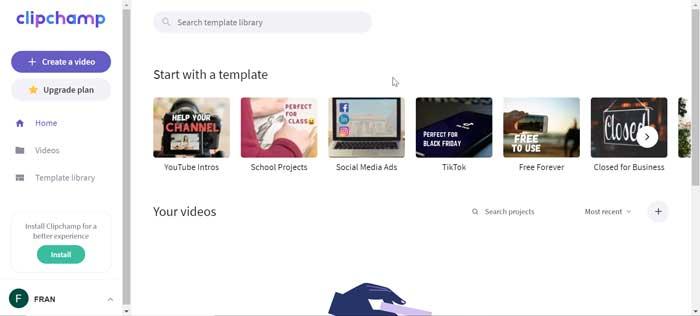 Wideo, with more than 100 templates for our videos
Another interesting option to create and edit videos online is Wideo. It has more than 100 video templates that we can edit as best suits us and choose the one we like the most. It has templates for promotional videos, marketing, videos for YouTube and Instagram, presentations, etc. With the help of these templates or from scratch we can create our videos, even if we have no experience in the matter. Once our projects are created we can share them on social networks or download them in MP4 format.
With the free version of Wideo, we can make videos of up to 1 minute that we can share on YouTube with a watermark, but not download it. In addition, it has 50 MB of storage for our projects. If we like it, we can choose one of its payment options that start from 10 euros per month. Try Wideo for free by accessing its website .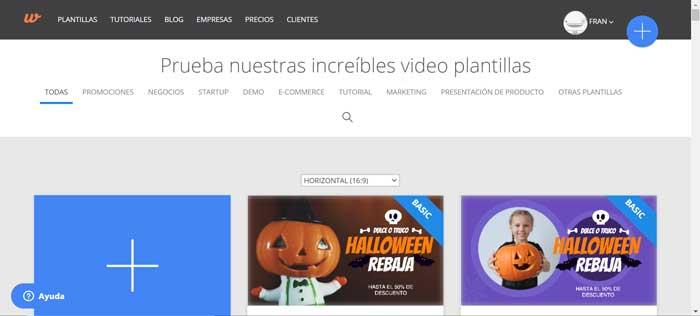 Placeit, with a wide variety of templates for beginners
This online video editor is characterized by being very simple so that anyone with access to the Internet can create high-quality videos quickly. For this, it offers us a wide variety of video templates . Later we can write text, choose background colors and once finished we can download it. In addition, it has an extensive library with more than 2000 audio tracks to use freely, being able to choose from alternative music to jazz tracks.
In the free version of Placeit they will embed a watermark in our creations. If we want to contract your payment option, it is available from $ 14.95 per month. We can test Placeit by entering their website .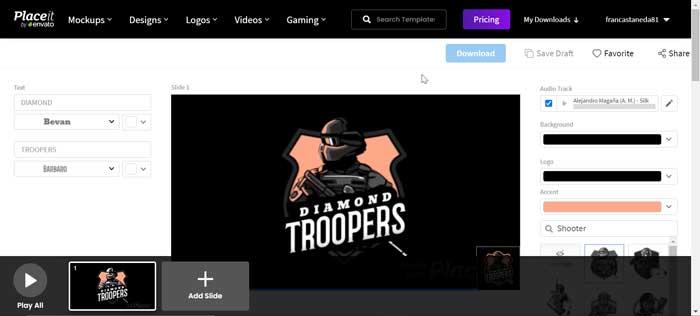 FlexClip, edit template videos without downloading any software
This online editor allows us to quickly upload and edit our videos and photos for free and without the need to download any software. It has hundreds of video templates arranged by categories such as business, lifestyle, YouTube, Facebook, Instagram, etc. It also has a wide variety of videos with text animations, overlays, and other elements. In addition, it has royalty-free videos, photos and music that we can use for our projects.
To start using FlexClip to create and edit your template videos, just click on this link .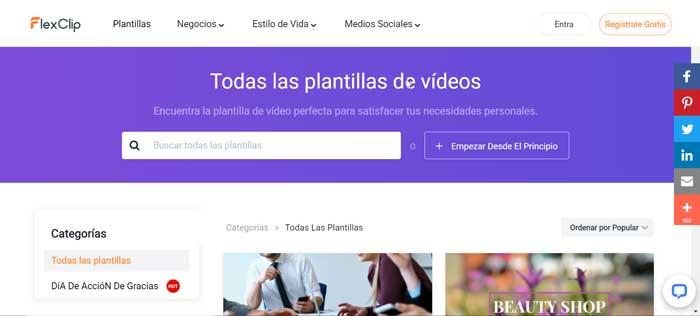 LightMV, create videos with images and templates
It is a  web application, which we can access from any Internet browser. It has various templates of predefined designs along with their respective samples or preview, which will help us to know what type of video we want to create according to our needs. The tool itself will ask us to upload the images that we want to include in the videos, which we can edit with the various effects it offers us. With its free version we can create 360p videos, which we can only see and share with a watermark.
To start using LightMV, just access its website and register. If we want to make the most of its features, we must hire a subscription plan that starts at 29 euros per month.