multimedia
Create and edit audio like a pro with these programs
If we are fond of creating or editing songs in the market we can find a wide variety of programs to help us with this work. Among them we can find very popular tools and others more unknown, some more complex and others simpler, paid or free … but all with the mission of being able to carry out the work in a professional way, in order to obtain a quality product as a result. .
Today we are going to talk about programs with which you can edit sound, cut songs, add effects, correct errors, etc. In this way we can turn our audio piece into the perfect element that we want to obtain with a professional final result. Within these audio editing software we can find both free and paid, so that we can choose the one that best suits our needs.
Best free professional audio editing software
If we are looking for an audio program with which to obtain great results but for this we do not want to spend a single euro, we will show you below which are the best free options.
Audacity, the most popular, complete and free
We are facing one of the most advanced and complete audio editing programs that exists. This application is open source, free and cross-platform, so it can be used on Windows, macOS and Linux. This tool has many professional-level editing and recording functions, being compatible with a wide range of formats. This software stands out for the possibility of editing all types of audio files, as well as for the possibility of joining songs, adding effects, importing and exporting files. The fact that it is free is a great value over other payment options. Conversely. despite being a tremendously complete application, it does not have an interface to matchthan perhaps we expect from a professional program. It shows a somewhat dated image, which means that it can visually back down the most demanding users.
As we have commented, Audacity is a completely free program, so to start using it we just have to download it from its official website .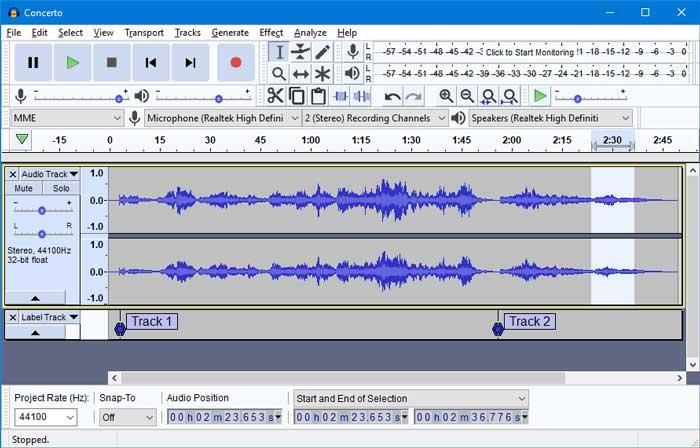 LMMS, free music composer
This software is a complete , free, multi-platform digital audio workstation . With it we can edit and produce audio files from our computer. The program includes different types of sound keyboards, as well as a 64-channel FX mixer, with support for a large variety of different effects. With this powerful software we can compose songs, create sequences and make mixes, being able to precisely adjust chords and notes with its Editor. In addition, it allows us to use a MIDI controller to play the notes or use the computer keyboard. Its main drawback, which can put many users back, is that it does not allow exporting files in MP3 format, so we will have to resort to other formats such as MIDI, VST or FLV.
LMMS is a 100% free and open source project that we can download freely from the developer's website, being compatible with Windows, Linux and macOS.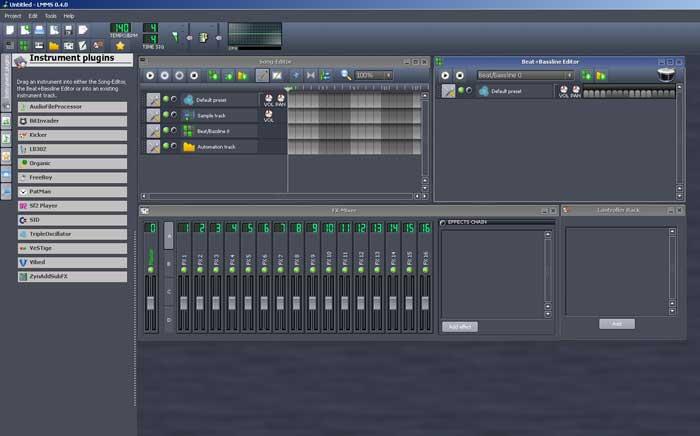 Ocenaudio, the perfect editor for beginners
We are with an audio editor whose best quality is that it is free and very easy to use . Therefore, it is suitable for all types of users. This software allows us to perform a wide variety of functions from the most basic to the most advanced, from trimming to adding effects. Among its advantages we will also find the possibility of working with two or more audios at the same timeone appearing at the top and one at the bottom. It also has the ability to record with a microphone or any other device with which to capture sound. In addition, it offers tools to work with total comfort, filters with which to modify the sound and a powerful equalizer with which to obtain great results. Perhaps, its main disadvantage is that it does not reach the quality quotas of other free programs such as Audacity, but it is well worth trying.
If we want to start using Ocenaudio, we just have to download it from its website, being compatible with Windows, macOS and Linux computers.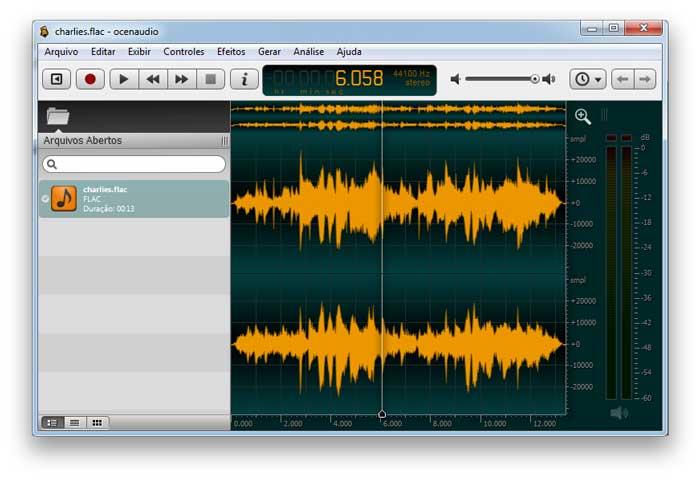 Wavosaur, editor with VST support
This free audio editor is a great alternative to other paid options thanks to the large number of functions it incorporates. It stands out for having native support for VST, which allows us to debug and manipulate audio tracks in various formats. With this powerful software, we can also remaster tracks, apply all kinds of effects, and even export their data to text files. In addition, it does not need installation, so we can run it on any computer from an external device. On the contrary, this application has some disadvantages to consider. The main one is that it is entirely in English, which can make it quite difficult to use. In addition to the user interface is not at all intuitive, so the learning curve can be a handicap for the most inexperienced users.
To start testing Wavosaur, all you have to do is download it completely free of charge from its website.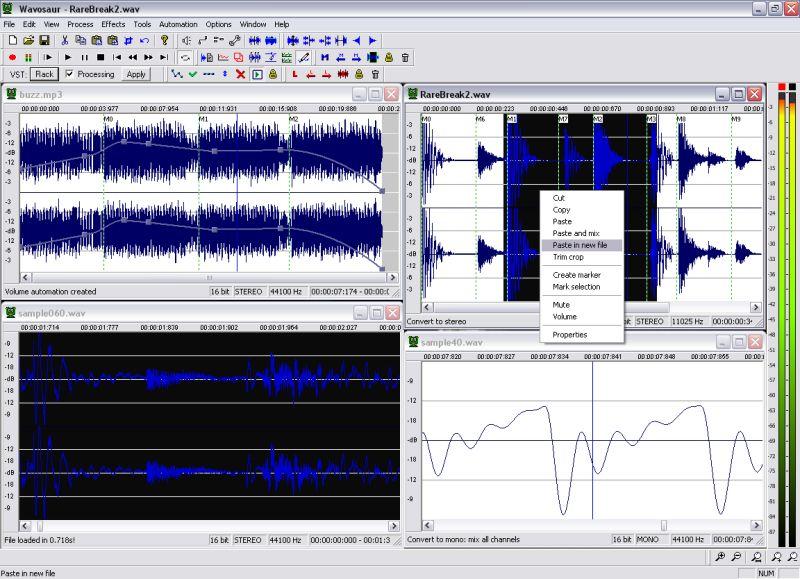 Best paid professional audio editing software
If the free options that we have seen are not able to satisfy our needs, we can also choose various payment options with which we can obtain completely professional results.
Audition, with the Adobe guarantee
It is a multitrack recording station that offers a large number and variety of tools. With them, we can edit, mix and record content in audio format, obtaining high quality results. It has a clean interface separated by tabs so that it is more convenient for us to access all its content. Its advantages include native support for 5.1 surround and full integration with Creative Cloud. On the contrary, we may miss some functions that may be important to many users, such as that it lacks tools to burn CDs and does not have MIDI support.
Adobe Audition is a professional audio recording tool for which we will have to pay to obtain its license. We can buy it from 24.19 euros per month. We also have a free trial version that we can download from their website .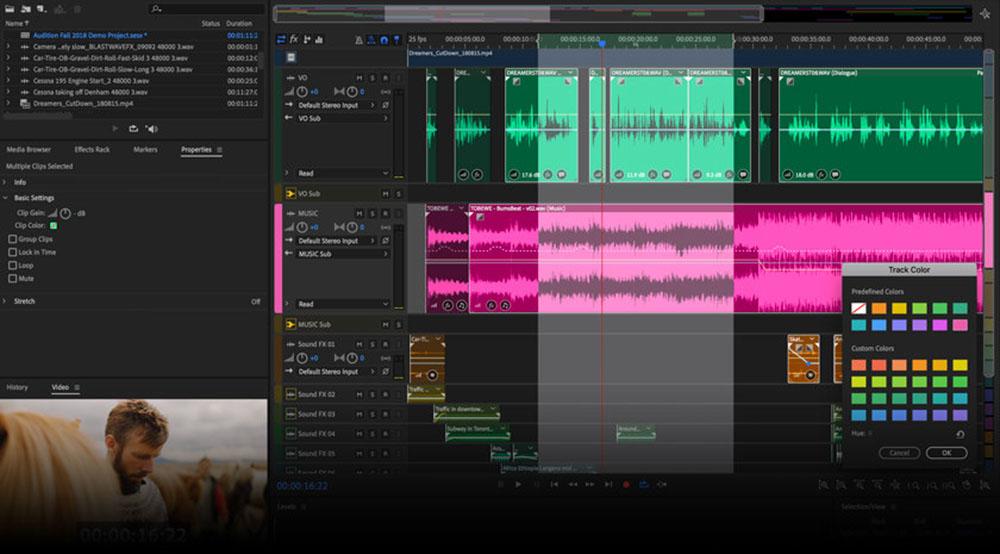 Sound Forge Audio pro, ideal for large workflows
This software is one of the best known in the professional audio editing sector. It has a wide variety of options for audio processing, with very interesting functions such as the possibility of restoring vinyl, allows direct or digital CD recording, as well as the possibility of correcting the tone of voice. In addition, it has support for all kinds of plugins and compatibility with any audio format . The main problem with software of this level is that it is not suitable for all types of users, the most exclusive audience being the most advanced professionals. We also find an interface that can be outdated which makes the learning curve for new users more pronounced.
Sound Forge Audio Pro has a fairly high sale price, which reaches 299 euros, since it is aimed at professionals in the sector, being an unattainable figure for many users. In any case, it is possible to download a free trial version and see first-hand all the benefits offered by one of the best audio editing software on the market.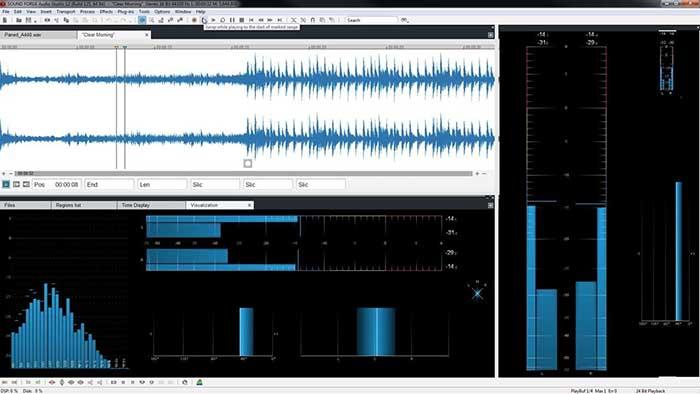 FL Studio, one of the most popular DAWs
If we want to edit audio in a professional way, we cannot ignore FL Studio. It is a program with which, in addition to editing, it allows us to compose, arrange, mix, record and master audio files with a highly professional result. It stands out for having more than 80 effects and plugins, so that we can compress and distort them among other functions. Of course, there will be wide compatibility with all kinds of audio formats, as well as all kinds of functions such as sequencers, virtual instruments, and tools for mixing and composing songs.
Unfortunately, we are facing software that is not exactly cheap . Its most basic version starts at 89 euros, reaching the not inconsiderable figure of 810 euros if we want to enjoy all the options it offers, so it is not suitable for all budgets. Even so, if we want, it is possible to download a free trial version from its website, fully functional and that we can download freely without registering or providing any information.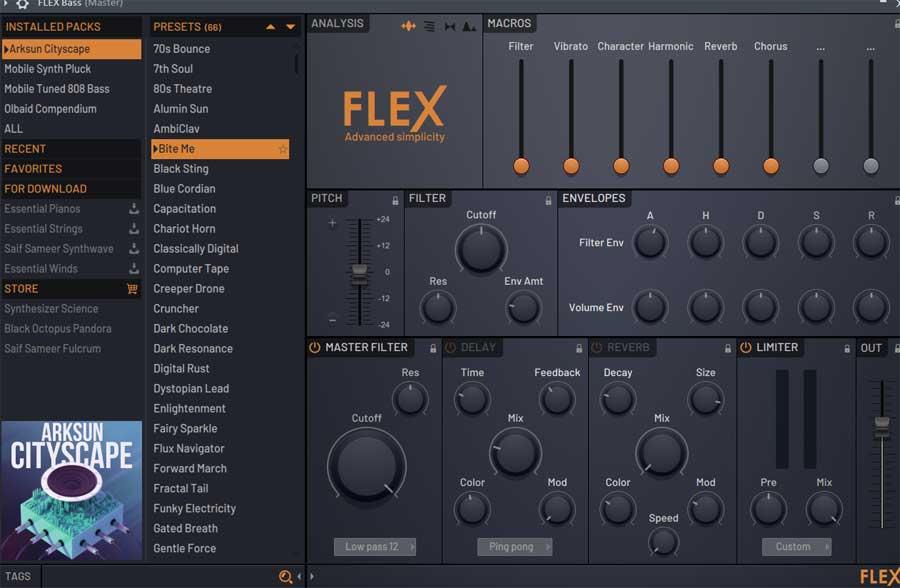 WavePad, ease of use to work with multi-format audio
In this other case we find a powerful program that will also allow us to edit audio files with professional results. This is a software that you can download from this link and that offers us a multitude of functions for all of this. It is worth mentioning that here we have a sound editor software with which to work with our music.

We can use it both on Windows- based computers and on Mac . In this way and in a simple way, we have functions that allow us to record and edit music. At the same time we will have the possibility of working with different voices and other audio recordings that we integrate and upload. To carry out these editing tasks, we can cut, copy and paste parts of recordings. At the same time, we have the possibility of adding digital sound effects from the many that we have predefined here. Say that the program is compatible with a wide variety of formats such as WMA, AIF, FLAC, OGG, MP3, etc.
Cockos Reaper, efficient and economical editor
We are before a digital audio workstation and sequencer software with which we can perform any function we need. With it we can obtain a completely professional result. It stands out for consuming few resources, so it is a good option if our computer is old or not very powerful, being especially recommended for both recording and mixing . It also incorporates a wide collection of free plugins such as limiters, gates, EQ, compressors, etc. In addition, it has a much more affordable price compared to other DAWs on the market, which allows it to be an option to consider.
Of course, it also has some disadvantages that prevent it from being, perhaps, as complete as we would like. This is due to the fact that it does not have an interface that is characterized by being intuitive, which causes the learning curve to be somewhat high. In addition, it does not include instruments or sample packs, unlike other DAWs that we find on the market.
Cockos Reaper, is a paid program that has a cost of 60 dollars with free updates. In case we need the commercial version, it is priced at $ 225. If we want to test it beforehand to see if it meets our needs, we can download a functional free trial version for 60 days.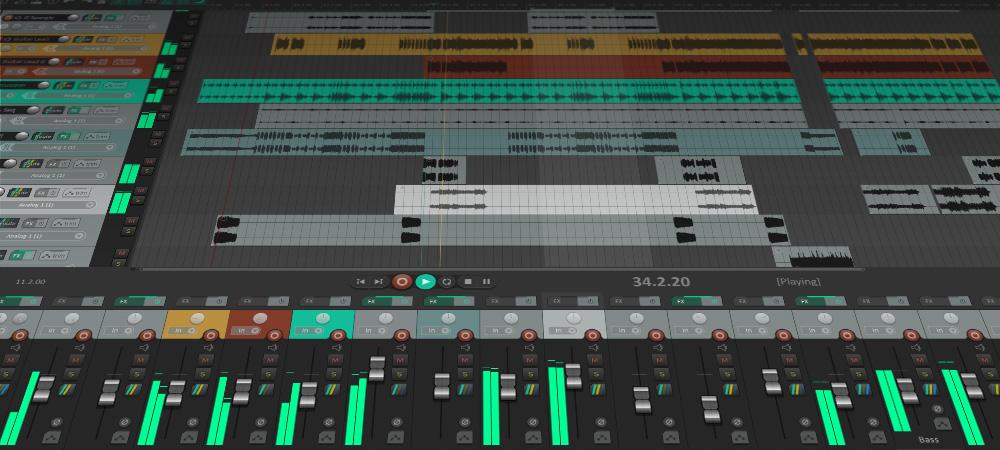 Cubase, directed by and for music professionals
Creating music is not reserved for those who know how to play an instrument or have a great voice. It is also possible to create great melodies. For this, you only need your computer and an application like Cubase. We are facing a software focused on editing digital audio, MIDI and that has a music sequencer, which was originally created in 1989 by the German firm Steinberg, currently becoming one of the most popular applications for composers, vocalists and producers of all the world. We are talking about software by and for professionals, since the learning curve could be too overwhelming for the most inexperienced users.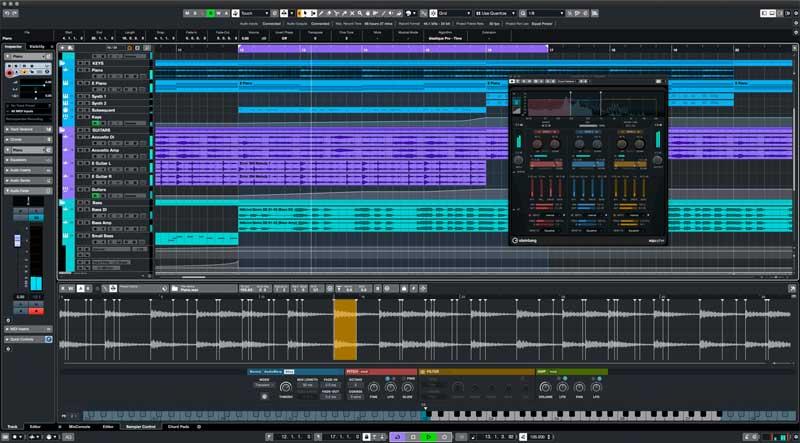 With this program we can easily create songs, regardless of the musical genre, as the product includes all kinds of specialized tools such as an MPC-style drum sampler, a step sequencer, along with creative tools for rhythm manipulation. It also allows us to use multiple built-in loops and support for various DAWs. In this way, we will not only obtain an automatic harmonization of the voice or help for the composition of chord sequences, but we will also have a good number of instrument sounds, as well as loops that can help us improve our audio tracks.
The price of Cubase is quite high since it starts at 581.99 euros. Although, if we want to test it beforehand, we can download a 30-day trial version from this link.