multimedia
Create and configure all kinds of 3d models for free with jahshaka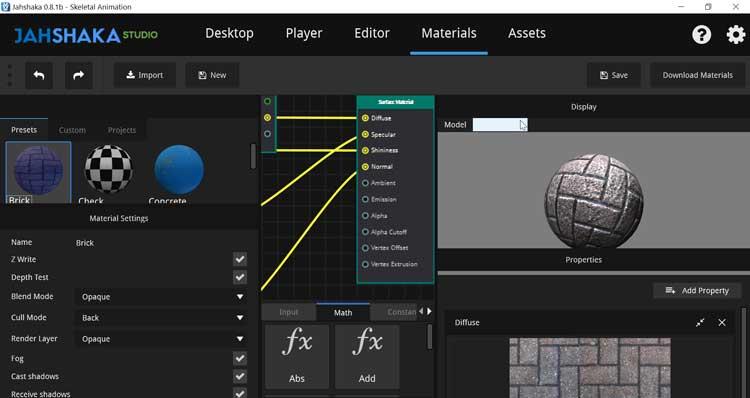 Every good designer requires powerful software capable of creating digital content that has creative tools that are compatible with virtual reality, from creating scenes in real time to incorporating all kinds of 3D tools with which to take advantage of its full potential. For this we can use a program like Jahshaka, an open source project that we are going to talk about today.
Jahshaka is an open source, free, editing, effects creation and composition suite that uses the OpenGL and OpenML environments to help us make our creations taking advantage of the latest advances in hardware. It incorporates a wide variety of image processing tools and special effects with which to achieve quality results.
Jahshaka's main goal is to produce an editing, effects and composition system capable of working with uncompressed material, of any resolution and color depth. This program performs non-linear editing and contains many tools that allow you to edit, color correct files, process 2D and 3D graphics, as well as create animations.
Unleash your creativity with Jahshaka
Once we run the program for the first time, a clean and well-organized interface appears , although it is exclusively in English, which can be an impediment to start with the most inexperienced users. At the top we find its toolbar with its five fundamental sections, "Desktop", "Player", "Editor", "Materials" and "Assets".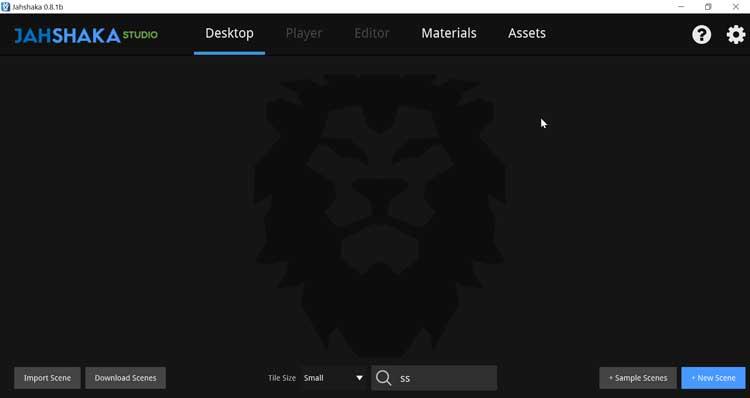 Start creation from Desktop
From the Desktop section is where we can place all the multimedia files that we are going to use in our project. At the bottom we find several tabs that allow us to import or download scenes, create a new scene and add sample scenes. Some of the sample scenes are skeletal animations, particles, physical elements among others.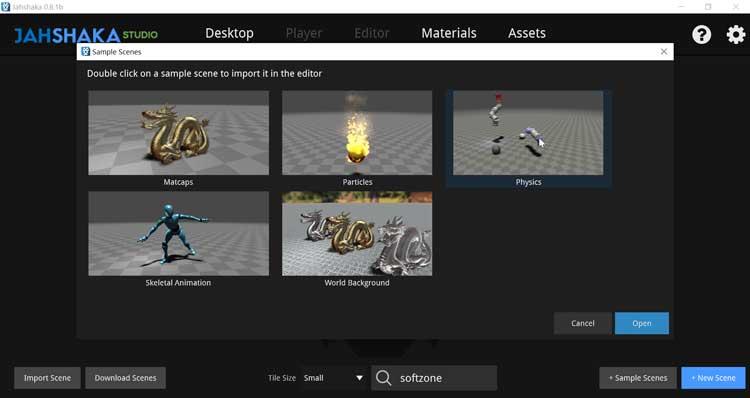 Perform all creation tasks from the Editor
From the Editor we can create virtual worlds in a totally immersive 3D environment, with support for animated objects, particles, skyboxes and animation. The application allows us to work with layers, so that we can create complex projects. We have several types of layers, which allows us to create complex projects. There are different types of layers available (cube, sphere, etc.), allowing us to edit each of them and apply multiple effects (color, relief, negative, mirror, etc.). It also has some configurable parameters such as playback speed, resolution, image position, and transparency level.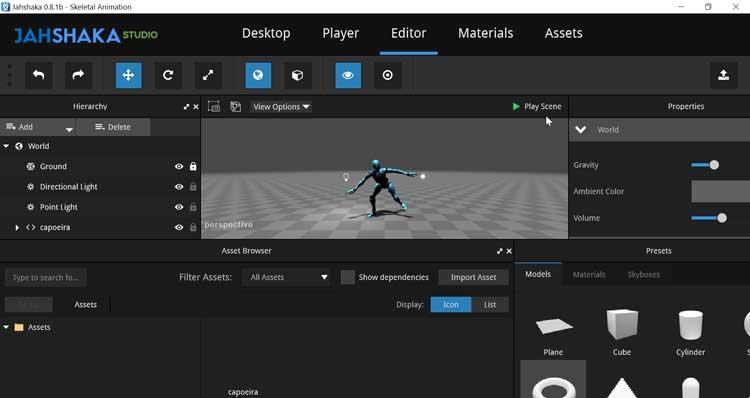 We can create a final version of our project by configuring different multimedia file playback options , being able to add audio files to other media, changing the aspect ratio and through its transition mode. It also has other audio options like scaling, encoding, deinterlacing, and resampling. The drawing scenes can be created using painting tools, as it incorporates various sizes of brushes, effects and geometric figures that we can insert into our drawing.
Materials to design and add effects
In the Materials section we will find all kinds of materials. Located on the left side we have the presets, custom and projects tabs and just below the settings that we can configure for each material and add effects such as fog, render layers, projected shadows. On the right side we can change the type of model, choosing between a capsule, a rectangle, a circle, a cylinder etc. We can also choose the background color, if we want it to be black, gray or white. From here we can also record our creations or download new ones.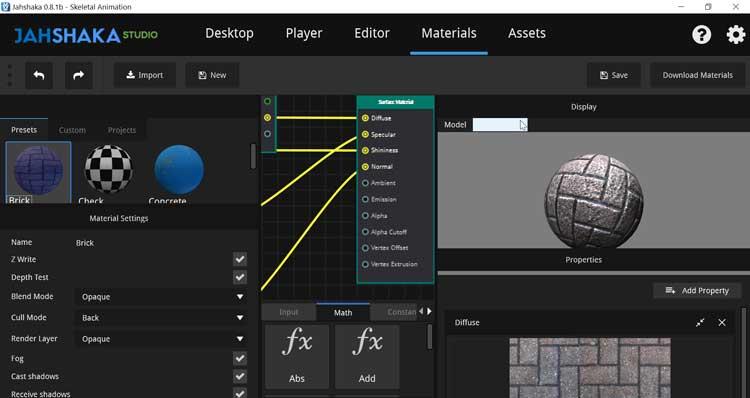 Conclusions
Jahshaka is a tremendously comprehensive modulation and editing tool primarily aimed at advanced users accustomed to image processing and special effects. Newer users will find themselves faced with a complex tool full of multiple options, so a good investment of time will be necessary in order to take advantage of all the resources it offers us. It also has a drawback that deserves to be mentioned as it sometimes fails, which is probably due to the fact that it is still in beta, so it is to be expected that it will have complete stability over time. Finally, it should be noted that this tool consumes high system resources.
Download Jahshaka
Jahshaka is an open source, free and free program that we can download from its website, being compatible with Windows, Linux and Mac OS operating systems. Although it is currently in beta phase, it can be run smoothly and without errors. It is a heavy tool, since its installation file occupies about 174 Mb . The installation is done quickly through its wizard and, of course, does not include additional programs or any type of malware or virus. Its last update corresponds to November 10, 2019.
Alternatives to Jahshaka
If we are looking for a 3D editing and animation program, we suggest a couple of alternatives to Jahshaka to consider.
3ds Max
It is one of the leading commercial 3D animation suites on the market. It has multiple functions that make it a very popular tool for creating visual effects and architectural visualization. This application is capable of creating parametric and organic objects through polygons, subdivision surfaces and splines. It is also possible to create models from data organized in point clouds. We can download a free trial version from their website.
Motionbuilder
It is one of the 3D animation programs for professionals developed by Autodesk, capable of combining keyframe animation with motion capture and virtual production, making it ideal for use in video games and animated films, since we lets you bring 3D characters to life in real time. This program allows us to cut and link different movements with smooth and fluid file transitions. We can download a free trial version from their website .