multimedia
Create and apply a looping effect on videos with these web applications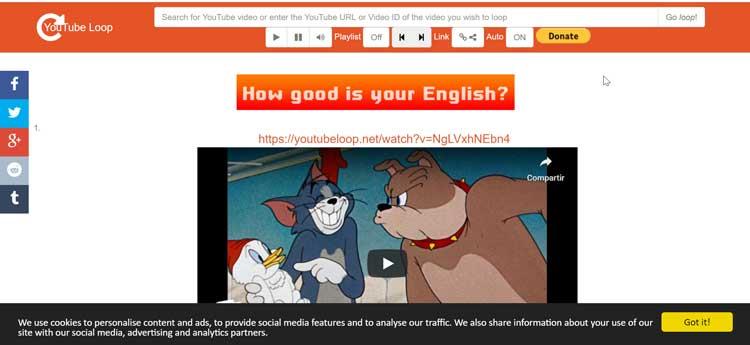 More and more users are taking advantage of their computer to make video edits, both for professional and domestic reasons. One of the most striking effects that we can achieve is known as Looping, with which we can carry out loops for our videos. That is why today we are going to review applications with which we can create fun loop effects in videos .
Looping is nothing more than a video editing technique, by which it is possible to reproduce any video in a custom loop by ourselves . This function will help us to give creativity to any video or a part of them so that it is repeated for a few seconds, as if it were an animated GIF. For this we can use some applications with which we can perform the loop effect both in our own videos that we have saved on the computer and in videos hosted on YouTube.
Repeat a video automatically on YouTube
On certain occasions, whether for professional, personal, or education-related issues, it may be the case that we need to loop a video that we play online. For example, this is something that can be given within the popular streaming video platform , YouTube. This is a video portal that offers us an immense amount of content of this type in the form of videos of all kinds. Well, it is important to know that YouTube allows us to put videos in a loop directly, without third-party solutions.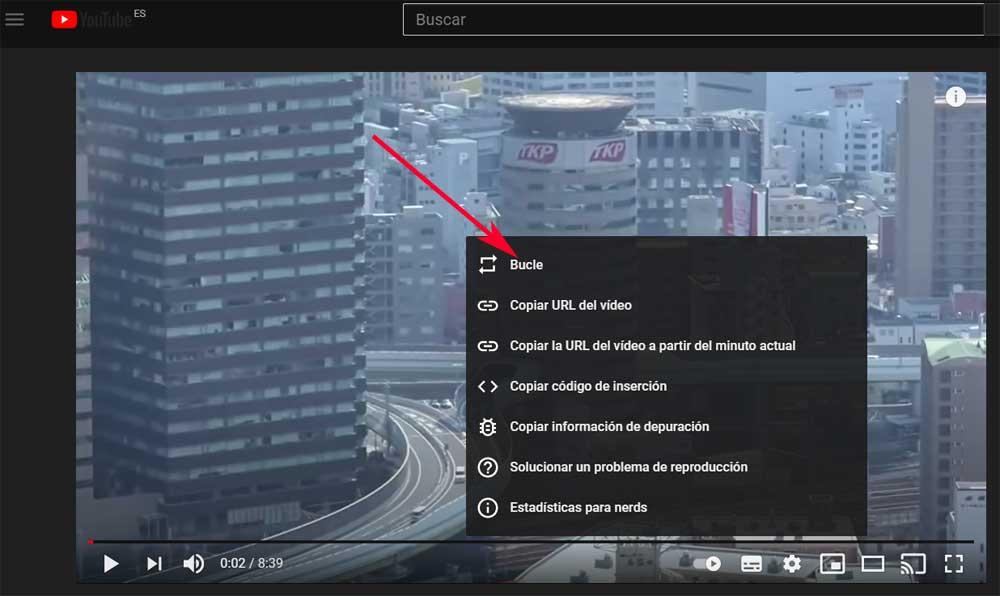 For this that we tell you at first, it is enough that we open the video as such that we want to see repeatedly. Next we click with the right button of the mouse on the screen of the same. Then a list will appear with several options, among which the so-called Loop is shown, where we click. Therefore, the loaded content will start to be seen again once it has reached its end, automatically. This allows us to ignore the reproduction if we want that same content to always be seen on the screen .
Web applications to create loop effect in videos
Clideo, create a video loop and download it
This web application has a wide variety of tools for both audio and video editing. One of these tools allows us to create a video loop, so that we can repeat it in a loop or create an infinite GIF, without having to download or install anything on our computer. It supports a wide variety of formats such as MP4, AVI, MPG, VOB, WMV, MOV, among others. It also allows you to add videos from YouTube by pasting its URL. Once the video is loaded, it will only be necessary to select the number of repetitions or click on the infinity symbol to create an unlimited GIF.
If you want to try Clideo and create your videos with a loop effect, you just have to access its website . In its free version, it adds a watermark to the results, this being its main handicap. To avoid it we will have to pay 9 dollars a month or 72 dollars a year.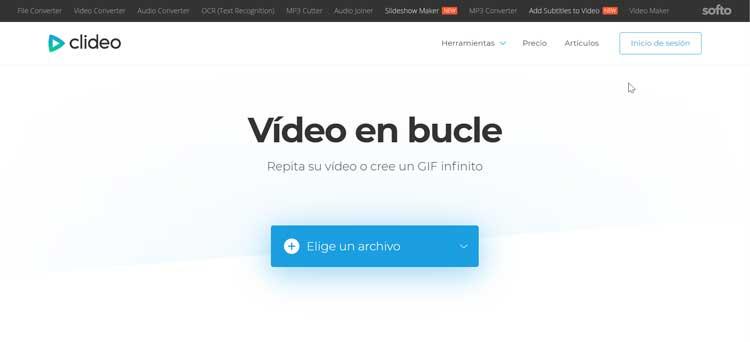 Coub, create and share your loop videos over the Internet
This web application is an online video editor that will allow us to easily create the looping effect in our videos and share the result with other platforms. In order to use it, we must register by creating a free account to later be able to upload the video or insert a URL and perform the editing tasks. In it we find different types of loops to choose from for our videos. The application supports videos of up to 400 MB and 20 minutes long . Once the web is done, it will offer us a URL that we can use wherever we want. Its main drawback is that it does not have a download option, since its use is focused exclusively on the Internet.
If you want to use Coub to create your looping videos, you just have to visit and register on the official website .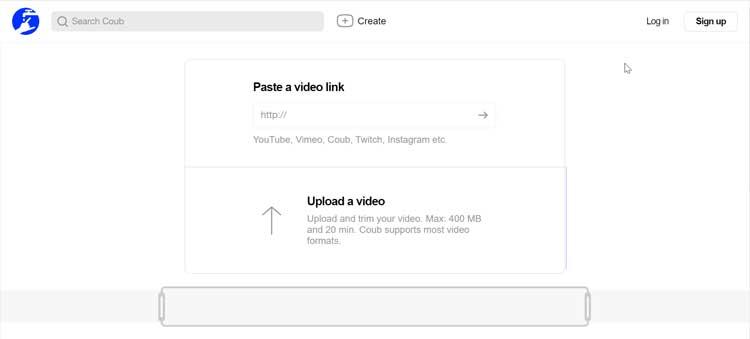 Kapwing, create your looping video, download it and share its URL
It is a simple online tool to play and edit videos online, with which you can perform trimming, rotating, subtitling, watermarking and, of course, looping . We can use as many videos that we have on our computer as we can paste the URL of YouTube videos. Once loaded we must choose how many times we want to repeat the sequence (2x, 3x, 4x, 5x, 8x and 10x) and once created, download it in MP4 format or obtain the URL, with the possibility of sharing it directly on social networks such as Facebook, Instagram or Twitter.
Kapwing is a free online application that does not require registration to use it. If you want to create videos with a loop effect, go to their website .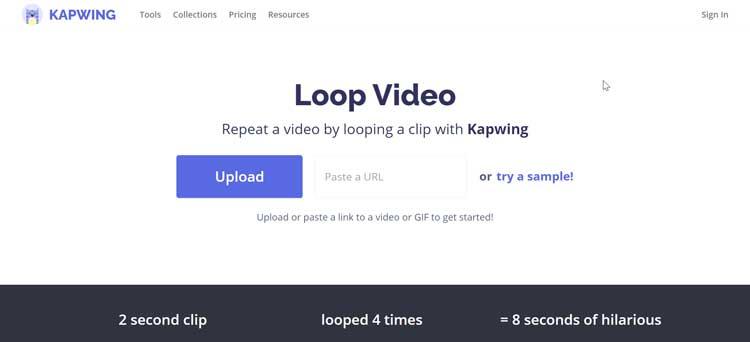 FileConverto, loops up to seven times
It is another online application, which has a large number of editing functions. Among them, we have the possibility of repeating a video in a loop, achieving the so-called loop effect . With this tool we can repeat our video up to 7 times and it works directly from our browser, without the need to install any additional software. The process is as simple as selecting the video file with a maximum of 500 MB from the «Browse» button, selecting the duration of the loop (1x, 2x, 3x, 4x, 5x, 6x, 7x) and clicking on «Submit Now ». Its main drawback is that it does not allow the use of URLs like YouTube's.
If you want to achieve the looping effect in your videos, you just have to access its website .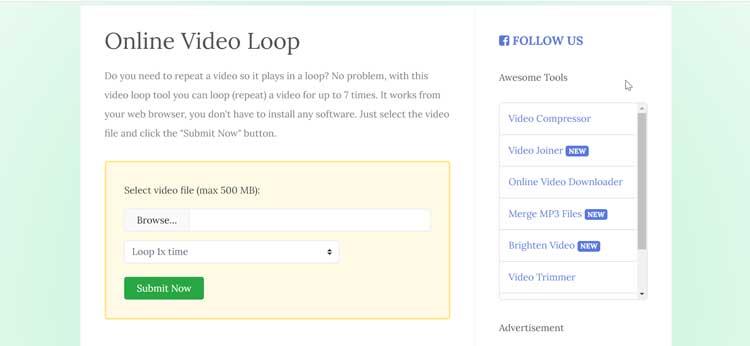 Rocketium, allows you to create a video loop and download it for free
It is a web application that contains a good number of tools, among which is the possibility of applying loop to our videos . Its operation is very simple since we will only have to upload the video by clicking on Upload File or by dragging the file to the center of the page. It is compatible with the most popular video formats such as 3G2, 3GP, ASF, AVI, DV, F4V, WMV, VOB, MPEG, among others. Once loaded we can choose how many loops we want to execute, having 4 pre-established options: 2x, 3x, 5x and 10x. Once chosen, click on «Video Loop». We can download the final result for free to our computer by clicking on the «Download» button. What this application does not allow is the possibility of inserting video URLs.
Using Rocketium's loop feature is free, so we only need to access its website .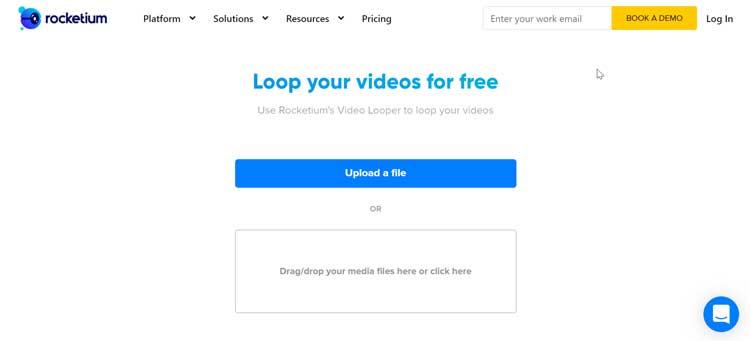 InfiniteLooper, create loop effects in YouTube videos
This is a web application that will allow us to loop any part of a YouTube video . To do this, simply place the URL of the video in the box that appears on the web screen and click on search. From that moment on, the video will be loaded keeping the playback options, but adding a bar at the bottom with its total duration. Now we only have to move the dates of the lower bar to the points that we want to repeat, so that we achieve the so-called looping effect between both points. Its main drawback is that we can upload our own videos and share them.
If you want to create a loop effect in YouTube videos, you can do it with InfiniteLooper by clicking on this link .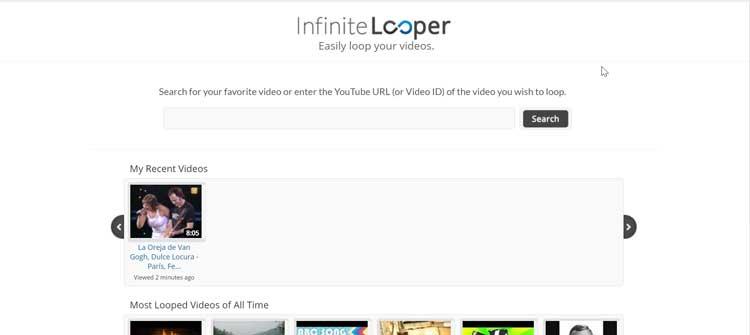 LoopVideos, customize the loop effect on YouTube quickly
This application allows us to easily play YouTube video continuously or repeat a single part of the video to achieve the so-called loop effect or make a loop . Works great for use in music, nature and relaxation videos, meditation, sound effects, and fun clips. For this we will only have to pay the YouTube URL in the upper box and select the time from where we want to start the loop until when to finish it. For example, start at minute 1 through minute 1.30. Once this is done, click on the "Begin Looping" button. Of course, the program does not allow you to download the videos or share them.
You can access LoopVideos and create looping videos from here .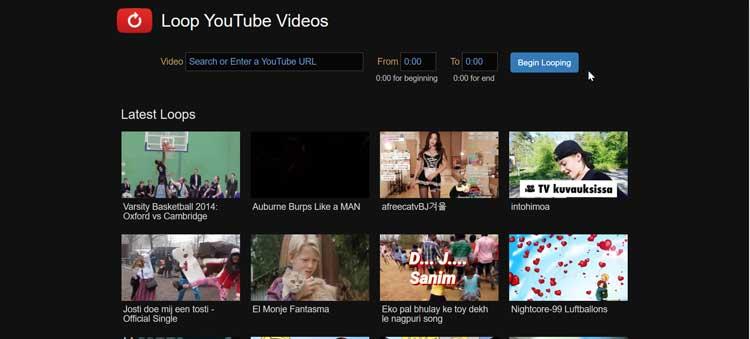 YouTube Loop, apply looping to the video and download a thumbnail
Another application specialized in getting loop applied  to any video hosted on YouTube. To do this we just have to put the URL or ID of the video in the box that appears at the top and click on "Go Loop!" Once this is done, the video that we can play will appear and a bar where we must limit the sequence where we want to perform the looping effect. Once selected, the video will appear repeated within the sequence that we have selected. We can also click on the "Download Thumbnail" button to download a thumbnail of the sequence, which does not allow downloading the video with the sequence.
If you want to see sequences of YouTube videos in a loop, you can use YouTube Loop, entering its website .