multimedia
Copy your free audio cds to your pc with the help of these programs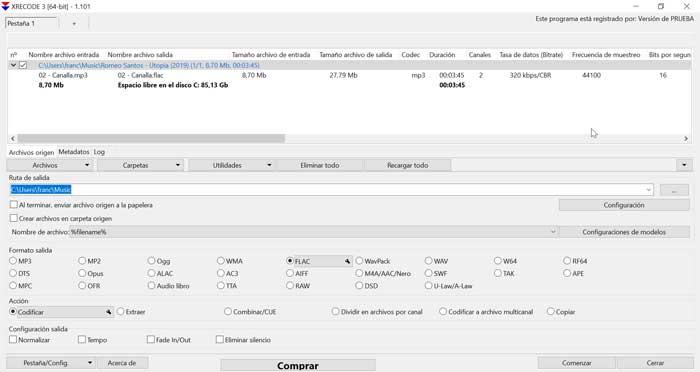 Good music lovers will surely continue to keep alive and update their extensive collection of CDs. Beyond streaming fads like Spotify, there's nothing like the quality of our CDs. However, it is also possible that we are interested in transferring our music collection to the computer in FLAC format so as not to lose quality and be able to enjoy it on our computer. That is why today we are going to talk about programs that will allow us to transfer the content of our discs to the PC.
Nowadays, music in high definition is no longer a luxury within the reach of a few, because thanks to the Internet and the FLAC format we have the possibility of listening to our favorite songs on the computer from a CD without loss of quality. In this way we can listen to the songs as the artist decided they should be heard.
FLAC format: Transfer your CDs to the PC without losing quality
FLAC (Free Lossless Audio Codec) is an audio file format that can be compressed up to 50% without losing information, thus maintaining an audio quality that is faithful to the original file. It is therefore an ideal format if what we are looking for is to store and preserve our music files in a digital format, being the best option we can find. In addition, it is a free and open source format so it can be implemented in any hardware or software.
This format is compatible with the most popular players on the market such as VLC, AIMP, Foobar2000, among others. In this way, if we plan to transfer our collection of CDs to the computer, we already know that the best option is to use the FLAC format. But for this we will need a suitable program, about which we will talk next.
Applications to export music from CD to PC
When it comes to saving our songs from CD to the computer, it is not something that we can do with a simple copy and paste. You need a program that is able to extract the files efficiently. For this, these are the best:
EZ CD Audio Converter, the most popular
It is a music conversion software with an intuitive user interface with which it will be easy for us to operate. It has been designed to offer the highest quality audio file conversions , making it one of the most complete audio converters.
With this software we can safely pass our audio CDs, it already has advanced error detection and two-pass CRC verification to obtain perfect audio quality. With it we can convert them to FLAC format without loss of quality, as well as to other common formats such as MP3, WAV, ACC among others. In addition, it allows us to eliminate the emphasis of the audio CDs in case they have previous emphasis, as well as to record all the information on the disc during extraction.
The main advantage of this program is the high quality and reliability that we obtain when extracting the files from our audio discs. Its main disadvantage is that we can only use it for free for a limited time, since to use it permanently it will be necessary to pay for its license, something that can be profitable for us.
We can download a free trial version from its website .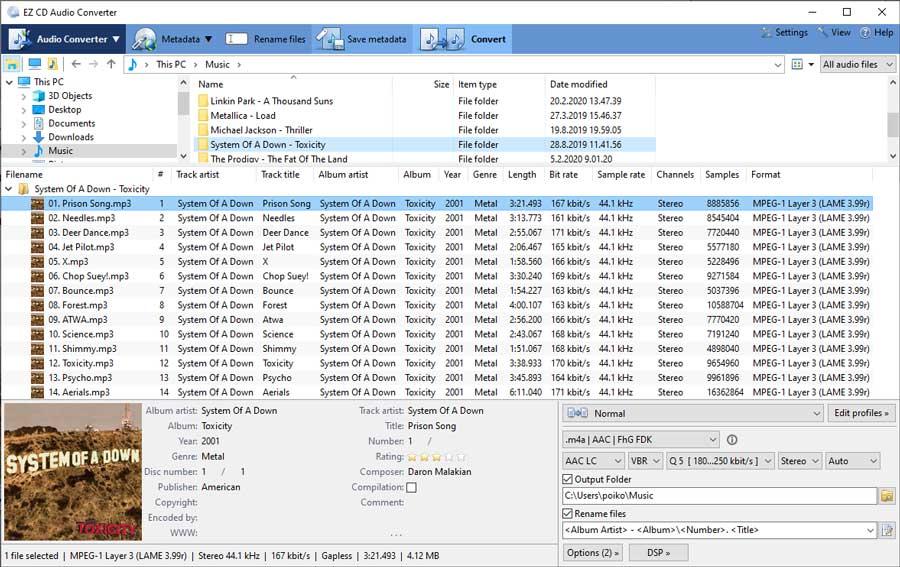 Freac, quality conversions without paying
One of the most popular free audio converters and CD ripper is Freac (Free Audio Converter) thanks to its ability to support a wide variety of popular and used formats and encoders. This program allows us to extract the audio from our CDs and convert them into the FLAC format without loss, along with other formats such as MP3, AAC, WMA, OGG, WAV, among others. It also has support for importing CDDB information , which will allow us to automatically consult the song information and write it in ID3v2 or other information tags. In addition, it stands out for performing its work with great speed in the conversion and even includes an integrated player.
As points in favor it should be noted that the application is in Spanish and has a portable version so it will not be necessary to perform any installation. It also stands out for the good support provided by its developers and its user community since it is an open source program. In addition, it is multi-system, being compatible with Windows, macOS and Linux. We find few points against, beyond a better integration in Windows and that does not allow converting from MP3 to CD.
We can download it from this link .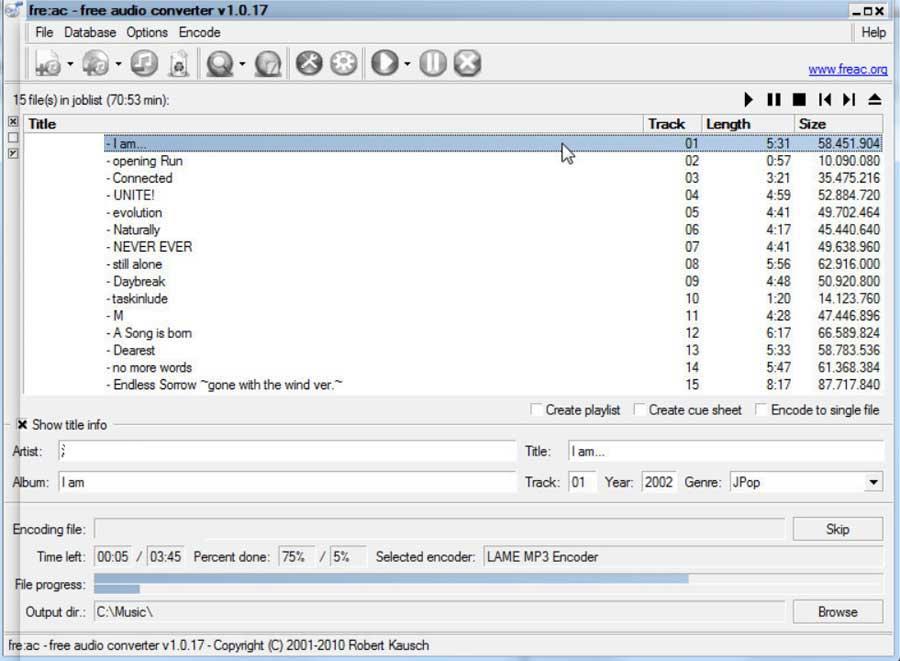 Exact Audio Copy, the alternative to Freac
This software is an audio ripper for audio discs that uses standard CD and DVD drives . It is a completely free program and allows you to read the disk perfectly, informing us of any errors that could be corrected. This program makes use of different technologies such as multiple reading with verify and AccurateRip which allow us to correct fluctuations and distortions produced by the drives. CD ROM. It has three extraction modes: a safe one that guarantees maximum quality and synchronization, a fast one that does not incorporate jitter correction and a burst mode capable of capturing audio without any synchronization. It allows the conversion of audio in lossless FLAC format or others like MP3, WMA and OggVorbis.
If this program is characterized by something, it is by the quality when making all kinds of audio extractions, preserving the intact quality of the original CD and that is where it stands out greatly. As a weak point, indicate that it may be somewhat difficult to configure at first and that it may not be the most suitable to extract in MP3 since in that case there are faster programs.
We can download it from its official website .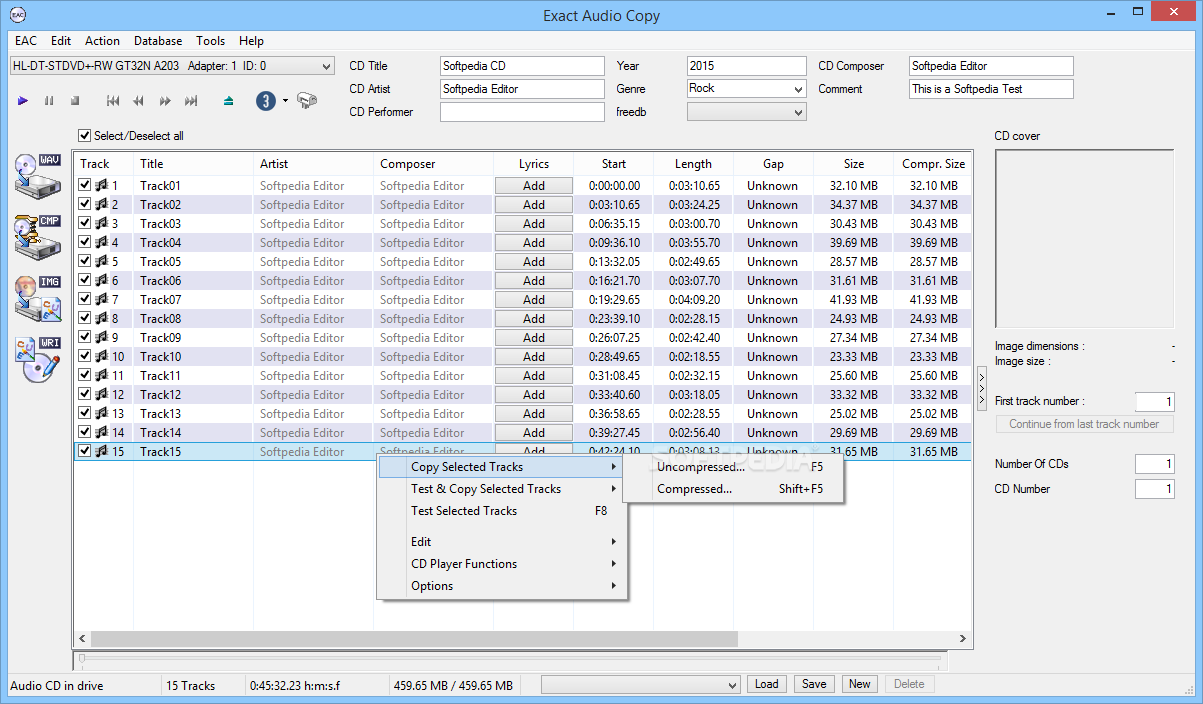 CDex, results faithful to the original
It is a program capable of extracting the data from an audio CD in different formats such as MP3, AAC, WMA, OGG, the FLAC format that makes it possible to obtain final results that are very faithful to the original as it does not lose quality . Its features include the possibility of improving sound quality by normalizing the audio signal or by correcting jitter . It includes support for the CDDB database from which we can access all our CD data, such as the car, the song title, the musical genre, the year, etc.
Among its main advantages we find an easy audio track extraction, the ability to read data from CDDB and the availability of an interface in Spanish. As the main drawback to highlight its appearance, somewhat out of date with respect to other similar programs.
You can download CDex for free from here .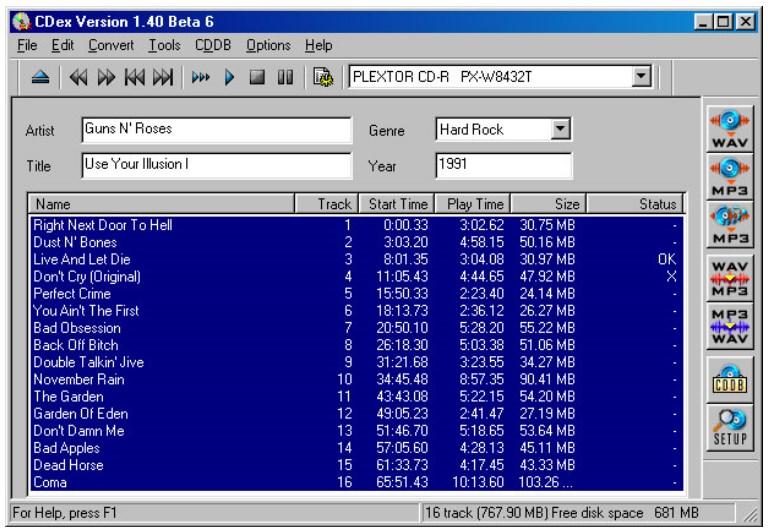 Digital Audio Converter, all-in-one converter
It is a powerful all-in-one audio converter. We can use it to convert audio and extract it from our CDs. It offers us the possibility of converting it to different formats, such as FLAC, to obtain a sound faithful to the original, or other formats such as MP3, WMA, OGG, among others.
By extracting the audio with this program, we will be able to obtain information about the artist, album, genre, track name, etc., from FreeDB, a database of music discs on the Internet. Furthermore, when converting, all the metadata content of each track will also be converted.
As an advantage to highlight to use Digital Audio Converter is its ease of use since it is translated into Spanish. As points against it, it should be noted that its last update dates from 2014. In addition, if we want to use it permanently we must pay its license, which is $ 24.95, which places it behind other even free options.
We can use it for free by downloading its trial version from its website .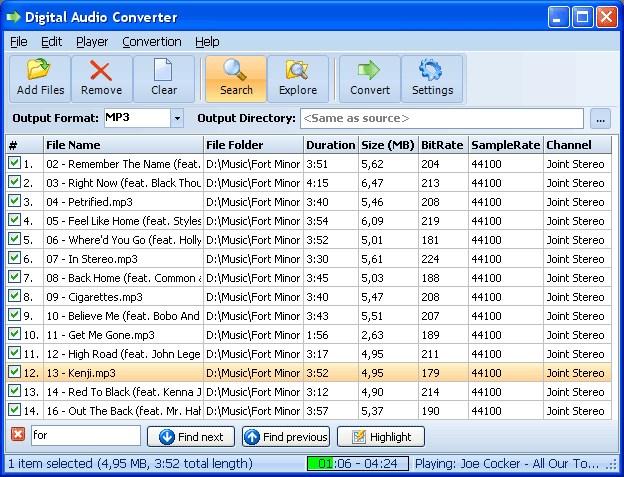 Format Factory, convert audio, video and images
In this case we are talking about a multimedia converter software that is capable of converting all types of files, be they audio, videos or images. Among its functions, it has the possibility of ripping music CDs audio files of different formats such as MP3, WMA, AMR, OGG, AAC and WAV. Among its features say that it allows batch file conversion between formats. It allows us to copy our audio CDs and video DVDs to our computer, in addition to creating disc images.
The use of this program can be interesting if, in addition to ripping our audio discs, we are also interested in the possibility of converting video and images and in this way having everything together in the same program. Its main negative point is that among its compatible formats , FLAC is not found, so it is not the most suitable program if we want a lossless conversion.
We can download it for free from their website .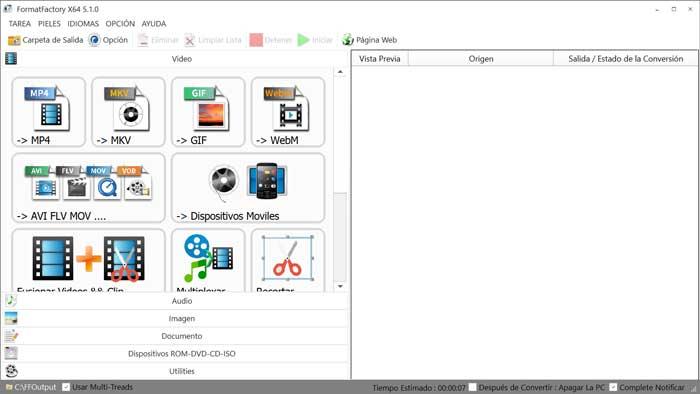 XRECODE3, converts several audio formats simultaneously
Finally we talk about an audi converter or like XRECODE3, compatible with most audio formats such as MP3, WAV, DSD, as well as lossless formats such as FLAC from our CDs.
As a feature to highlight is its Multiple output mode, which allows us to convert audio to various formats simultaneously. Another interesting option is the possibility of exporting and importing the metadata of the songs from and to an external file, as well as its support for 24-bit and 32-bit audio , allowing parallel conversion through the use of the multicore CPU.
Its advantages when using this program is that it is very simple to use, so it is suitable for all types of users, being compatible with a wide number of audio formats. On the contrary, the fact that to be able to use it permanently you have to pay 10 euros for its license, makes it lag behind other options.
We can test it for free by downloading it from this link .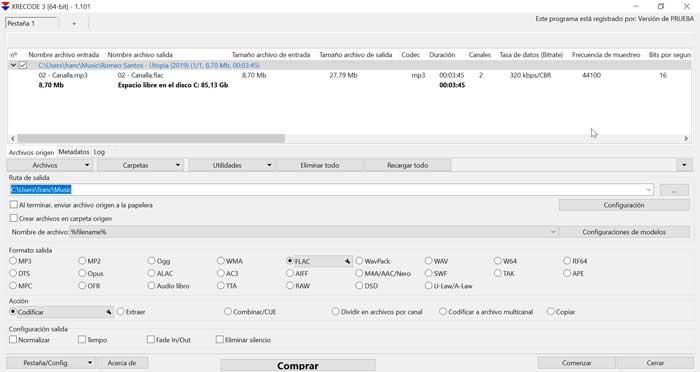 Which program to rip CDs is the most recommended?
As we have seen, we have interesting programs that we can choose to convert from audio CD to different formats. Among all of them there are two programs that can stand out from the rest. One is Freac, which is ideal for those who do not want to spend a euro, but do require quality results. On the other hand, if we are willing to make a small investment, EZ CD Audio Converter will be worth it, knowing that it is possible to try it for free and find out if it suits our needs.