multimedia
Convert your videos to any format with total video converter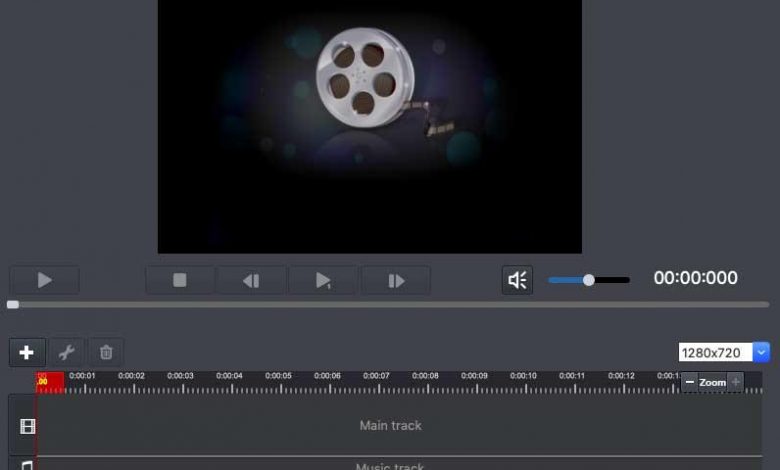 The multimedia section is one of the most important on our computer, especially if we are passionate about recording videos to treat them later. For this, it is convenient to have two tools. On the one hand, an editor with which we can process and modify our videos and on the other a converter that allows us to pass videos between different formats, so that we can view them on other devices. For this, we can choose Total Video Converter, about which we are going to talk today.
When we refer to converting a video format, we refer to its encoding, which is directly linked to both the quality of the image and the sound, as well as the size of the file. In our computer it is usual that we can reproduce any type of video with a suitable program. We can have the problem if we want to view the video on another device, such as a television, a mobile phone, a DVD player, etc. In these cases it will depend on whether the device is capable of reading the video format . In order not to have these problems, we must use a program that allows us to pass a video from one format to another.
Features of Total Video Converter
It is a very powerful conversion software, developed by Effectmatrix, capable of working with the vast majority of audio and video formats. It has been developed to convert videos so that they can be played on a mobile phone, an iPhone, a console or a DVD and Blu-Ray player. With it we can convert videos into popular formats such as MP4, AVI, 3GP, as well as burn videos to DVD, AVCHD, Blu-Ray, among others.
This powerful video conversion tool has the ability to convert all types of video files, as well as burn AVCHD, Blu-ray, DVD, SVCD, VCD and play all videos. It also allows us to download and edit videos, record the Windows desktop and make slide shows.
This program supports a good collection of audio and video formats such as:
Video : RMVB, MPEG4, PSP, MPEG1, MPEG2, DIVX, ASF, AVI, FLV, MOV, FLIC, GIF, DV, MKV, OGM.
Audio : CD audio, MP3, MP2, WAV, WMA, Real Audio, OGG, AMR, AC3, AU, SWF
The total video converter for our PC
Once we have started the program, its main menu appears with an attractive and quite intuitive interface, despite the fact that the translation into Spanish is not perfect. At the top we find four large icons for the "Add", "Convert", "Tools" and "Edit" functions.
In the central part it has two panels, in the one on the left we can drag any video or music file that we want to convert. For its part, on the right, we find a small integrated player, where we can preview any file that we add.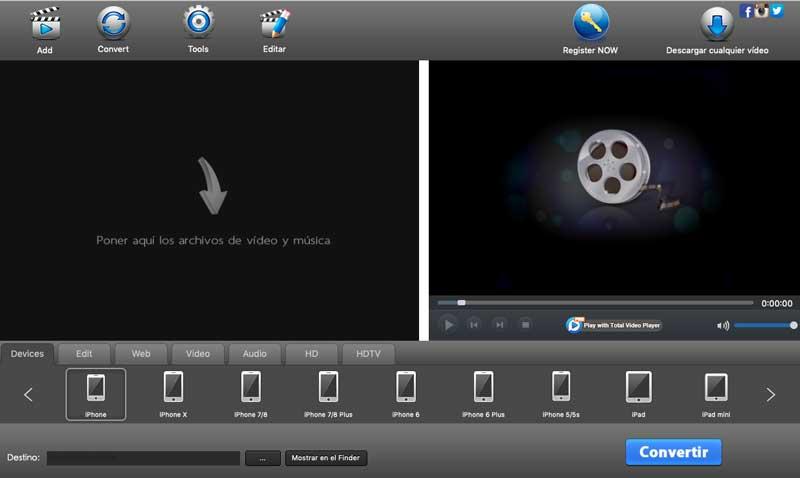 At the bottom we find a conversion bar with different tabs, such as "Devices", "Edit", "Web", "Video", "Audio", "HD" and "HDTV". In each of them we can find different types of default conversion for mobile phones, consoles … or audio or video formats that we can select to carry out the conversion. Finally, at the bottom we find the option "Destination". In it we can select the path where we want our conversion to be stored.
If we click on the «Tools» tab, a window with advanced video tools opens . From here, we can combine multiple clips into one file. Extract audio and video from a file, burn videos to a DVD disc, multiplex video and audio into a file, as well as record video on our desktop screen.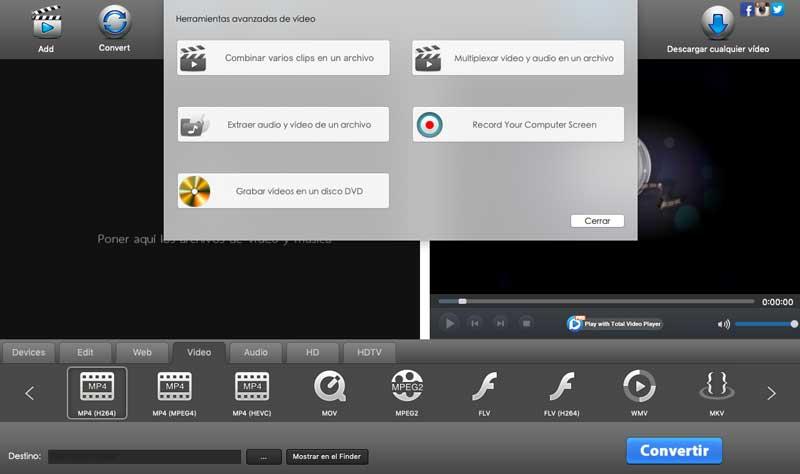 From the "Edit" tab, we can make small editing touches to the video, with the possibility of cropping it in case we only want to convert a part of it, as well as change the resolution (800 x 600, 1280 x 720 and 1920 x 1080). It also allows us to insert audio to make small montages that we can see a preview at the top.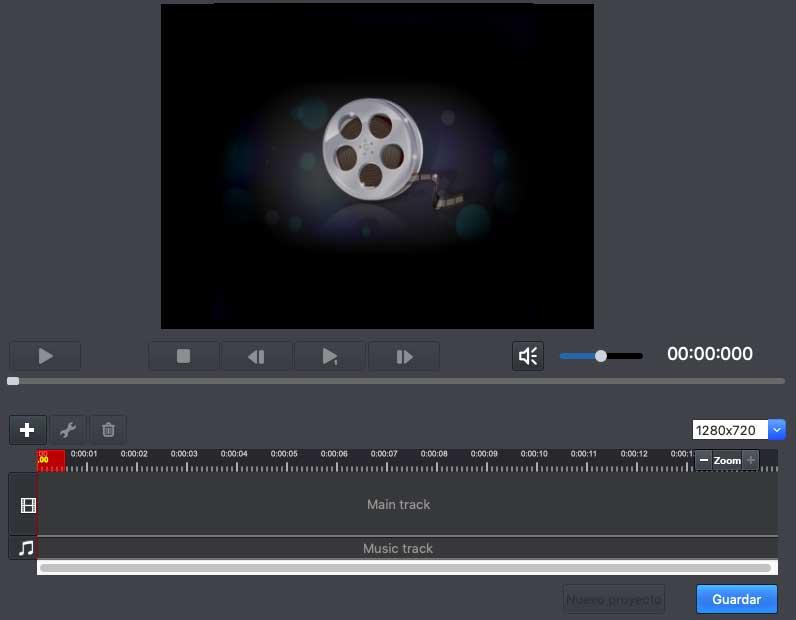 The video conversion process is extremely simple, because once we have added it and selected the conversion option, we only have to click on the «Convert» button to carry it out. Whether the process lasts more or less time will depend on several factors such as the size of the video that we are going to convert, the format to which we are going to pass it and the power of our computer. Once the conversion is finished, we will have the file available in the Destination folder that we have selected.
Download Total Video Converter
Total Video Converter is a commercial application so it will be necessary to pay for its license if we want to use it. Optionally, we can download a free trial version from its website that is valid for 15 days . Its price for personal use is $ 29.96, while for commercial use it is $ 49.95. This price includes a lifetime license, no renewal fee and is fully featured without the limitations of the trial version. In addition, it has free technical service by email and free regular updates. It is compatible with Windows and MacOS operating systems .
Alternatives to Total Video Converter
If we need an application that helps us convert videos between different formats, we propose a couple of alternatives to Total Video Converter to take into account.
WinX Video Converter
With this program we can convert videos between different formats, manage all kinds of video files up to 4K resolution, as well as download and edit YouTube videos. It has several video editing tools, with which you can join, expand, crop, subtitle and customize the quality and size of the video. It also allows you to select built-in subtitles or add them in SRT format. We can download a free trial version that we can download from their website . Its price is 29.95 euros.
Any Video Converter Free
With this useful tool we can convert all kinds of videos quickly and very easily. It is compatible with the most popular and used video formats such as AVI, MPEG, MOV, WMV, among others. It also allows conversions up to 4K without loss of quality. Another interesting function is the possibility to download videos from YouTube and convert them directly to the desired format. And best of all, this application is completely free and we can download it from its website .