multimedia
Convert your video file files to any format with this program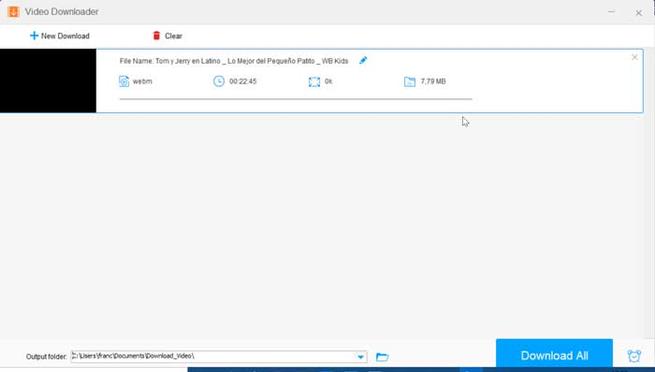 One of the most frequent uses of our computer is the possibility of enjoying our favorite multimedia content, such as watching movies and series videos or listening to music. For this we have a wide variety of players compatible with all types of formats. But if we want to view the video or audio on another device such as a television or a DVD player it may not read the format in which it is found. To help solve it, we can opt for a free tool like Free HD Video Converter Factory, with which we can convert video to any format.
When it comes to talking about a video or audio format, we are basically referring to its encoding, which directly influences the quality of the image and sound. Similarly, there is also a direct relationship between quality and file size depending on the format we use. When we have a video or an audio file in a format and we want to play it on another device that is not compatible with that format, we must make a conversion from that format to another with which it is compatible. This is something that we can do with the following tool.
Convert video between more than 300 available formats
Free HD Video Converter Factory is a complete application with which we can convert videos and audios between formats for free, safely, quickly and with high-quality results. Also, this software does not include any time limits on conversions or apply watermarks to the converted files. We can convert video to more than 300 formats such as MP4, MOV, AVI, MTS, HD MP4, HD AVI, HD MPG, AVCHD, H264, as well as devices such as iPad, iPhone, Android, PS4, Xbox One, etc. This converter allows us to make video conversions in HD quality up to 720p for export and supports HD video up to 8K for import.
With this application we can also convert audio and extract tracks and audio from any video. It supports formats such as WAV (lossless audio), MP3, AC3, AAC, OGG, WMA, M4R, AU, among others, including the ringtone format compatible with Android and iOS mobiles. Also, it allows downloading of video from sites like YouTube, LiveLeak, Vimeo, Facebook. We can download video videos in 4K and 8K, YouTube playlists and convert it to other formats (MP3, MP4, etc).
Top reasons to convert video files
There are many types of files with which we work daily on our PC, where videos increasingly take a leading role. In this way, what we do is make use of the format that interests us the most at all times. But of course, depending on certain circumstances, we are going to need one format or another at any given time. There are several factors that come into play here, such as the type of end use that we are going to give that multimedia content. And it is not the same that we are going to share it by email, or that we are about to do an editing job with it.
In turn, the compression rate between different formats is also usually significant, therefore we may need to convert a file so that it occupies less when storing it. The same happens depending on the device where we are going to use it, since not all hardware players are compatible with all current video formats. Hence precisely the importance of programs like the one we are showing you along these lines.
Much more than a free video converter
When we run the application, its main menu will appear where we find two large icons in the foreground, with their two main functions: «Converter» and «Dowloader». At the top we find two small icons, one corresponds to the program options and the other to a menu.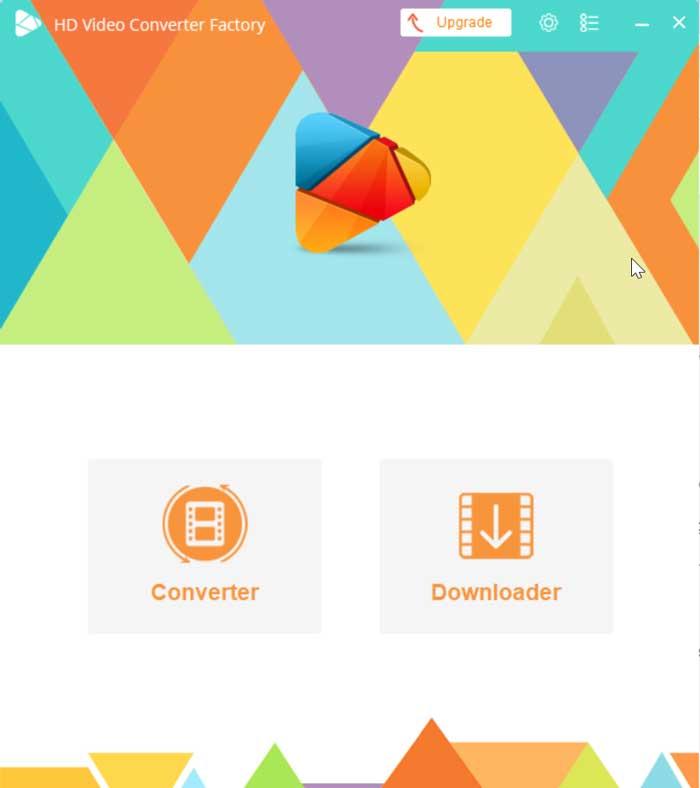 Video Converter
If we click on the «Converter» button, which is the one we will use if we want to convert audio or videos, a new window will open with the available functions, which, although they are in English, are intuitive. Here we must add the file that we want to convert, for this we can drag and drop it in the center of the menu or add it by clicking on the box with the plus symbol (+) or also on the upper left tab where "Add Files" appears.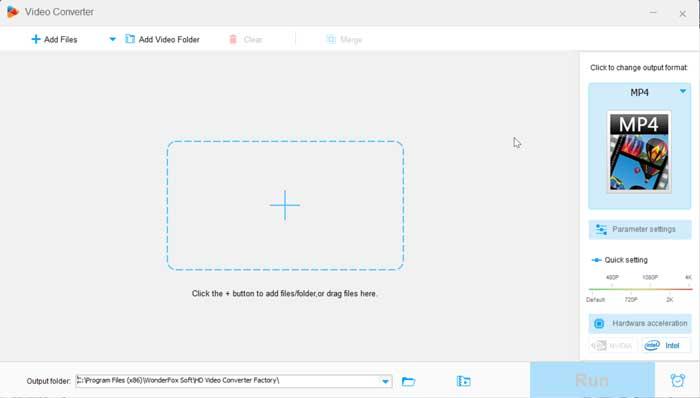 Once our video file has been added, it will appear on the front and will allow us to perform some previous editing functions, such as the possibility of rotating it, cutting parts, adding effects or editing the metadata. In the right column we have the option "Click to change output format", to be able to select the output format of the file that we are going to convert. When pressing, a list will open where we can find all the compatible formats, so that we can select the one that interests us the most. Just below we can also select the quality of the compression up to a maximum of 720p.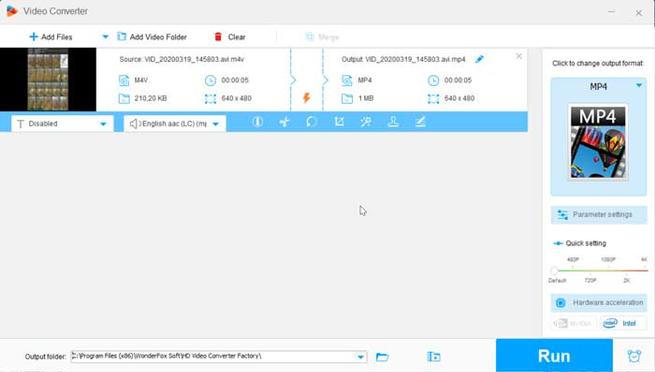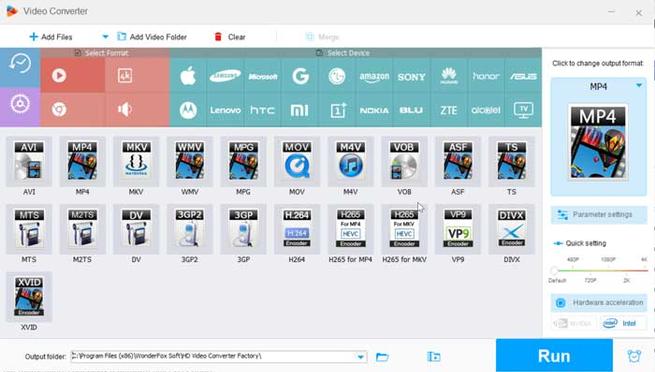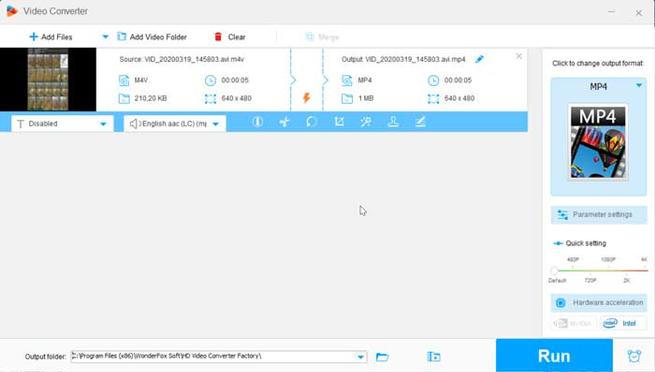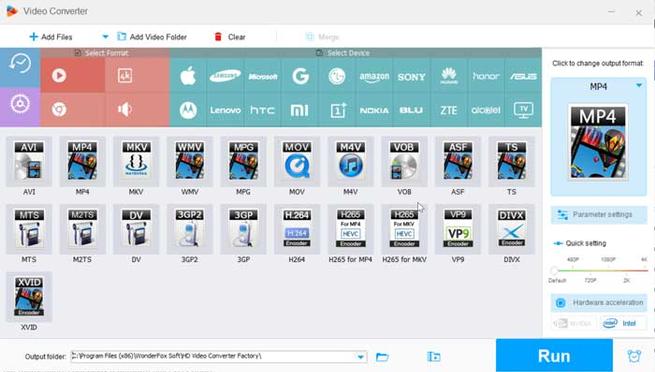 At the bottom of the screen we find the "Output Folder", where we must select the path where we want the new file to be obtained to be stored. Once all these steps have been done, we only have to click on the "Run" button to start the conversion. The time it takes to do it is variable depending on the size of the file and the power of our computer.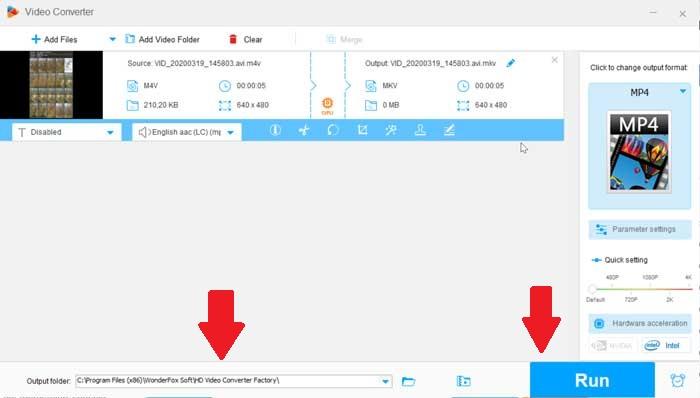 Video Downloader
If we choose to click on "Downloader", which is the option we can use to download video, its main menu will appear. By clicking on «New Download» a window appears where we must enter the URL of the site where the video we want to download is hosted. Once entered, click on "Paste and Analyze" and the video information will appear. Just below we must select the formatin which we want to download the video, as well as its resolution along with the total size. We can also choose if we want to download only the audio with its format and size, as well as the subtitles. Once chosen, click on «OK» and it will be added to the menu. We will only have to select the folder where we want the download to stay and click on the «Download All» button.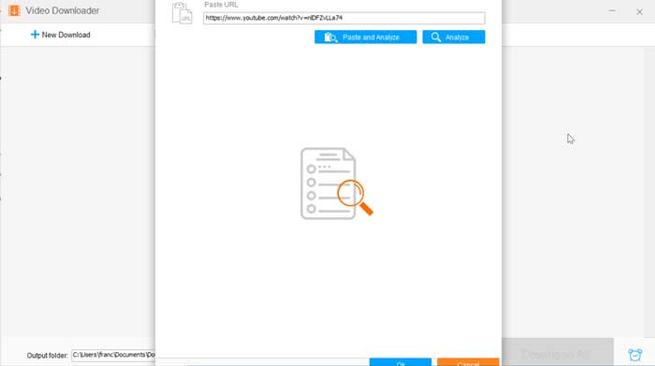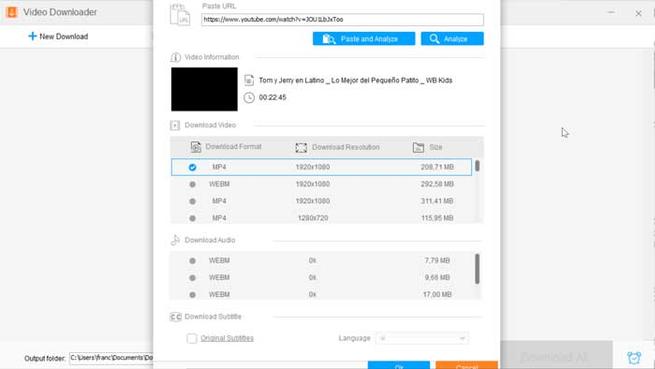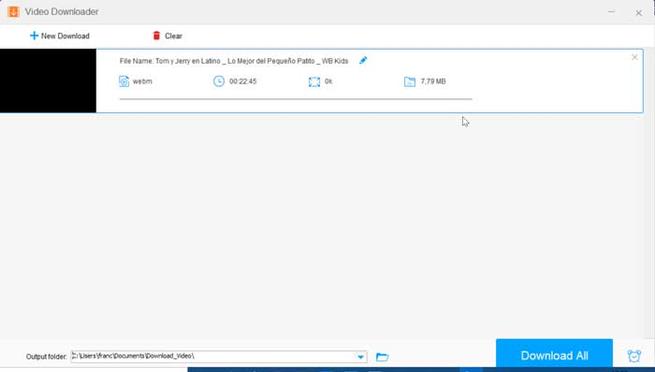 Download Free HD Video Converter Factory
Free HD Video Converter Factory is a completely free application that we can download from its website . It is compatible with the Windows operating system and we will need about 250 MB free on our hard drive for installation. Currently version 19.2 published on September 2, 2020 is available, which shows that its developers care about having the application updated. During the installation, which is done simply and quickly, the program will not try to install any additional unwanted software and it is also free of any adware, so we can install it safely.
This program also has a Pro version that costs $ 24.95 and is valid for use on three computers. This version has some improvements, since it supports conversion to 1080p and 4K, allows batch conversion, download video and audio online without limitations and has a unique compression technology that allows reducing 75% of the original size while maintaining 100% quality.
Alternatives to Free HD Video Converter Factory
If we are looking for a program with which to convert audio and video, we suggest a couple of alternatives to Free HD Video Converter Factory that may be of interest to you.
EaseUS Video Editor
It is a program with which we can edit and convert all types of audio and video files. It supports a wide variety of audio and video formats, such as mp4, mp3, avi, mpeg, wmv, mov, rmvb, vob, flv, m4a, mpg and trp, among others. We can download this EaseUS video editor from their website, being available for both 32-bit and 64-bit.
Any Video Converter Free
With this application we can perform a quick conversion of all kinds of video files. It is compatible with DivX, XviD, MPEG, MOV, WMV, AVI formats among others, easily and quickly converting them to MPEG-4 for viewing on portable video devices. It allows you to edit and convert videos up to 4K and also allows you to download and convert videos from YouTube. We can download Any Video Converter Free for free from  here  .