multimedia
Convert videos to different formats and for free with free video converter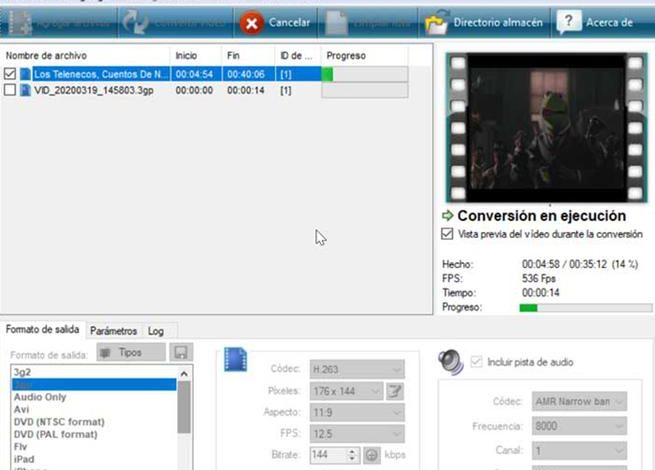 The ability to play all kinds of multimedia files is one of the characteristics of our computer that we use the most. It is enough to have the right player to enjoy all kinds of series, movies and videos regardless of the format in which it is. On the other hand, if we want to view these videos on another device, it is possible that it may have a problem with the format and it is not compatible. To solve this, we can use a video converter like Koyote Free Video Converter, which we will talk about below.
Free Video Converter is a program specially designed to convert all our video files. It is compatible with a wide variety of formats including AVI, MP4, iPod, PSP, 3GP, Zune, iPhone, FLV, MKV, WMV, ASF, MOV, QuickTime, MPEG, RM, VCD, VOB, among others . Thanks to this useful program we can convert our video files into the format we want so that it can be compatible with our television, mobile, etc.
This powerful video converter allows us to convert a video in its entirety or only some parts, being able to set a start time, end time or the duration that we want to extract, standing out for having a really fast conversion speed. In addition, we can extract only the sound from the videos and convert them into MP3, WMA, MP2, AAC, etc.
How to Convert Videos with Koyote Free Video Converter
Once we run the program, its main menu appears with a simple interface in Spanish, so it can be used by all types of users, from the most inexperienced to the most advanced. At the top we find the classic task bar with which they will help us to add files and carry out conversions without many problems. It also has a preview on the right side with the possibility of making cuts in the videos.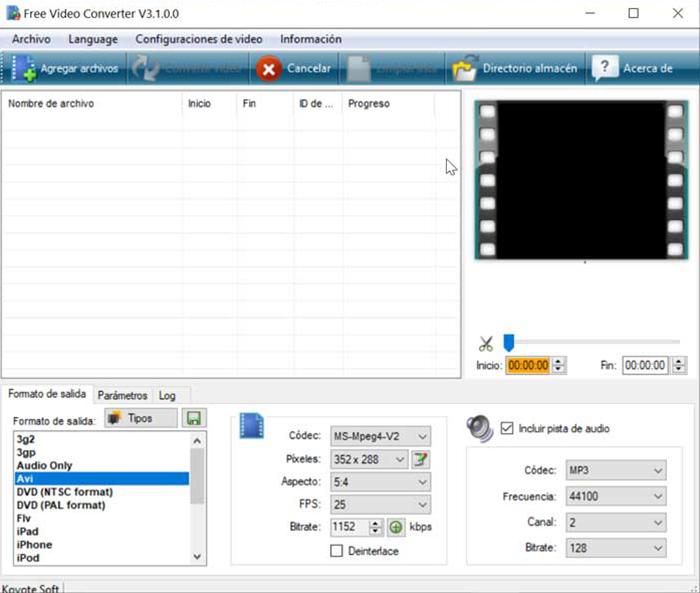 Add the videos to convert
In order to convert our videos, the first thing we must do is add them to its interface. This is something that we can do simply by dragging and dropping them or by using the "Add files" button. By clicking on it, a window with Windows Explorer will open from where we can navigate and select the videos we want to convert. We can add as many videos as we want because the program supports batch processing .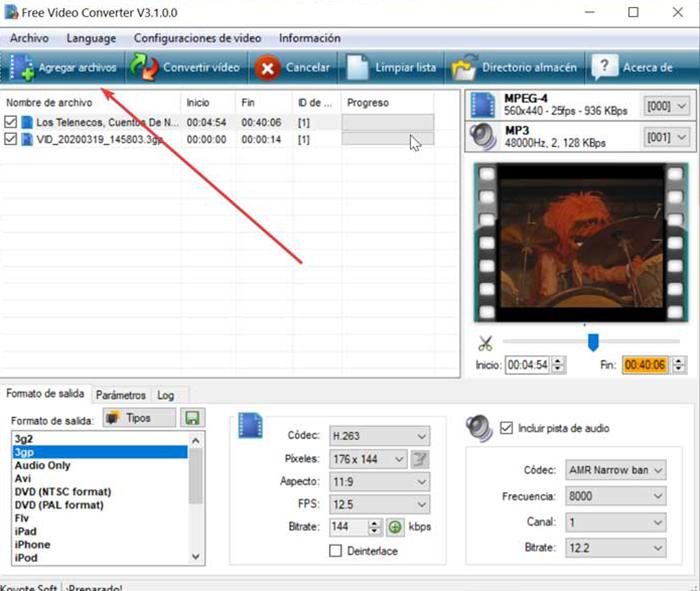 Once added we can see the name, the start and end time, as well as the identification of the audio and the progress of each file. On the right side we can see a preview of the video and it allows us to select a section of it to make a cut, in case we do not want to perform a complete conversion of the video.
Select the output format and destination path
Before starting the conversion of our videos, it is important that we select both the output format and the destination where the converted file will be saved. To do this, we look at the bottom of the screen, where we will see the "Output format" tab. Here we must select the desired format (3GP, AVI, FLV, etc). In the "Types" tab, we find preset settings for Android mobiles, iPhone, consoles, etc.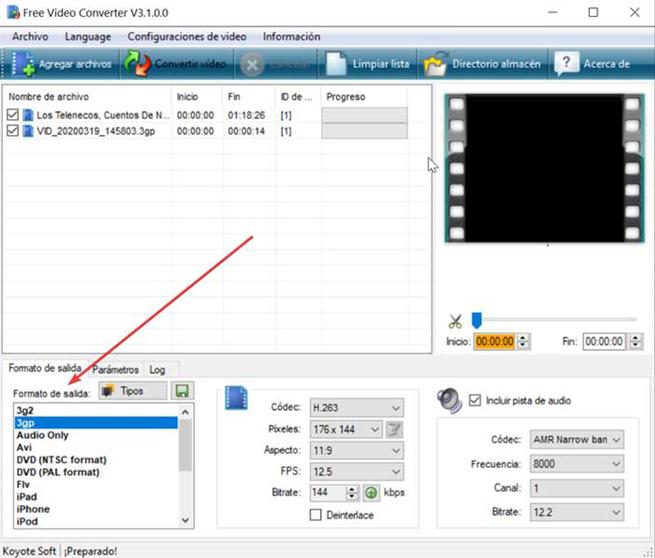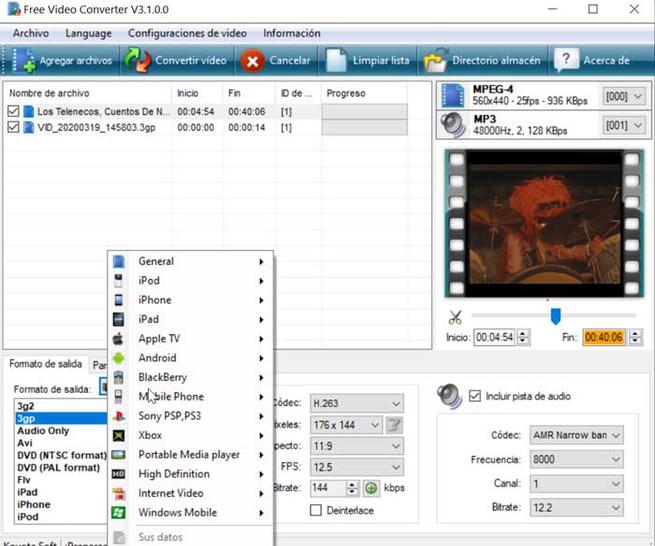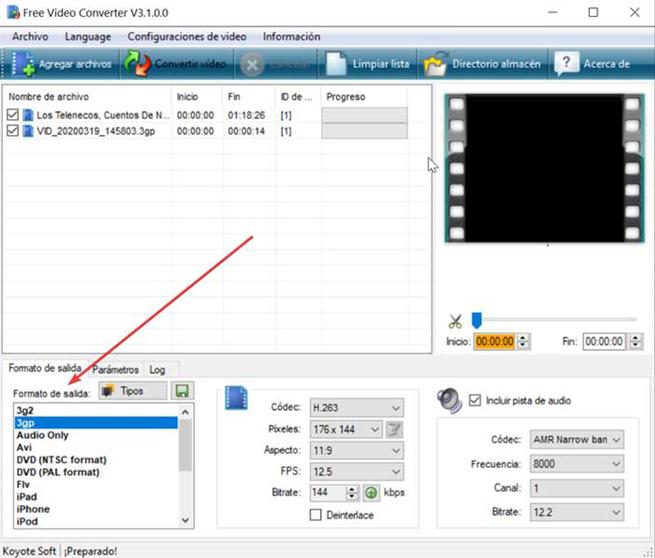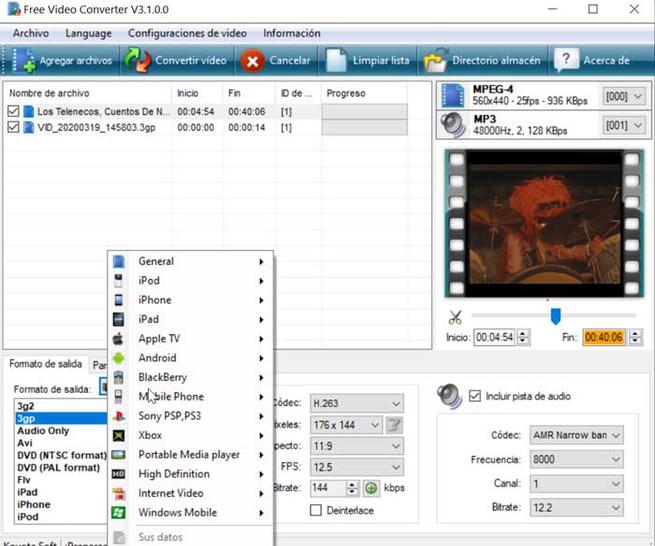 Once chosen, in the central column it will allow us to choose the type of codec, the size, the aspect ratio, the FPS and the bitrate. Finally, in the right column, we can indicate if we want to include the audio track in the conversion, as well as configure the "Codec", the "Frequency", the "Channel" and the "Bitrate" of the sound.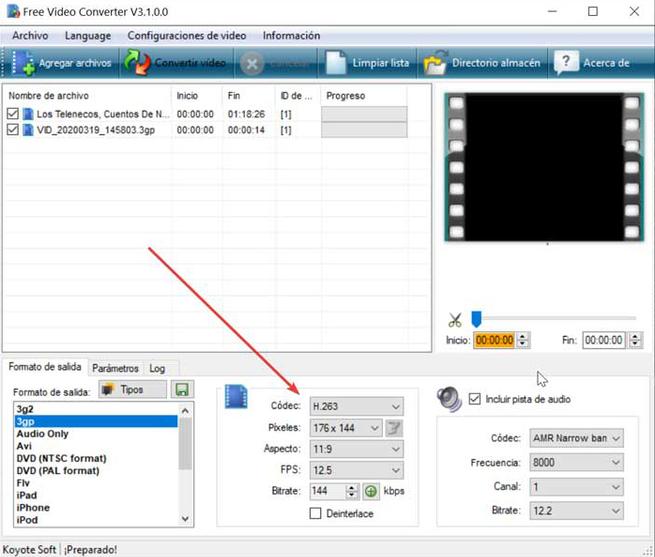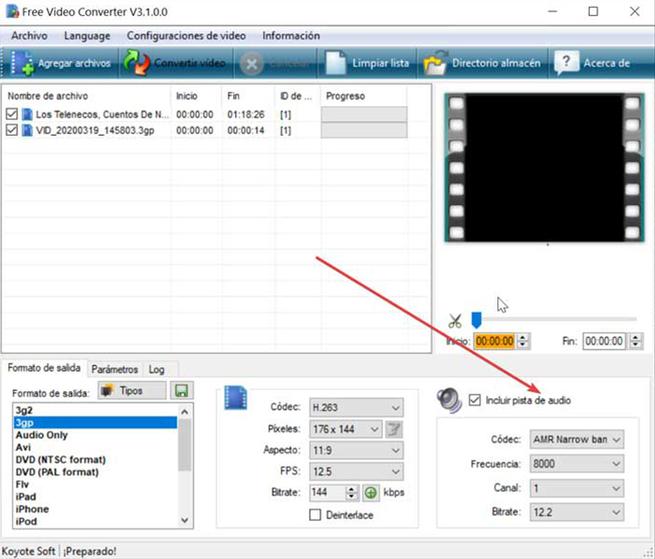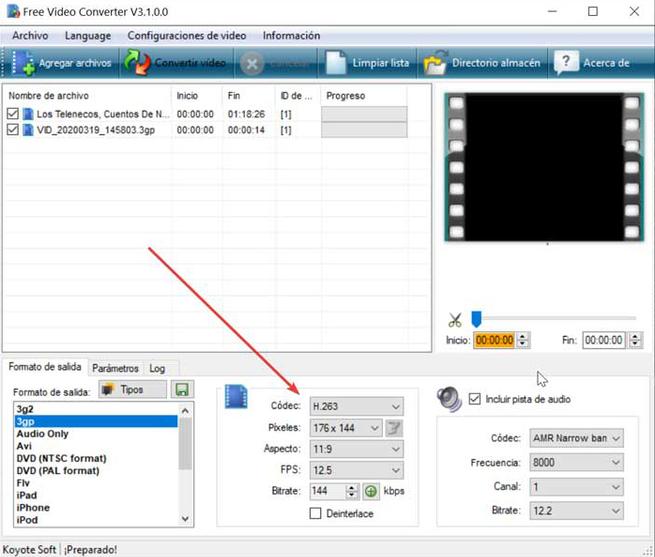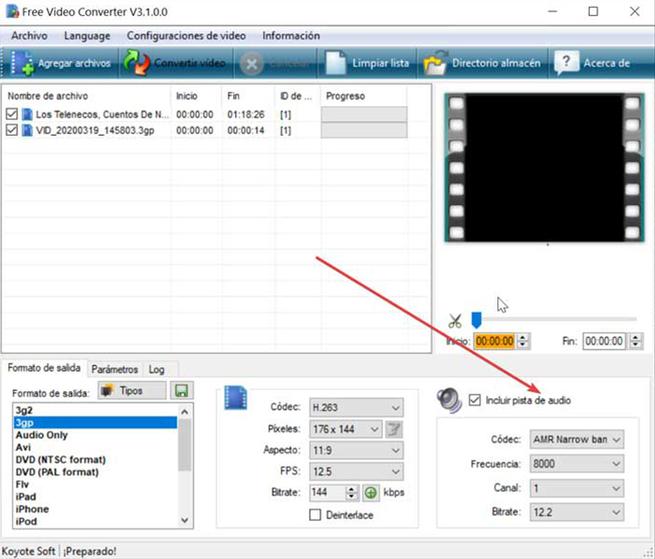 Once finished with the video and audio settings, touch choose the destination folder for the conversion. To do this, click on the "Parameters" tab and in the "Output path" section, click on the button with three dots to select the directory where the conversion will be saved.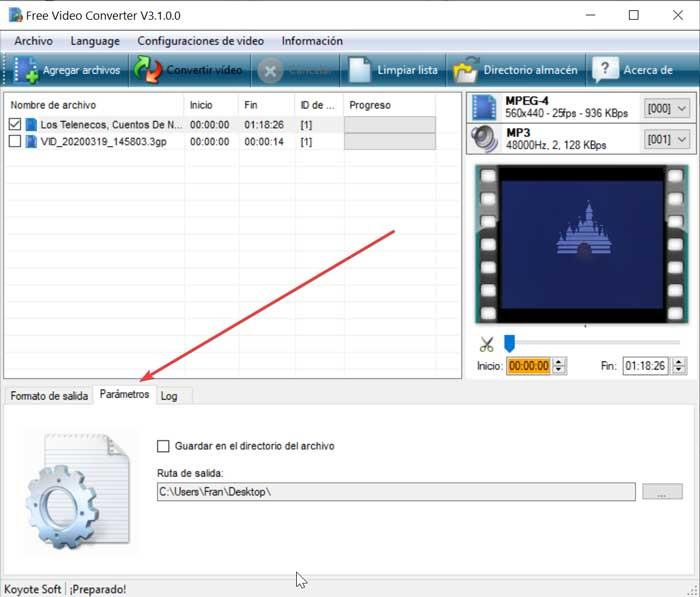 The conversion process begins
Now we just have to press the "Convert video" button to start the process. During the task the program uses a moderate amount of system resources. The process can be considered fast, although this will largely depend on the size of the video, as well as the conversion format and the power of our computer. We can follow the process from the window on the right side. Once finished we will have the file available in the path we have chosen.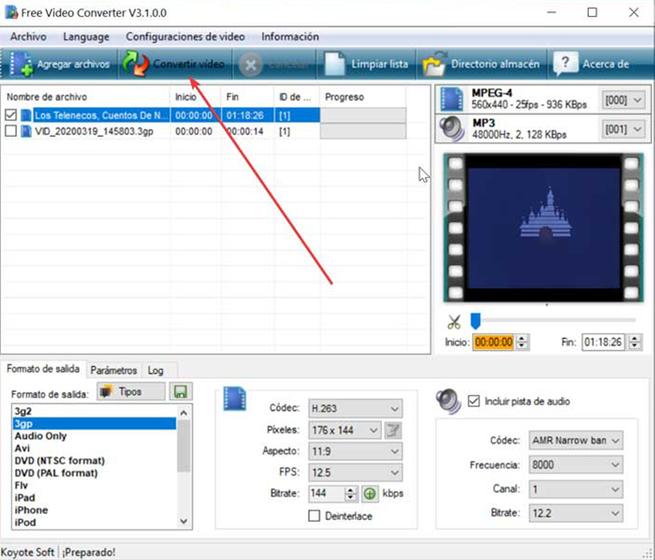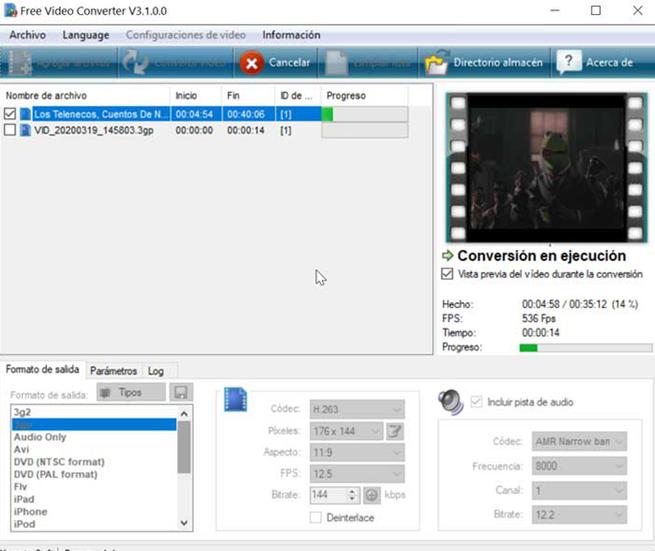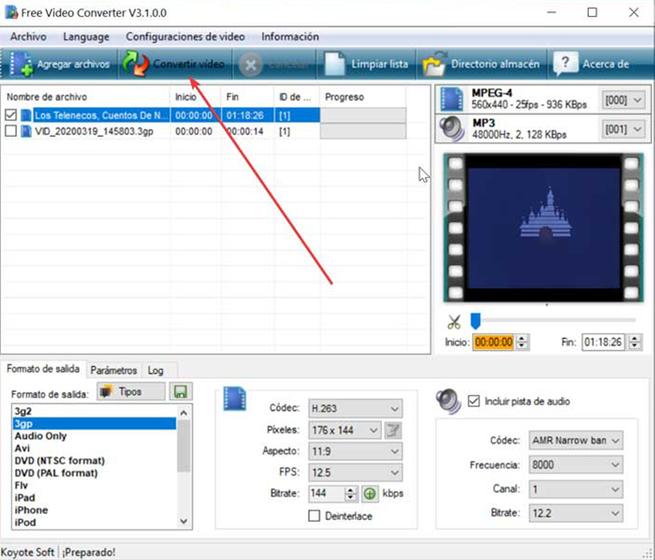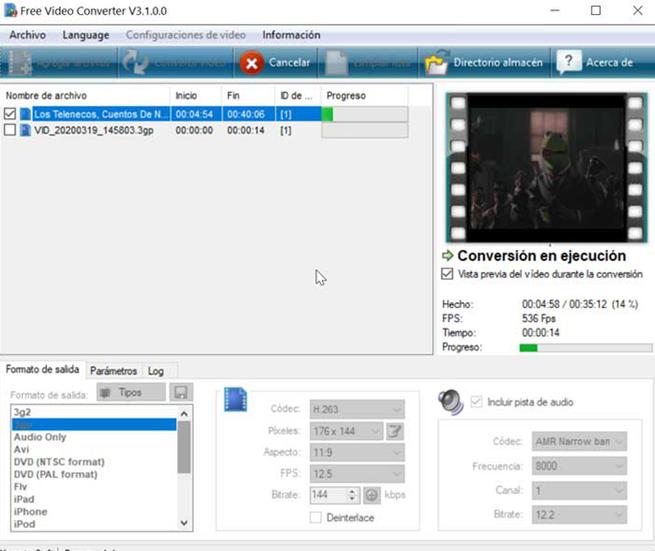 Conclusions
Free Video Converter is a video converter that does its job efficiently . Its main handicap is that it has not been supported for years by its developers, which means that the number of supported formats is not very high, which means that we do not find the possibility of converting into MKV, one of the most popular formats. However, as it is a free tool, there are no impediments to trying it, as it takes up very little space on the hard drive and can save us from some trouble.
Download Free Video Converter
Free Video Converter is a program that has a Freeware license , so we can use it completely free of charge from this link . For this, we can download it directly and safely from this link. It is compatible with the Windows operating system from XP to Windows 10. Its installation file only occupies 3 MB, and it is done quickly through its wizard. Its latest version available is 3.1.0.0, which is no longer supported by its developer, which does not prevent it from working correctly.
Alternatives to Free Video Converter
If we are looking for a program with which we can switch our videos from one format to another, we propose a couple of alternatives to Koyote Free Video Converter
AVS Video Converter
This free video converter is characterized by being compatible with a wide variety of formats. It also has different presets to convert our videos directly to devices such as iPhone, iPad, Android phones, Sony PSP, tablets, portable media players. AVS Video Converter is a completely free program, which we can download from its website .
MediaHuman Video Converter
With this program we can convert videos from one format to another, as well as make adjustments to change their quality and size, being compatible with the most popular video formats (AVI, FLV, MKV, etc). It also includes by default compatible settings to view videos on devices such as Apple TV, iPhone, PlayStation, Xbox, etc. We can download MediaHuman Video Converter for free from its website .
Hitpaw
We are now talking about a video editing and retouching application with which we can rotate, cut or resize them, as well as convert them to different formats. And it is that this program is compatible with more than 1000 audio and video formats. Among such many formats, the most popular ones such as MP4, MOVI, MKV, etc. could not be missing. The conversion is done quickly and easily so it is suitable for all types of users. It has a series of presets through which we carry out the conversions and allows us to configure the different parameters so that we can carry out the file conversion to our liking. From the HitPaw website we can download this  video converter .
Any Video Converter Free
Another excellent and free option with which to convert videos quickly and effectively. It stands out for being compatible with the most popular video file formats such as DivX, XviD, MPEG, MOV, WMV, AVI, etc. It is also ideal for editing and converting HD videos, as it supports resolutions up to 4K and, best of all, no loss of image quality. In addition, it also has some additional options that may be of great interest and utility, such as the ability to download videos directly from YouTube. You can download Any Video Converter Free for free from  here.