multimedia
Convert videos, blu-ray and free dvds to any format with prism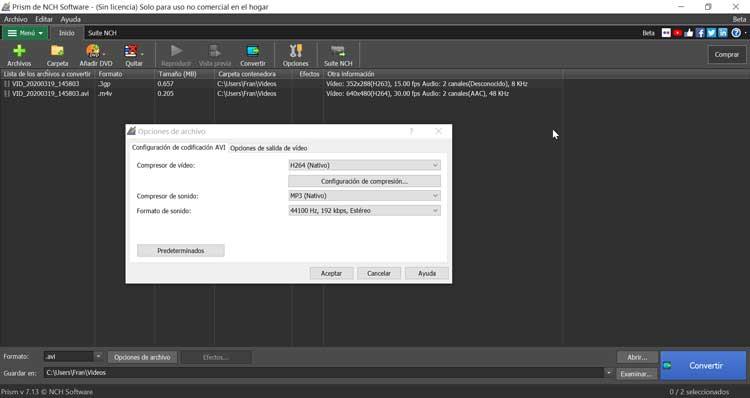 Video recording is something that is becoming increasingly popular, especially given the good quality that can be achieved with the mobile phone. That is why we increasingly use our PC to store and treat them later. For this, it is convenient to have a video editor, as well as a converter, which will allow us to change the format of the video so that it is compatible with any device. This is something that we can do for free with Prism Video Converter .
It must be taken into account that, in general, on our computer we will have a player that will be able to read practically any video format. But in the event that we want to play the videos on other players such as a television or a DVD player, it is possible that they can only be read with very specific formats. This is where a video converter like Prism comes into play, since we can transfer our videos from one format to another, thus being able to play them on other devices.
Prism, the software you need to convert your videos
Prism is a multi-format video converter designed by NCH ​​software with which we can convert and compress videos in just a few minutes, being compatible with the most popular formats on the market. In addition, it supports batch video conversion , so we can convert a large number of videos simultaneously.
This powerful converter is capable of converting formats such as AVI, MPG, VOB, ASF, WMV, MP4 and AMV, as well as any format that has a DirectShow-based codec. It also has a YouTube converter, so we can transfer videos to YouTube easily and quickly. Another interesting feature is the ability to upload ISO files to convert your video files without needing to extract them first.
With Prism, in addition to converting videos, we can also carry out small editing tasks using the division and cropping tools. It also allows us to add effects to our videos such as water shakers, text overlay or rotate them to the orientation we need. In addition, we can optimize the color by adjusting both the brightness and the contrast or by applying filters .
Supported formats
Conviert and from : .3G2, .3gp, .3gpp, .4XM, AMV, .ANM, .APNG, .ASF, .AVI, .AVS, .BETHSOFTVID, .BFI, .BIK, .CAVS, .CDXL,. DIVX, .DSICIN,, .DTS, .DTSHD, .DV, .EA, .EA_CDATA, .F4V, .FFM, .FFM, .FILMSTRIP, .FILM_CPK, .FLC, .FLIC, .FLV, .GXF, .IDCIN , .INGENIENT, .IPMOVIE, .ISO, .IV8, .IVF, .JV, .LIBNUT, .LMLM4, .LVF, .LXF, .M1V, .M2T, .M2TS, .M2V, .M4V, .MGSTS,. MJPEG, .MJPG, .MKV, .MM, .MOD, .MOV, .MP4, .MPE, .MPEG, .MPEG1, .MPEGTS, .MPEGTSRAW, .MPG, .MPV, .MSNWCTCP, .MTS, .MV, .MVI, .MXG, .NC, .NUT, .NUV, .OGV, .PAF, .PMP, .PPT *, .PPTX *, .PSXSTR, .PVA, .R3D, .RAWVIDEO, .RDT, .RL2, .RMVB, .ROQ, .RPL, .SDP, .SDR2, .SMK, .SMK, .SMUSH, .SWF, .THP, .TIERTEXSEQ, .TOD, .TRP, .TXD, .VC1, .VC1TEST, .VIV , .VMD, .VOB, .VRO, .WC3MOVIE, .WEBM, .WMV, .WSVQA, .WTV, .XVID, .YOP .
Convert to : 3GP, .AMV, .APNG, .ASF, .AVI, .DV, .F4V, .FLV, .GIF, .JPG sequence, .M1V, .M2V, .M2TS, .MKV, .MOV, .MP3 , .MP4, .MPG, .MTS, .OGV, .PNG sequence, .RM, .SWF, .WAV, .WEBM, .WMV, .SWF, .XVID.
Convert your videos with a few simple steps
Once we execute the application, its main menu appears immediately with a very attractive interface with a dark background. In addition, it is translated into Spanish so its use should not pose any problem. At the top we find the classic toolbar from where we can access the different functions.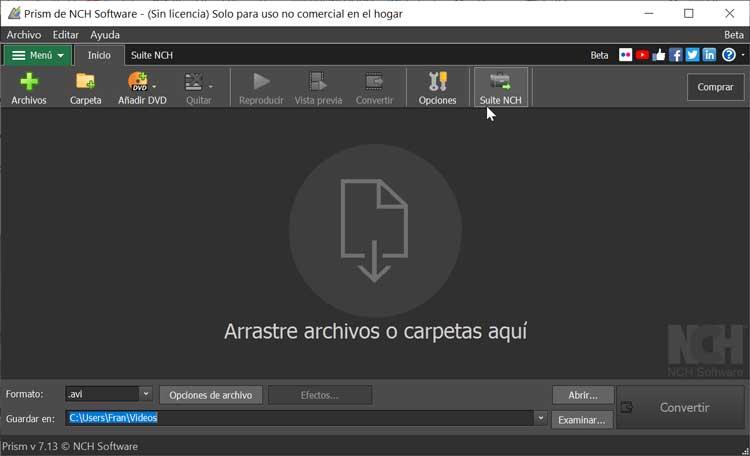 To start, just add files directly using the drag and drop function or from the Files tab, where we can select them using Windows Explorer. We can add as many files as we need to carry out the conversion, even if they are in different formats, as well as convert and export them to a. Once added, next to the name we see different information such as format, size, as well as other information such as resolution or fps.
Modify the color of the videos, add effects or carry out editing tasks
Later we can carry out small editing tasks or even add effects to our videos. To do this, we must click on the "Effects" tab at the bottom. A new window will open from where we can change the color of the video (brightness, contrast, gamma) and add filters in sepia or black and white. It also allows us to add text, rotate and flip the image, add watermarks, as well as divide and cut a fragment of the video. Simple but useful functions. At all times we have a «Preview» on the right side where we can observe the changes we make and check how the final result will be.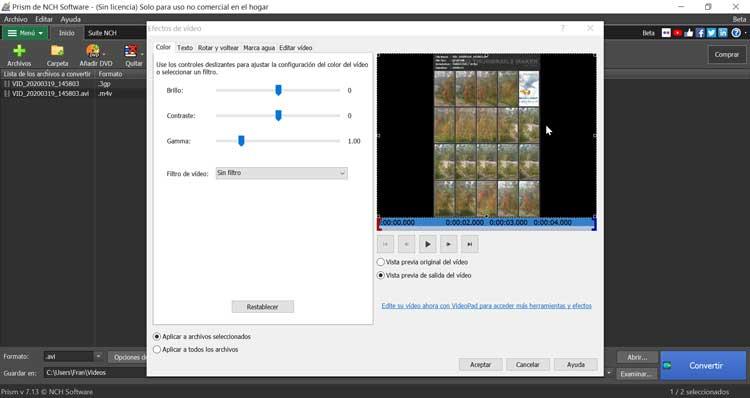 Next, we must choose the format to which we want to convert. To do this, click on the Format section. Here a drop-down menu will open with all the supported formats, including some preset settings to get the desired format so that it can be played on an Android mobile, on an iPhone, iPad, PlayStation 4, Nintendo 3DS, Xbox One, etc. So we will only have to choose the desired format depending on our needs.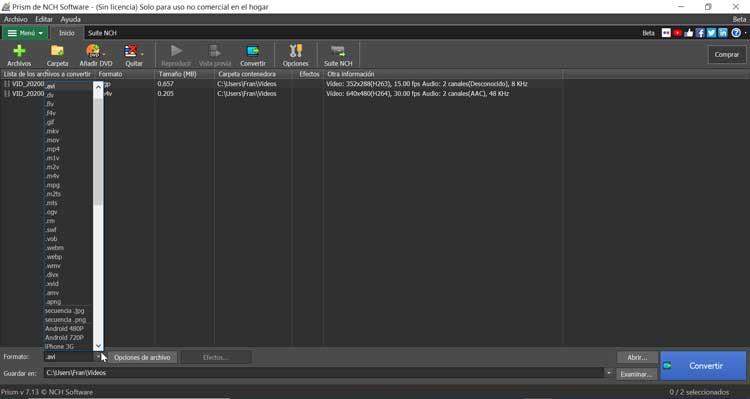 Video encoding tasks for advanced users
For more advanced users, Prism offers a section on "File options". From here we can configure the encoding configuration, which will vary depending on the chosen format. Based on this, we can choose the video compression, the audio compression and the sound format. In addition, we can configure the video output options, such as changing the size or limiting the frame rate.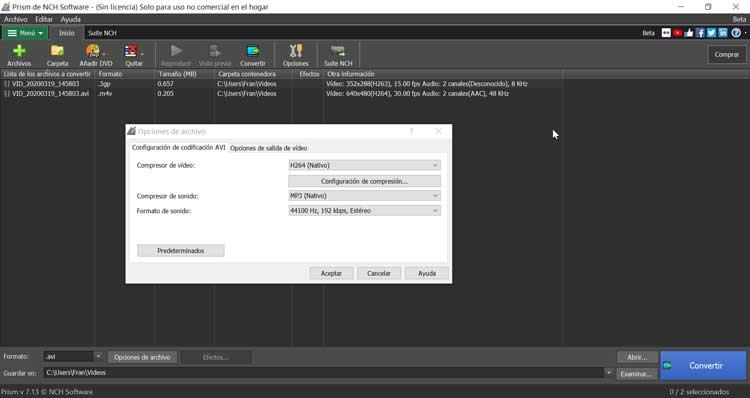 Finally, we only have to save the exit route where the conversions we make will be hosted. To do this, we must go to the "Save in …" tab at the bottom. To change the default path, just click on the "Browse" button. Once chosen, just click on "Convert" to start the conversion process.
Download Prism Video Converter for free
Prism has a free version that is available for non-commercial use and that we can download directly from its website . It works with Windows 10, XP, Vista, 7, 8 and 8.1, as well as 32-bit and 64-bit systems, as well as computers with Mac OS X 10.5 and higher. Its installation file only occupies 1.16 MB and it is done extremely quickly through its wizard. At no time does the program try to get us to install unwanted third-party programs.
In addition to the free version, it also has a paid version, where it offers much greater file compatibility and is suitable for commercial use. It can be purchased for $ 49.99 for unrestricted use including the MPEG2 patent, or for $ 34.99 including all Plus formats excluding MPEG2.
Alternatives to convert videos
If we are looking for a program with which to convert our video files to other formats, we suggest some alternatives to Prism.
Total Video Converter
It is an editing software compatible with most audio and video formats, with popular formats such as MP4, AVI, 3GP, burning videos to DVD, AVCHD and Blu-ray, burning the Windows desktop and making slide shows . We can download a free trial version from their website that is valid for 15 days. Its price is $ 29.96.
Any Video Converter Free
This video converter is compatible with the most popular video formats such as AVI, MPEG, MOV, WMV, among others. It also allows you to convert up to 4K without quality loss and download videos from YouTube to convert them directly to the desired format. Any Video Converter Free is a free application that we can download from its website .