multimedia
Convert, record and download videos with wondershare uniconverter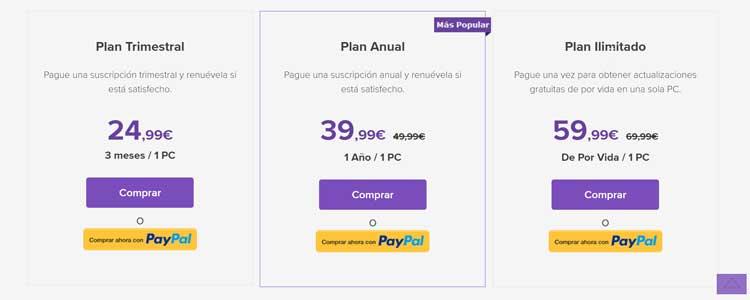 At present the treatment of audio and video files has become a task that is not only carried out by professionals in the sector, but has also become an essential part in the domestic section. Either to view it on different devices or to share it on social networks, we must have a program that has editing and conversion functions. If we want a program with which to obtain professional results, we can choose Wondershare UniConverter .
Convert Videos Instantly with Wondershare UniConverter
Wondershare UniConverter is a unique video converter that we can use for any type of multimedia file. This program allows us to carry out video conversion, recording and downloading tasks, being able to work with any format that we can imagine, even 3D. Not surprisingly, this tool has support for more than 1000 video and audio formats.
This powerful converter also has the possibility of downloading videos from more than 10,000 sites, such as YouTube or Facebook to be able to enjoy them without the need for an Internet connection. We can also convert them to other formats so that they can be compatible with other devices such as mobile phones, tablets or televisions, among others. This function also allows you to convert videos to MP3 and even download a complete video playlist at once.
Other notable features of Wondershare UniConverter is the ability to convert DVD to any format. In this way we can convert our DVDs to MKV, AVI or another format quickly. It has the ability to record discs in Blu-Ray and DVD format as long as we have a recorder for it and perform video compression of up to 8K .
It is also worth highlighting the possibility of compressing several videos in batches so that we do not have to do it one by one, and we can even record full screen and personalized. Nor can we forget that it has a video editor with which to trim, cut, add subtitles and watermarks among other options.
An all-in-one tool for dealing with audio and videos
Once we execute the application, its main menu appears with a simple interface and completely in Spanish . On the left side we see a column where we find the main tools of this application organized by "Audio converter", "Video converter", "Downloader", "Video compressor", "Video editor", "Merger", " Screen Recorder "," DVD Recorder "and" Toolbox ".
Video converter
With this function we have the possibility to convert videos into different formats, thanks to the fact that it is compatible with more than 1000 different formats. We just have to drag or add the video. Later we select the format and quality (MKV, MP4, MOV, AVI, etc.) at the bottom as well as the folder where we want the converted file to be saved.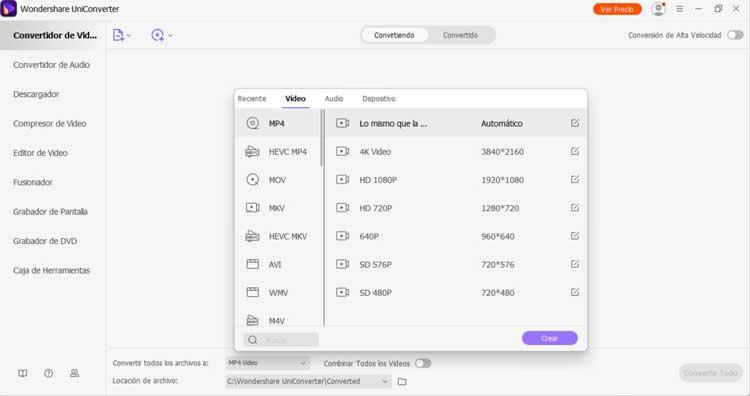 Audio converter
It works very similar to the previous one, but with audio files. Likewise, we only have to select or drag them, choose the format and quality to which we want to convert (MP3, WAV, AAC, FLAC, etc.) and the path where it will be stored once converted.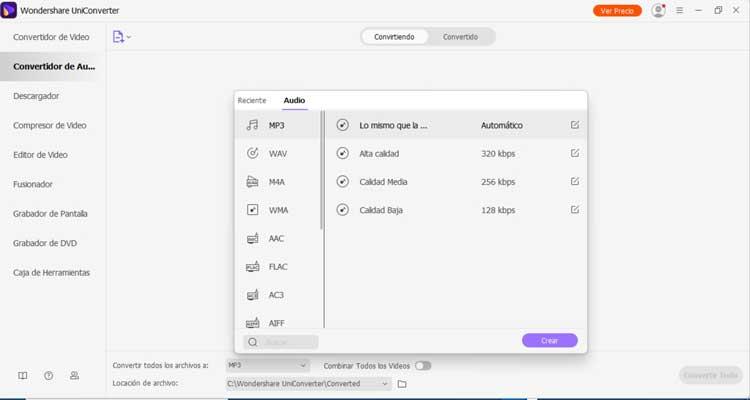 Downloader
From this function we can download videos from more than 10,000 audio and video hosting sites just by adding their URL . It will allow us to choose both the format and the quality of the video and even if we want to download a thumbnail of it.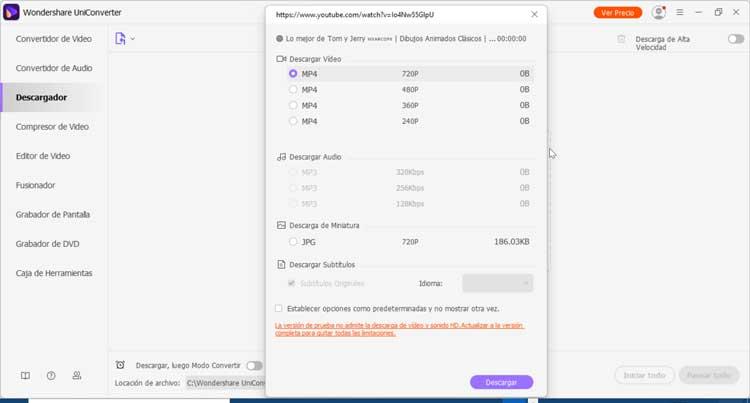 Video compressor
Thanks to this function we can compress any video in order to reduce its size. We just have to add the video or drag it to its interface. Later we can select the size we want the video to have, as well as its format, resolution and bit rate.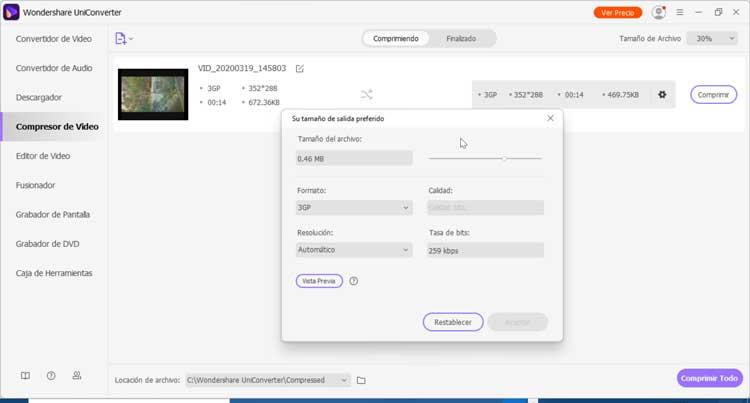 Video editor
With the video editor we can make different modifications to our video. From here we can assign a watermark, cut, trim, add audio, add subtitles, as well as some effects, from where to configure the brightness, saturation and contraction.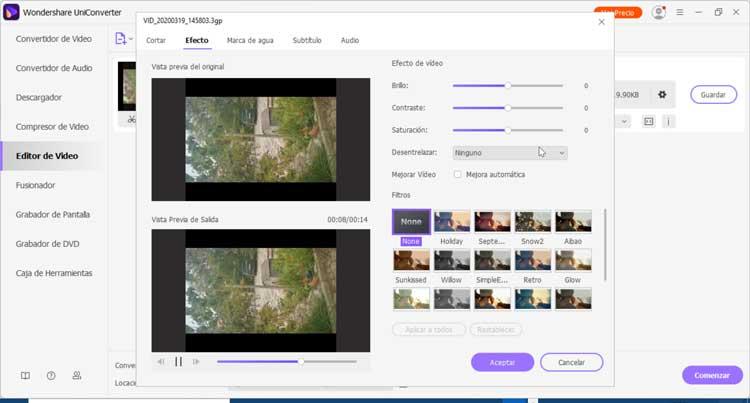 Screen recorder
From here we can record the screen of our computer with 1: 1 quality and several available options. In this way we can record full screen, custom screen, record from the webcam or record audio.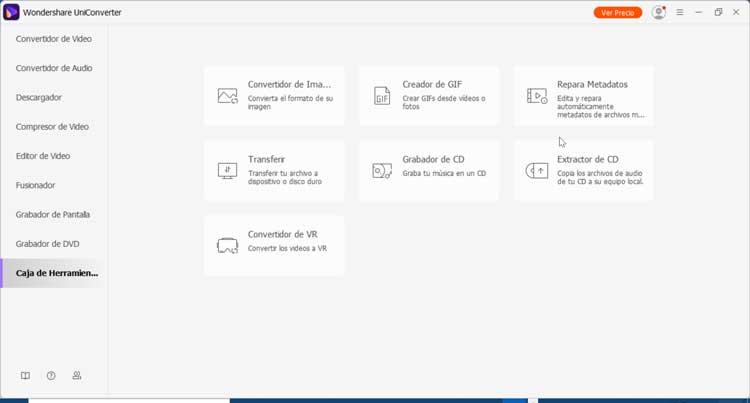 DVD recorder
This powerful tool will allow us to easily create and edit files on DVD and Blu-Ray . With it we can convert DVDs to any format, copy DVD discs to other DVDs and burn audio files to CD.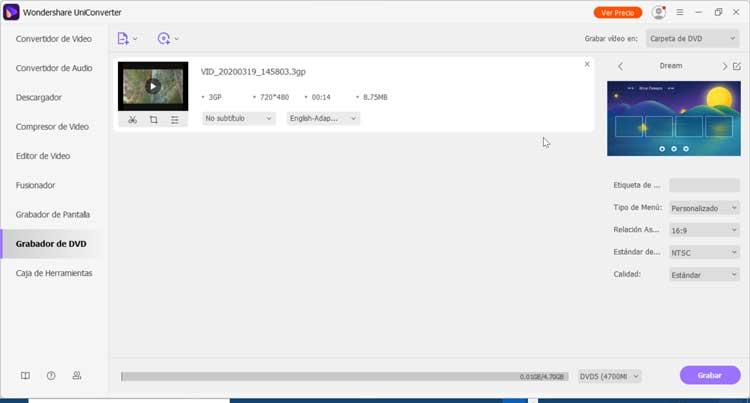 Toolbox
In this section we find a series of additional tools such as an image converter or a GIF creator. It also has a function to repair metadata and a CD ripper and burner. Also, we can transfer files and convert VR videos.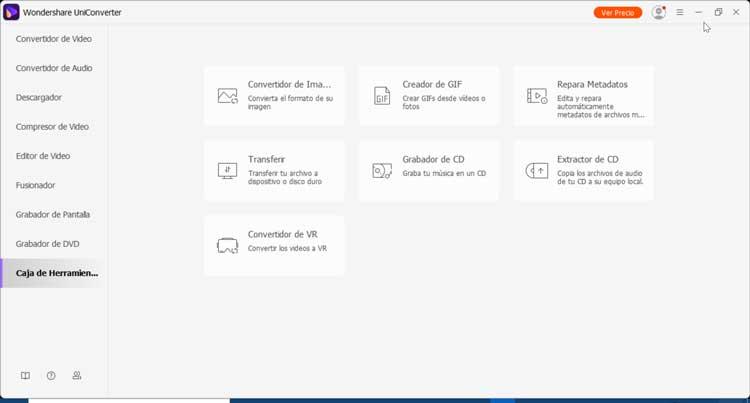 Download Wondershare UniConverter
Wondershare UniConverter is a commercial program so in order to use it we will have to pay for its license. It also has a free trial version that we can download from its website and that we can use to test it before deciding on your purchase. This version also has some limitations, since it only allows us to convert 1/3 of the original duration of the video or audio, we can record a maximum of 1 minute in full screen, among others. The application is compatible with Windows version 7 or later.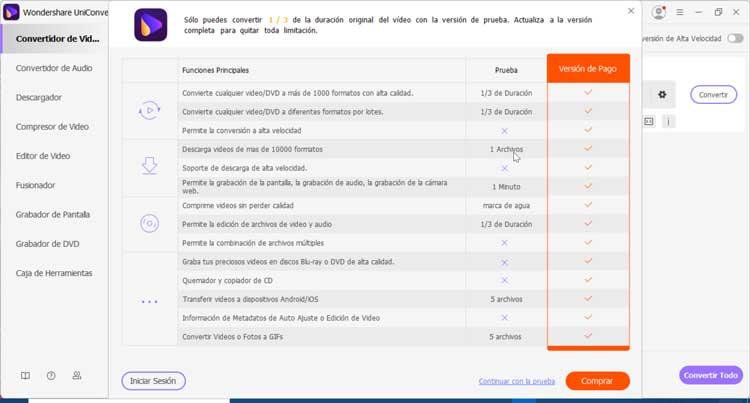 When purchasing this program we will have what payment options.
Quarterly Plan : it is valid for three months and is suitable for use on a computer. Its price is 24.99 euros .
Annual Plan : it is valid for one year and is suitable for use on a computer. Its price is 39.99 euros .
Unlimited Plan : valid for life with free updates for use on a computer. Its price is 59.99 euros .
Wondershare UniConverter alternatives
If we are looking for a program to convert and edit video files, we show you a couple of interesting alternatives to Wondershare UniConverter:
WinX Video Converter
With this tool we can convert videos to almost any format, even in 4K resolution. It also has support for hardware acceleration at level 3, which allows you to work faster, achieving higher quality in a smaller size. We can download WinX Video Converter for free from its website . It also has a paid version called WinX Video Converter Deluxe that we can buy for $ 35.95.
AVS Video Converter
With this simple application we can convert video files into different formats, as well as edit them and add effects of all kinds. In this way we can vary its colors, apply aging effects, among others. It also allows us to add text and sound and transition effects. It is compatible with the most popular open source formats such as AVI, MPEG, DivX, Xvid among others. AVS Video Converter is free and we can download it from its official website.