multimedia
Convert music in any format with the help of these programs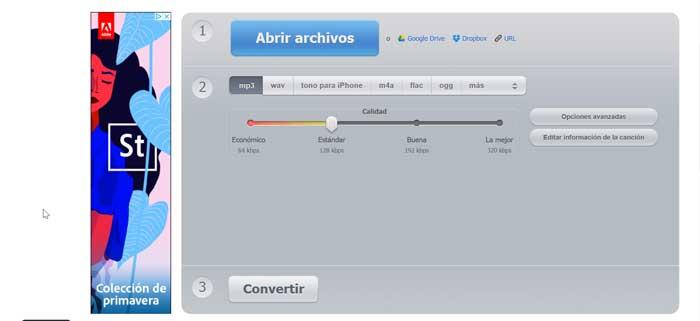 When we decide to use our computer to enjoy our favorite music, we usually use the MP3 format. However, on other occasions we may have a file in a format that is not compatible with the device where we want to play it or we want to have all our files in a single format. For this we must use audio converters.
Audio converters are programs that allow us to read the source file and save it in a new format that we have previously selected and that adjusts to our needs. They also usually have, sometimes with additional features that can help us improve the sound quality of the file.
In the market there are a large number of applications that allow us to convert audio files between various formats, although many of these alternatives are paid, they only have free trial versions or most of their options are qualified to force us to pass per box. For this reason, today we are going to see what free programs and websites that we can use to convert our audio files into different formats.
Free programs to convert audio
When it comes to converting audio for free, we can use a series of programs that will help us without having to pay a single euro. All of them are full versions developed to help users with their conversion efforts.
Helium Audio Converter, convert songs between formats quickly
This free program will allow us to quickly convert our audio file into different formats as it is compatible with the most used and popular ones such as AAC, FLAC, M4A, M4B, MP3, MP4, MPC, Ogg Vorbis, Wave, WAVPack and WMA. The conversion is done quickly, without losing quality and with the possibility of customizing the quality of the audio output with different advanced options depending on the format. Beyond converting between formats, this application allows you to keep all the metadata information of the files that we have converted. As a security measure, we must mention that this program does not allow files with DRM to be converted.
If we want to make our audio conversions with Helium Audio Converter, we can download it for free from its website .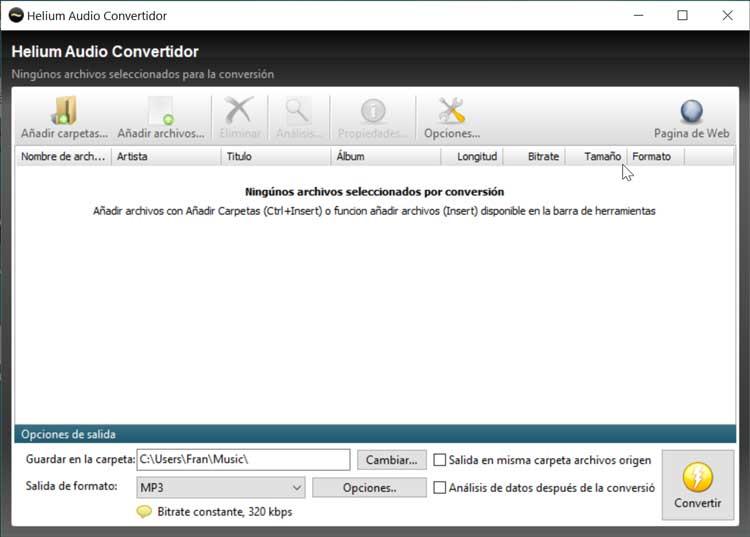 Free Audio Converter, ideal for batch conversions
This audio converter stands out for being compatible with a wide variety of formats such as AAC, AC3, AIFF, APE, FLAC, M4A, M4B, MKA, MP3, OGG, RA, TTA, WAV, WMA, among others. In addition, it offers compatibility with different audio formats without loss of quality such as FLAC, WAV, ALAC and WMA Lossless, so we can always keep our songs with the highest quality. This converter has a flexible configuration, which allows us to edit the profile of each type of audio, as well as create new profiles and conversion parameters. In addition, we can make conversions both individually and in batches .
Free Audio Converter does not contain spyware or adware, being completely free. We can download it from the developer's website.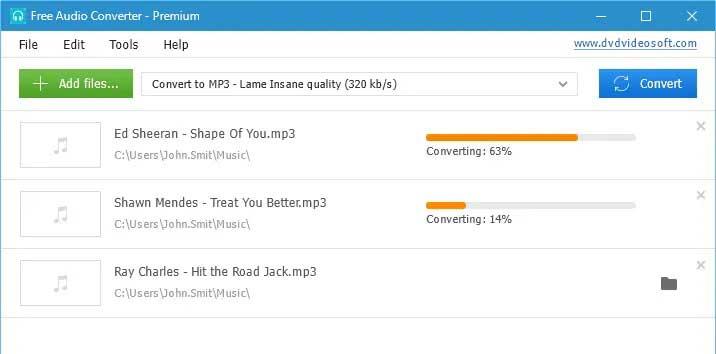 Freac, the most popular and one of the most complete
This program works as both an audio converter and a CD ripper, being compatible with popular formats such as MP3, AAC, FLAC, WMA, WAV, among others. One of its most interesting features is the possibility of importing the CDDB information, so that we can automatically consult all the information of the song and write it in ID3v2 or other tags, being compatible with Unicode. With this application we will obtain very fast conversions thanks to the fact that when coding it takes advantage of the multiple CPU cores.
Freac is a free and open source file converter. It has both an installation and portable version, so that we can choose the one that interests us the most. We can download it from its official website .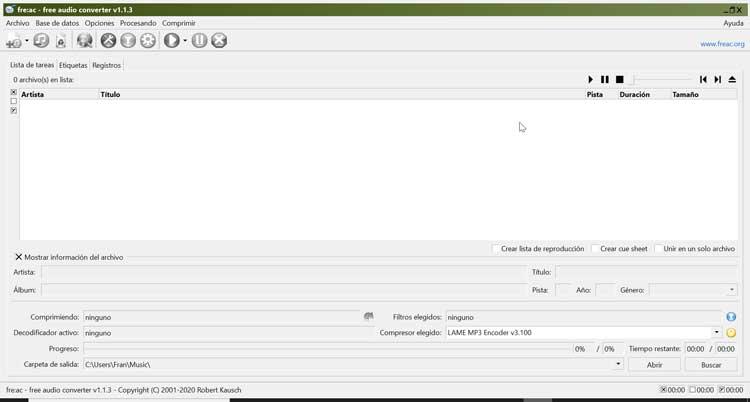 AVS Audio Converter, customize and apply effects to your conversions
This complete audio file converter is compatible with all kinds of formats such as MP3, WMA, WAV, among others, being able to handle all APE files and encode any supported audio format. It is a simple application to use, but with many customization options, which is why it is aimed at both inexperienced and more advanced users. And it is that with this software we can also export the audio of our videos, as it has support for DVD, MP4, MPEG, DIX, AVI, among other formats. Another possibility is to convert audio to M4B, the format used in audiobooks, allowing, even dividing the audio into chapters, setting the sound quality and adding markers.
AVS Audio Converter is free software, which we can download directly from its  website . It is compatible with Windows in all its versions from XP to Windows 10.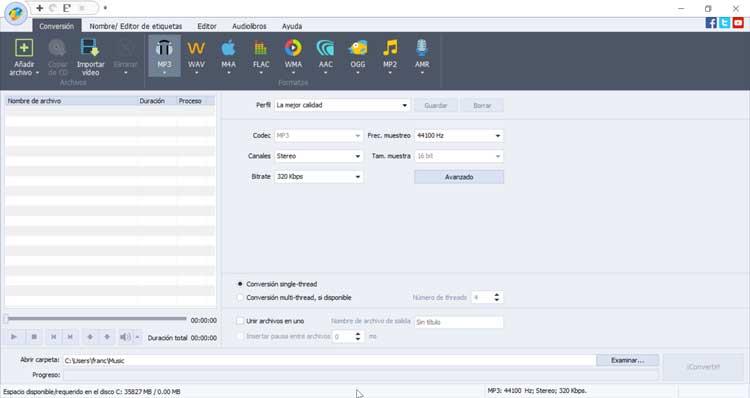 Freemake Audio Converter, transform all kinds of sound files
It is an audio converter that is characterized by having audio quality profiles that we can customize to our liking, as well as the possibility of joining several songs into one. It has compatibility with a wide number of formats, including MP3, WAV, WMA, AAC, FLAC, OGG, M4A, among others. Another feature to highlight is that it has different presets to be compatible with certain devices, such as Android phones or iPhone. In addition, it offers support for video files, so we can extract the audio.
Freemake Audio Converter is a free application that we can download from this link .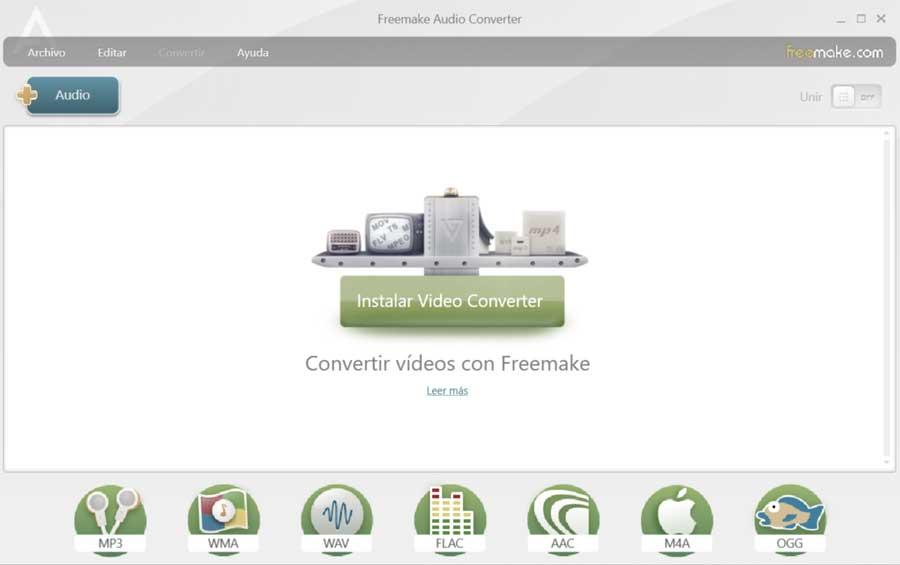 MediaCoder, convert and enhance any audio file
This program allows us to convert both audio and video files into different formats so that we can play them on any device. One of its main characteristics is that it allows us to improve our audio files through filters, as well as reduce and compress any file. It offers us compatibility with all kinds of formats, either lossy (MP3, AC3, Vorbis, etc.) or lossless (FLAC, ALAC, TTA, PCM, among others). Of course, the program has an interface full of options, since it is aimed mainly for advanced users, so that the most inexperienced can find themselves overwhelmed by so many options available to them.
MediaCoder has both an installable and portable version, and can be downloaded for free from its website.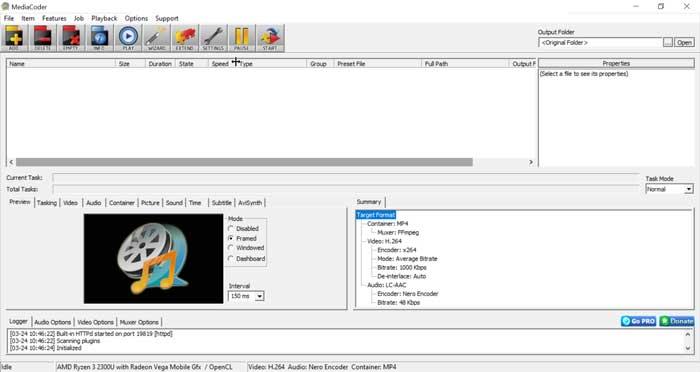 Switch, convert multiple formats quickly and efficiently
This complete program is capable of converting a wide variety of audio files, with more than 40 compatible formats such as MP3, WAV, WMA, FLAC and OGG among others, preserving the music tags of all compatible formats. It allows you to convert both individually and in batches, to convert multiple files at the same time . You can also extract audio from any multimedia file including videos, as well as from CDs and DVDs. It also allows us to listen to the beeps before the conversion and to convert from several file formats at the same time.
Switch is an audio converter compatible with Windows and Mac computers, which we can download for free from its official website .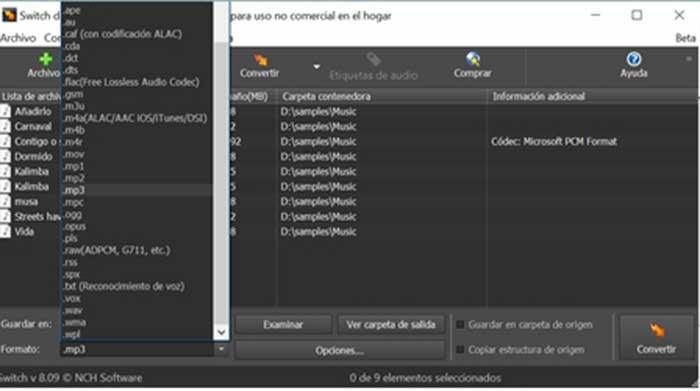 Best websites to convert audio for free
Another option that we have available when making audio conversions is to use a web application. With this we avoid having the need to install programs on our computer, something that we will surely value, in case we only need to carry out a one-off conversion.
Zamza, convert between formats without downloading any software
We are facing an online conversion program which allows the conversion of a large number of formats. Among them are the popular FLAC, MP3, WAV, OGG, AC3, among others. All this, without the need to download any software to our computer. The maximum size it supports is 50 MB and the whole process is very easy to carry out, since we will only have to load the file and select the format to which we want to convert it. Once the conversion is done, we can send it by email or download it directly to our computer.
To convert audio files with Zamza, just go to its website .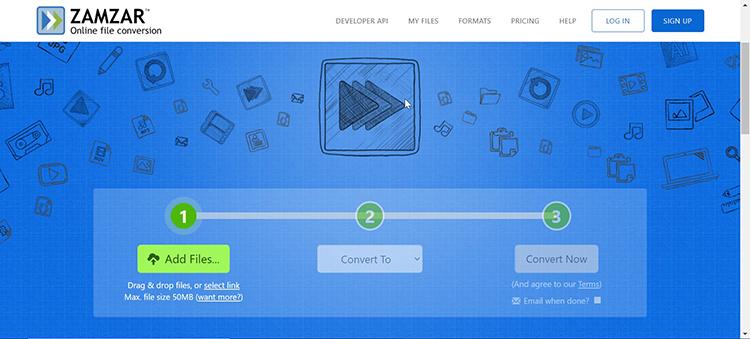 FileZigZag, perform hassle-free audio conversions
This online audio conversion program is compatible with the main audio formats such as MP2, MP3, WAV, MWA, M4A, MID, among others. We can upload up to 10 files a day with a maximum size of 50 MB each, so its use is indicated for occasional conversions. It is very easy to use, not in vain, all we need is to load the original file, select the output format and we will receive the file via email. So that we don't have to worry about privacy, the files are deleted after 24 hours.
To be able to make free audio conversions with FileZigZag, just click on this link .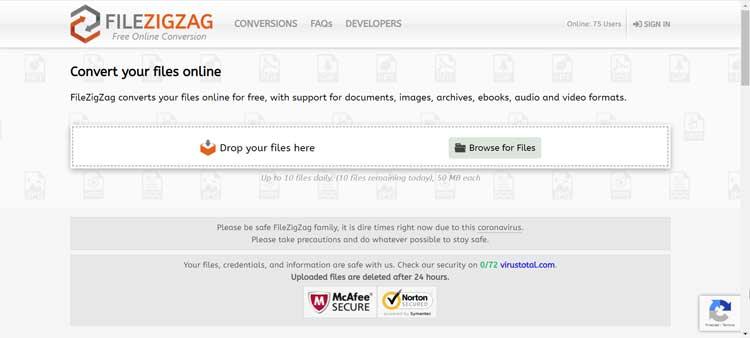 Online Audio Converter, converts between more than 300 formats
It is an audio converter capable of recognizing more than 300 formats between audio and video, among which are MP3, FLAC, OGG, WAV, AMR, among others. It incorporates advanced options that allow us to select the audio quality, the bitrate, the frequency and the quality of the channels, coat the track, gently increase the volume or remove the voice, so that we can obtain a completely personalized conversion . It also has support for tags, which allows us to change the name, the artist, the album, the year, as well as the genre and composition.
To convert audio between formats with Online Audio Converter, just access its website .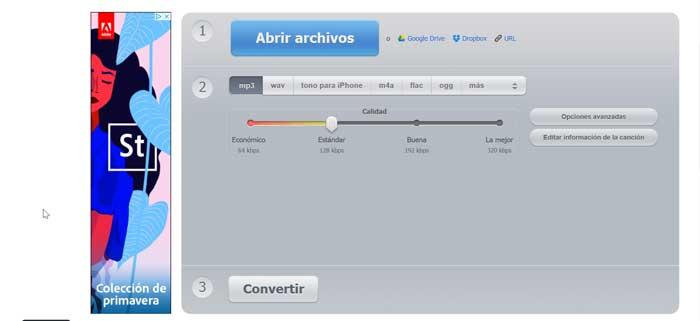 What program or website should I use to make conversions?
As we have seen, we have at our disposal a wide range of options when it comes to making audio conversions for free, either through web applications or programs that we install on our computer. Since they are all free options, it never hurts to try them, to see which one best suits our needs. However, when deciding on an option, possibly Freacit would be an irreplaceable option. And it is that it is a reference within the free audio conversion applications. Not only is it solvent as an audio converter, but it also has a CD ripper and full support for Unicode, both in labels and file names. In addition, it has a portable version, so it will not be necessary to perform an installation to run it on our PC, either from our hard drive or from an external storage device.