multimedia
Convert images in batches for free with pixillion image converter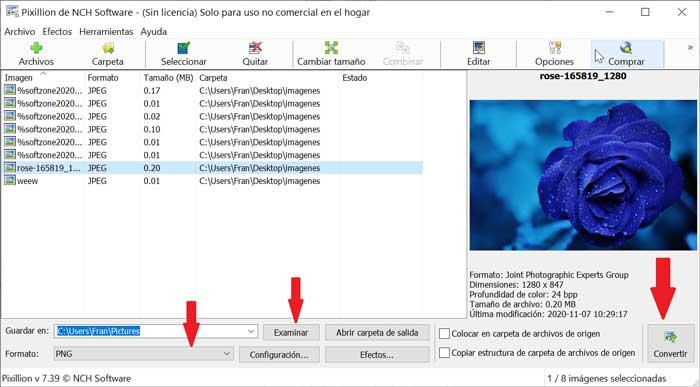 Sometimes, especially if we are used to dealing with images of different formats, we may need the appropriate tools to be able to transfer images from one format to another, according to our needs. For example, although the JPG format is the most used, perhaps we need a higher quality without loss such as PNG or TIFF, so it may be necessary to use an image converter, such as Pixillion Image Converter, of which we passed you to talk next.
Format any image in seconds
Pixillion Image Converter is a multi-format image file converter, with which we can transfer photos from one format to another quickly, even allowing batch conversion between all the most popular photo and image formats. The program will allow us to obtain a preview of the images before carrying out the conversion, in which we will be able to appreciate the file format, the print settings and the dimensions of the photograph.
Along with the possibility of converting images, we will also be able to other complementary options such as the possibility of rotating, resizing and compressing them. We will also have the option to add captions and watermarks during the conversion process. In addition, it allows us to preserve vector graphics when converting between vector formats.
Supported image formats
Convert from: .PSD, .PDF, .AI, .AAE, .TGA, .GIF, .HEIC, .JPEG, .JPG, .JP2, .JPS, .WDP, .HDP, .JXR, .IFF, .DOCX , .BMP, .ICO, .MPO, .EXR, .PCX, .PNG, .PBM, .PGM, .PPM, .PNM, .PGF, .ARW, .CR2, .CRW, .DCR, .DNG ,. ERF, .KDC, .MEF, .MOS, .MRW, .NEF, .NRW, .ORF, .PEF, .PTX, .R3D, .RAF, .RAW, .RW2, .SR2, .SRF, .SRW. X3F, .RAS, .SVG, .TIFF, .TIF, .WEBP, .WMF, .EMF, .WBMP, .PKPASS
Convert to: .PSD, .PDF, .TGA, .GIF, .JPEG, .JPG, .JP2, .WDP, .HDP, .JXR, .IFF, .DOCX, .BMP, .ICO, .PCX, .PNG , .PBM, .PGM, .PPM, .PNM, .PGF, .RAS, .SVG, .TIFF, .TIF, .WEBP, .WMF, .EMF, .WBMP.
Pixillion Image Converter
Once we run the program for the first time, we find its main menu with an intuitive interface and in Spanish that gives us easy access to all its functionalities. At the top we find the "File", "Effects" and "Tools" tabs. Just below we see a practical toolbar with the most fundamental functions.
To start using it, the first thing to do is insert the image or images that we want to convert. To do this, we can insert them, simply by dragging and dropping on the interface. We can also use the «Add» function to add files or «Folder», if what we want is to add all the content of a folder.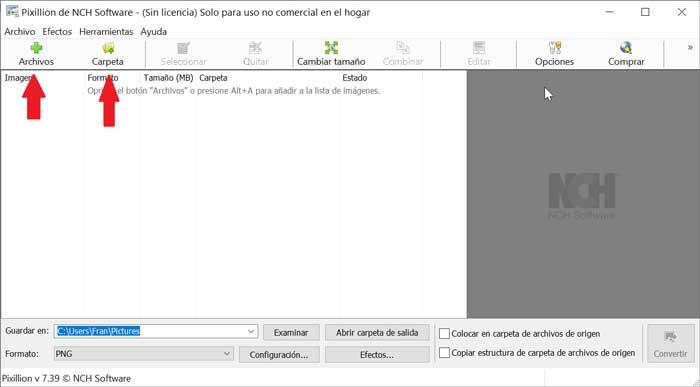 Once we have added them, they will appear in the form of a list, showing us the format, the size, and the folder where each image comes from. By default, it shows us in descending alphabetical order, although we can also organize them by format, size, folder or status. If we click on an image we can see how a preview of it appears on the right side of the screen. In it we can see data such as format, dimensions, color depth, file size and the last modification.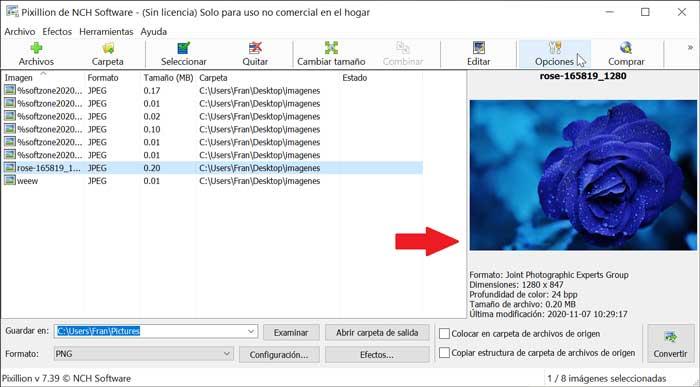 Do small image editing work
Before converting, we can process the images. To do this, we can choose the "Change size" button, which will open a new window called Effects, from where we can perform different functions that appear organized by Change size, Flip, Rotate, Watermark text, Image of the watermark and Filter.
From the option to change the size we can scale the image by percentage, predefined or custom frame size, original aspect ratio, among others. Depending on the option we choose, it will allow us to change the percentage, the length and width of the pixels, etc.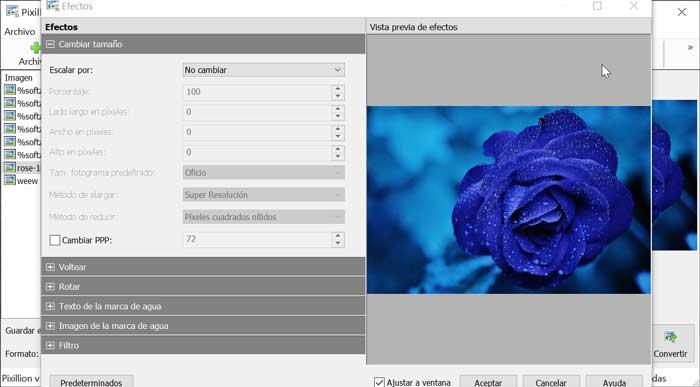 We also have the ability to flip the image horizontally or vertically and rotate the image 90º, 180º and 270º clockwise. Another option is to be able to add a text as a watermark, allowing us to configure the dimensions, its opacity, the color and the alignment. In the same way we can add an image as a watermark. Finally, we have the Filter option that we can enable to add black / white, sepia, negative or automatic levels filters to the image.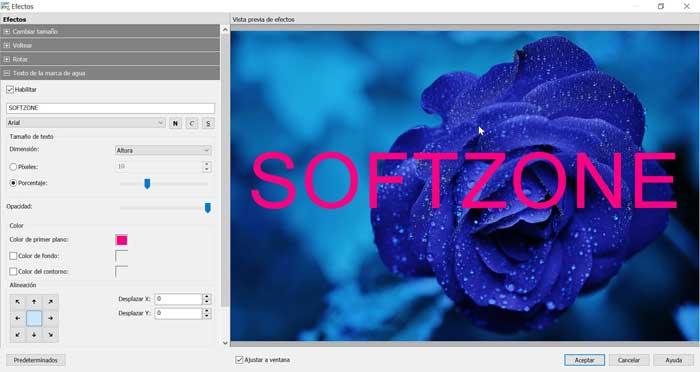 When making the conversion, we must go to the bottom of the main menu to make the last adjustments. Here we must use the "Save in" option to choose the location where we want to save the images that we are going to convert. We will also have to choose the desired format, and finally click on the «Convert» button, located in the lower right part. Then the images will be converted quickly and will be saved in the chosen location.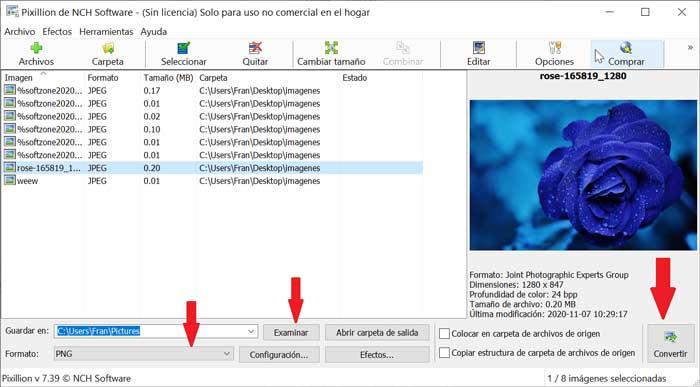 Download Pixillion Image Converter
Pixillion Image Converter is a free program for personal and non-commercial use, which we can download directly from its website . The application is compatible with Windows XP, Vista, 7, 8 and 10, both on 32-bit and 64-bit systems . Furthermore, it is also compatible with Mac OS X 10.5 or higher. The installation is done quickly, without the wizard trying to install other additional unwanted programs. In case we need to give it a professional use, we will have to pay for its license, which has a cost of $ 24.99 for the Standard Edition and 34.99 euros for the Premium Edition.
Alternatives to Pixillion Image Converter
If we are looking for a program with which to convert images in batches, we suggest a couple of alternatives to Pixillion Image Converter that we must take into account.
Free AVS Image Converter
With this tool we can convert images between different compatible formats. In the same way, we will obtain total freedom to change the size, rotate, add watermarks and apply effects. In addition to performing conversion functions, we can also adjust certain image parameters, such as brightness, contrast, saturation or tone. We can download Free AVS Image Converter from the developer's website.
Total Image Converter
This program stands out for having support for more than 30 different image formats, including the popular RAW, allowing us to carry out conversions between them. It also has basic editing features such as the ability to resize, rotate, crop, or protect the image with a watermark. We can download Total Imagen Converter from its official website.