multimedia
Convert and resize videos up to 4k with winx video converter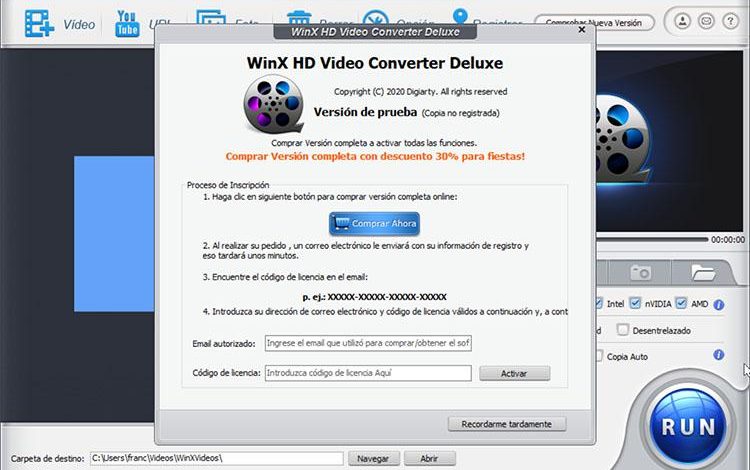 Currently we usually view videos on all kinds of devices, whether from the computer, the television, the tablet or the mobile. The problem is that a video that we can see on our PC may not have a format compatible with other devices. For this, there are programs on the market capable of converting videos into different formats such as AVI, MP4, MKV, among others. One of its programs that will help us with the work is WinX Video Converter, about which we are going to talk today.
WinX Video Converter is a program that offers us several possibilities, the main one being its ability to convert videos between different formats, as well as download and edit video (YouTube). This software allows us to manage all types of video files up to 4K resolution, counting on Level-3 hardware acceleration which allows you to make use of the GPU 47 times faster.
With this program we can convert videos to 4K / FullHD / HD resolution, as well as convert MKV videos to MP4, AVI, MTS AVCHD. It also has options to edit videos, join, crop, expand, subtitle, as well as customize the quality and size of the video . In addition, it allows you to select built-in subtitles or add externally in SRT format to your video.
Supported formats
HEVC
H.264
MPEG-4
MKV
M2TS
AVCHD
MOD
Blu-ray
MP4
Avi
MPEG
WMV
MOV
VOB
FLV
RMVB
WebM
Etc.
Everything you can do with this file converter
Once we run the application we find its main menu, which, although it is translated into Spanish, seems to be done more literally than naturally. Its interface is striking, being easy and intuitive to move through it. At the top we find a toolbar with the most important functions that we can perform such as "Video", "YouTube URL", "Photo", "Delete" and "Option".
On the right side we find a small viewer where we can view the video, as well as some functions that we can activate or deactivate, depending on the power of our computer, such as "Hardware encoding", "Deinterlacing", "Use engine good quality ", and" combine Video Out ".
Convert videos to any format in seconds
If we click on the «Video « tab , we can select the video we want to convert. Once added, a new window appears where we must configure the output profile . In this way we will have to select what format and resolution we want to convert the video to. The same program will tell us which one is recommended based on the quality and size of our video.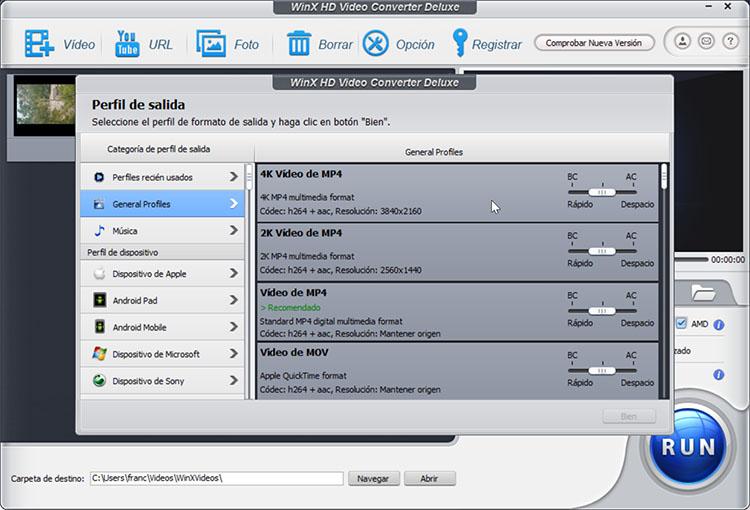 It also has several preset profiles that we can select so that the video is automatically converted into a format compatible with that device. For example, we have a profile for "Apple Device" if we click, we find various options such as "iPhone Video", "iPad Video", "iPod Video", "Apple TV Video", and so on. We also find preset profiles for Android, Microsoft, etc.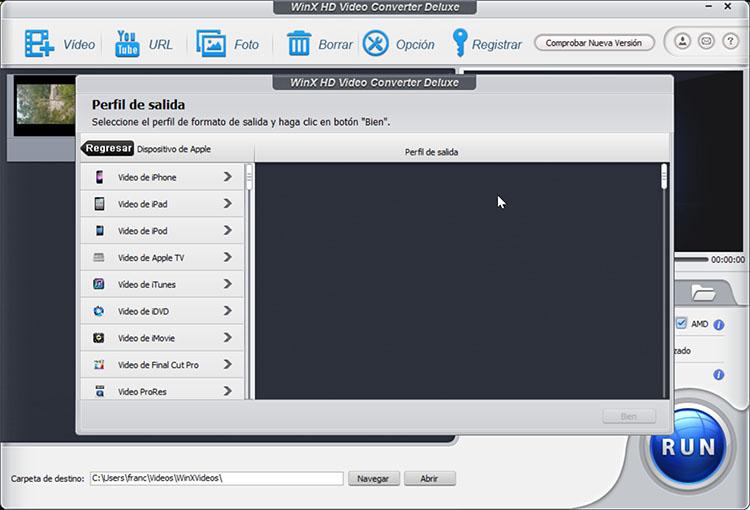 Once we have chosen the compression format, click on "Good" and the video will have been added to the program. Once this is done, it offers us the possibility of editing it, being able to make cuts, enlarge the image or add subtitles. Once any adjustment has been made, click on "Done" to confirm.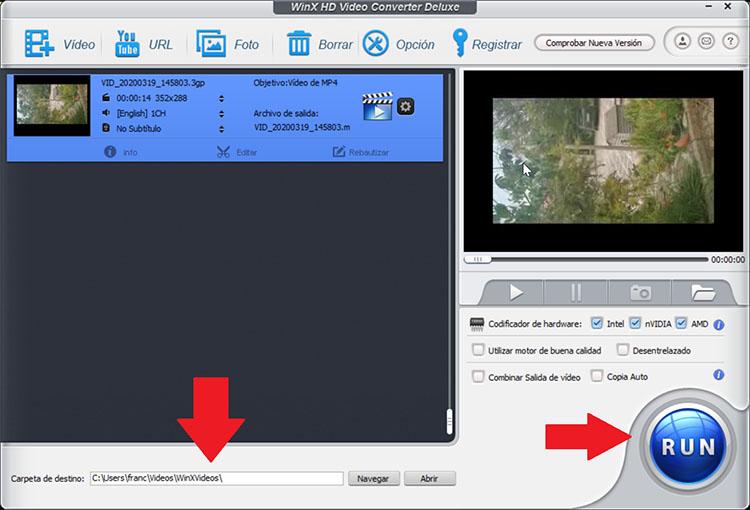 All that remains is to select the destination folder where the conversion will be hosted and which is located at the bottom of the screen. We can use the «Browse» key to find the folder where we want it to be hosted. To start the conversion process, just press the "Run" button that appears very large on the right side. Once this is done, the process will begin and once finished a window will appear with the folder where it has been saved.
Download YouTube videos
If we click on the "YouTube URL" tab, a new window will appear where we can copy any URL link of a YouTube video that we want to download. Once done, we must click on Analyze, so that the program is in charge of locating it, subsequently offering us various download options, with different resolutions to choose from, format, size and codec. Once selected, click on "Good" and the video will be added to the program. On this occasion, we will not be able to edit it, so we only have to select the folder to host the download and click on "Run" to begin the process.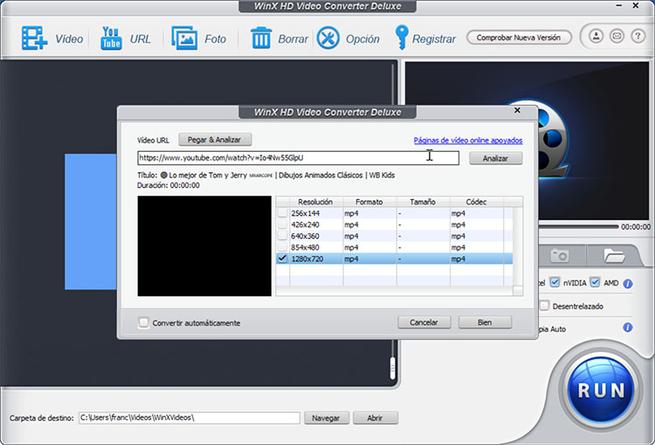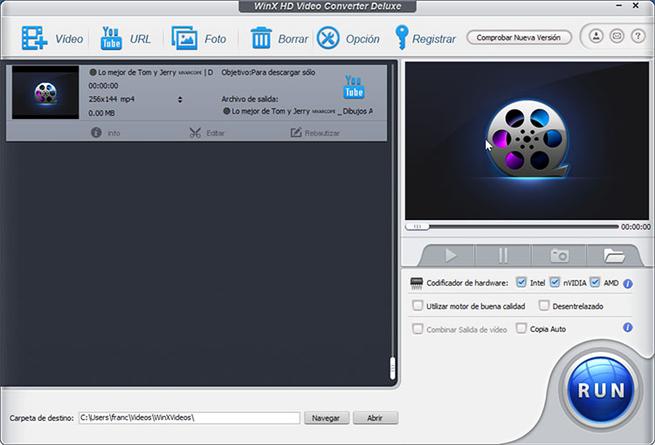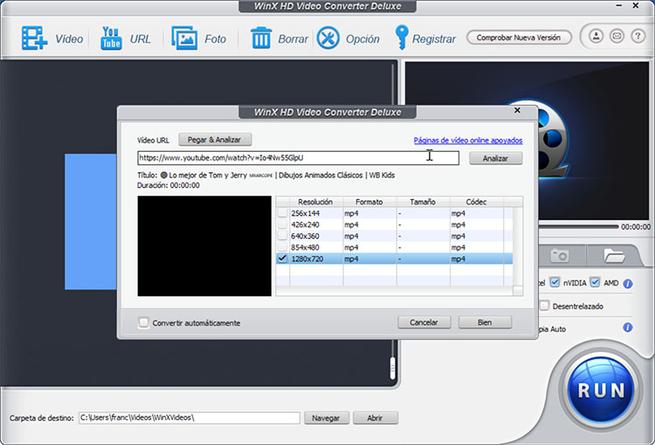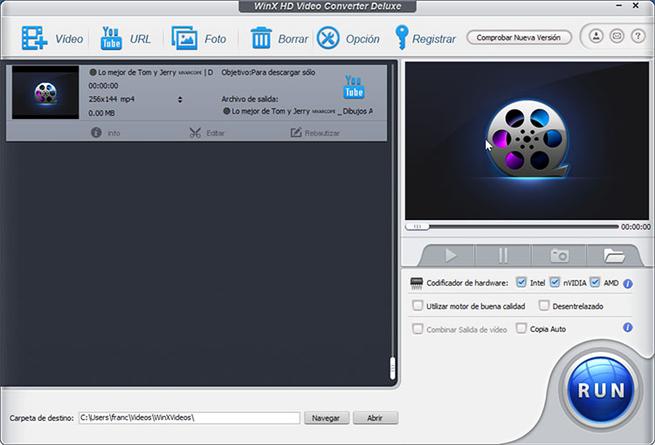 Convert multiple photos into a video sequence
From the "Image" section we can create a video from a folder of photos . Once we click on it, we must choose a folder with images. Later, the video output profile will appear to choose the desired format and quality. We can also edit the video, adding more images, music, the order of the photos (location, name or date) and the time interval between one and the other.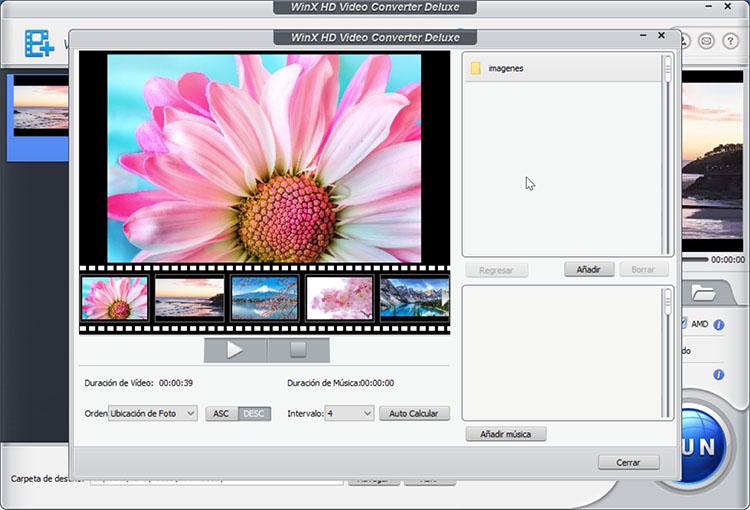 Download WinX Video Converter
WinX Video Converter is a commercial program so we will have to pay for its license to use it. It also has a free trial version that we can download from its website . This version has limitations since it only allows us to convert video with a maximum of 5 minutes to evaluate the results. Its usual price is 45.95 euros, although they usually put offers constantly, in fact at the time of writing this article its price for a limited time is 29.95 euros . Similarly, when you install the trial version, a pop-up window appears offering discounts when purchasing the license.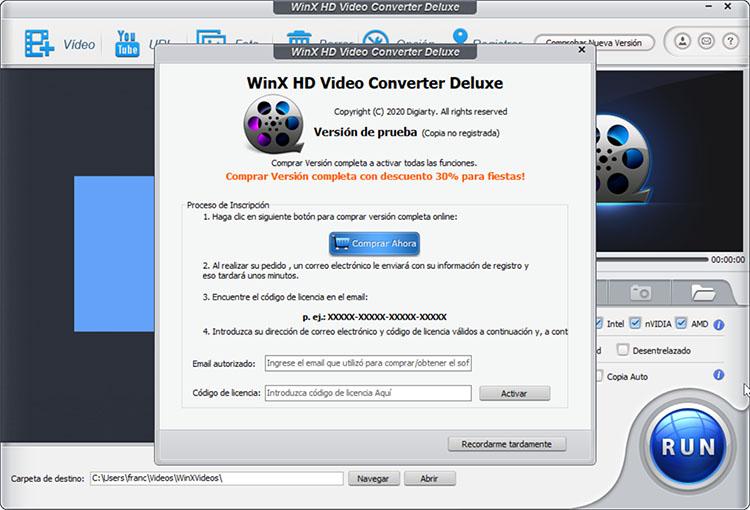 Minimum system requirements
Processor: 4th generation Intel® Core ™ processor family (Intel Haswell-based CPUs).
GPU: Intel® Iris ™ Pro Graphics 5200, Intel® Iris ™ Graphics 5100, Intel® HD Graphics 4200 or newer, Nvidia GeForce GTX 650 Ti or newer, AMD Radeon ™ HD 7000 Series or better.
RAM: 8GB.
Operating system: Windows 10 and Mac OS (the latest version available is recommended).
Alternatives to WinX Video Converter
If we are looking for a program to convert videos, we suggest a couple of alternatives to WinX Video Converter to consider:
Any Video Converter Free
It is a tool with which we can convert videos quickly and effectively. It is compatible with popular formats such as MPEG, MOV, WMV, AVI among others, as well as resolutions up to 4K, without loss of quality. It also allows us to download videos from YouTube and convert them directly. As its name indicates, any Video Converter Free is a free application that we can download from its website .
AVS Media Converter
This application allows us to convert videos in different formats for free. We can also edit it to add effects, vary colors or insert texts. The software is compatible with the most popular open source formats such as AVI, MPEG, DivX, Xvid among others. We can download AVS Media Converter for free from its website.