multimedia
Capture any video easily with video thumbnails maker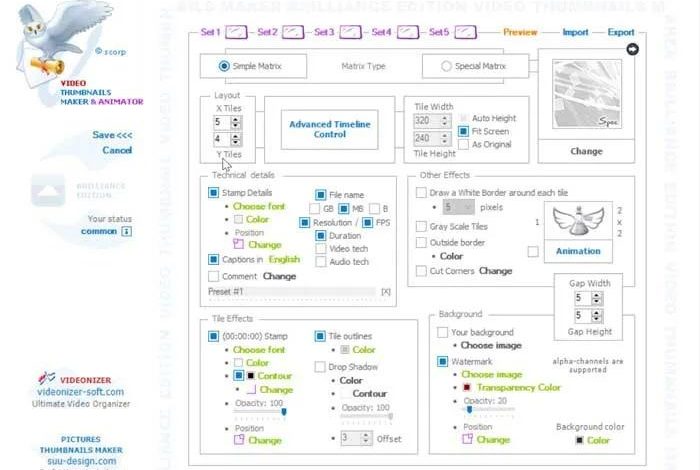 In general, we are used to screen capture programs, when we need to illustrate or explain any content. But if what we want is to capture everything that happens on our desktop, we will need a high-quality video capture program, which is why it is ideal for creating video tutorials. For this we can use Video Thumbnails Maker, with which in addition to recording the screen of our computer, we can create animations and screenshots.
As we have mentioned, Video Thumbnails Maker is a program to capture videos, so we can record everything that happens on our desktop. We can create an animated thumbnail in MP4, video formats such as OGV, WebM, WebP. We can also generate GIF animations or HTML galleries . It is perfect for recording home videos and has support for sharing videos over the network. We must also bear in mind that at the moment the use of video files is within the reach of most. It's not like just a few years ago that video processing was limited to a few professionals and their powerful teams.
Capture moving images with Video Thumbnails Maker
It is for this reason, thanks to both the hardware and the software that we have, that many embark on the adventure to work with these contents. The program that we are going to talk about in these same lines serves as an example. Specifically, it is Video Thumbnails Maker, an application that offers us some interesting advantages in this same sense
It supports batch processing of video files which will allow us to create thumbnail images of various video files. It is compatible with practically any video format . In this way we can read videos in MP4, MKV, MOV, QT, FLV, SWF, TM formats as long as we have the appropriate codecs installed on the PC.
With Video Thumbnails Maker we will have our own viewer to load the contents with which we will work. The main advantage it offers us is the ability to start the video on our right with an automatic activation process, being able to create the link between the image and the video manually from this viewer. The program allows the suspension of active tasks, has an import option, as well as customizable settings. In addition, we can set watermarks, automatic height adjustment among other functions.
Functions that help us work with videos in Windows
To start using Video Thumbnails Maker, once the application is installed and executed, its main menu will appear. From here, we just have to add a video, either from a folder (Add Folder), directly selecting the file (Add Files) or from a URL address (Add URLs). If we click on Add Files, we select the video we want and it will be added to the list. Once added, we must click on Start so that it is fully loaded in the application. Clicking on the green button that appears to the right of the file will show us the content of the video by frames.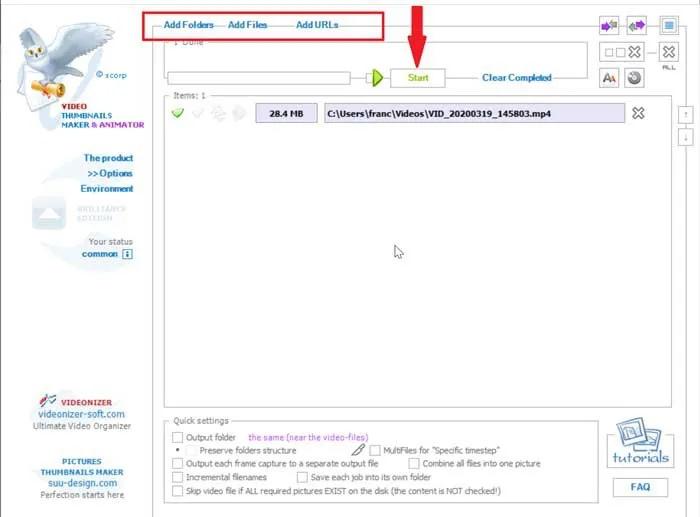 From the options menu (Options) located in the left column, a panel will open from where we can configure all the parameters we need to capture the video, such as technical details or the possibility of including filters.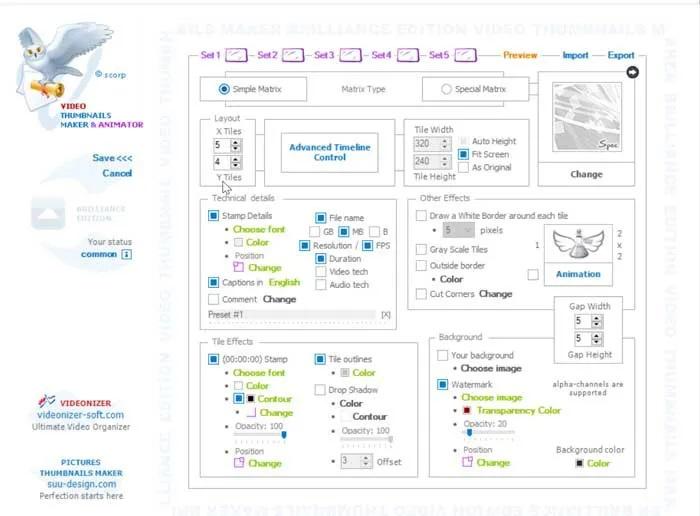 Another alternative to Video Thumbnails Maker
Free Video to JPG Converter: this is a proposal similar to the one we have discussed in these same lines with various functions for videos. Among these we find that it also allows you to capture a specific frame of a video. Then we can save it as an image in JPG format . In addition, it is an application that we can get completely free of charge from this same link to the developer's official website .
It is worth mentioning that it offers us a very easy-to-use interface from which we have the opportunity to extract or capture frames from a video. We achieve all this with the press of a button and choose the video from which we want to extract the images .
Download Video Thumbnails Maker
Well, at this point it is possible that you need to download and test first-hand the virtues that this application offers us. Thus, in the event that you need to take a series of captures in the form of images of a video, this is a great solution. In addition to all this we must add that Video Thumbnails Maker has a free version that we can download from this link . On the other hand, if we want to have the full version of the program, it has an additional cost of 10 dollars .
However, the free one will help us to get an idea of ​​the functions available here and see if we are interested in paying for the full version, or not.
System requirements to use Video Thumbnails Maker
The minimum requirements to use this video capture program are very basic, so it can be used by practically any computer.
Compatible operating system: Windows XP / Vista / 7/8 / 8.1 / 10
Processor: Intel Pentium 4 or later.
Minimum 256 MB of RAM (512 MB of RAM recommended).
Minimum 80 MB of free space on the hard disk.