multimedia
Capture and record audio with the pc microphone with avs audio recorder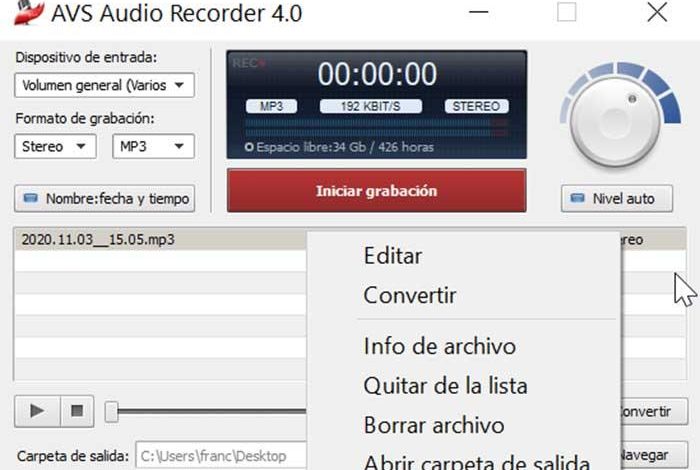 It is likely that on occasion we have had the need to record audio through the microphone of our Windows computer. If at any time we want to record ourselves singing or we want to record a podcast, we will need to make use of a program that helps us to carry out these tasks by capturing the sound through the sound card or microphone. To do this, we can use a free program like AVS Audio Recorder, which we are going to talk about today.
Today we are going to talk about a tremendously practical program such as AVS Audio Recorder, which will allow us to record our own voice, music or any other audio signal that we have. This software has support for recording from the microphone, or other audio input devices, such as a CD, a cassette tape player, as well as different audio applications.
Once we have recorded the audio we can save it in sound files with MP3, WAV and WMA format, specify the number of channels of the output files, being able to choose between Mono or Stereo. We can also select an input device and adjust the sound volume. When working with recordings, we can play the audio, view file information, perform operations with these files, as well as use external applications for editing and converting audio files. Therefore, we are facing a very useful tool to make our own home recordings, without difficulty.
Set up audio for recording sessions
Once we launch AVS Audio Recorder, its main menu appears with a clean interface with a perfectly organized structure . In it we can select the input device, the recording format and the type of channel, along with the directory where we will save the recorded files. It is important that in case we configure our microphone after starting the application, it will be necessary to restart it for the program to detect it.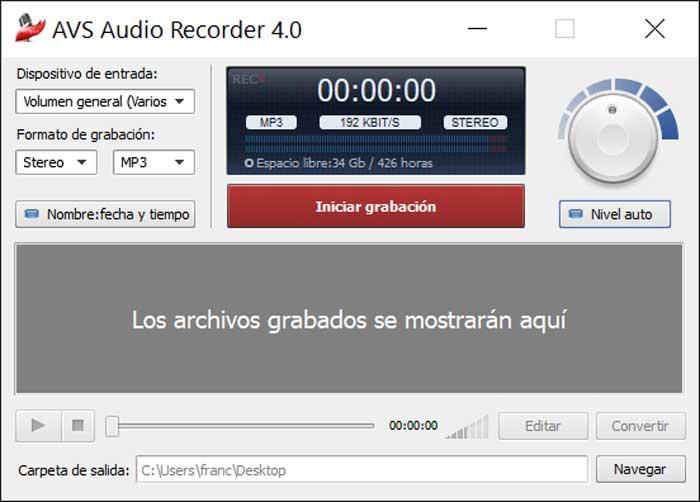 Set up the audio
Once we start the recording process, we can check the elapsed time, the volume level, the free space on the hard disk, the specified audio format, the channel mode along with the bit rate. However, what we cannot do is change the parameters of «Sampling frequency» and «Sample size», while the «Bitrate» is set and is set automatically by the program.
Regarding the volume, we can increase, decrease or adjust it automatically. To do this, we must use the Auto level button   and in this way adjust the recording level automatically. When you press this button, the indicator on the button turns blue. It is also possible to adjust the level manually. To do this, we must deactivate the automatic adjustment by pressing the Auto level button and then move the wheel cursor.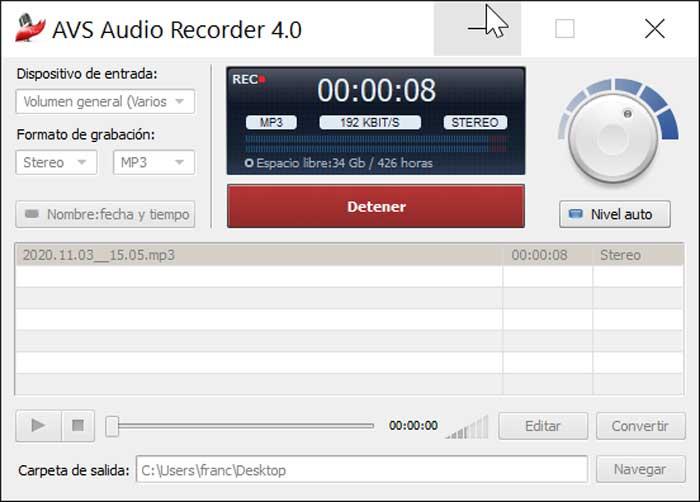 The program is responsible for automatically saving all the recordings in a file, to later load it into an integrated audio player with which to verify the sound quality. Therefore, if we want to manually delete the files we can do it quickly by right-clicking.
Browse your recorded tracks
We can also examine the information of the recorded file, such as the name, size and duration, along with the audio channels, the bit rate, the codecs used, the sample rate and the size, being possible to create as many recordings as we need. as long as we have enough space available. In addition, it has buttons for editing and converting audio, although it will be necessary to have AVS Audio Editor and AVS Audio Converter installed in order to use it.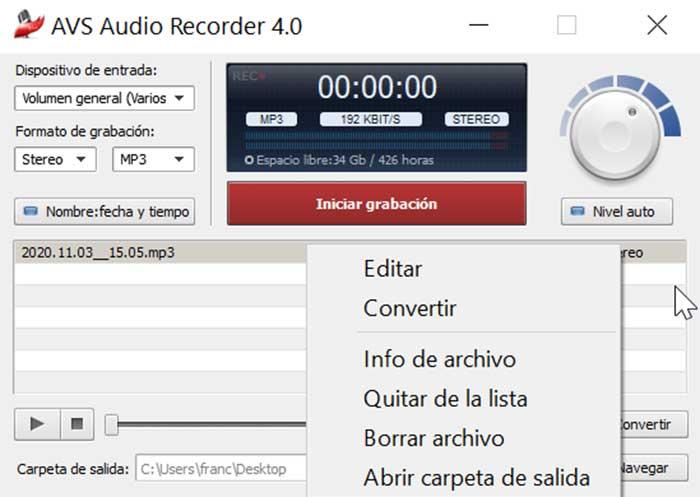 To save our created files we can locate them in the desired path. To do this we must select an "Output folder" on the hard drive of our computer and thus save the recorded audio files. You can leave the default directory or we can select the required folder by pressing the Browse button  next to the Output folder field  . The Open folder window will appear  and we select the chosen path.
Download AVS Audio Recorder
AVS Audio Recorder is a free program to record sound, which we can download from this link . It is compatible with all versions of Windows from XP to Windows 10. Its most current version is 4.0.2.22 and the installation file has a size of 58.39 MB . Its last update dates from 2013 so it does not currently have an update, which is not an impediment for the program to work correctly.
The installation is done quickly and without problems, and of course without including any type of virus or malware. It is a utility that hardly consumes system resources, nor does it cause Windows crashes or error messages.
Minimum system requirements
Processor: Intel / AMD or 1.86 GHz equivalent (2.4 GHz or higher recommended).
RAM: 1 GB (2 GB or higher recommended).
Video: Windows 7/8/10 compatible video card.
DirectX: Microsoft DirectX 9.0c or more updated.
Audio: Windows 7/8/10 compatible sound card.
Alternatives to AVS Audio Recorder
If we are looking for a program with which we can make sound recordings from our computer, using the microphone or another external input source, we propose some alternatives to AVS Audio Recorder to take into account.
Free Audio Recorder
This is a program with free audio recorder functions that allows us to capture various sound inputs, being compatible with MP3 and OGG formats. It is possible to record from a CD player, microphone, line input, Internet radio or any other element with which we can listen from our computer. The application is free for your personal use and we can download it from its website .
Audacity
It is possibly one of the best audio recording programs and one of the most popular, as it has a large community that is responsible for continuing to develop and update the application. It is free, multiplatform and has a tremendously complete audio editor with which to make spectacular audio recordings. You can download Audacity from its website .