multimedia
Can not play to video due to incompatible format? So you can fix it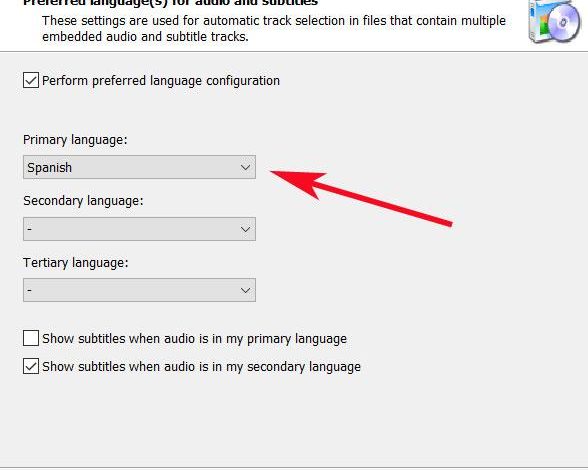 Video playback from the PC has become commonplace in most cases, either online through the Internet, or more locally. For this we use certain applications in Windows that allow us to carry out these treatments.
At the moment we have a good number of these programs, some more advanced and complete than others. For example, Movies and TV only allows us to play certain video formats, but they are not all like that. That is why if we encounter problems playing certain unsupported video content, we will have to use another video player, third-party codecs, or convert the file.
Converting video files solves many problems
As surely most of you already know, in these moments when multimedia contents are more used than ever, more or less the same thing happens with the available formats. The number of file types for photos, audio or video is enormous, each with its own standards and modes of use. But of course, as expected, there are more widespread than others. We tell you this because as a general rule, the developers of the corresponding players, in this case video, focus on dealing with the formats that have the greatest market penetration.
That is precisely why if we find a certain video file with which we have compatibility problems, we opt for the conversion. This is something that we can carry out from a multitude of local programs and Internet platforms. Thus, one of the most common solutions in this regard is to use the popular VLC software for these conversions, as we show you below.
Therefore, if we are going to watch a certain video directly from Movies and TV and when we try to open the file we get the error that the format is not compatible, let's see what to do. Undoubtedly one of the most used solutions around the world is to use a third-party solution, since, for example, the aforementioned Windows 10 app only supports formats such as MOV, AVI or MP4 . Thus, one of the most interesting alternatives that we can use at the moment is the popular VLC that you can download from here .
Third-party media players like VLC, a good alternative
This is the option that the majority of users around the globe choose. One of the main reasons for this is that this software is capable of playing almost all video and audio file formats. Thus, this makes it a powerful alternative to media players in general. Therefore, whatever video format we are in at that moment, we can be almost sure that VLC will accept it. This is something that we cannot say about many others.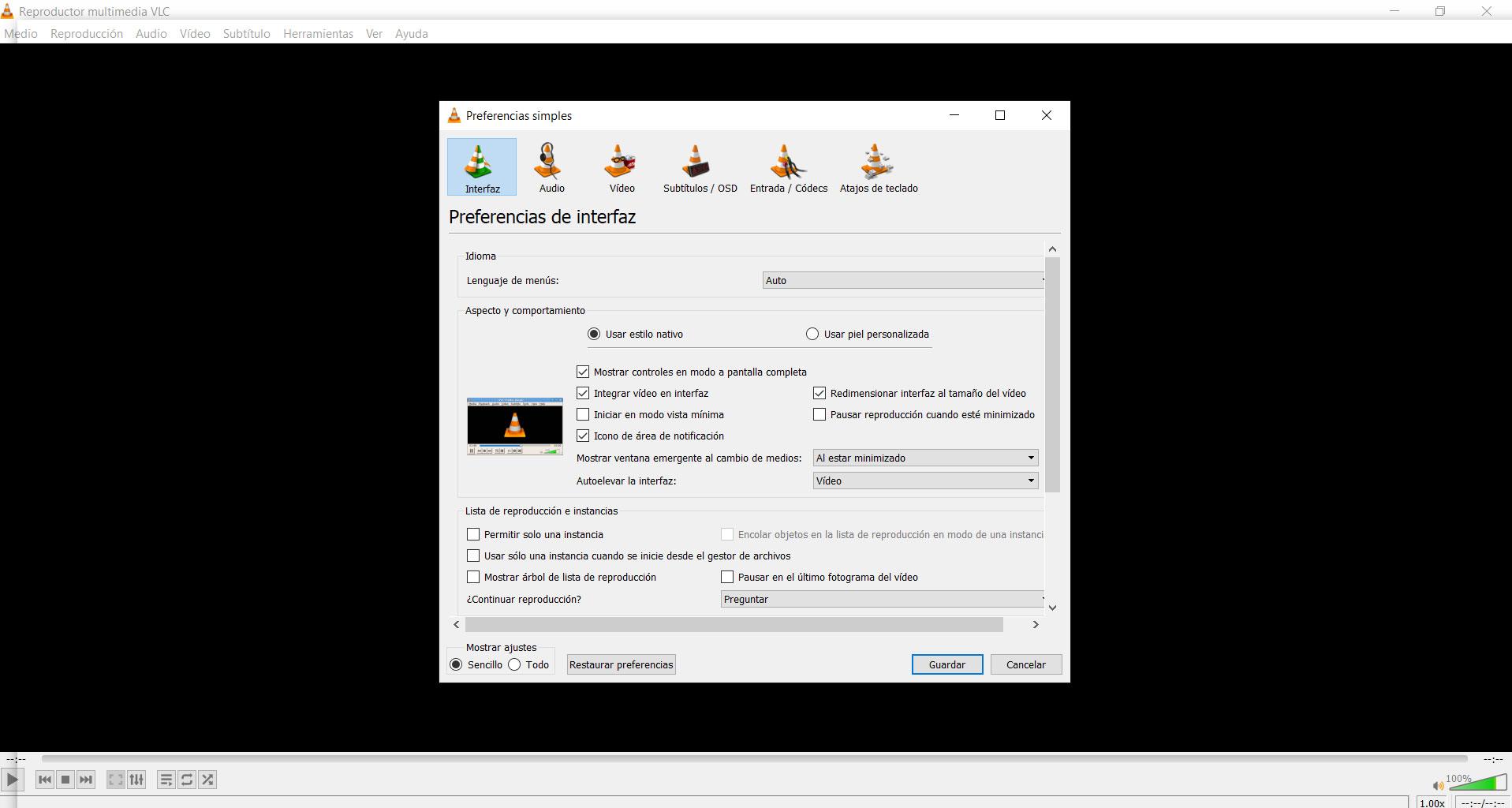 At the same time, we can affirm that this is a program that offers a huge number of different options for customization, both in terms of appearance and functionality. For example, this is a program that has its own conversion function between files, something that can help us in this case. We say this because if we want, for example, to use a player other than this but that does not support a format, VLC helps us to convert it. To do this we just have to open the file in question, and go to the "Media / Convert" menu.
Then we can add the files we want to deal with, even several at the same time, and then select the output format that we are going to use in this case. Thanks to the enormous compatibility of this program, here we will be able to work with most of the current formats.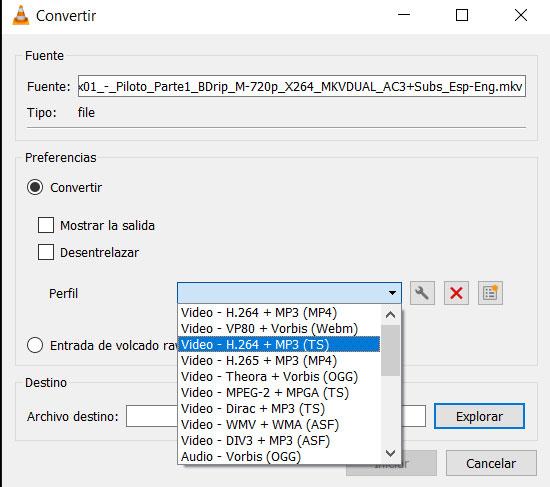 Similarly, another proposal of this type developed by third parties outside of Microsoft and Windows, is the MPV program , a software that you can download from this link . This is another powerful video player for Windows, Linux, macOS and Android users that is characterized by its ease of use. While VLC is full of menus and options, MPV is more functional, as it focuses on what it has to do, play multimedia content.
To all this we must add the fact that, in addition to being compatible with the vast majority of current formats, it is a portable application. That means that we can use it directly from a USB key on any computer, which simplifies things. In this way, to play any video from this program that we propose, we no longer have to drag the corresponding file to its interface .
Configure Windows 10 to use another player
Of course, let's opt for the third-party alternative that is, the best we can do is change the configuration of Windows 10 so that it uses it by default. This is something that, as is usual in these cases, we can carry out from the Configuration application of the operating system . To access this, we do it through the key combination "Win + I", so in the window that appears we opt for "Applications".
Once in this section, we click on the option "Default applications", where we look for the player that is predetermined at first. We only have to click on it, and indicate to Windows 10 which one we want to use from now on, in this case, VLC.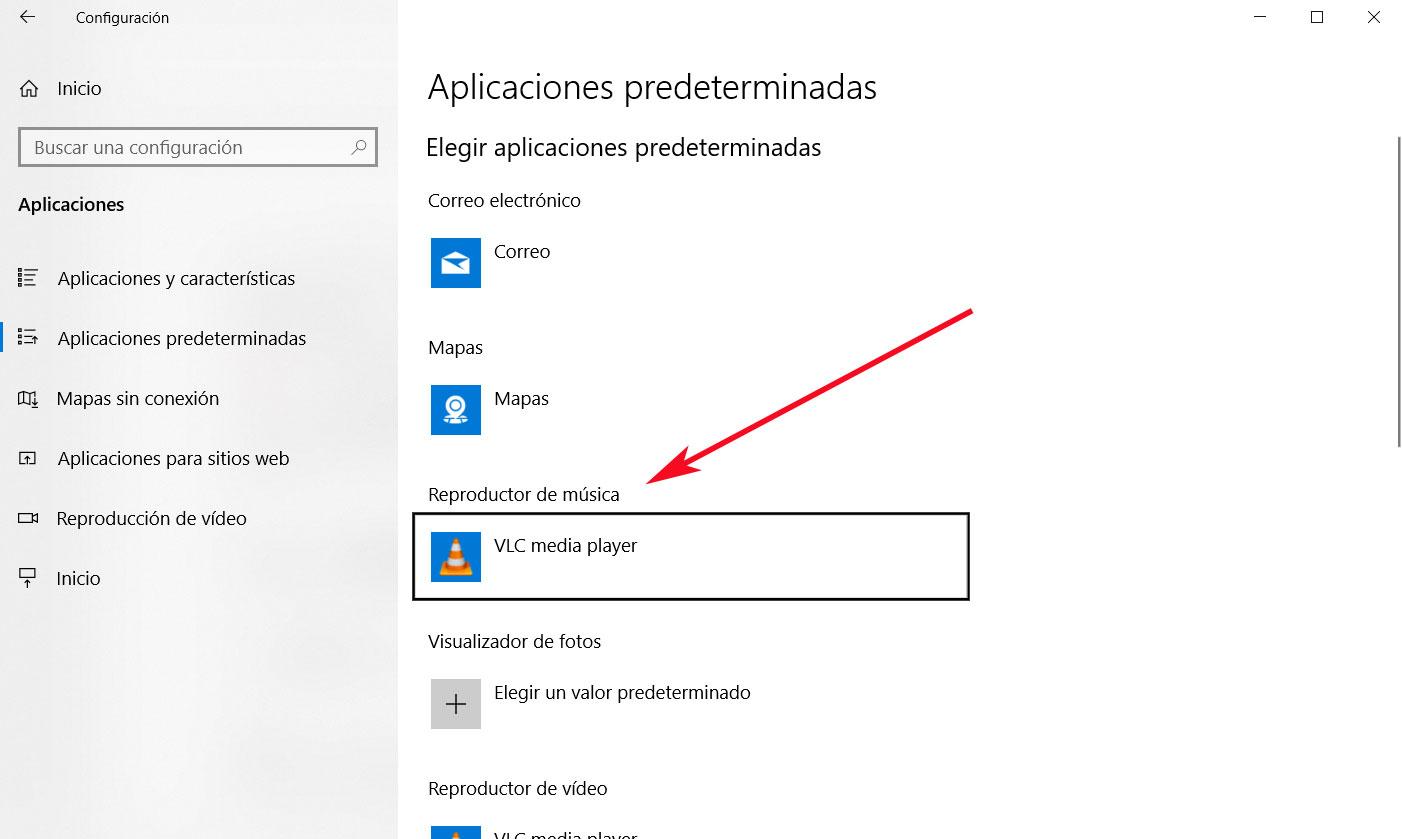 In this way, from this moment on, every time we click twice on a multimedia file, Windows 10 will directly open the third-party software that we have indicated here.
What is a video codec and how to use it in Windows
First of all, we must be clear that when we talk about codecs in video playback, we are referring to a type of software that decodes the file itself. This is how we can see on the screen and hear through the speakers, both the images and the audio in the best way. That is why if the equipment lacks the appropriate codec for a certain video, it will not load or play.
Therefore, the most suitable solution in this case will be to download and install third-party video codecs in Windows to avoid this problem. At this point, the best we can do is use the tool called K-Lite Codec Pack . This is one of the most popular video codec packs for years that you can download from here .
It also provides us with support for a huge number of multimedia file formats. For example, these codecs will help us to add support for certain formats to Windows Media, for example. However, these will still not be valid for the aforementioned Movies and TV that we talked about before. Thus, the first thing we must do is download and install the K-Lite Codec Pack on the computer as if it were a conventional program.
Add new codecs to Windows 10 for video playback
We will do a normal installation of the program, but we can also customize it during the installation process . Therefore, before the integration in Windows is complete, the K-Lite Codec Pack itself will ask us to indicate which is our preferred video player. In this case, we opted for VLC, which is the one that we indicated to Windows 10 as the default previously.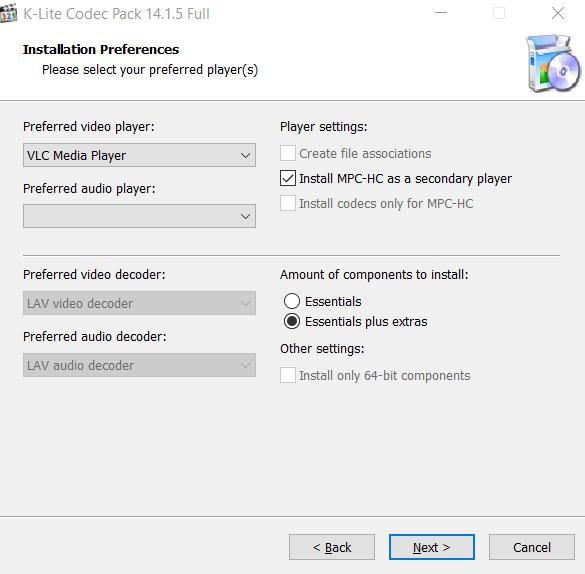 We can do that same step with the audio application that we are going to use, which can be the same as the video application. Then the program itself will detect the GPU or GPUs that we have on the computer, and it will let us choose between several encoding methods , although we can leave the default values ​​that K-Lite Codec Pack proposes.
In the event that we are going to make use of audio files and subtitles in the reproduction of these contents, the program will allow us to define what will be the language that we are going to use regularly, in our case Spanish, for which we indicate the option of "Spanish". Then the installation process will be carried out as such, once we have finished with the configuration of the program.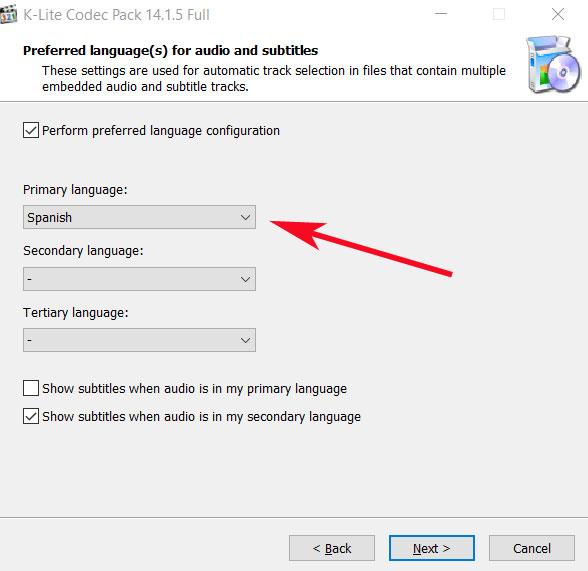 This will provide us with a large number of codecs in our Windows system so that we no longer have problems when playing multimedia content such as videos or music.