multimedia
Blender: the quintessential 3d rendering and creation program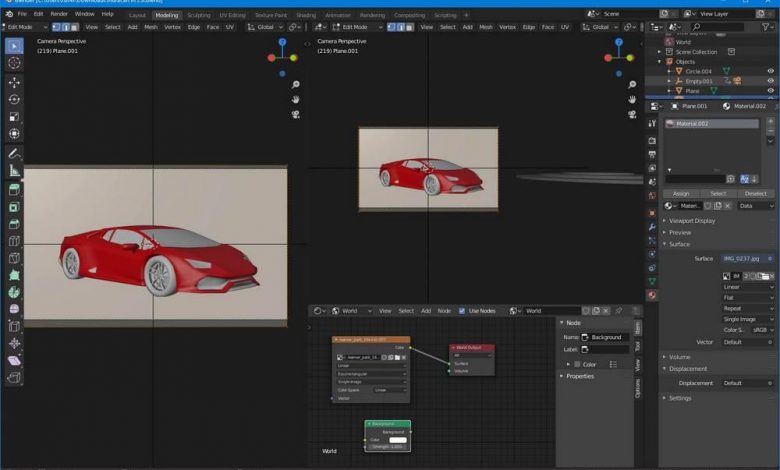 Normally when we talk about creating images we usually refer to programs like Photoshop or GIMP, for bitmap graphics, or Inkscape for vector graphics. However, there are also other much more advanced programs that can even allow us to create complex graphics and 3D models, as is the case with Blender.
Blender is one of the best programs focused mainly on modeling, lighting control, rendering, animation and creation of 3D graphics . This program is completely free and open source, and it is more than at the level of other similar alternatives within the professional field. Even some movie studios (like Marvel) have used it to animate and process their movies and effects.
Main features of Blender
Without a doubt, the main characteristic of this program is that it is completely free software (even for business use), open source and multi-platform. Any user who wants to use it can use it regardless of its purpose.
Although it is not a particularly easy program to use, it comes standard with a wide variety of primitive geometric figures, including curves, meshes, voids, and metaballs. This will save a lot of work when working with the program. It also has dynamic simulations for soft bodies, particles and fluids, as well as a static particle system to simulate hair and hair.
Blender's interface is very easy to understand and, furthermore, fully customizable. Thus, each user can customize it according to their tastes and needs.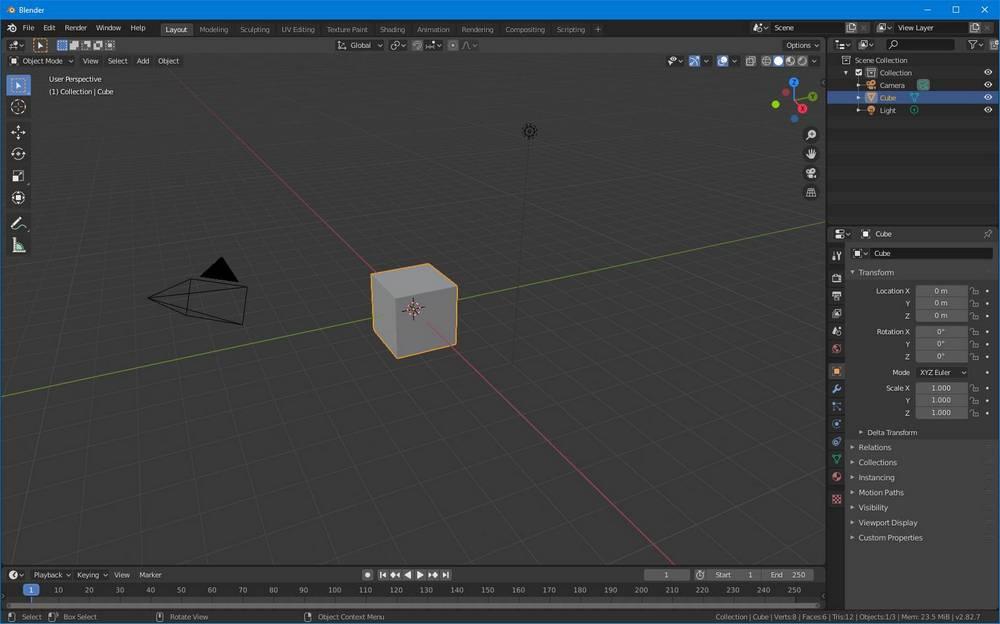 Blender has a variety of animation tools, such as inverse kinematics, deformations, load vertices, and static and dynamic particles. It is also designed for game development (its creations get along very well with the Unity engine), so we find collision detection tools and dynamic and logical recreation systems.
This software supports the Python programming language. With it we can automate or control various editing tasks. Furthermore, the included 3D game engine can be programmed using this language as well.
When it comes to rendering, this program has several systems. For example, we can highlight its versatile internal rendering system, as well as the integration with powerful ray tracer systems, or "raytracer", free such as kerkythea, YafRay or Yafrid.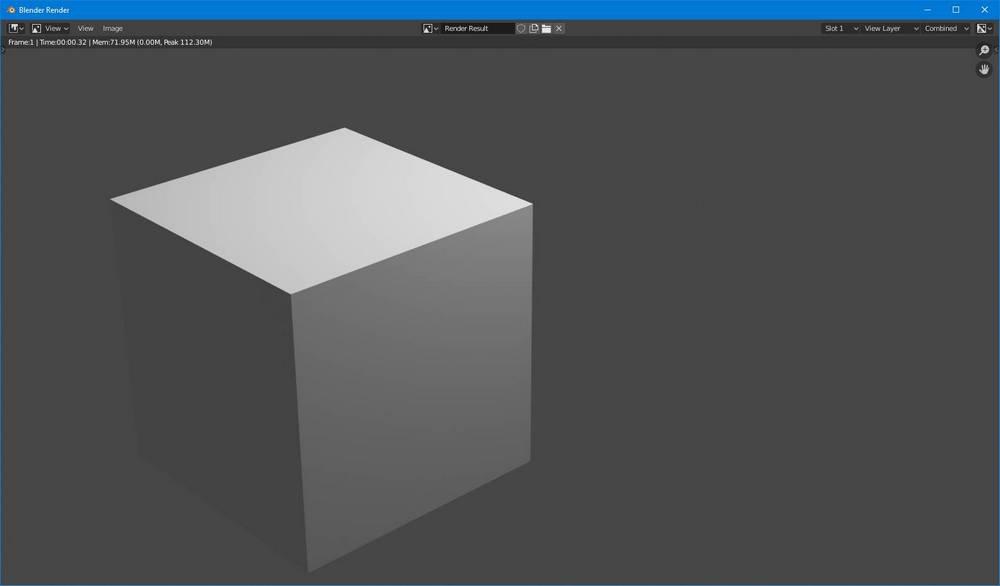 Uses for Blender at home
Except in some specific cases, no one will use Blender on their own at a professional level. However, if we use our imagination, we can use Blender ourselves at home, on our computer, to carry out various personal activities:
Create personal animations.
Create 3D objects.
Print the 3D objects that we have created with a 3D printer.
Create personals or objects for personal games with engines like Unity.
Create simple games programmed in Python.
And if we want to learn to master Blender we can do it. As long as we have time and a lot of willpower, since, we repeat, it is not a simple program and hides thousands of tools and possibilities.
Blender Compatible Formats
This program has its own file format used to save all projects (.blend). However, it also has a wide variety of supported formats, both 2D and 3D.
Supported 2D formats:
Images

.bmp
.dds (DirectDraw Surface)
.rgb (IRIS)
.png
.jpg
.jp2 (JPEG 2000)
.tga (Truevision TGA)
.cin (Cineon)
.dpx (DPX)
.exr (MultiLayer and OpenEXR)
.hdr (HDRI)
.tiff

Video

.avi
.mp4 (H.264)
.mpg (MPEG-1)
.DVD (MPEG-2)
.mp4 (MPEG-4)
.ogg (Theora)
.ogv (Theora)
.mpg (XviD)
We can also use Blender in conjunction with GIMP to create animated GIF images.
Supported 3D formats for importing and exporting projects:
.3ds (3ds Max)
.ac (AC3D)
.dxf (Autodesk Drawing eXchange Format)
.fbx (Autodesk FBX)
.xsi (Autodesk Softimage)
.cfg, .xaf, .xmf, .xrf, .xsf (Cal3D)
.dae (COLLADA)
.off (DEC Object File Format)
.x (DirectX)
.lwo (LightWave)
.mot (LightWave Motion)
.m3g, .java (Mobile 3D Graphics API)
.md2
.mdd
.ms3d, .txt (MilkShape 3D)
.bvh (Motion Capture)
.flt (OpenFlight)
.iv (OpenInventor)
.svg, .ps, .eps, .ai, .gimp
.slp (Pro Engineer)
.map (Quake 3)
.radio (Radiosity)
.raw
.ply (Stanford PLY)
.stl
.cob (TrueSpace)
.stl (VideoScape)
.wrl
.obj (Wavefront OBJ)
.x3d (X3D Extensible 3D)
.fig
Also, through certain scripts, it is possible to export projects to other formats not officially supported.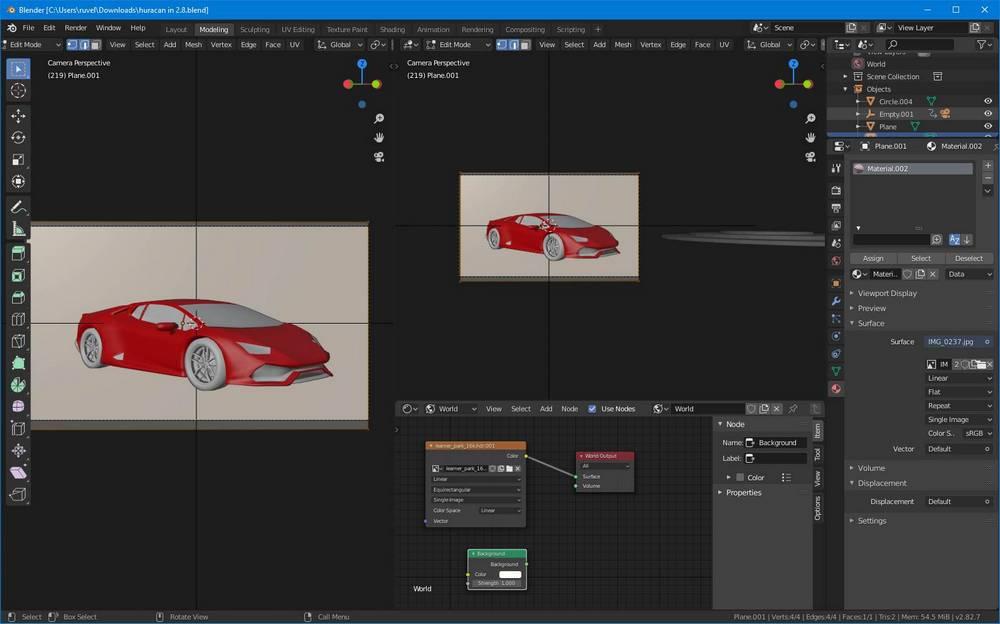 Blender free download
Blender is completely free and open source software. To download it, all we have to do is access the following link where we will find the version corresponding to our operating system. In the case of Windows, we can also download a portable version to be able to use it without having to install it on the hard drive.
Minimum requirements
Despite being a fairly complex program, the minimum requirements to use this software are not very crazy. What we must comply with, as a minimum, is:
32-bit dual core CPU with SSE2 support.
2 GB of RAM.
Display with 1280 × 768 resolution and 24-bit color.
OpenGL compatible graphics card and 256 MB of memory.
Of course, we must bear in mind that 3D rendering and processing consume a large amount of resources. Especially CPU, RAM and graphics. Therefore, it is recommended to have at least 8 GB of RAM, a 4-core 64-bit processor and a powerful new generation graphics card with 1 GB of graphics memory capable of processing graphics as quickly as possible.
Alternatives to Blender
If we are looking for a program with which to design and create 3D graphics, we propose some alternatives to Blender to consider:
Unity / Unreal Engine
While 3D rendering software is very popular in all types of jobs, in recent years other types of programs have gained great popularity: video game engines. These are able to offer higher yields than those of Blender in a much easier way and with a better final result. Whether for 3D animation, or to create design or architecture projects, these engines have more and more followers. And, in addition, they are totally free.
Autodesk Maya
Another of the 3D modeling and rendering programs that we can find, focused mainly on the professional field, is Autodesk Maya. This powerful software offers us a large number of options for modeling, animation, visual effects, 3D rendering and much more. A software widely used, especially in the cinema, to create animation films or all kinds of visual effects.
We can download this program from its website .
Onshape Free
This is a free and open source 3D design CAD software, from which we can encompass the entire engineering workflow in a single application. It also includes traditional CAD functions such as parametric modeling, team collaboration, data management, and building information modeling. With this program we will save time with parametric modeling, a fundamental way to improve modeling by using multi-part designs, configurations, simultaneous sheet metal tools and designs managed in context. We can access it for free from its website.
FreeCAD
We are talking about a free and open source 3D design program, characterized by being highly customizable, extensible and programmable. With it we can define the restrictions and parameters to provide our design, being able to change the design by changing the values. This parametric 3D modeler has been created to design objects of any size. With it we can sketch 2D shapes restricted by geometry and use it as a base to build any object. Among its characteristics we find many components that will help us to adjust dimensions or extract design details for 3D modeling with which to create drawings for high quality production. We can download FreeCAD from this link .