Hardware
The 10 Best Android Photo Editing Apps for Free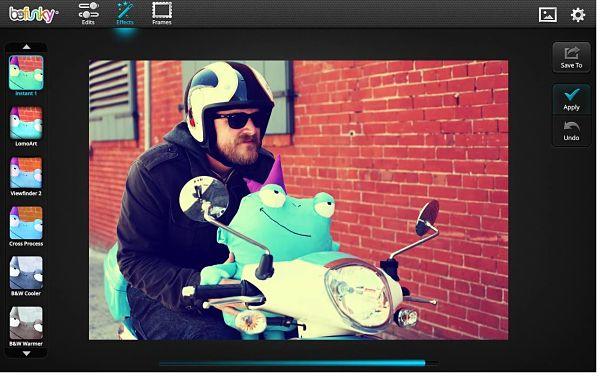 In the age of smartphones, many people have been motivated to take photography as a hobby. But they do not have the facility of acquiring high-resolution professional cameras or higher-end smartphones for sharp photographic work. That is why below I will present you some of the best free applications to edit photos on Android.
If you want to take great selfie photos, be sure to visit our post of the best selfie photo camera apps. You can also take a look at the best photo collage apps. Without further ado, let's go with our selection of photo editing applications.
Apps to edit photos on Android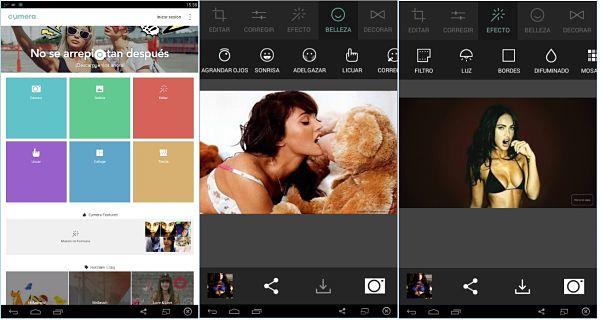 This is one of the best photo editing apps on Android. It can be used both as a photo editor as well as a camera. It includes special features such as face detection, shooting modes, collage effects, and image decoration utilities. It also has the facility to share your preparations directly to your social networks. It is a very complete app, in which you can do almost everything with your photos, including: create collages, rotate, cut, correct flaws, apply filters and other effects; enlarge eyes, lose weight, add smile and much more.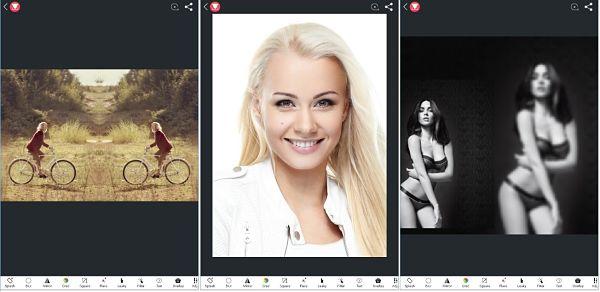 Bring your photos to life with the interesting editing tools of this application. Cut, paste, apply different shades of colors in the desired sections in your photos and much more. You can combine all of these tools to create a stunning collage by adding multiple edited versions of the same photo. With Lidow you can not only give new light to your photos, but you can fix problems with them; such as correcting light leak, red eye correction or blur.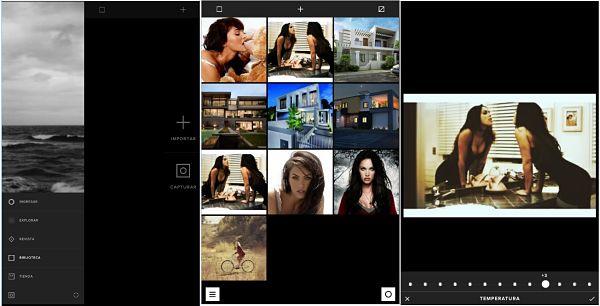 Its simplistic approach allows you to complement your photos by regulating their exposure, temperature, vignette and many other aspects. After giving natural enhancement to the personality of your photo, you will be able to compile all the work in the form of a collection; and arrange an online exhibition of your creations through the integrated social networks. This app is free but you can upgrade to its paid version or use the in-app purchases to improve your user experience and get the best of it. VSCO is undoubtedly another of the most complete apps to edit photos on Android.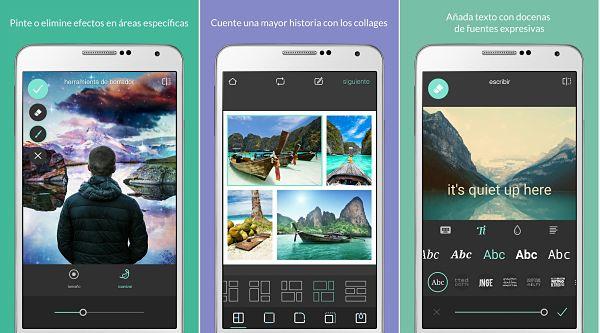 A fun photo editing app developed by Autodesk Inc; offers a rhythmic experience with the editing controls included in its interface. Take photos directly from your phone's camera and start editing them with the Pixlr widget. Change image angle, crop and sharpen are among the things that you can easily do with this application. In addition to transforming the color tones and saturation of a photo, Pixlr can also convert it into a sketch or drawing.
Basic tools like pencil, watercolor, and halftones can do wonders for adding special effects. You can choose from more than two million combinations of effects and overlays; and finally resize the image according to your needs. The size can be reduced or increased, either by adjusting it to the predefined sizes by standard or by entering dimensions manually.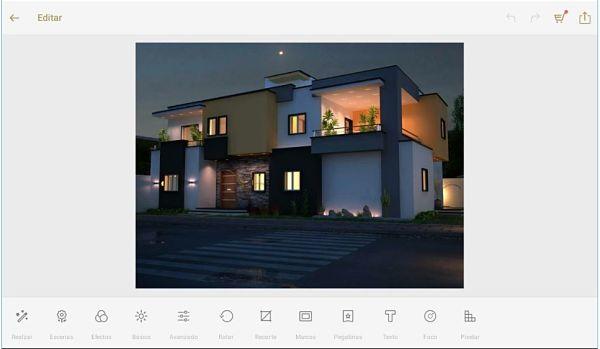 Fotor Photo Editor is your ideal application if you are passionate about photography and want to edit photos on Android. Its image manipulation tools combine with predefined templates to create hundreds of vibrant effects. It incorporates six image capture modes that branch out to functions such as the big button, grid, stabilizer, square, timer, and burst. You can choose the focus option to fade unreal shades of whiteness, adding a more authentic touch to your photos. This experience can be further enhanced with cinematic and mono modes for more off-screen exposure.
But the edition of this app is not limited to taking photos, processed with clarity and with color mixtures; It also serves to express the way you felt when taking the photo. Fotor includes 13 different scenes to coincide with the drama behind the situation, highlighting the aspects that you consider essential. In addition, it allows you to create a collage of up to 9 photos and represent a family tree and other similar projects.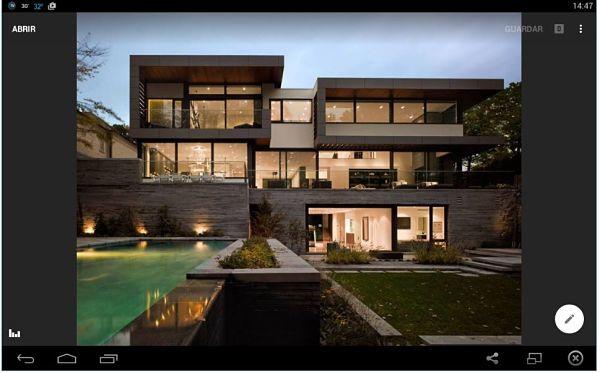 Snapseed helps you fine-tune all the distorted aspects of your photos. The fine-tuning feature displays automatic adjustments to instantly correct rough finishes and adapt ambient light to maintain color hues. Its highly controlled environment allows for a more realistic customization, incorporating effects such as: background bifunimation, intense brightness, changing exposure levels to differentiate shadows and lights, and other creative tricks. The list of things you can do with this app goes beyond what an ordinary Android phone is used to.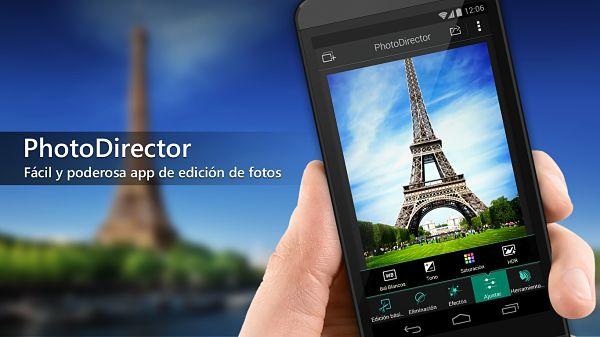 PhotoDirector is a powerful and intuitive photo editor with which you can adjust, edit and add effects to your images and photos. An intuitive app with the ability to add in-depth detail from the controls of your smartphone or tablet; This is one of the best tools to streamline the entire photo editing process. In addition to its basic functions like adjusting brightness, color saturation and exposure, it enhances the photo editing experience by adding: moods, preset effects, high-range image effects (HDR) and depth of field (PDC).
It has an intelligent object removal option, so you can get rid of unwanted elements that could spoil your photography. After retouching the photo with the many editing tools, you can contrast results with the original image on the same screen. You can decorate and frame your creation, and then share it with your friends on social networks like Facebook and Twitter.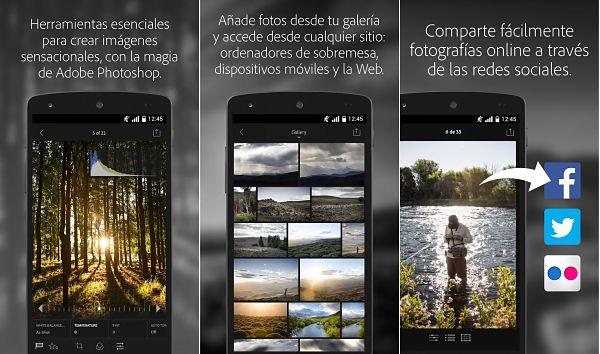 A photo editor created by the famous Adobe firm, it has the magic of Adobe Photoshop. Lightroom provides must-have tools for creating great images for both add-on users and professionals. Take your photos and then play with the professional options of this application, to give a totally elaborate style to your photos. Adjust the quality of the images taken by your Smartphone, to match those taken by a DSLR camera with a few simple adjustments in its editing panel. Photoshop Lightroom leaves virtually no bare edges when it comes to manipulating images.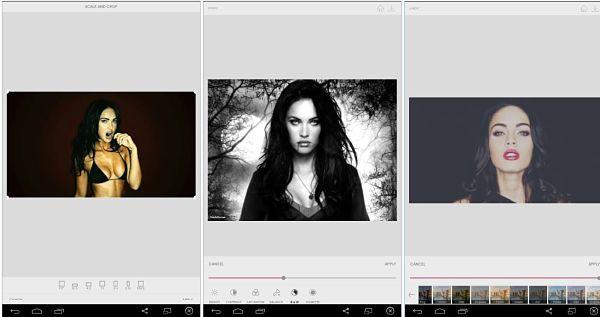 Cupslice Photo Editor includes some of the most practical tools of its kind, which helped to quickly gain popularity. It offers a set of functions that include filters, badges and frames; all of quality and regularly updated to keep up with new trends. The filter options are quite liberating, as they can be customized and combined to save a lot of work.
The feature that could stand out the most in this app is the large number of full color stickers or stickers; the ones you can use for a more vivid expression of your feelings or moods. These are categorized by themes such as vintage, famous quotes, music, birthdays and other events or emotions to suit your needs.
BeFunky Photo Editor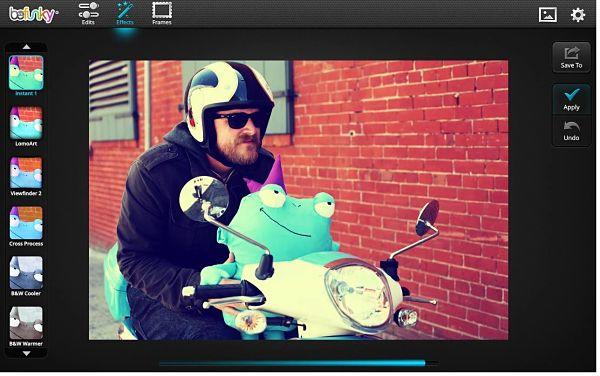 BeFunky will help you create stunning photos using more than 30 effects that you won't find anywhere else. Some of these effects are Pop Art, Toy Camera, Sketch mode, etc. You can test each of the effects by applying them and using the undo option to find the perfect customization for your photo.
Conclution
So far our selection of applications to edit photos on Android. You have a good list where you can choose to correct or edit your photos and create collage effects. You can also check out the photo editing programs in Windows. Please do not stop using the comments to share with us what you consider to be the best application to edit photos on your phone, it does not matter that it is not on this list.