Hardware
How to block WhatsApp on iPhone using Touch ID or Face ID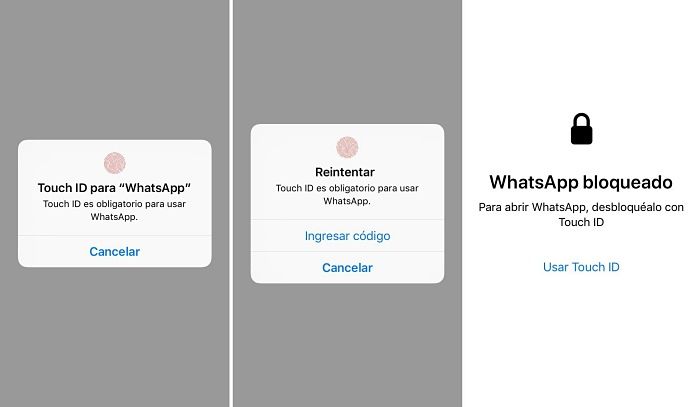 You can block your chats using your fingerprint or your face. This is very useful to prevent someone from viewing your private or personal conversations. In this post we will see how to configure the function to block WhatsApp on iPhone with Touch ID or Face ID.
To achieve this you must update WhatsApp to the latest version, but first you must make sure that you have iOS 9 or higher. Otherwise, you will not have this new feature. If you have automatic app updates enabled, you can skip this step.
How to block WhatsApp with Touch ID
Follow the steps below to block WhatsApp with Touch ID on your iPhone. If you have an iPhone X or another model that supports Face ID, then you can use Face ID to lock it in the same way.
Open WhatsApp on your iPhone.
Go to Settings> Account> Privacy.
Scroll down and tap on Screen lock.
Turn on the Require Touch ID switch .
Now press any of the four options to select the period of time after which you want to activate the lock: Immediately, After 1 minute, After 15 minutes, After 1 hour.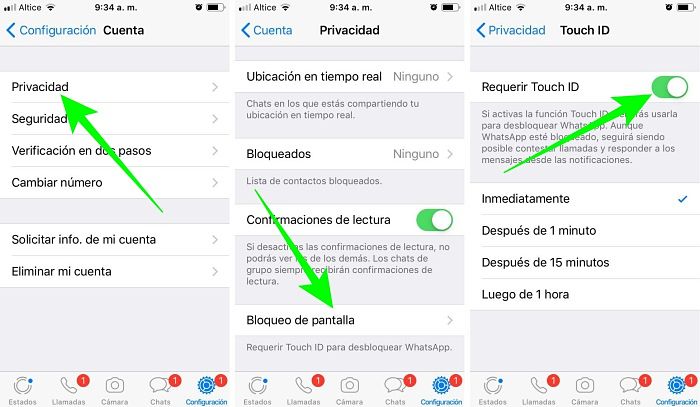 With that you will have achieved the blocking of WhatsApp. Your WhatsApp will be blocked immediately or depending on the time interval you have selected in the last step.
In order to enter the application you must use your fingerprint with Touch ID; Or alternatively you can use your security code, as shown in the second part of the image below.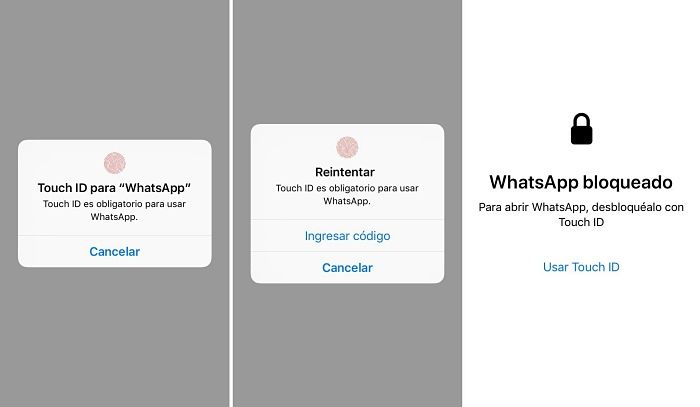 Answer calls if WhatsApp is blocked
If you receive a voice or video call from WhatsApp when the application is locked, you can always answer that call. When the call is finished, the message "WhatsApp Locked" will appear, so you must use your Touch ID to unlock the messaging application.
Can you see the messages if WhatsApp is blocked?
If the Preview option is enabled in the WhatsApp settings, then you will be able to see the previews of the messages in the Notification Center. However, you must unlock the app to reply or view the entire message.
Is it possible to block WhatsApp on Android?
There is no official solution implemented yet, but you can use a good application to block WhatsApp on Android. We will have to wait a little longer for the official lock function to arrive on Android. For now you should use the applications to block applications, such as WhatsApp and Facebook.
WhatsApp lock on iPhone
If you have an older iPhone model, such as iPhone 5, you will not be able to use this feature. This is because Touch ID or Face ID is not available to them. It would be great for these users if WhatsApp adds a passcode option.
With this guide you should be clear about how to block WhatsApp on iPhone with Touch ID or Face ID. Surely the vast majority of users will be very happy with this additional security measure. In fact, many had been waiting for this option for a long time. Now no one can access your WhatsApp conversations without your permission, even if your iPhone is lost or stolen.