Hardware
Best optimizers to free up RAM automatically in Windows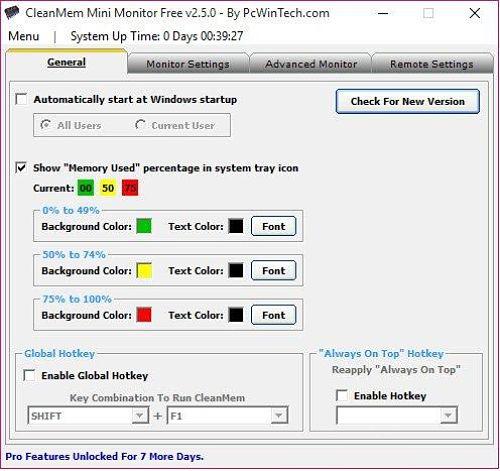 If you are reading this article, you are probably wondering why your computer is gradually getting slower and how you can fix it. Computers tend to accumulate data on the hard drive and RAM, causing it to run slower. If that's your situation, you may want to free up RAM by trying one of these RAM optimizers below.
It is important to understand that these optimization programs will not add more RAM or magically make it more powerful. On the contrary, optimizing your RAM memory can be seen as a kind of cleaning and maintenance job. These programs will help improve your computer by removing unnecessary items from memory, among other things.
The truth is, these programs are not essential. Windows 10 already has built-in features and tools designed for these kinds of tasks. But using these built-in tools is not only inconvenient, but also confusing for those unfamiliar with computer science. On the other hand, RAM optimizers tend to be easy to use and convenient; and most of them are completely free.
The following list shows some of the best RAM optimizers for Windows 10.
Optimizers to free up RAM memory in Windows
Razer Cortex
razer. is a very popular company that mainly sells products related to games. With this in mind, the Razer Cortex is specifically designed to help gamers improve the performance of their computer. However, virtually any Windows 10 user can use this program to help their computers run more efficiently.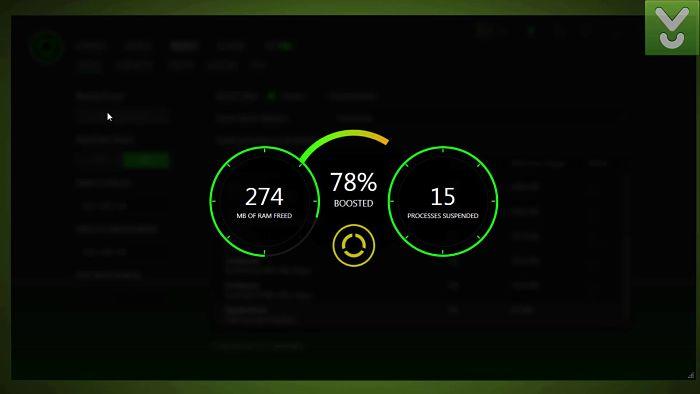 How does it work?
Well, this booster program helps to defragment your computer systems, stop unwanted system processes, and of course free up RAM. This tool is not only available in Windows 10, but also in Windows 7 and 8.
As I mentioned before, many functions of these RAM optimizers can be performed manually. For example, shutting down unnecessary apps and services can be done without Razer Cortex. However, with this program, you will only have to click a button and your computer will be boosted.
How much could your computer improve?
There won't be many changes in terms of performance. However, your applications will most likely open faster and smoother, as the RAM will not be occupied with other data.
Iolo System Mechanic
Iolo System Mechanic offers the option to easily block and disable any unwanted program, delete logs, delete unwanted data clogging your RAM. It even helps clear your internet history and cache. Iolo is a popular RAM optimizer software praised by critics and customers alike.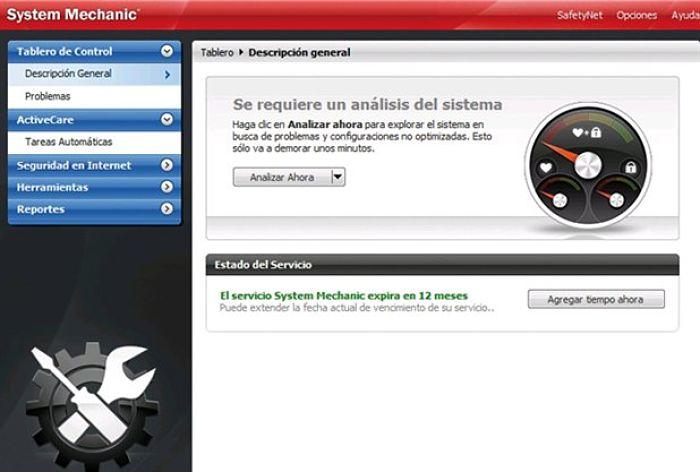 After conducting several tests on this application, we have come to the conclusion that it really is effective in increasing the performance of a computer. In addition, the application is also designed to increase the speed of the Internet significantly. Automatically optimize settings so web pages load faster, items download faster, and online games improve.
Another unique feature of Iolo is that it can supposedly automatically fix many errors and problems related to the software installed on your computer. The application is constantly updated so that your PC remains stable and without problems.
Privacy protection and other security features are also available from the Iolo System Mechanic. It basically offers the whole package for computer maintenance.
The only real downside to Iolo System Mechanic is that there is no free edition. However, some editions allow users to install the program on multiple computers, making it ideal for the workplace.
So if you are looking for a RAM cleaner that includes many other maintenance features, then you will want to give Iolo System Mechanic a try.
Wise Memory Optimizer
Wise Memory Optimizer is a lightweight and portable program that quickly and efficiently frees up any physical memory that is being used by the system or by unnecessary applications. This application is perfect for people who want something easy to use. The interface is very simple to use, so you can easily navigate it. It will show you a pie chart of the amount of RAM that you have freed up and after you have pressed the optimized RAM option.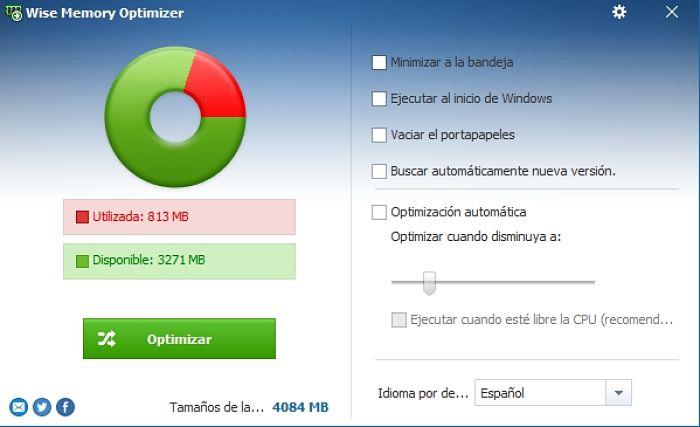 You have the option to configure this RAM memory optimizer to free up any memory on your PC if it degrades below a certain point. Of course, if you want to manually start the optimization process, all you have to do is click a button in the app.
Wise Memory Optimizer has a portable edition, which means that you can use the program without having to install it. This application is completely free and works on almost all versions of Windows.
CleanMem
CleanMem is another lightweight program that can be used to optimize and free up RAM. However, CleanMem is unique in that it optimizes your computer every 15 minutes. This means that you will always have your computer running at its optimum level.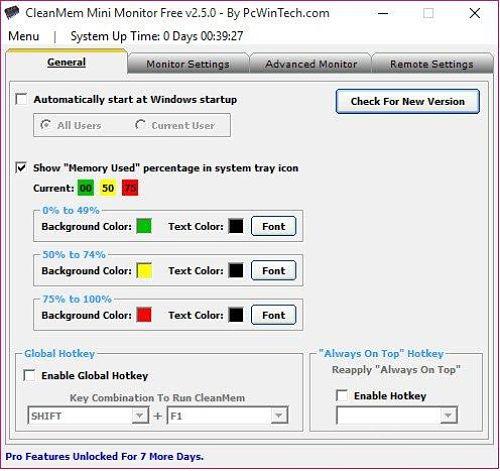 In addition to keeping your computer running smoothly, CleanMem has other advanced features that you can use to improve your PC. They also offer a premium version that has even more features.
Overall, CleanMem is great for those who don't want to worry about clogged RAM ever again. It's probably the most convenient RAM optimizer on this list. Of course, you will have to keep the program running at all times, but it requires very little CPU and computing power.
How to free up RAM
Upgrading your computer by adding more RAM is, of course, the best way to improve system performance. However, sometimes what you need is one of these RAM optimizers for Windows 10 to help it perform better.
The apps mentioned above are not necessarily listed in order of best. On the contrary, these programs offer different advantages and disadvantages, so you will have more variety to choose from.