Hardware
Best apps to make videos with photos and music on Android and iOS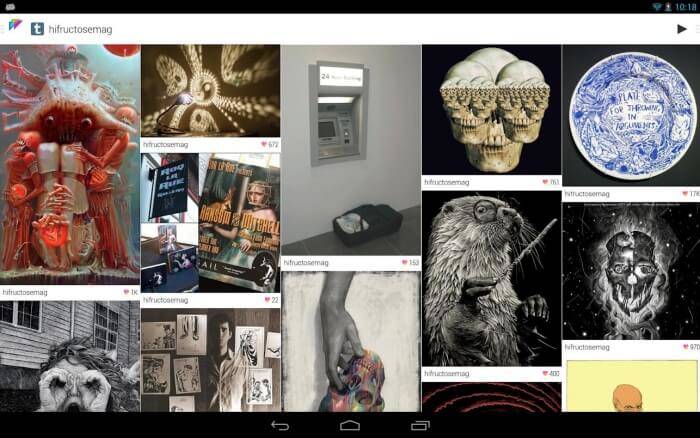 The applications slideshow or create videos with photos and music have become very popular. And it is that these have the ability to make the user see the user as an expert in video editing. They help us create videos by combining images, with interesting effects, putting music on it and sharing it with friends online. But there are so many available to choose from that knowing which one is the best is a stressful task. That is why today I bring you a selection of the best applications to make videos with photos and music.
What should we look for in a slideshow application
There are several functions that you will want to have in an application of this nature, but in a general sense these should be adjusted to what you need to do. Some of the basic features you will require include that it is user-friendly, has luxurious effects, and the result is easy to share online.
Here are 10 applications with which you can create excellent videos with photos and that have a high rating from users and professionals in the area. The applications are distributed on the two most widely used mobile platforms, namely Android and iOS.
Best apps to make videos with photos on Android
1. Photo FX Live Wallpaper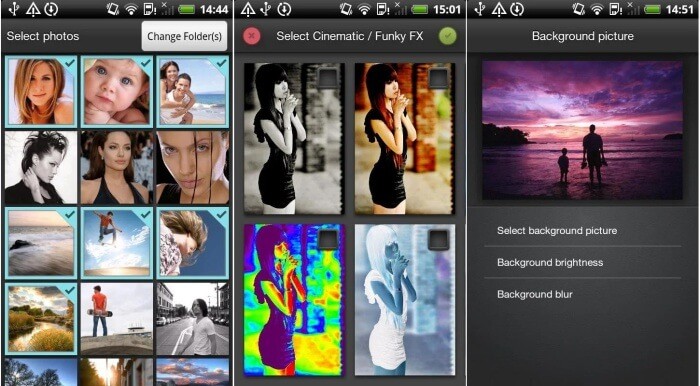 Photo FX Live Wallpaper is a popular photo video creation app with over 13 million downloads so far. It has an appreciable number of functions, allowing you to upload photos, design slideshows, add floating animations, etc.
Advantage:
Very good photo editor
Share on social networks
Personalization
Creating great wallpapers
High quality results
Disadvantages:
You can't open the camera when the app is running
May crash if there are many folders open
Doesn't rotate photos automatically
2. Photo Slideshow Maker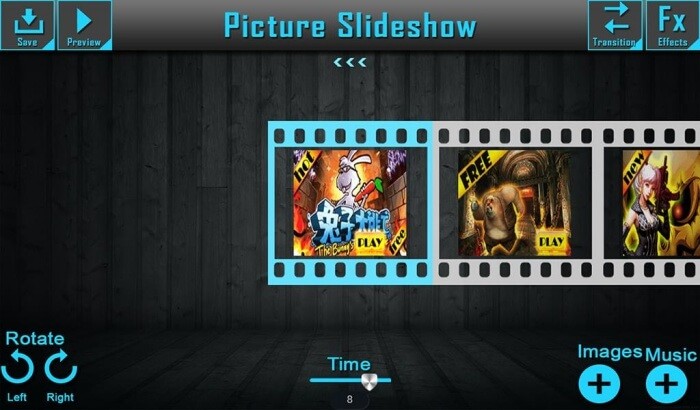 Photo Slideshow Maker combines an easy-to-use interface with advanced tools, so that you can get a better experience creating great slideshows. It offers a considerable amount of effects, filters and frames for photos; with good management of the application so that you can create great videos with the photos in your gallery.
Advantage:
Add photos from different folders
Create great presentations
Wonderful photo effects
Simple editing tools
Disadvantages:
It's a bit difficult to share a video after it's created
Image quality may vary according to the selected level
3. PIXGRAM – Music Photo Slideshow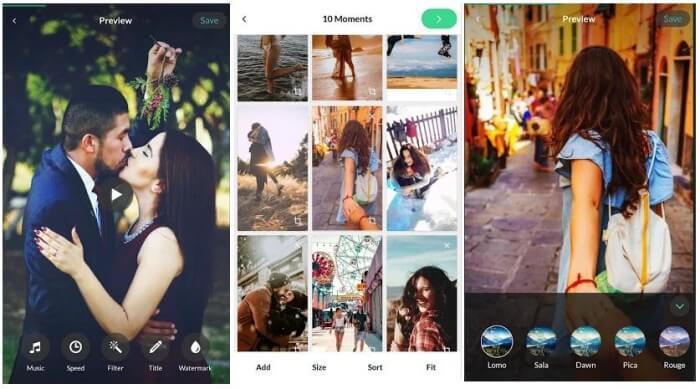 Pixgram is a very popular photo slideshow app due to its ability to combine photos and music easily and quickly, even for a beginner. It allows anyone without editing experience to upload their photos, select their favorite music, add filters and effects; and then create your video and share it.
Advantage:
Save presentations in different sizes
Excellent video filters
Easy to share on Facebook, Twitter and other social networks
It is designed for beginners
Disadvantages:
You must use your own music
It does not have advanced settings for experienced users
4. Photo Slideshow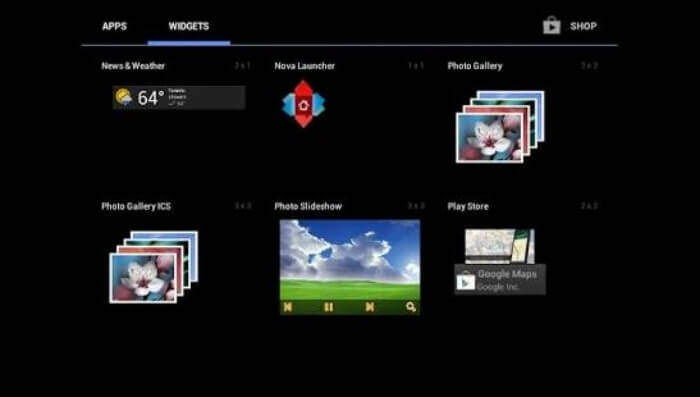 Photo Slideshow might not be as popular as others on this list, but it's a great option for those new to photo slideshow editing. You can easily upload and store photos, browse through them quickly, and even randomly switch to quickly find the one you want.
Advantage:
Intuitive interface
Easy upload and search of photos
Quick edit functions
Disadvantages:
It does not have as many functions as the others
Can be hung when used in full screen
5. Dayframe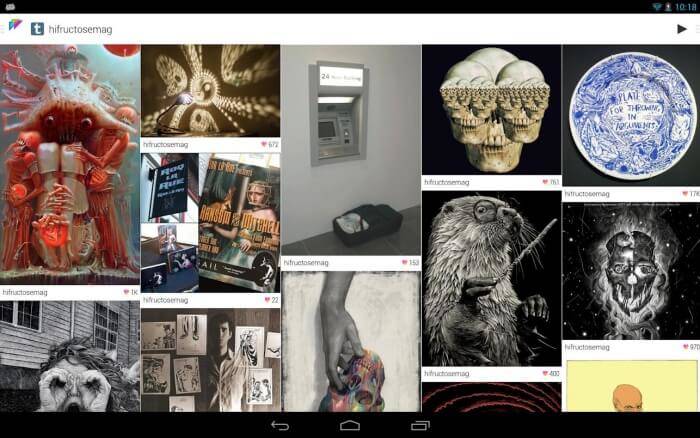 Dayframe is designed for experienced users, offering many features in an excellent menu with customizable options. You will be able to create excellent quality photo slideshows, incorporating various features during the process.
Advantage:
You can use it offline
Excellent photo quality
You can easily share on social networks
It has an interactive air
Disadvantages:
It consumes a lot of battery
May be difficult for beginners to use
Best apps to make videos with photos on iOS
1. PicPlayPost
PicPlayPost is one of the most popular applications, and it offers an intuitive interface that makes it easy for anyone to combine photos, videos, music, and GIFs. What makes it stand out is its powerful features that help put videos and images together very easily.
Advantage:
Intuitive interface
You can create up to 9 videos, GIFs or photos for each project
High resolution result
Wide variety of effects
Disadvantages:
Watermark, although it can be customized
Limited amount of music
2. SlideLab
SlideLab can help you transform your photos and images into stunning videos in just a few clicks and minutes. You can save the result on your mobile device or share it with friends on social networks. It's no surprise that SlideLab is so popular with users, given the number of features it has.
Advantage:
Very good filters
Use your own music or the one provided by the application
You can keep the original size of your photos
Can be automatically adjusted for Instagram or Vine
It has countless transitions
Easy editing of the photos if you need it.
Disadvantages:
You cannot use iTunes music if you are going to share on Facebook or Instagram
3. Photo Slideshow Director
Photo Slideshow Director is perhaps the best slideshow maker app for iOS. It allows you to use your iPhone or iPad to create impressive slideshows or videos from the photos you have on your device. It includes a large number of effects and you can save the videos in HD. You can also share the resulting video on social media.
Advantage:
It is intuitive
It allows to export the slideshows to videos in HD format
Full screen HD presentations
Easy to use photo editor
Music Video Creation
Disadvantages:
It can run relatively slowly, depending on the capacity of your computer
4. PicFlow
With PicFlow you will not have all the functions of other applications on this list, but you will have more control. This app allows you to select the time of each uploaded photo and align it or synchronize it with the music you chose. This way you can create vibrant presentations and share them on Facebook and Instagram.
Advantage:
You can crop with the swipe and pinch function
Drag photos to position them
Easy to record the time of photos
10 different transitions
You can export to camera and share on Facebook and Instagram
Disadvantages:
The free version is very limited
The iMovie application is indisputably one of the best for creating photo slideshows on iPhone. With a very good number of functions combined with high quality, they make this application very popular. For many, this is the only application they take into account when creating videos with photos; in addition to video editing.
Advantage:
Audio change for each clip
Different video themes
Excellent transitions, sound effects and titles
Add visual effects and background music with ease
Disadvantages:
Limitations in terms of flexibility
Only found for Mac and iOS systems
It is more difficult for beginners