Hardware
Applications to monitor mobile data usage on your Android device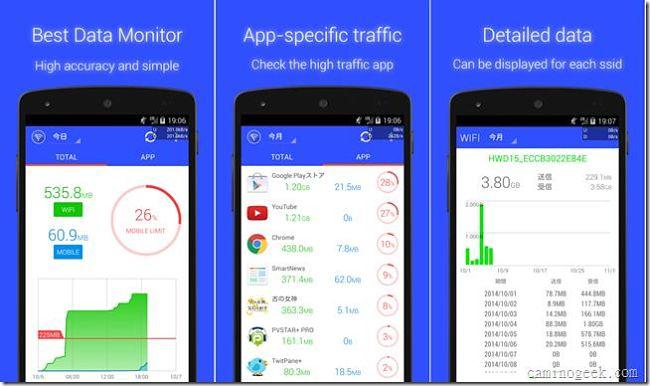 Staying within the limits of data plans is very difficult at times. But next we will see some mobile data meters or monitors for your Android device.
Since they make it possible to connect us from almost anywhere, it's no wonder you want to control your mobile data. You will even want to disable it for specific applications. Here are 5 good applications to monitor mobile data usage on Android.
How to monitor mobile data usage
Traffic Monitor
Traffic Monitor is an all-in-one app with several built-in utilities. Among these you will find a speed meter, data usage monitor, signal quality check and network information. With this you can configure a data usage limit, and you can also check the data usage by location. Includes an option to configure widgets to monitor data usage from the home screen itself.
My Data Manager
My Data Manager is an advanced app for monitoring network usage and keeping track of mobile data usage. It allows you to set your daily mobile data budget, and if you exceed the use it will show you an alert. It also allows you to keep a history of the data used for the day.
With My Data Manager you can also configure various plans for broadband, mobile data and for roaming network use. It also has interesting alert functions, such as usage forecast warning, billing cycle; and also, it alerts you if you have a lot of mobile data left on the last day of your plan.
3G Watchdog
3G Watchdog is a very popular application for managing data consumption on Android. It has an option to automatically disable mobile data if usage exceeds user-defined thresholds.
Opera Max
Opera Max is a well-known application when it comes to saving data on Android devices, and that you can also use to monitor the use of such data. It has a schema in the form of a timeline for data usage statistics; which makes it easy to know which applications are consuming your data. In short, Opera Max is an excellent app to monitor data usage, while at the same time using it to save it.
Data Usage Monitor
Data Usage Monitor does not include additional features like the others, but rather focuses on its purpose of monitoring mobile data. This is your ideal application if you want a simple data monitoring application. You must configure your data limits and position the meter on your screen. You will be able to keep an eye on the data consumption from the main screen of the application; and shows data usage by hours and also by apps.