Hardware
5 applications to control mobile data on your cell phone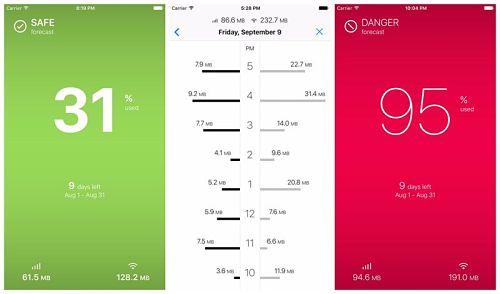 Today we are going to look at some useful apps on iOS and Android to keep track of mobile data usage. This will allow you to choose the one that is best for you to control your data usage.
It is always a good idea to track mobile data to avoid exceeding your data usage quota. Android offers a native interface to track and control your mobile data. iOS, on the other hand, doesn't offer much information about it.
How to control mobile data on your phone
My Data Manager
My Data Manager is available for both Android and iOS. It's free, doesn't include ads, and tracks data usage for mobile, WiFi and roaming plans.
Enter the data limit, period and renewal date and you are good to go.
Now go to the summary tab and you will get an overview of your data usage for mobile networks, WiFi and roaming (if applicable).
The app tracking tab provides a list of apps that use Wi-Fi or mobile data. This allows you to adjust your usage behavior in case your mobile data is reaching its limit.
Another great advantage of this application is the ability to set all kinds of alerts about your data usage.
The "Set Custom Alarm" function allows you to configure alarms to notify you when your mobile data reaches a specific limit.
RadioOpt Traffic Monitor & 3G / 4G Speed
This is basically a combination of a good data usage tracker and a speed and coverage test app. It will help you keep your wireless connection stable and keep track of the volume of data you are using.
You can specify the period and limit of the data plan and RadioOpt will track the use, alerting you when you are about to cross the limit. It will prevent you from being surprised by roaming charges by keeping a separate log of data usage while roaming.
The app has a powerful built-in speed test tool. You will be able to test the speed of your WiFi or mobile data connection, including upload, download and ping speed.
You can create a coverage map so you can see where to get the best signal from the nearest network tower. All of these tests can be directly compared to people in your area to see if you get similar speeds.
Glasswire Data Usage Monitor
Download on Android
Glasswire, the popular network traffic monitoring app for computers, also has an Android app. Like the desktop version, this application focuses on monitoring network usage and recording application behavior.
Track which applications are using your mobile data and WiFi, notifying you when you are about to exceed the plan limit. You can track data usage in real time and even go back in time to see which app used data on a particular day.
Glasswire alerts you every time a new application uses the Internet, so an infected application will surprise you. If your data provider offers unlimited usage for a particular app, like Facebook, you can exclude it from data monitoring.
Data Usage
A data usage tracker app that focuses on helping you consistently use the allotted limit in the given time. In addition to regular data tracking and alerts, Data Usage has an interesting prediction feature that shows when you will hit the data limit based on your regular usage. If you ever use more data than normal, you will receive an immediate alert.
Data Usage has a dedicated widget that shows your data usage in real time and your general daily usage. The application can also disable your data connection if you reach your established limit. Without a doubt, this is an excellent app to control mobile data on your smartphone.
DataMan Next
Download on iOS
An application with minimalist design, DataMan only offers the features you need and does its job perfectly. It allows you to monitor mobile data for each application and your overall data limit progress. It also has a useful widget that keeps your data usage in view at all times.
It has a prediction feature that indicates whether you will be within or exceed the limit based on your current data usage.