Applications
Write your personal journal with these applications for windows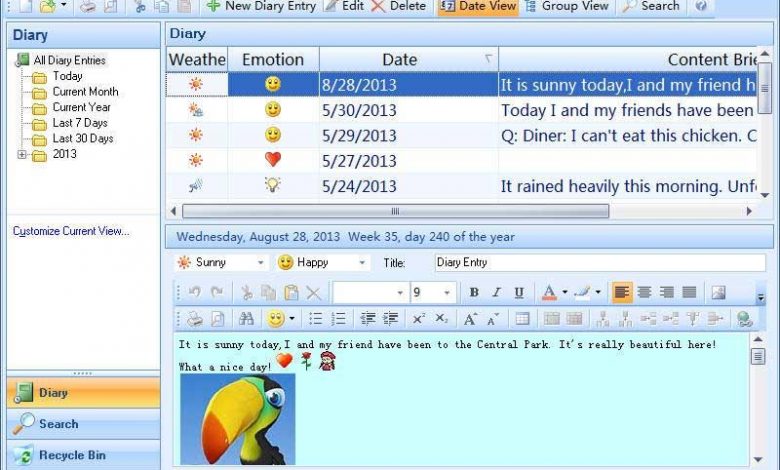 The use of the computer in our day-to-day life has become essential, and it is common to use it to carry out all kinds of tasks, be they work or personal. That is why it has also become the ideal platform to keep our personal diary and write down all those intimate details that on many occasions we have the need to write. Beyond paper and pen, new technologies can help us manage our own personal diary from anywhere.
Keeping a personal journal is an underrated activity, since it is an exercise that can help us increase our productivity and well-being with daily dedication. Just by writing down our thoughts we can control stress, improve creativity and increase our happiness. The main problem is that constantly keeping a diary is not easy, so with the help of our computer and some of these simple applications we can establish a daily writing routine that helps us vent and make us feel better.
Best free apps for journaling on Windows
If we have decided to start writing a journal, we must know that we have many different free options with which to try without having to spend a euro. In this way, we can start by testing these options in case we find any that may fit what we are looking for. Among them we can find online versions, and other downloadable versions both from their respective websites and from the Microsoft Store.
Journey, write and develop your positive energy
It is an application designed to build healthy thoughts through a personal diary. In this way, it will help us increase our positive energy and have a calmer mind. This program allows us, in addition to writing, the possibility of adding photos, videos or audios to each of the entries in our diary. In addition, we can attach our location or the weather for each day. This tool also has its own password security system so that no one can access it, even if we share the computer. Its main drawback is that it is only available in English.
Journey is a journal that is managed online and free of charge, so we will not have to access its website and enter our account through a Google email address to enjoy all its advantages.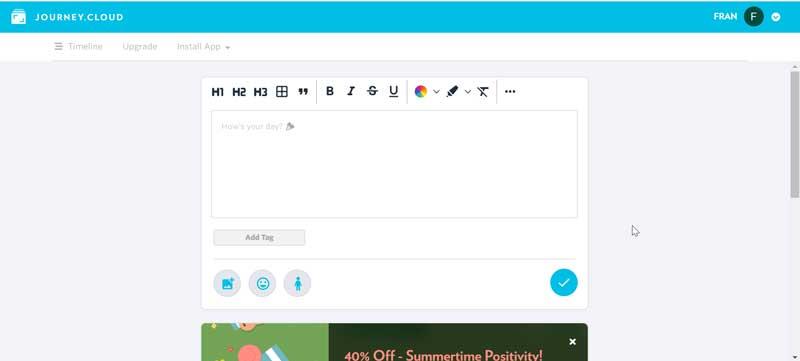 Mini Diary, simple but effective
With this journal application for the computer, it will allow us to capture everything that we think and that we need to write without distractions, to always have it at hand. It is a simple program, with few extra functions, since it hardly has a file export service, and is far from the functionalities of other similar applications. This for some can be a great advantage, but for others a disadvantage, in case of looking for extra functions. If we have a text editor, a calendar and a search engine . In addition, we can protect it safely with a password.
Mini Diary is an open source and completely free personal diary that we can download from its official website . In addition, it is multiplatform, so we can run them on computers with Windows, Linux and mac OS.
iDailyDiary, simple but with advanced text editor
This application is a great tool to write our daily personal diary. In it we can write privately all our thoughts and wishes, protecting it by password to prevent it from being read by curious, something especially useful if we share a computer. This program has a simple and easy-to-use interface. It is possible to add images, since it is compatible with formats such as JPG, BMP, PNG, among others. It has an advanced text editor, which allows you to choose the name and size of the font, its alignment, and text and background colors. It also allows you to create bullets, include URLs, use your calendar and a search engine. For all these reasons, iDailyDiary becomes a tool that can be tremendously useful as a journal.
But not everything can be perfect, and it is a pity that the application is only available in English. If we want to use it, we will have available both a free version that works completely without integrated advertising and that we can download from its website, as well as a paid version, which starts at 30 dollars.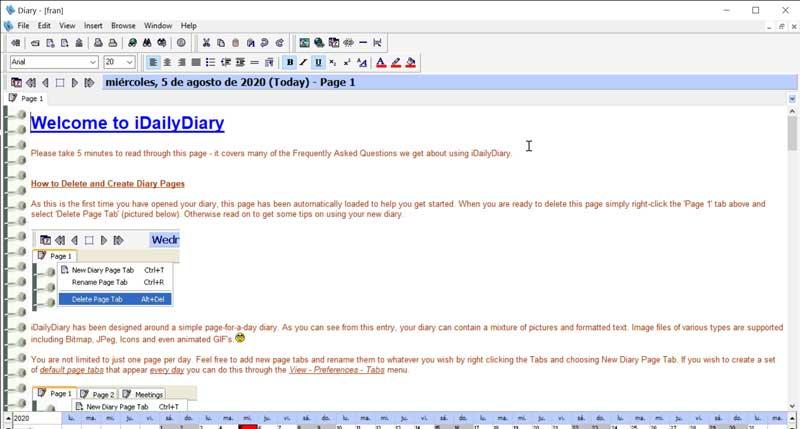 Digital Diary, with narration mode
With this application we can write all our thoughts in a digital diary. We just have to select one one day and start writing everything we need. The program has the possibility of adding images and events, as well as using color codes so that we can easily identify them. It also has a narration mode that will allow us to record a diary entry through audio . Its main drawback is that it has ads that can be very annoying, and, like other applications of this type, it is in English.
Digital Diary is a free application, which we can download directly from the Microsoft Store.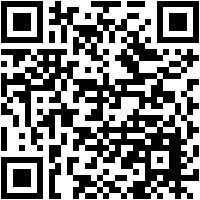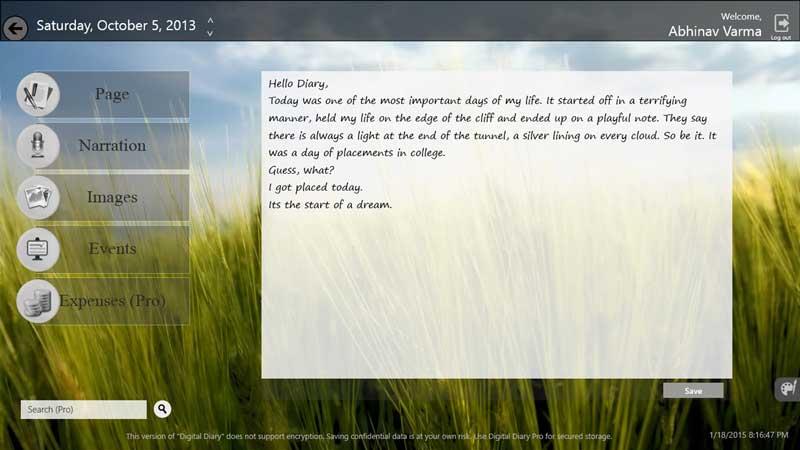 Newspaper apps with paid versions
In the event that the free versions do not convince us, or if we do not mind paying to have a higher quality newspaper, we will also have very interesting options. In addition, within these proposals we will find applications that have a more limited free version or trial versions so that we can test it carefully before deciding on your purchase. They are very attractive options that it is always good to take into account when choosing the right application.
Penzu, safety the main thing
It is an application that we can use as a personal diary. It has a complete interface with a toolbar in text format. Penzu stands out, above all, for its security, since all our entries will be kept safe since we can block our diary with a special password, which secures all content with 128-bit encryption and allows us to automatically block our diary in everything moment. It also has personalized reminders to help us remember to write our new journal entry. Its main drawback is that it is in English, which could be an impediment to correct use by some users.
Penzu has a free version that we can download from its website. It also has a Pro version that we can buy from $ 19.99 per year and that includes some extra functions such as 256-bit security encryption or the possibility of labeling the entries.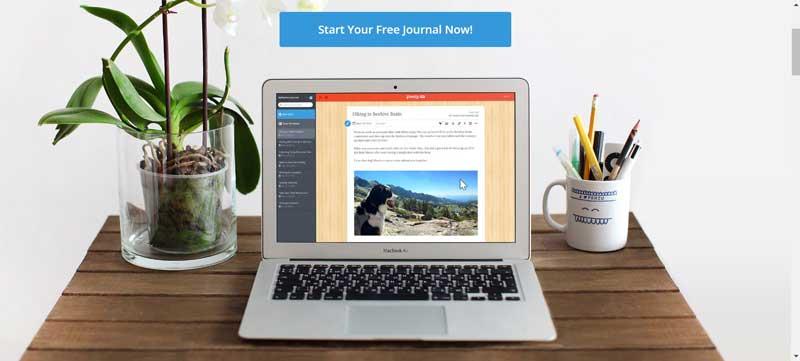 DiaryOne, bring out your creativity
Another program that we can choose to manage our personal diary is DiaryOne, a software that is characterized by its creativity and that allows us to store all our private information safely using a password. It has an elegant interface with a customizable design and support for rich text, multimedia files, images, and the ability to attach files. The application allows us to write in our journal by using the keyboard, the microphone or from a web page. In addition, it has a library of clipart with which we can add icons, images or illustrations with just drag and drop.
The main drawback of DiaryOne is that it is a paid application , so in order to use it we will have to pay for its license, which has a cost of $ 29.95 . Also, it is completely in English, which may make it difficult to use for some users. Of course, we can download a 30-day trial version from the developer's website .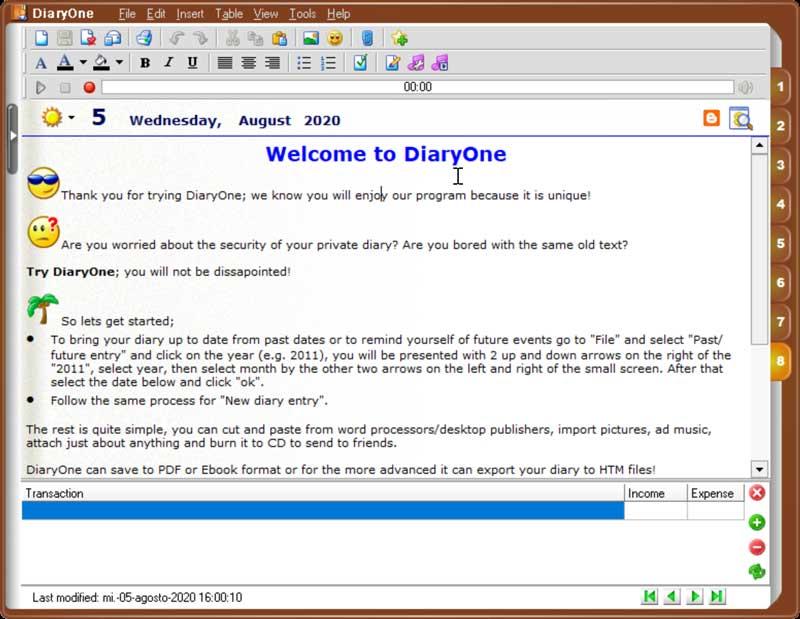 Diarium, write and record audios in your posts
We are facing an application for Windows 10 that allows us to write our experiences every day to save them in our personal diary. In it, in addition to text, we can attach images, audio recordings, contacts, labels, location for daily entries, etc. It also has full integration with the system calendar, allowing us to receive daily notifications that remind us to write in our diary. This program has optional password protection, so that no one else can access and read our privacy. In addition, it has synchronization with OneDrive, it allows importing and exporting the database of our journal through .docx, .rtf, .html or .txt files.
The main drawback that we are going to find to use this application is that it is in English, which is not the most comfortable to use. In addition, it has a single paid version that has a cost of 19.99 euros, although it is currently reduced to 5.99 euros.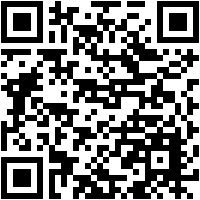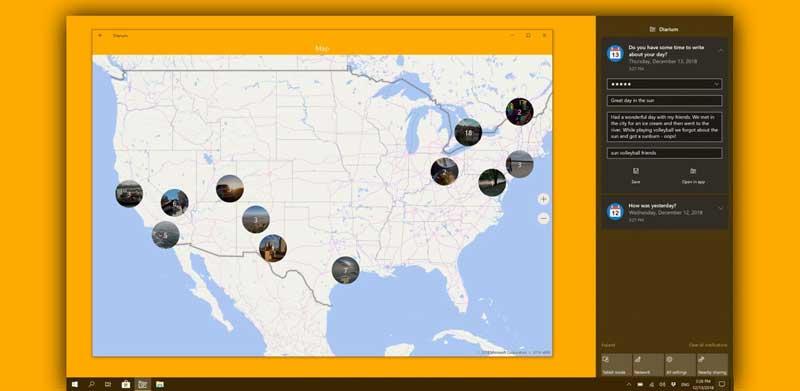 Efficient Diary, the multiplatform diary
This program is a personal diary that has a wide range of emoticons and rich text to fully personalize each diary entry. It has a search engine to quickly find any entry and incorporates a trash can in case we delete an entry by mistake. Its visual aspect is quite pleasant, as well as safe, since we must compulsorily put a password in order to protect all our content from the most curious. In spite of everything, the application is not perfect, and it does not incorporate a spell checker or offer integration with blogs in its free version.
Efficient Diary is compatible with Windows computers and Android and iOS mobile devices. It has a somewhat limited free version, which we can download directly from its website . It also incorporates a paid version, which is currently priced at $ 23.96 and incorporates some additional features, such as synchronization between PC and mobile, the ability to add URLs, insert tables, among others.