Applications
Write texts on your pc without distractions with ia writer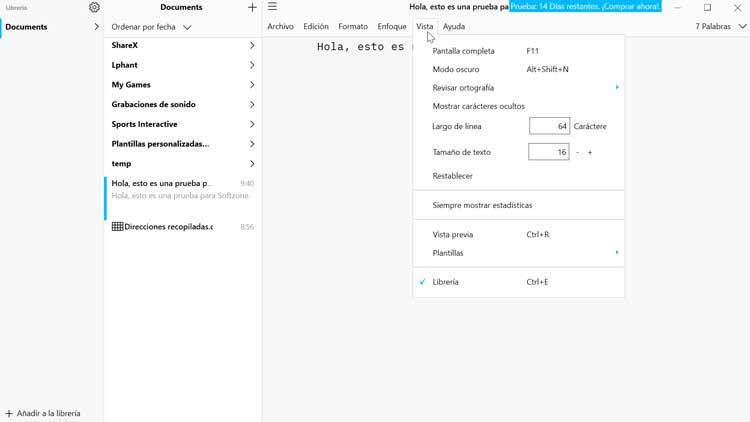 One of the most important uses of our computer is the ability to write text. For this we have all kinds of programs, such as note applications, word processors, etc. Each of these applications are focused on a specific use. If we are dedicated to programming or design, we may need a text editing tool to carry out our work, such as iA Writer, which we are going to talk about next.
iA Writer is a simple and powerful plain text editor that provides us with an orderly and distraction-free environment in which to write comfortably, supported by highly useful features such as content blocks and syntax. This program has been developed to offer us good writing, with simplified shortcuts and settings so that we can keep our hands on the keyboard and our minds on the text we are going to write.
And it is that within the simplicity that iA Writer boasts is a powerful tool with features such as focus mode or the ability to preview PDF files. We can highlight parts of our writing by finding superfluous adjectives, weak verbs and unwanted repetitions that will help us improve our writing.
This text editor allows us to exchange sections, insert images and build a text with content organized by flexible blocks, .csv tables and image files. It also includes advanced Markdown export functions to Word, allowing us to export Markdown tables, images and footnote to Word and vice versa.
iA Writer, simplicity and minimalism at the service of the user
Once we run this text editor, its main menu appears. It highlights its simple graphical interface, which may at first seem empty or boring, since the file explorer panels can be hidden, but it is aimed at having a work environment without distractions. We will only have to worry about locating the file with which we are going to work or create a new document.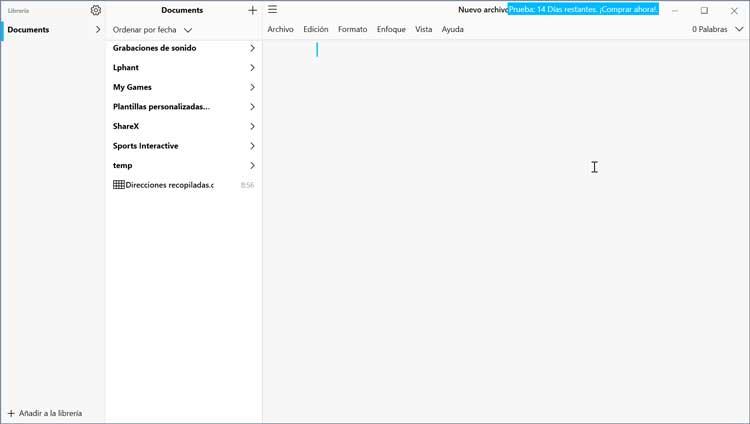 At the top we find a toolbar organized by tab, where we find the classic "File", "Edition", "Format", "Focus", "View" and "Help" functions. The moment we start writing we will check that the bar is hidden automatically to avoid being distracted and we can be focused on our text. Once you have finished writing, you just have to pass the pointer over the upper part to make the bar available again.
When we start writing we find a white canvas, which we can also turn into dark, if we activate this mode in the "View" section. On the canvas we will only see text, for whose format Markdown uses, with which we can use bold, italics, lists, titles, links, etc.
Syntax focus and control
One of the functions that we can activate while writing is the focus mode, which we find in the "Focus" tab of the toolbar. When activated, it will highlight only the phrase or paragraph in which we are in the center of the screen so that we can focus on a specific part of the text, helping us in our writing.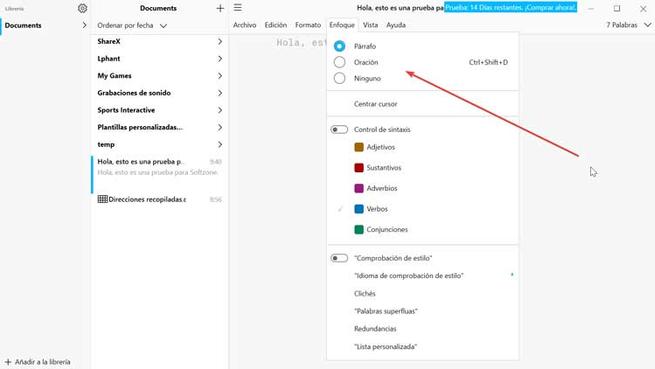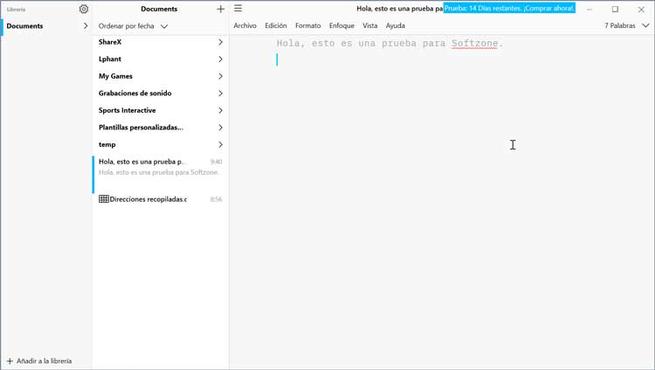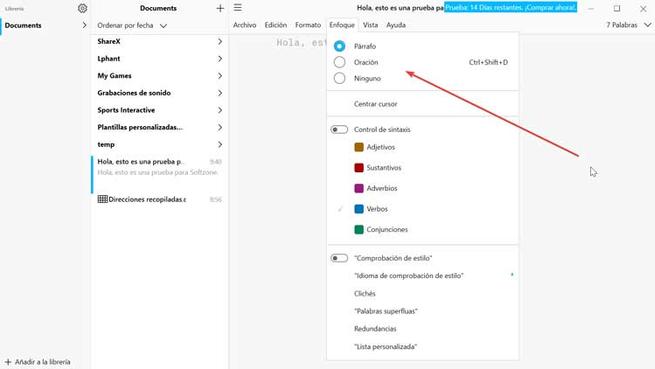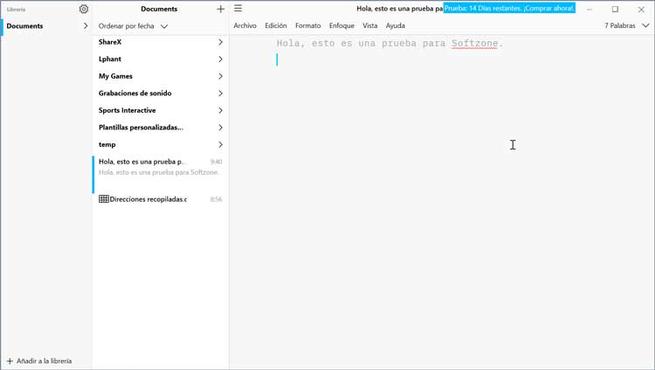 Within the "Approach" section, we also find the "Syntax Control" options, with which we can distinguish verbs, adjectives, nouns and adverbs, each coloring in a color within the same sentence, which can be useful to improve our grammar.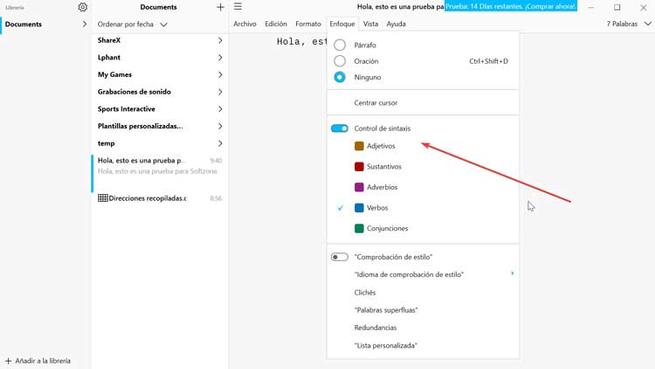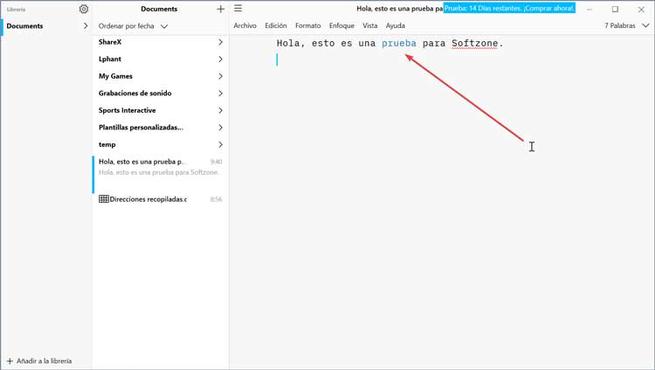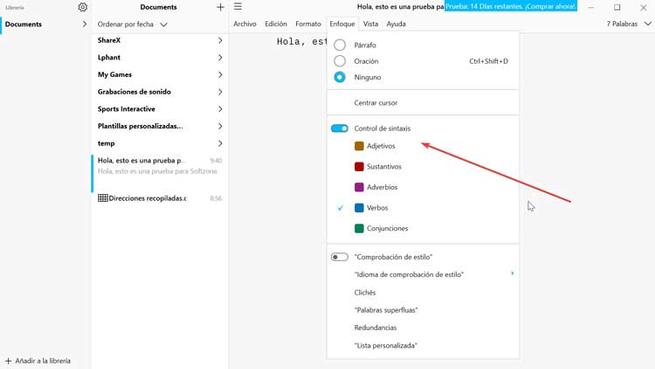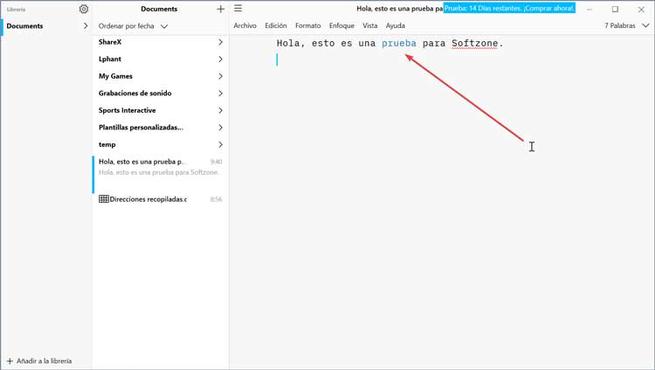 In the "View" section we find some interesting tools such as the "Preview", which allows us to view the text as it would appear on the web. It also allows us to check the spelling, see the size of the text, activate the full screen, activate the dark mode, show hidden characters, etc.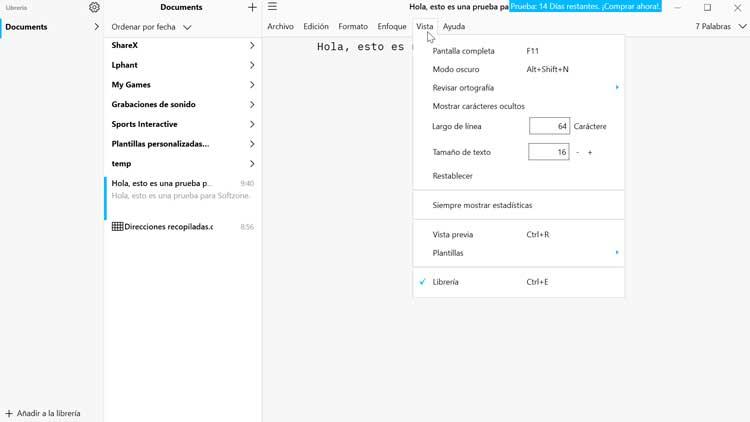 When exporting our work, iA Writer allows us to export it in HTML, PDF, Markup and MS Word formats . We can also save it as a Markdowmn document (* .md), text file (* .txt) and CSV file (* .csv).
Conclusions
iA Writer is a complete minimalist text editor with a good handful of additional features to discover, with a wide variety of fonts and fonts available. Thanks to its minimalist design, we can focus on writing if nothing can distract us from our work. Although it is not perfect, because we miss the possibility of encrypting saved files, the truth is that it is an interesting option and with many possibilities.
Download iA Writer
iA Writer is a commercially licensed plain text editor, so we will have to pay to use it permanently. It also has the possibility of downloading a 14-day trial version from its website, in order to be able to test it before deciding on your purchase. It is compatible with Windows and macOS, as well as mobile operating systems such as Android and iOS. Its price is $ 29.99 .
This text editor is also characterized by being in constant progress and improvement. Proof of this is that its latest version, 1.4 for Windows, was released on December 21, 2020, which attests to the good support offered by its developers, with numerous changes made since it was released for the first time, back in 2010.
Alternatives to iA Writer
If we are looking for a plain text editor, we present a couple of alternatives to iA Writer that we should know.
Hekapad
It is a complete text editor for Windows with features such as automatic saving, compatible with 19 different extensions and the possibility of encrypting text files saved in TXT. It also allows you to insert symbols into the document with a single click and insert date and time, as well as count document characters, words and lines. Hekapad is a free program that we can download from this link .
MinT Pro
This text editor has different fonts, sizes and colors. Allows you to insert images and export them. It also offers the ability to insert links into RTF documents, display RTF code, export from RTF to HTML (with images), and export RTF to DOC, PDF, and BMP. Mint Pro is a Freeware licensed program so it is completely free and can be downloaded directly from the developer's website .