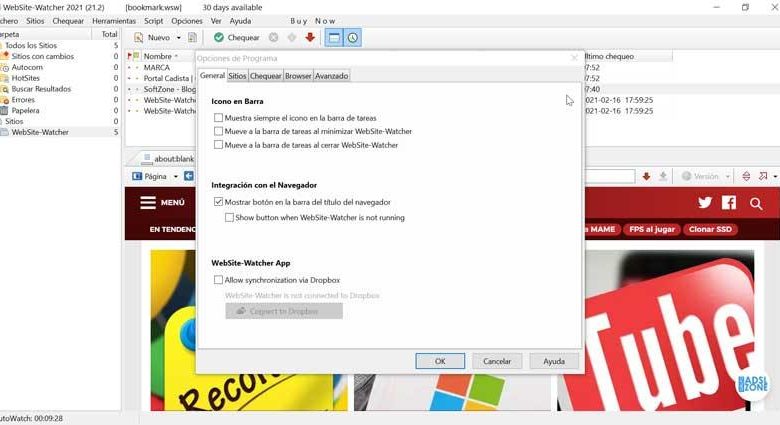 One of the most common uses that we usually make thanks to the Internet is to visit our favorite websites. Normally there are pages that we visit frequently because they are constantly updated and we do not want to miss any of their content. To help us not get lost, we can use a program like WebSite-Watcher, which is responsible for monitoring our favorite websites for new content and changes.
WebSite-Watcher is an application that allows its users to organize a list of favorite websites to keep track of all the changes that occur. It is capable of adapting to both the beginner user and the more advanced users. The software gives us total control over what is verified to us, when we are verified and even how we are verified. It can also be installed on a USB flash drive for added portability.
This software has a powerful filtering system that will allow us to ignore all the content that does not interest us. It has an integrated filter assistant that allows us to easily create filters with a few mouse clicks. We will only receive update notifications only when specific words are detected in new or changed content. With its "Follow Links" function, it allows us to monitor entire websites instead of individual pages.
The different types of monitoring that we can find are:
Monitor all types of web pages and highlight changes on the page.
Facebook, Twitter, and Instagram are automatically converted to RSS feeds, making them easy to follow. We will be notified as soon as new posts are posted.
RSS can be monitored like normal web pages with all supported functions.
Each page that can be opened with our browser can be monitored with its screen capture method. The program will take screenshots of the pages and compare them to detect updates.
Control the changes and updates of your favorite websites
Once we have started the application we find its main menu. It has an interface that is not particularly intuitive, although it is easy to use and has Spanish as a language. At the top we find the classic toolbar distributed by tabs. If we look at the left side we see a column where the sites that we add are organized. In it we will find a general folder with all the sites and subfolders such as: Sites with changes, Autocom, HotSites, Search results, Errors and Trash.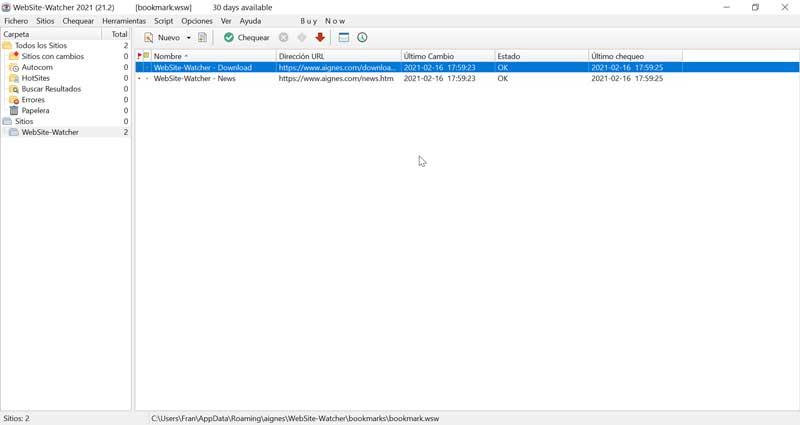 Add new sites to monitor
To begin, the first thing we have to do is click on the New tab at the top to add the pages that we want to monitor easily through its assistant. To do this, we only have to write the URL and indicate if the page is protected by password and requires completing the login (for example, if we want to monitor our Facebook page). Later we can specify between web page, forum and RSS / Atom-feed. Alternatively, you can also use predefined plugins to verify the site. Once finished, WebSite-Watcher will be in charge of detecting the changes that take place.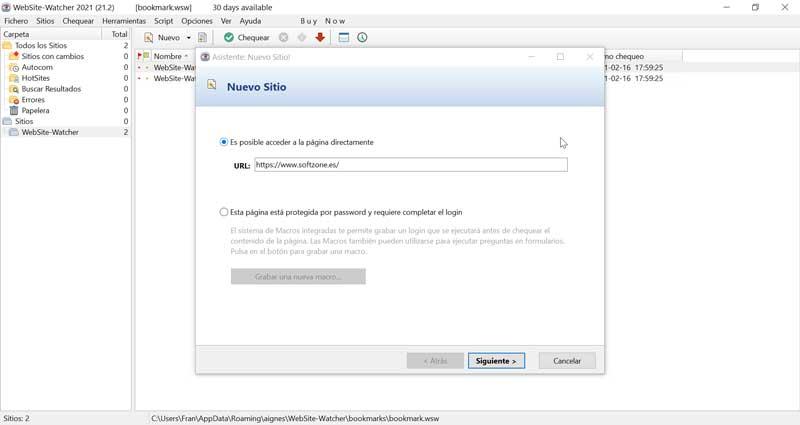 By right-clicking on any of the markers that we have added, we can access their properties. From this window we can edit the name and the URL, insert an alternative URL to verify, import properties from another bookmark, as well as use a filter wizard or test the filters ourselves. So we can compare the current version and the previous one.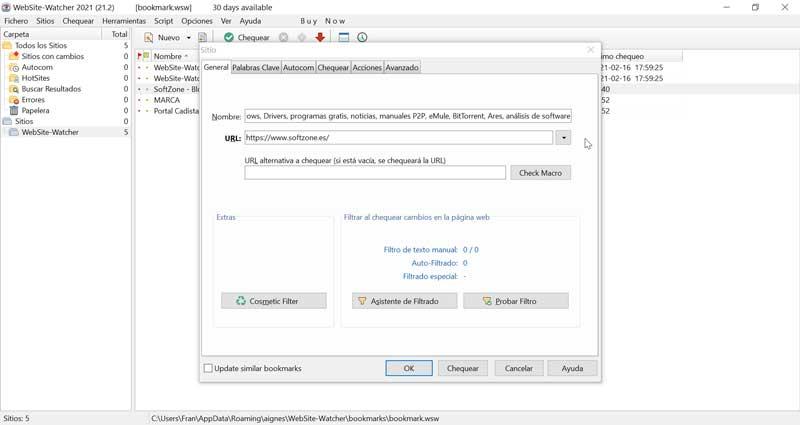 Customize the experience to the fullest
Another possibility that the program offers us is to create a list of keywords that we can use to highlight on the page, enable automatic display and configure alerts about initialization, changes and errors. We can also choose the method to verify any web page, such as by taking a screenshot, as well as executing additional actions when any update is detected. For example, you can notify us by playing a sound, sending email, opening the page, etc.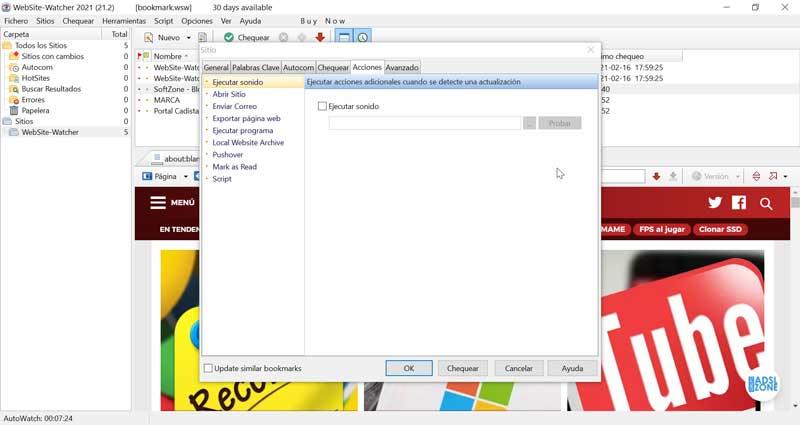 In case we are advanced, we can configure the time settings, the highlighting method and the add-ons, as well as merge pages, follow links, ignore updates through a black or white list, among other actions to fully customize your experience with the program. It is also possible to optimize or repair the database or recreate it from the program cache, configure the application to minimize to the system tray, create newsgroups, locate duplicate bookmarks, use the backup service, as well as adding and editing scripts. All this from the program options.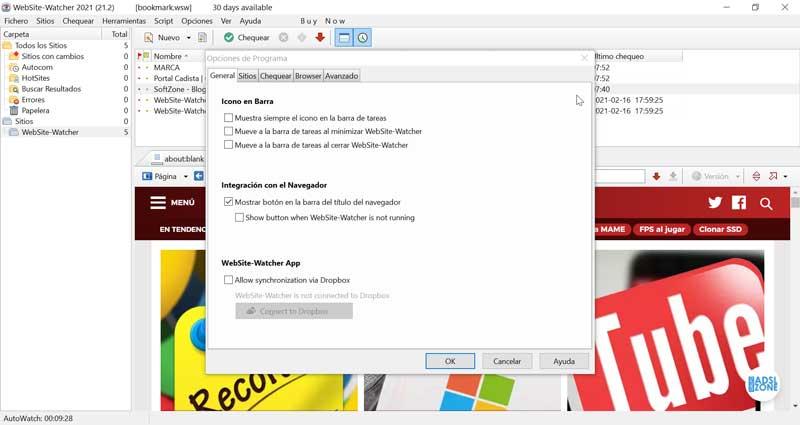 Download WebSite-Watcher
WebSite-Watcher is a commercial program, so to be able to use it it will be necessary to buy its license. It is also possible to test it previously, downloading a free trial version for 30 days from its website . This software is compatible with Windows 7, Windows 8 and Windows 10, both in 32-bit and 64-bit versions.
When buying WebSite-Watcher we will have three pricing plans:
Basic Edition : supports all protocols and file types (HTTP, HTTPS, FTP social networks, etc.), as well as support for password-protected pages, filter system, keywords, and bookmark actions (for example, send an e-mail). It also has advanced features and reporting (CloudSync, portable setup, running multiple instances, and creating virtual folders). Supports unlimited bookmarks and databases. Its price is 29 . 95 euros.
Personal Edition : it has all the features of the Basic version, plus the possibility of importing and exporting. This version is valid for personal use only and has a cost of 49 . 95 euros.
Business Edition – Has all the features of previous versions along with password-protected script languages ​​and bookmark files. This version can be used by both individuals and companies and is priced at 99 . 95 euros .
Alternatives to WebSite-Watcher
If we are interested in a program with which to monitor web pages, we propose a couple of alternatives to WebSite-Watcher:
Uptime Robot
It is a software that is responsible for monitoring our favorite websites to check the different changes and updates. The system checks the site every five minutes and will notify us with each change. For free we can monitor up to 50 websites with email notifications. We can access from this link .
Monitor.us
This is an all-in-one website monitoring tool, which is responsible for verifying the availability of the website every five minutes. The app monitors multiple sites and reports any potential bugs to us globally. It has great customization since it is able to adapt to the tracking requirements of specific points of the website (pages, subdomain, web application). To use it, simply access its official website .