Applications
We tried ax: the great forgotten that you could not live without 20 years aug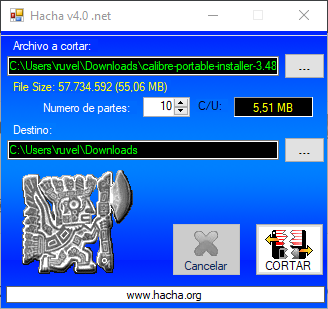 Most users today use the same applications. Google Chrome or Firefox to surf the Internet, Spotify to listen to music, VLC to play multimedia files, Word for office automation, etc. These applications are always present in our day to day, and surely they will continue to be throughout the coming years. However, if we have been using computers for a long time, we have surely been able to experience some applications that were essential in their day, today they have been forgotten. One of these applications is Hacha.
Today, with Internet connections of 300 or 600 megabytes in most houses, and being able to buy 32 GB USB sticks for 6 euros, the way of saving and sharing things has changed. In a 32 GB USB memory like the following one we can copy several movies without problems to leave them to other people. Even complete computer games can be used for backup purposes.
However, a few years ago these memories did not exist. And the first models had prices that left them out of the reach of most users. If we go back further, the 4.7 GB DVDs, and even the 700 MB CDs, were quite expensive. When we recorded something we had to make sure we filled the disc, or else we would have wasted our money.
Sharing files over the Internet 20 years ago was also a difficult task, even for files that today are sent in a second. Before, the time to transmit a file (in the best case, through MSN Messenger ) was several minutes. And at the slightest cut, all work was lost.
Therefore, users were looking for different options to facilitate this task. And Hacha is one of these applications. And it is that on many occasions users had to make use of this proposal. To give us an idea, the application as such helps us to easily divide a file into several parts. the main reason for all this was to be able to transport them more comfortably in a digital medium. At the same time, in the event that we were to send them by email or share on the Internet, the process is more comfortable. For this type of situation, use the program called Ax.
Therefore it is easy to imagine that it allows us to divide a file into smaller ones of different sizes. To all this we can see that here we refer to an application with a Freeware license, therefore free, and that does not require installation, since it is portable.
How Hacha Helped Share Files
The operation of Hacha was actually very simple. This application allowed us to take any file from our computer (a ZIP, a song, a video, etc.) and it allowed us to divide it into several small parts.
These parts, which we could adjust in size, could, for example, be copied to 1.44 MB floppy disks, or shared over the Internet little by little. Thus, if one part failed, it could be easily reshipped without losing the rest of the shipped parts.
When we had all the parts again, Hacha allowed us to rejoin the files, giving rise to the original file. Although no one would think of splitting a 1GB movie into 1.4MB chunks to copy to floppy disks, for small files (songs, documents, Game Boy Advance games that could be 8 or 16MB in size) it was undoubtedly a great ally.
Split a file with Ax
To give us an idea of ​​how the program works as such, let's see how it carries out its main task, dividing a file. Thus, in the event that we need to share or mail it later but it takes up a lot, Hacha will help us, as we will see. Thus, we no longer have to click on the Cut to bring up a new dialog box so that we can load the file in question. Once it is selected, we have an options window where we specify the desired size for each of the parts. At the same time in the Size section we find several sizes already predefined in advance so that we can choose.
At the same time in Source = Target we indicate that the destination of the parts is the same as the origin, and in Delete Source we decide if we want to delete the original file at the end of the process. Therefore, now we only have to start it, so we will only have to click on the Metele Hacha button. The job will start and when it is finished a message will appear indicating that everything has been done successfully.
Rejoin a file with the program
On the other hand, it may be the case that we have received this file and we want to join it to be able to use it completely. So, returning to the main Hacha screen, this time we will select the Join option. As in the previous case, a dialog box will appear requesting a file, however in this case what we do is load the first divided file into the program, that is, the one with the extension * .0. To say that it is advisable here to have all the parts in the same folder so that the program can find them.
Once we have selected the first file we find the same options as in the previous case, when we divide it. Therefore, in order to finish with this joining work, we will click on the Join Files button for Hacha to start working. Once it is completely finished we will have a file that is joined and ready to be used like any other.
We tested this software, how have the years passed for it?
Ax can still be downloaded completely free of charge from the link below . Also, it is compatible with Windows 10 . There are two versions of Hacha, 3.7, which allowed cutting files of up to 2 GB, and 4.0, compatible with files larger than 2 GB.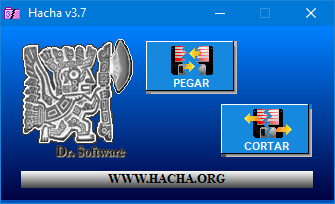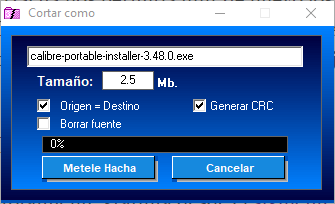 We have taken the opportunity to test version 3.7, which surely more than one of us will have used at some time. We have used its default configuration (2.5 MB per part) to divide any file that we had on the hard disk. The result has been 23 files of 2.5 MB each.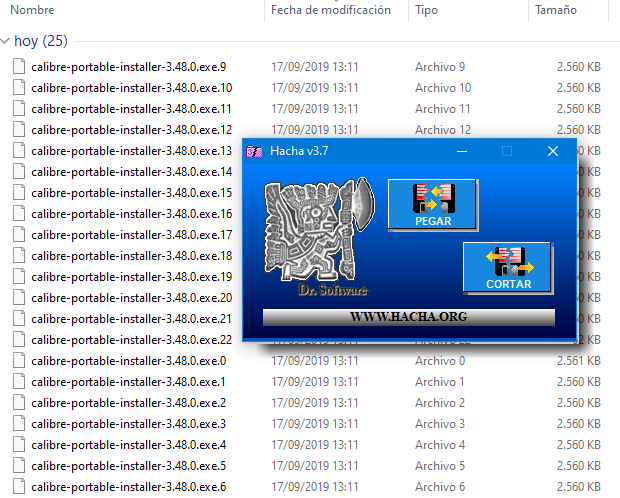 When we wanted to rejoin the parts of the program, we simply had to select the .0 part and, if all the others were in the directory, this program would rejoin them, giving rise to the original file.
The net version is somewhat more complete. It allows us to choose the number of parts into which we want to divide the program, as well as the path of the parts. A more complete version, but which, due to the way technology has evolved today, is still an obsolete and unnecessary tool.