Applications
Transfer files between pcs safely and for free with winscp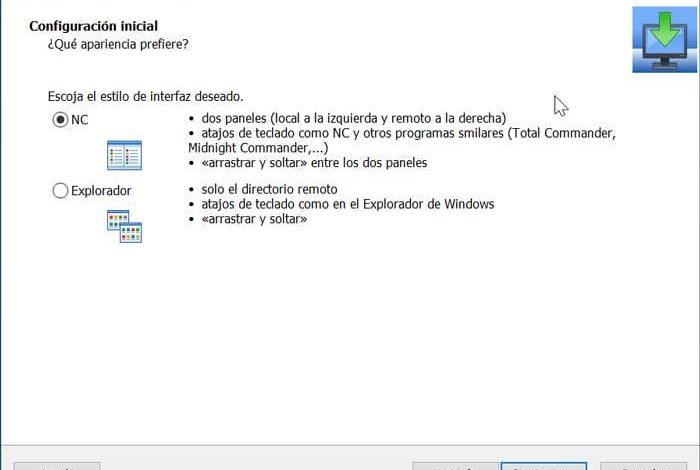 When it comes to sending files from our computer we have different ways, being the sending through an FTP client the most used and fastest way. From it we can select the files and send them from our PC to another PC, being able to download them safely. Along with it there are other encryption mechanisms such as STP and SCP that are characterized by being even more secure. In order to work with them, we will need a specialized program such as WinSCP, which we will talk about below.
WinSCP is a program that allows us to connect to multiple servers with different protocols. It is a popular free and open source SFTP, FTPS and SCP, WebDAV or S3 client for Windows. Its main function is the transfer of files between a local computer and another connected remotely. Beyond that, it also offers basic file management and scripting features.
With this program we can transfer all types of files remotely easily from its graphical user interface with great visual quality, expanding its support to a wide variety of protocols. It also has some very practical functions such as its integrated text editor or automatic synchronization between two directories.
The main features that we can find in WinSCP are:
It has a graphical user interface
It is translated into several languages, including Spanish
It has full integration with Windows
Allows you to perform all common file operations
Support for SFTP and SCP among other protocols
Semi-automatic or automatic file synchronization.
Integrated text editor
Support for password authentication, with interactive keyboard, public key and Kerberos (GSS).
Ability to integrate with Pageant for full SSH public key authentication support.
Explorer and Commander based interfaces.
Optionally, you can protect the information stored on the site using a master password.
WinSCP will help us to perform remote transfer quickly
Once we run the application, the first thing we have to do is connect WinSCP with a web server. For this we must select the transfer protocol (SFTP, FTPS and SCP, WebDAV or S3), together with the name or IP of the server, as well as a username and password to access the server. The choice of the port number is done automatically according to the transfer protocol that we have chosen. The program also offers the possibility of saving and remembering our connections, so we will only have to enter these data the first time we are going to make the connection.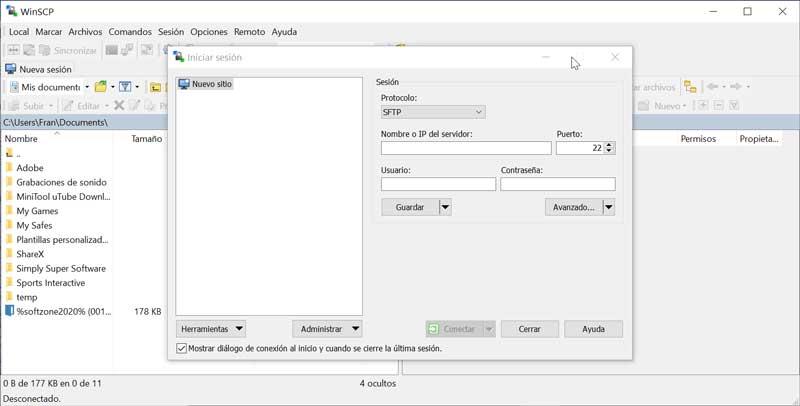 Transfer files with just drag and drop
Once connected, its main menu will appear, with an interface that will vary depending on whether we have chosen the Commander or Explorer mode , the first option being more recommended. In this case we find a screen divided into two parts, where we can see the folders found on the local computer on the left side, while the remote directory is located on the right side.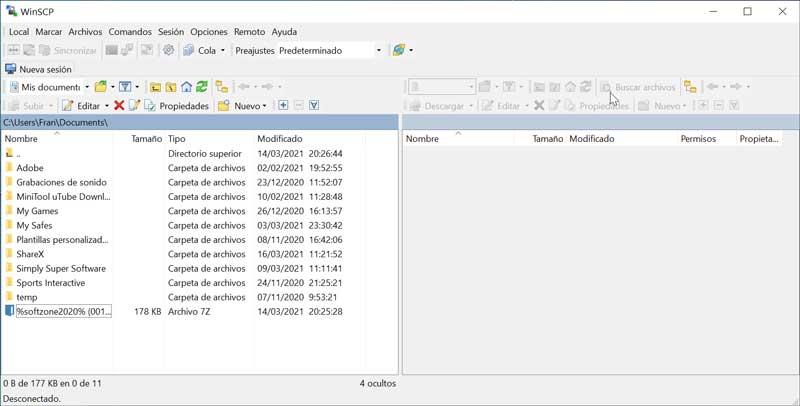 From now on, carrying out any movement of files between one computer and another is done easily by simply dragging and dropping it to the corresponding panel. The program does not offer problems with the size or type of file that we want to send. In addition, it allows you to send files and folders in batches and is perfectly integrated into the Windows context menu so that we can initiate any transfer directly from there.
Find the best functions from the Commands tab
Of the tabs that we find at the top of the interface, the Commands one is especially useful, since we will find functions that, such as directory comparison, folder synchronization, search for files, open in PuTTY or open the Terminal. Among these options, the most notable may be the synchronization between folders, which allows us to transfer only files in which we have made changes, so the data will always be kept updated at all times on the server.
Configure the program to suit you from the Options tab
To configure all the WinSCP parameters to our liking, we can access the Options tab. From here we can configure an environment, and in this way change between the type of interface, configure each of them and even change the language. We can also configure your panels or your internal editor, as well as the Network, Security, Registers, Application integration, Commands and Storage section.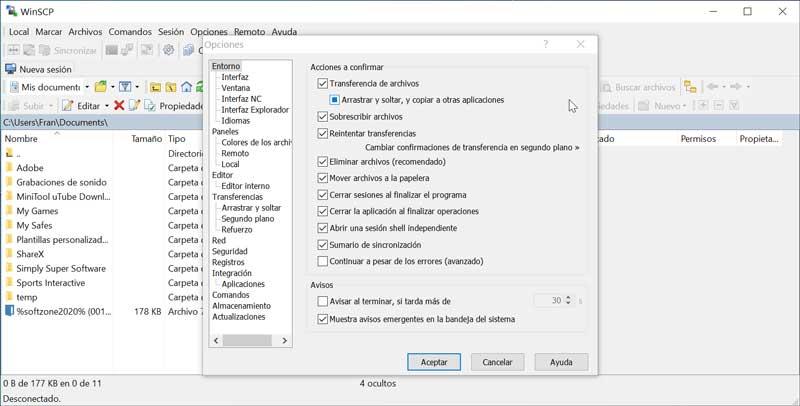 WinSCP free download
WinSCP is open source software under the GNU General Public License, so it can be downloaded for free from its website . It is compatible with the Windows operating system in all its versions from XP to Windows 10, both for 32-bit and 64-bit systems. Its installation is done in a simple way through its assistant without at any time trying to sneak unwanted third-party software into us. During it we will have to choose its appearance between the NC (Total Commander) or Explorer version.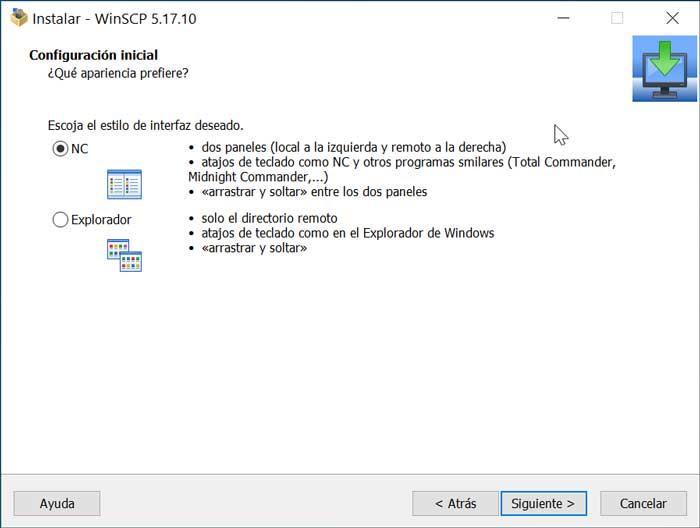 The latest version currently available for WinSCP is 5.17.10 that was released on January 26, 2021, so it has a great support and updates policy both from its developers and from the user community itself.
Alternatives to WinSCP
If we are looking for a program with which to make remote connections between several computers through different SFTP, FTPS and SCP clients, we propose some alternatives to WinSCP that we can take into account.
Cyberduck
It is a client that supports the FTP, SFTP and WebDAV protocols, as well as cloud storage servers such as S3, Azure, Amazon or OpenStack. It offers compatibility with the SSL and SSH encryption system, allowing files to be saved in TAR and ZIP formats. It also has a file editor to modify documents and a cryptomator function for greater security in the transfer of our data. We can download it for free from this link .
SmartFTP
This application is characterized by having support for the FTP, FTPS, FTPES and SFTP protocols. It is also compatible with cloud storage services such as Google Drive, OneDrive, among others. It has a built-in terminal emulator for automatic file synchronization, a text editor, and support for password managers like LastPass, keePass, etc. We can download SmartfTP for free from here.
Filezilla
It is the most popular FTP client, offering compatibility with SFTP and FTPS encryption, for greater security in data transfer, as well as different operating systems such as Windows, Linux or macOS. With it we can rename, copy, move or delete any file, as well as send and download data up to 4 GB in size. We can download it for free from its official website .