Applications
Tired of looking for updates to your programs? Use patch my pc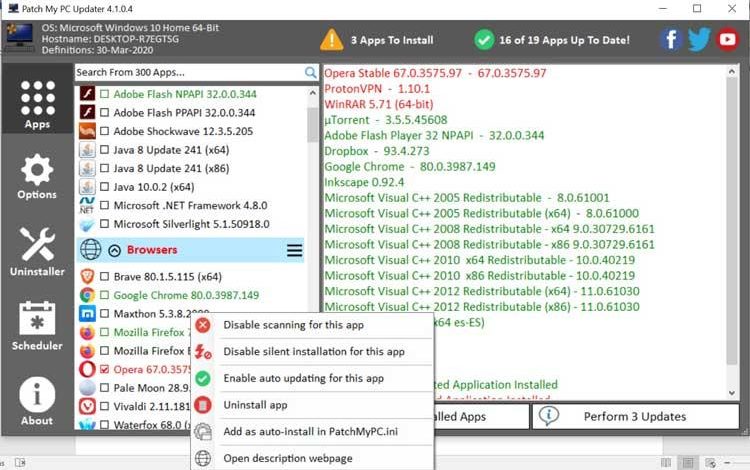 Whether we use our computer for work or for leisure, surely we have installed a good number of programs that we can become obsolete if we do not update them periodically. In addition, keeping applications updated will help us maintain our security level to the maximum. But this task can be quite tedious to carry out. Therefore, if we want to always have the updates of all the programs and tools that we have installed on our computer, we can use Patch My PC .
First of all, we must bear in mind that the simple fact of keeping our applications updated at all times is more important than we think. And it is that this will not only be useful to us at a functional level or news, but also for security. Many cybercriminals on the Internet tend to take advantage of vulnerabilities in out-of-date software to access other data on your computer. This is something that, how could it be otherwise, concerns both the Windows system and the rest of the applications that we install here.
That is why certain programs that precisely help us in all this, are sometimes going to be very welcome. This is precisely the case with which we are at the moment, we refer to the application called Patch My PC.
What is and what is the utility of Patch My PC in Windows
Patch My PC is a practical, free and portable program with which we can keep more than 300 types of third-party applications on our computer up-to-date. It is a tool that will be in charge of installing and keeping our applications updated and thus keeping us safe. Its work is based on simplifying the way to manage and update the third-party applications that we have installed on our computer, making it the most comfortable way to eliminate applications that we do not need and always keep the ones we need updated.
That is why if, as a general rule, we have installed and use many applications in the system, this program will allow us to save a good amount of time. The main reason for all this, as you can imagine, is that by itself it is in charge of keeping all our software up to date once we have configured it.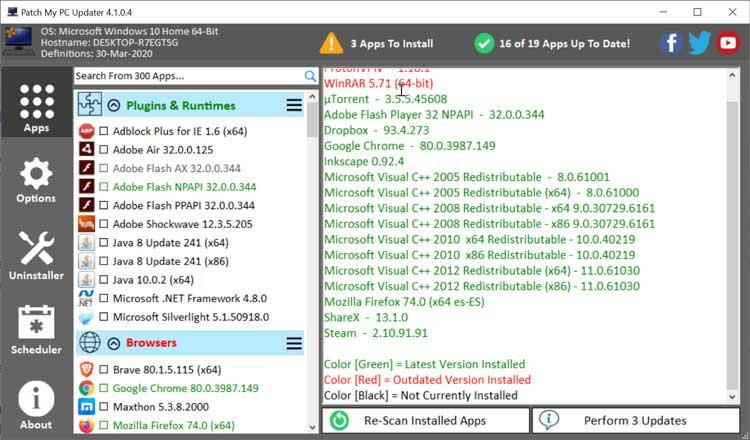 In general, hackers and virus writers are always targeting outdated software to get to us. When a program is not updated, it often contains more vulnerability problems, as well as bugs and performance problems, so it is always a good idea to keep them up to date. Therefore, without the need to pay a single euro, we can take advantage of this interesting proposal and protect our data.
Most important features of Patch My PC
Capable of updating more than 300 applications.
Ability to cache updates.
No bloatware during updates.
The updates are installed silently.
Possibility of carrying out a personalized manual update.
Install 64-bit applications by default.
Quickly uninstall multiple programs.
Set a schedule for updates.
Scan time less than one second.
Update all programs at the same time
This application is simple and suitable for all types of users, from novices to experts due to the facilities it offers us. It should be noted that it has a very easy-to-use and well-structured user interface with tabs that makes it very accessible. Every time we run it, Patch My PC will scan the entire system for programs that may be out of date. This is one of the main advantages that Pach My PC presents us, since this task is carried out quickly and it will show us the results in red, green or black colors. Therefore, so that we can see at a glance what the program communicates to us, here you have it:
Color red programs that are displayed are outdated.
The green color shows the programs that are up to date.
In black programs that are not installed they are displayed.
If we want to update the applications that have been detected at that time, we can select one at a time or all the applications that are in red and click on the Perform Updates button . This will automatically allow the program by itself to proceed to download and carry out the corresponding updates.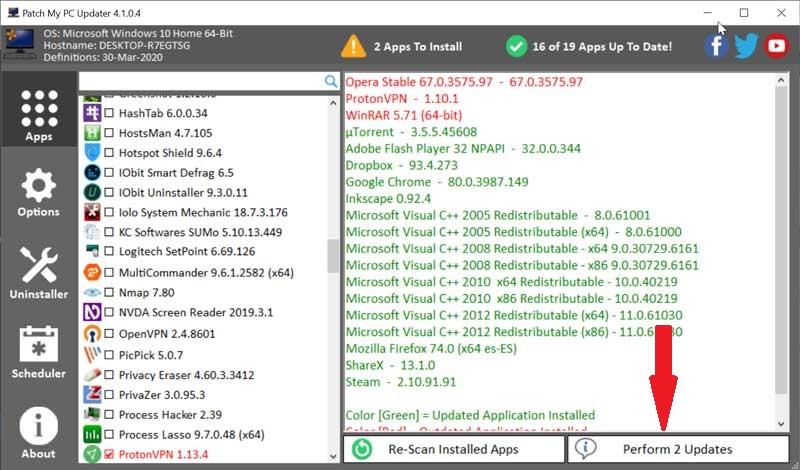 However, the application will not start to update all the programs automatically, since we will have to manually order the ones we want to update. We will have the option to install several updates at the same time, and to avoid risks, Patch My PC will allow us to create a restoration before starting.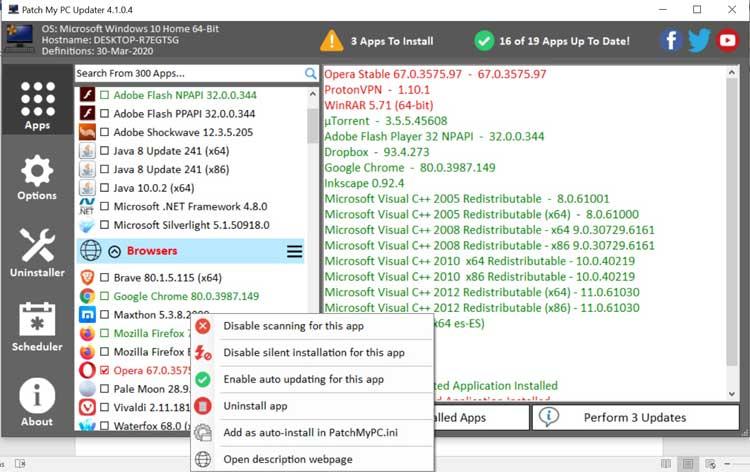 Additional program functions for updating software
In addition, with this application we can enable or disable any third-party software that runs automatically when we start the operating system. As you can imagine, in this way what we achieve is that Windows starts up faster, in addition to freeing up system resources. On the other hand, it is also possible to completely uninstall the application in question that we choose if we do not want to have it installed for a longer time.
We just have to click on the corresponding software indicated with the right button and a contextual menu will appear. From there we select "Uninstall app" so that the program is in charge of removing it from our computer and thus freeing up some disk space.
Its main drawback is that it is only capable of updating a software on its list, which although it is extensive, it may be that a good part of our applications that are not too popular are not in it, so it would not be detected or taken care of. update it. Even so, its library of updates is constantly expanding so in time they will be compatible applications.
Download Patch My PC
Therefore, if you want to keep all your PC software updated at all times, we will tell you how to download Patch My PC. First of all, as we mentioned before, you have to know that this is a free and portable application . All this means that it will not be necessary to carry out any installation on our computer, which is an advantage on many occasions. We just have to download it from this link and run it in Windows in a conventional way.