Applications
There is life beyond outlook, try these workarounds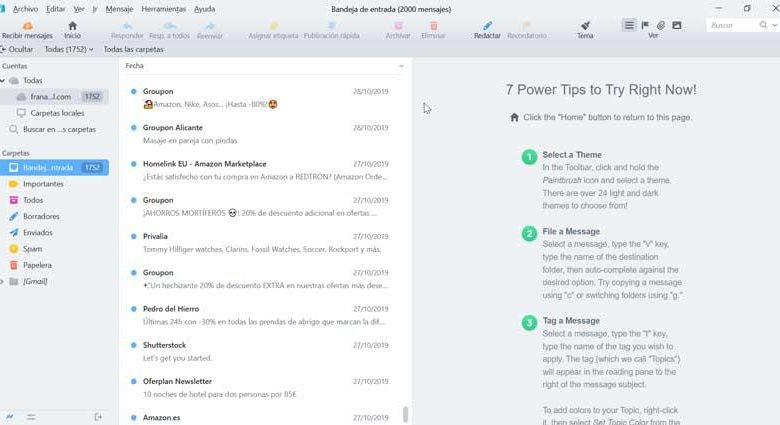 If for work, study or simply because you are used to receiving many emails, you may know Microsoft Outlook, a very powerful email manager, with many functions, which is used, especially within the professional and business environment. But this does not mean that it is the only option, so today we are going to talk about the best alternatives to manage our mail that we can find.
Outlook, one of the most popular email managers
If there is a well-known and popular email manager, it is Microsoft Outlook. This software is part of the Microsoft Office suite, although it can be used as a standalone tool. Its origins date back to 1989 with the launch of its first version that has been gaining countless improvements over the years.
With Microsoft Outlook we can manage several email accounts from one place, since it allows you to synchronize several email accounts such as Gmail or Hotmail, as well as manage large volumes of email or Customize common tasks in commands with a single click.
This email manager is characterized by being very complete with a large number of extras, since in addition to email, we can manage the calendar, contacts or tasks from the same place, and thanks to its integration with Office, it allows sharing attachments from OneDrive .
On the contrary, having an email client with so many options and possibilities that we may not use can give the user a too loaded vision. In addition, it is a payment application that is not available to everyone. That is why today we are going to see the best alternatives to consider if we want to replace Outlook with a similar tool.
Free alternatives to Microsoft Outlook
When choosing an email client, it is not necessary to opt for Outlook. Fortunately, there are free alternatives on the market with which to perform functions similar to those found in Microsoft software. Therefore, if we are looking for an email manager without having to pay, we can choose the following options.
Mozilla Thunderbird, open source and customizable email manager
We are before an email manager that is characterized by being free, open source and multiplatform, which provides the same features as Microsoft Office and is also free so it is a great alternative. Thunderbird is highly customizable, since it has different add-ons such as extensions and themes with which to change its appearance immediately. It has interesting functions such as its address book, attachment reminder, a quick filtering toolbar that will allow us to instantly separate our mail, supports multiple accounts, and also allows email encryption to improve our privacy.
Mozilla Thunderbird is a completely free application , compatible with Windows and Mac OS that we can download directly from its official website .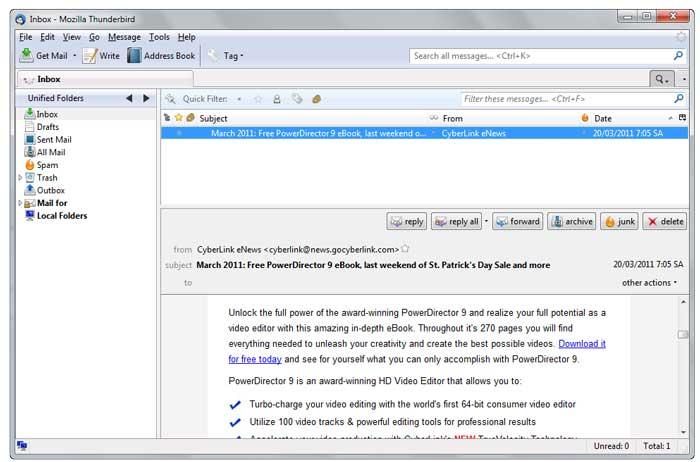 Claws Mail, mail manager and news reader, all in one
This application acts as an email manager and a news reader. It is free and open source, with extensive configurations and rich features to become an alternative to Microsoft Office. Mail can be stored in MH mailbox format and also in Mbox format by using a plugin. Of its characteristics, it stands out for its security (GPG, SSL, anti-phishing), for having templates, folding quotes, customizable toolbar and the possibility of searching and filtering . In addition, it has an RSS aggregator, calendar, Anti-spam and has the possibility of importing and exporting emails with ease.
Claws Mail is a free email client , compatible with Windows and Mac OS operating systems, that you can download from its website.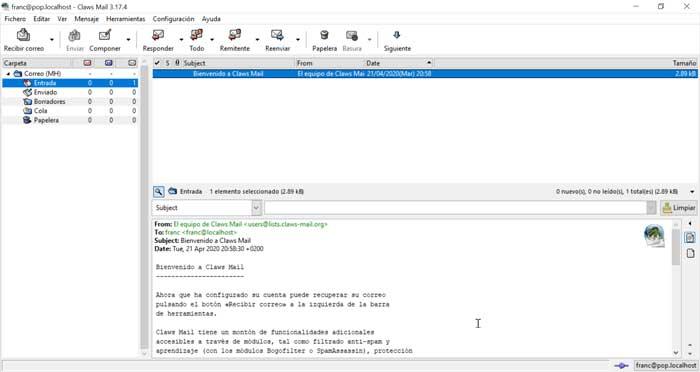 Windows 10 Mail and Calendar, Available by Default
Windows 10 also has its own email manager, designed for both personal and professional use and being compatible with Office 365, Exchange, Outolook.com, Gmail and Yahoo, among others. Its interface is simple and elegant with which we can work comfortably. It has a wide support calendar to organize and manage a tight schedule. It also has the ability to design email messages by integrating Microsoft Word and we can download and save all the attachments of an email in one go.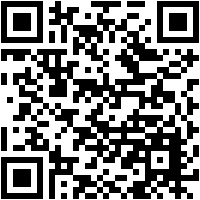 Developer: Microsoft Corporation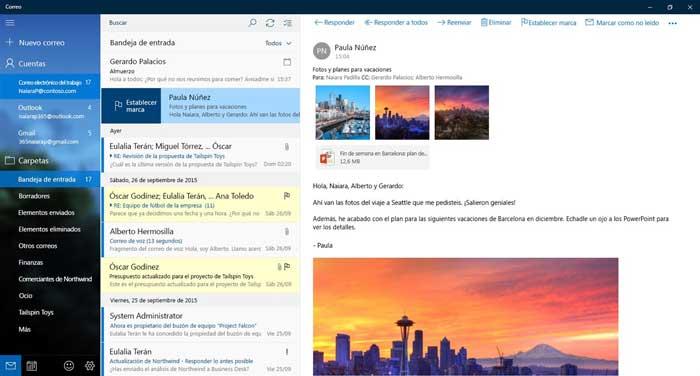 Gmail, one of the most popular email clients with a wide variety of options
It is one of the most popular email clients in the world, and it can be used as a great alternative to Microsoft Outlook. It has the advantage that we can access it from any computer without having to install an application on the computer. It has full integration with the most popular Google applications, such as Google Calendar, Google Drive or Google Photo. It has the ability to organize your inbox, separating promotional emails and messages from social networks in separate folders. It also has filters and labels to keep our communication organized and, in addition, it includes advanced search functions in the inbox. The option to create reminders is not missing being able to view messages without the need to open them, offline mode, postpone messages, among others.
Gmail is a completely free email client, which we can obtain by accessing its website .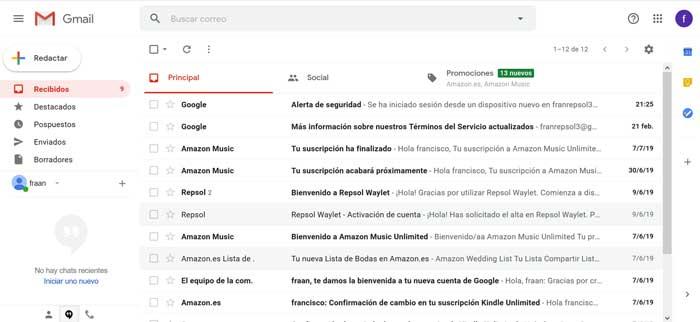 Nylas Mail, open source and multiplatform email manager
It is one of the best email platforms, being open source and cross-platform. It has an intuitive interface that is easy to use and configure with a certainly attractive design. It even allows us to install plugins to translate emails in another language. It includes the possibility of incorporating different signatures when answering an email, and functions such as Link Tracking, which will help us to know how many times the contact clicks on the sent link, or Open Tracking, which allows us to know how many times the sent email has been viewed.
Nylas Mail is compatible with Linux, Windows or Mac operating systems and is completely free. It can be downloaded from its official page .

Payment alternatives to Microsoft Outlook
In the event that we are looking for an email manager and we do not mind paying for a quality and professional program, we can also find different alternatives to Outlook. In general, and even being paid, we will have the opportunity to try them for free through a trial period. In this way, we can evaluate the product before going to the checkout and in this way know if it really suits our needs.
eM Client, a mail manager similar to Outlook
This email client has mail management similar to Microsoft Outlook, which makes it an excellent alternative. It has a modern and easy-to-use interface that we can master without many problems and that we can customize to our liking. In addition to the email functions, it also offers us calendar, tasks, contact and chat . It is compatible with the main services like Gmail, Yahoo, Exchange and iCloud. It also has a super fast and customizable search to always find any mail or file in the most productive way.
This manager has a free version with limited functions since it only allows you to manage two accounts and that we can download from its website. We can also buy the eM Client Pro license that includes all its functions for $ 49.95 . This application is compatible with Windows and Mac OS operating systems.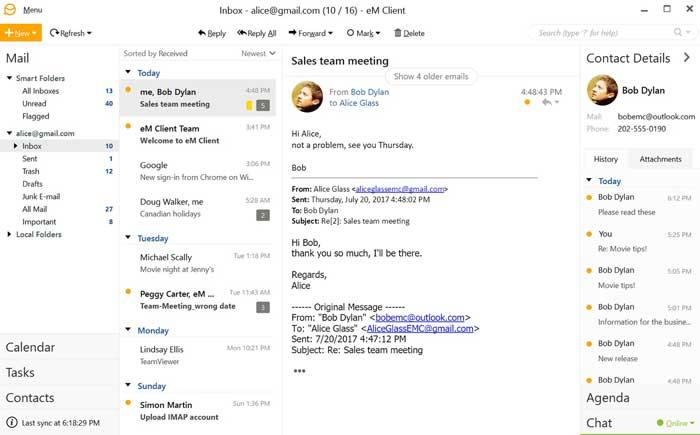 Mailbird, configure different accounts and profiles with great loading speed
It is an email manager with which we can manage different email accounts (IMAP, POP3 and Exchange) and configure different profiles, becoming a good alternative to Microsoft Outlook. It stands out for its simple and minimalist design and its high loading speed. It has full integration with messaging tools and social networks such as WhatsApp, Twitter or Facebook, as well as with task managers such as Asana and Evernote, or calendar such as Google Calendar. We will have the ability to search for attachments using keywords, as well as preview them before downloading. It also allows adding keyboard shortcuts and has support for 17 languages.
Mailbird has a price of 2.42 euros per month billed for years or the license can also be purchased for 65 euros . For companies it has a cost of 3.75 euros per month billed annually. We can test it for free by downloading it from its official page . It is available for Windows, Mac, iOS, and Android.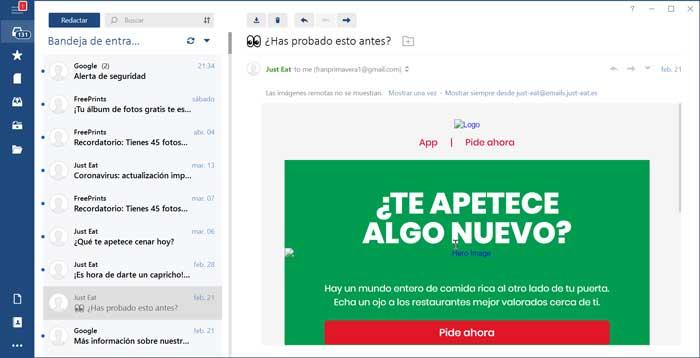 PostBox, allows you to manage different accounts safely
This is an email client for those who need to go beyond the basics. It is compatible with IMAP, POP and SMTP emails, so it allows us to manage accounts such as Hotmail, Yahoo !, Gmail AOL, Outlook, Office 365, ProtonMail, among others. It also allows us to organize our messages by topic and tag them, as well as archive or edit our messages. The security is one of its strengths, offering protection against malware, Trojans, spyware and anti-phishing updates quickly every 30 minutes. It also offers a very efficient mail search bar, as well as the ability to install Thunderbird extensions.
PostBox is compatible with Windows and Mac OS computers and we can acquire its license for $ 39 or a one-year period for $ 19. We can also try it for free for 30 days, for this download it from its website .