Applications
There is life beyond adobe acrobat, pdf shaper free trial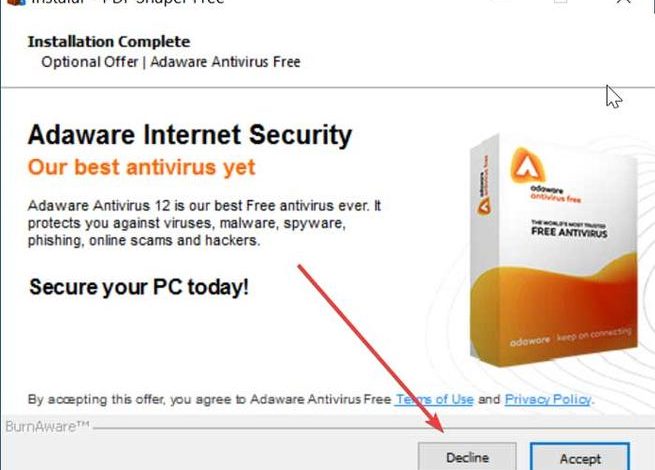 Files in PDF format have been with us for many years, as they are increasingly used for both home and professional use. Its main virtue is that they never lose their shape whether we download it from a web or if they are sent to other people. In order to work with them, we will need to have a suitable program for this, such as PDF Shaper, about which we will talk next.
Portable File Document is its official definition, although we all know it by its abbreviation, PDF. This format created by Adobe in the early 90s and released in 2008 has become an increasingly used format. It is a type of document that has the ability to contain texts, graphics, forms, signatures, web pages and multimedia elements. When it comes to choosing a program to edit, Acrobat is the most popular, but not the only one. That is why today we are going to talk about an excellent alternative, which has a free version such as PDF Shaper.
To speak of PDF Shaper is to make it of a program with which we can carry out any task related to files in PDF format. It includes a wide variety of functions with which we can perform all kinds of tasks such as dividing, merging, adding watermarks, converting, encrypting, adding pages, extracting text and images, etc. In short, we can edit or create PDF files from scratch and perform multiple tasks on them, without having to resort to other applications.
Despite what it would make us think due to its large number of options, this tool is optimized for a low consumption of our CPU, which allows us to process several PDF files while doing other work with our PC. Among its wide variety of features, we can highlight its command line support, its capacity for batch file processing, support for ORC and multiple digital signatures, as well as its compatibility with Unicode.
Perform all kinds of functions with a single tool
Once we run the application we find its main menu, where a more than remarkable user interface stands out : clean, efficient, easy to use and translated into Spanish. At the top it has the classic toolbar organized by tabs, while, in the left column, we find direct access to all its functions organized by categories: "Convert", "Document", "Security", "Pages "," Extract "," Delete "and" Watermark ".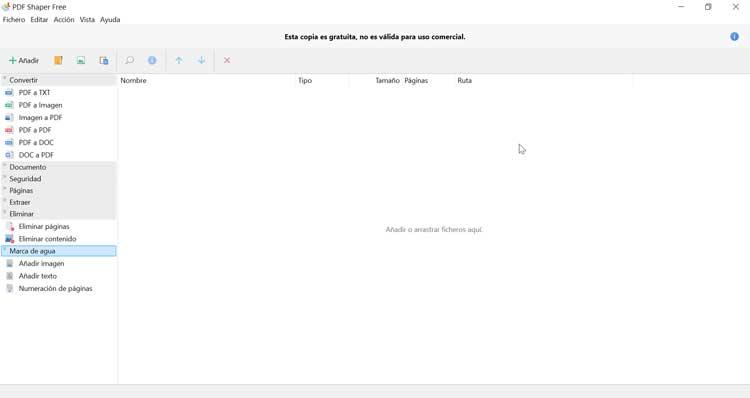 In the Convert section , we can transfer files from one format to another. We have the possibility to go from PDF to TXT, PDF to Image, Image to PDF, PDF to PDF, PDF to DOC and DOC to PDF. For the Document section, we will have the possibility to Merge, Divide and Rename any PDF file. For its part, in the section related to Security, we can Set a password, Decode, Edit the metadata and Add signature.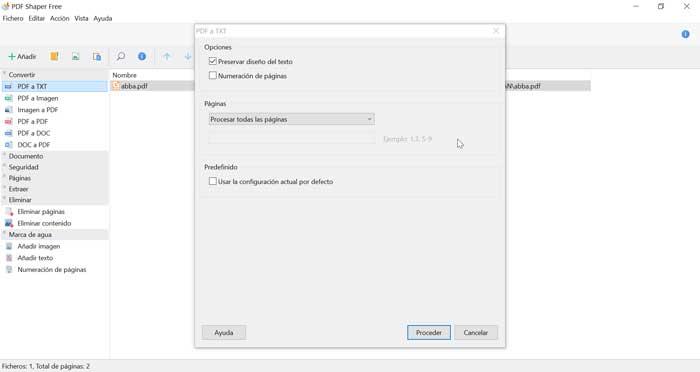 Next we find the Pages section , from where we can Rotate pages, Crop pages, Insert pages and Move pages. Later we find the functions related to Extract . From here we can Extract text, Extract text (OCR), Extract text (CSV), Extract pages and Extract images. Finally, we find the Delete sections , where we can delete specific pages or content and the Watermark option. Through it, we can add a watermark to an image, a text or a page numbering.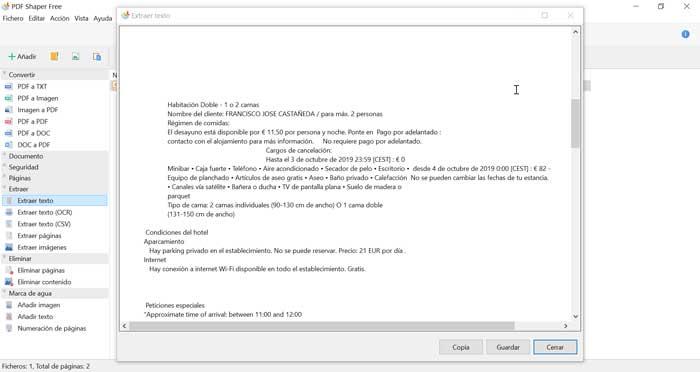 Once we know all its functions, it is enough to add the PDF file on which we want to make modifications. For this we will use the Add button located on the left side of the toolbar. Once we have added it, we only have to click on it to mark it and then choose one of the functions that we find in the left column to carry them out.
Download PDF Shaper for free
PDF Shaper has three versions available, so that we can choose the one that best suits our needs. Its free version is available for download from its website . The program offers full compatibility with Windows since we can use them in XP, 7, 8 and 10 in 32 and 64-bit versions . Its installation is very simple since it is done through its assistant. What we do have to bear in mind during the installation is that it will try to get us to install two additional unwanted softwares before finishing, so we must be careful not to install them if we don't need them.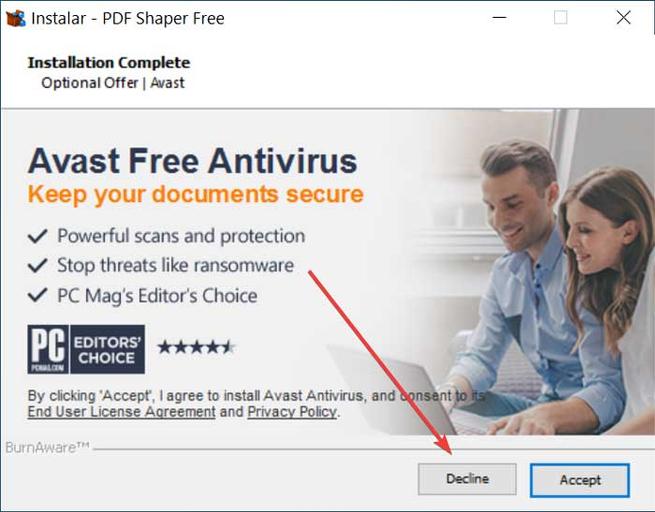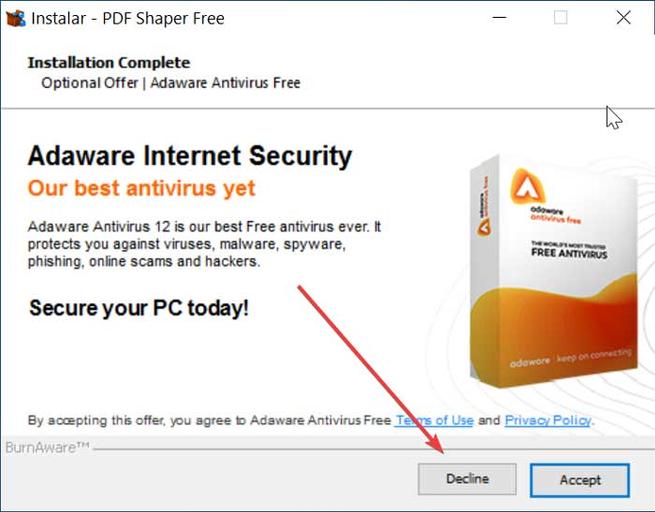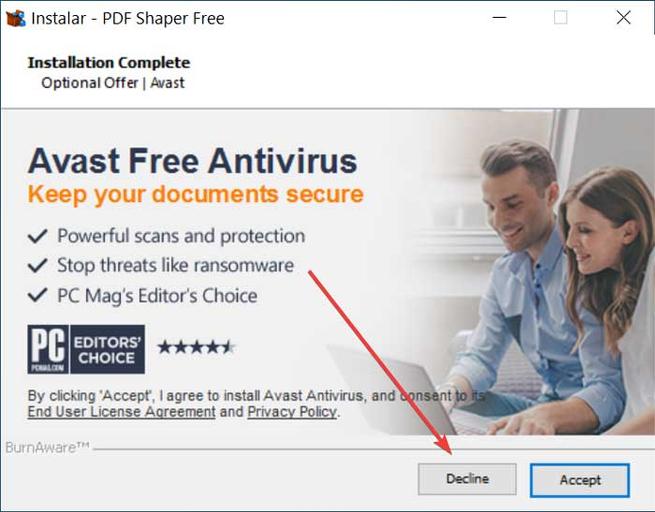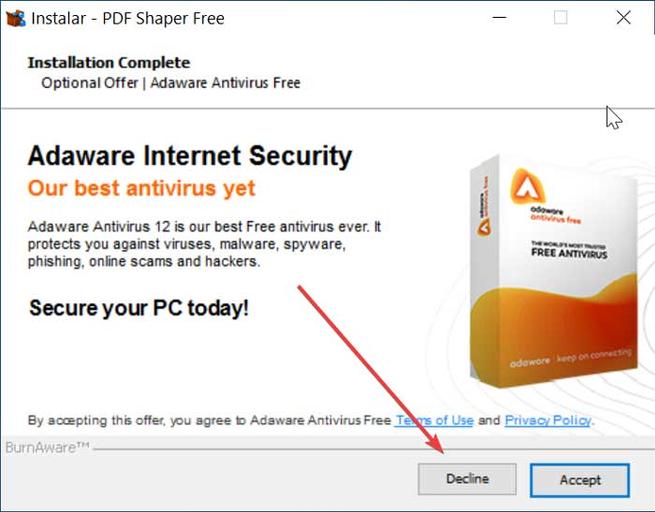 Along with the free version of PDF Shaper, we will also find two paid versions, PDF Shaper Premium and PDF Shaper Professional. The free edition offers us the most used PDF tools and is suitable for basic tasks for use by home users. The Premium version expands all the features of the free edition with various additional tools and options geared towards advanced users. Its price is $ 29.95 . Finally, the Professional edition is the most complete set where we will find all the PDF tools, including the OCR scanner or the PDF viewer and is allowed for commercial use. It is priced at $ 49.95.
Other alternatives to edit PDF
In the market we find a good number of applications to edit PDF, for which we propose some alternatives to PDF Shaper.
PDF BOB
It is an online tool for PDF with which we can add text to our documents. It includes other tools such as highlights, rectangles, circles, lines, and arrows. It is compatible with JPG, SVG or PNG among other formats. PDF BOB is a free program that we can use by accessing its website .
PDF-XChange Editor
This PDF viewer and editor is characterized by its small size, speed and large number of functions. With it we can create, view, edit, annotate and digitally sign all types of PDF files. PDF-XChange Editor can be downloaded for free from their website for home use.
PDFsam Basic
If we are looking for an open source, free and multiplatform program, PDFsam Basic is a good option. With it we can divide, merge, extract pages and rotate documents in a simple way. In addition, it has the possibility of joining or separating elements of a document. We can download it from this link.