Applications
The best programs and websites to make video calls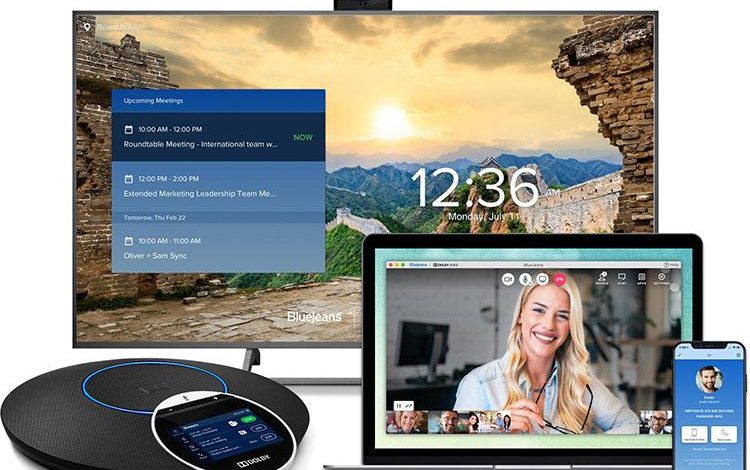 With the arrival of the coronavirus and confinement in our home, teleworking has been the most used method by some companies to keep their employees working from home. The video conferencing or video calls,  have been a great solution to maximize working time and to hold meetings comfortably via Internet.
Video calls facilitate working from home making it much more productive, since having eye contact with other users makes the conversation more meaningful so that we can understand and communicate more easily. In this way we will be able to be focused and keep our attention to the problems to be solved and create a dynamic of rapid and frequent exchange of ideas.
In many programs and web applications for video calls we will have the opportunity to invite a large number of people, so it becomes the easiest way to gather a certain number of people in the same place.
Therefore, today we are going to talk about the best websites and programs with which to make video calls.
Skype
Without a doubt, Skype is one of the most widely used video calling tools in the world, both for personal and professional purposes. Developed by Microsoft, with it we can make high definition audio and video calls, as well as record calls to capture special moments, and make group video calls with up to 50 people .
With this tool we will not only be able to make videoconferences from the computer, but also from the mobile or tablet, since it is multiplatform and has a version for mobile phones and tablets, both on Android and iOS. It offers great quality of both HD video and sound during video calls, and these are highly secure.
Using Skype is free and we can download it from its official website . With the free version we can make video calls with up to 10 people at the same time.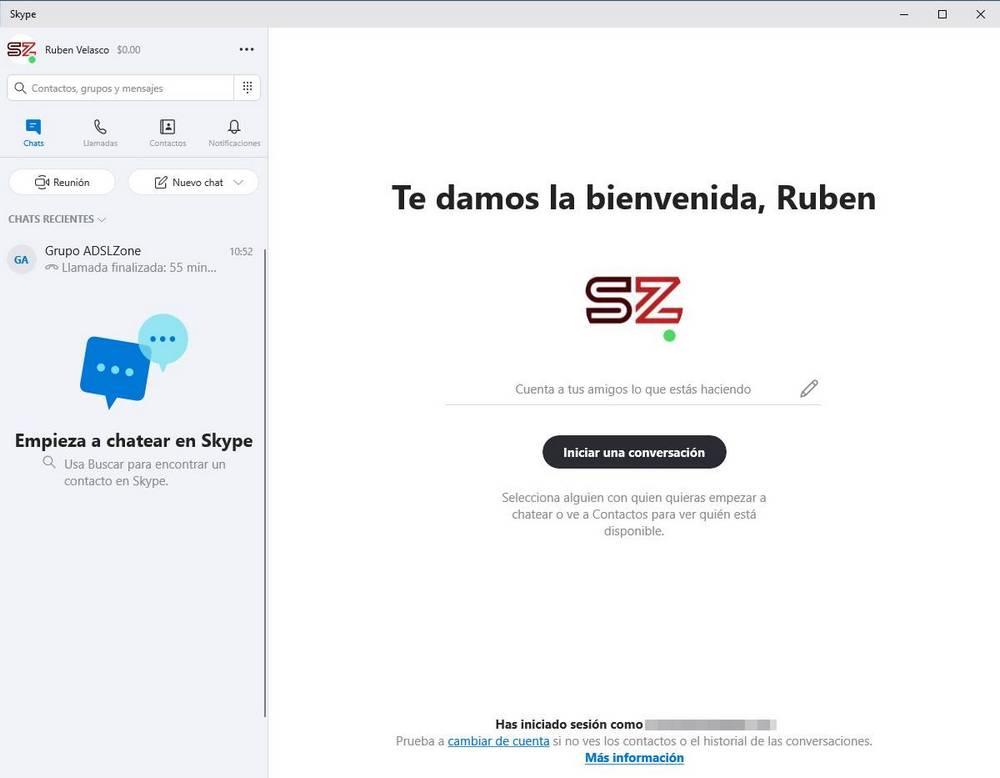 Jitsi
It is another web application with which you can make videoconferences. It stands out for having options such as sharing our calendar, it has a split screen view, as well as a side chat with which we can exchange messages. It is a multisystem service so we can access it from a computer with Windows, Linux or Mac OS and on mobile devices with Android or iOS.
We also have the ability to share documents with the contacts we want and even stream from YouTube . Another of their strengths is privacy, since they are responsible for encrypting video calls point by point
Jitsi is a free and open source application, so to start using it you only need to access its website .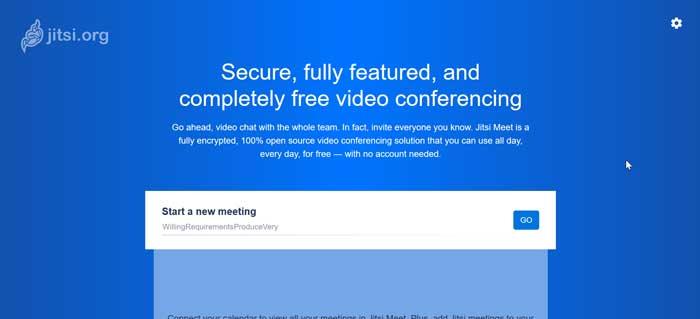 Meet Now
The latest versions of Windows have included a new feature designed to make video calls faster than ever, and without complications. We have surely seen a new icon in Windows 10, next to the system tray, in the shape of a camera. If we click on it we can organize a video call without having to download anything to the PC, and also without subscriptions or payments. Meeting now is the fastest way to connect with our friends and family, although it may be somewhat limited for the professional field.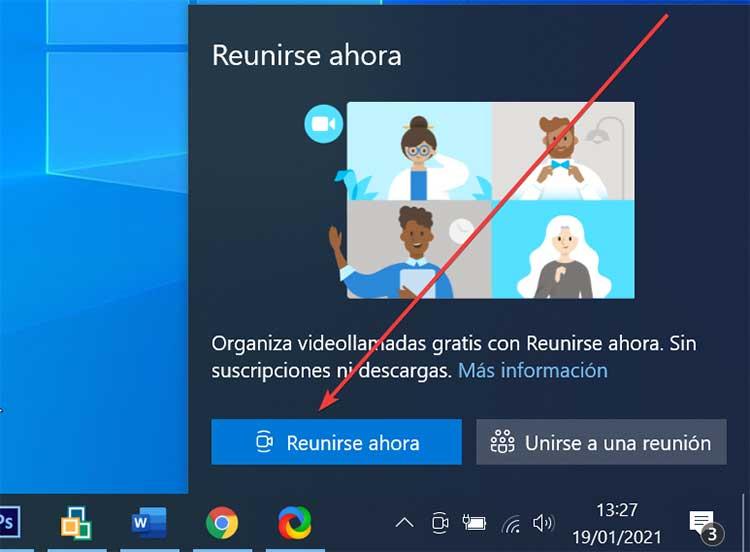 ooVoo
Another messaging and chat application with which we can make live video call sessions with up to 8 people and up to 12 in the chat. It is cross-platform, since it can be used both on computers with Windows and Mac OS as well as with mobile operating systems such as Android and iOS.
It has an easy-to-use interface and great quality and stability in both audio and sound, allowing you to record calls in real time, as well as configure the system's headphones and speakers. It also offers the ability to make video-free calls, text messages, and file transfer.
Using ooVoo is completely free and you just have to download it from its official website .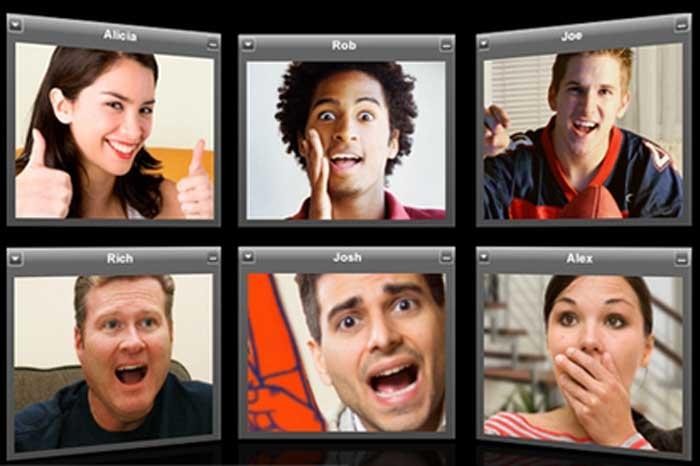 Hangouts
This is Google's messaging service, with which we can start conversations with one or more contacts at the same time through videoconferences with groups of up to 10 people .
It stands out for the synchronization of calls since it allows us to start a conversation on the computer and end on a mobile or tablet. Every time one of the participants starts speaking, the Hangouts window changes to the user who is speaking.
The web version of Hangouts allows us to use the application for free without installing plugins. You can start a video call with Hangouts by accessing their website, and accessing each participant with their Gmail account.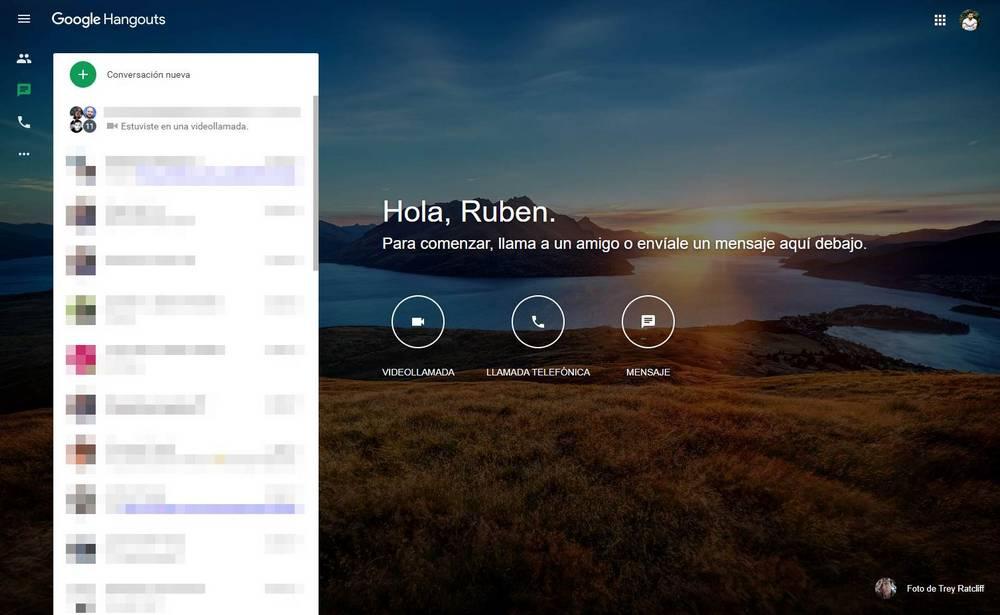 Zoom Meeting
It is a very popular application for making group video calls, as well as voice calls and chat. It has an HD image quality up to 720p, record sessions to watch them later and synchronize them with the calendar. It is compatible with computers that have the Windows or Mac OS operating system, as well as Android and iOS mobile devices.
Zoom allows video conferencing with up to 500 participants . Group chats have a searchable history, file sharing and storage for 10 years, making them an excellent option for large companies. It also has the possibility of establishing individual meetings, as well as sharing screen with large groups so that they can see what we see.
You can use Zoom Meeting for free by accessing their website. This free version is limited to 40 minute sessions and does not allow recording options. It also has different payment options starting at $ 14.99 per month.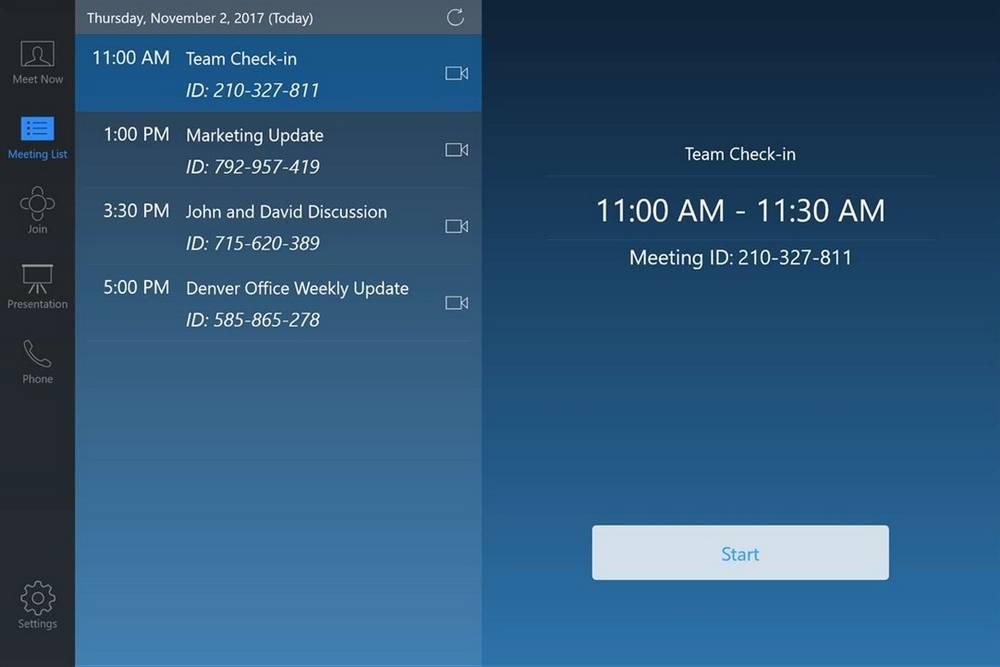 GoToMeeting
With this application we can join, organize and immediately manage a video or audio meeting from a computer or mobile device, with the possibility of sharing screen, in a room with up to 250 people, being compatible with high definition video.
Meetings with GoToMeeting can be personalized so that it never changes, so that we can easily schedule and attend meetings. It has single sign-on (SSO) as well as the ability to lock meetings so that no one else can access.
GoToMeeting can be tried for free for 14 days by accessing its platform. In case you want to access all its functions, we will have to pay a monthly fee of 12 dollars.
FreeConferenceCall
It is a free tool for online conferencing and collaborations, offering high definition audio and online meetings for screen and video sharing to reach 1000 meeting participants .
Each FreeConferenceCall account includes unlimited conference calling, screen sharing, video calling, recording and security features, calendar integrations, and mobile app support.
FreeConferenceCall is a completely free web application, so it is only necessary to access and register to benefit from all its advantages.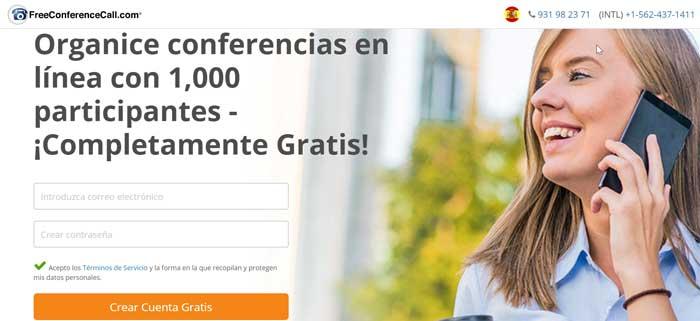 I grumble
If you want to make safe and anonymous calls from your web browser, Gruveo is a great option for this, since it does not require registration or download applications. It is compatible with Windows and Mac OS computers, as well as mobile devices such as Android and iOS.
This application has a split screen function and allows us to exchange messages using a chat from within the calls. In addition, it has group calls, the possibility of recording in HD, as well as queue calls.
You can try Gruveo for free for the first 45 days by accessing its official website. Subsequently to continue using the application it is necessary to pay $ 29 per month, being possible to cancel the subscription at any time.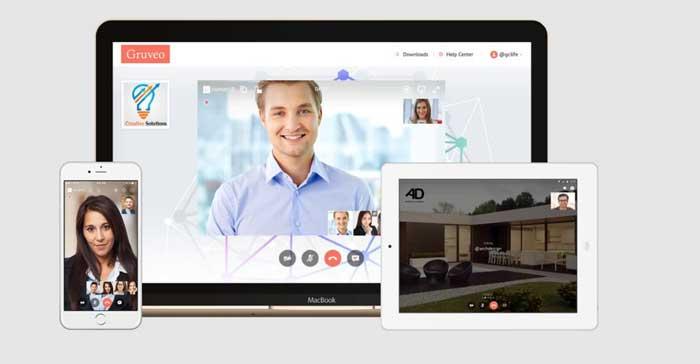 Adobe Connect
It is a web conferencing program with which we can organize online meetings, e-learning and webinars. This application provides several ways to attend remote sessions either from a Windows or Mac OS computer, as well as from Android and iOS mobile devices.
During video conference sessions in the meeting room, participants can share their computer screen or files, as well as chat, stream video and audio, or participate in online activities interactively.
Adobe Connect is available on the author's website, both for Windows and for any operating system.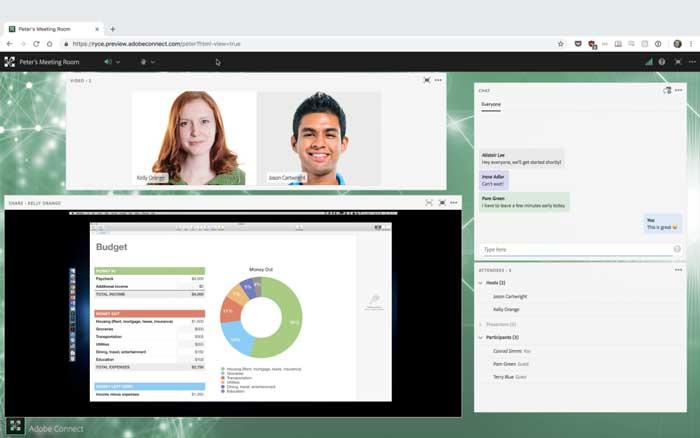 Microsoft Team
We are facing a unified communication and collaboration platform that combines video meetings, chat, file storage and application integration. In its origin Microsoft Team is focused on companies, although it is already advertised to be connected with family and friends.
Among its features, it stands out for offering video calls with audio and video in HD, with functions to mention and draw attention to other colleagues in the room, allowing you to save conversations and personalize notifications. It has a complete chat search engine, enterprise-level security, and organizational tools to create to-do lists and assign them to other members.
It is possible to subscribe to Microsoft Team for free through its official page   for domestic use and we can only use it on mobile devices. To use the business version, we must be enrolled in the Office 365 Business Premium package, which has a cost of 10.50 euros per month, or Office 365 Business Essentials, for 4.20 euros per month.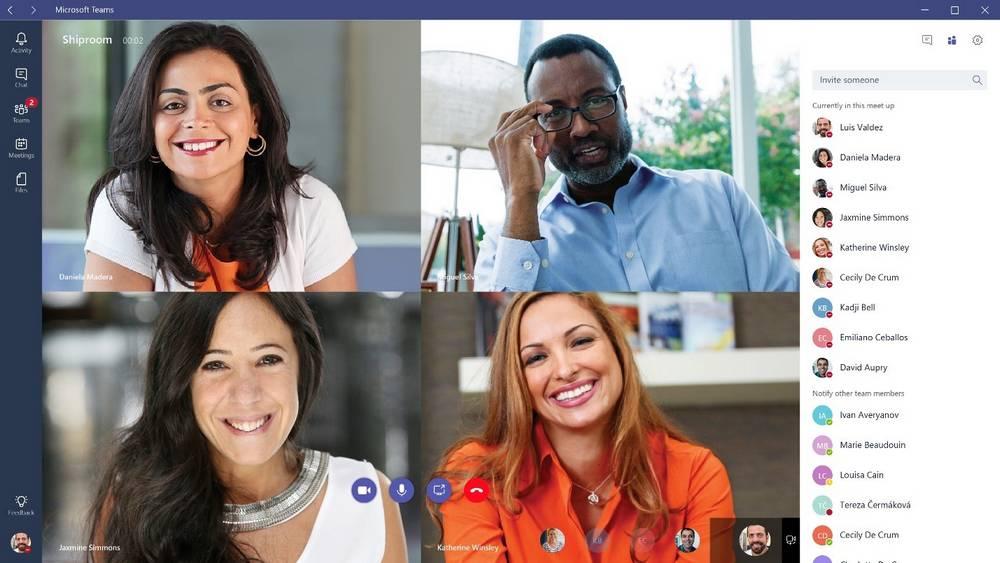 Anymeeting
This web application is a web conferencing service provider suitable for small businesses. Through it we can organize and attend web-based conferences and meetings, so that we can share your desktop screen with other users through your web.
If Anymeeting stands out for something, it is the possibility of connecting up to 200 people in real time in HD quality at 720p, along with a wide variety of available utilities. Being web-based, it does not require downloading any type of software, making it ideal for employee meetings or serving clients anywhere in the world.
Making video calls with Anymeeting is completely free, so we only need to access its official website and register. In the free version it has some limitations such as only allowing four participants. It also has payment options starting at $ 9.99 per month.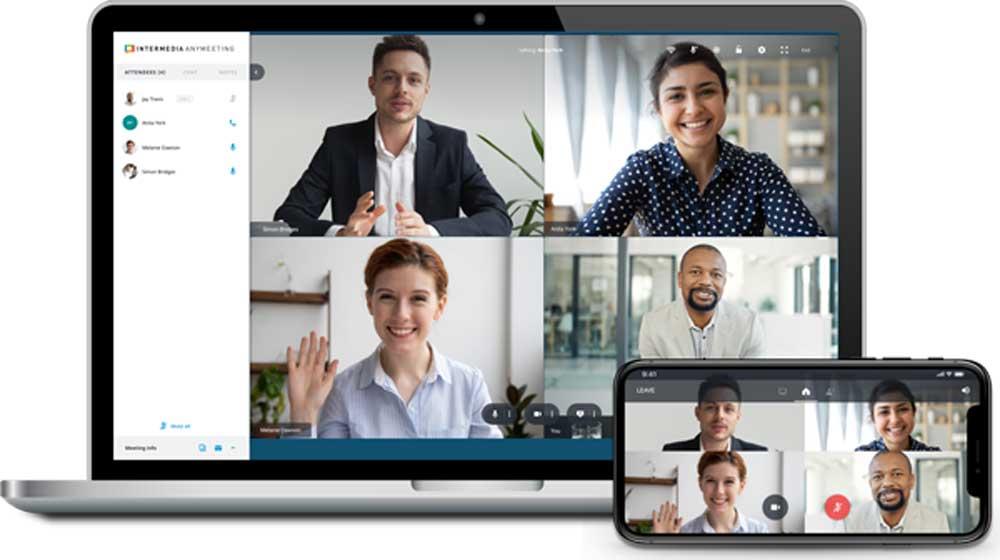 WizIQ
It is a platform aimed at teachers as it includes personalized tools and allows videoconferences via the web. In this way, it allows several people to meet in the same space on the web for their meeting.
This application offers a whiteboard so that it can be used by the teacher or the students, and it has other useful tools such as chat, audio or video. All sessions can be recorded to be consulted later. Facing the business world, WizIQ can be used to have a learning portal for your own employees with features such as a virtual classroom, a course generator or a generator of tests and evaluations.
WizIQ has a free trial version that we can access from its website. The paid version to enjoy all its features is priced at $ 25 per month.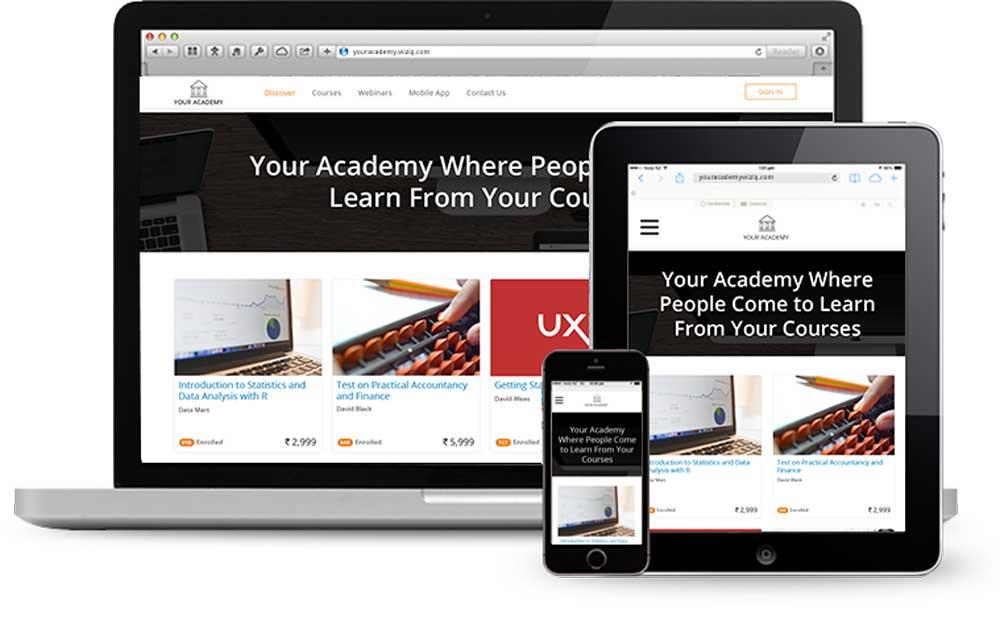 GoToWebinar
It is an application designed to make video calls or online videoconferences, to be able to teach classes over the Internet, allowing us to interact with the people who are listening to us and answer questions at all times. It is also used for Marketing presentations and internal communications to hold meetings with the entire work team.
With GoToWebinar we will be able to carry out a good webinar, since the maximum number of participants rises up to 1000, which increases the possibilities of selling a product or teaching a class, saving the costs derived from giving a face-to-face conference.
You can try GoToWebinar for free for 7 days with up to 100 attendees. The product license can be purchased from $ 89 per month, with annual billing, with its Starter plan. For large companies, it has the Plus plan in which up to 1000 participants can participate, at a cost of 429 euros per month, with annual billing.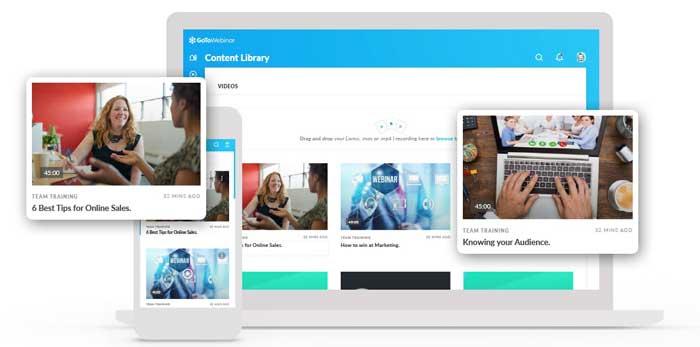 Discord
It is a social application for games dedicated to communicating with teams over the Internet in different cooperative games. It has a version for PC, web browser, as well as for mobile devices. In the server of this program we will be able to create different voice channels with various access levels to group different users.
It has many functionalities such as making video calls with a maximum of 9 people through rooms to organize teams and groups. It also has a low latency voice chat privately, something very important for users in different parts of the world. In addition, when installing Discord, we will have an overlay in some games. This will allow us to modify audio levels and carry out other applications from the same screen.
Discord is a completely free application, and we can access it from its official website .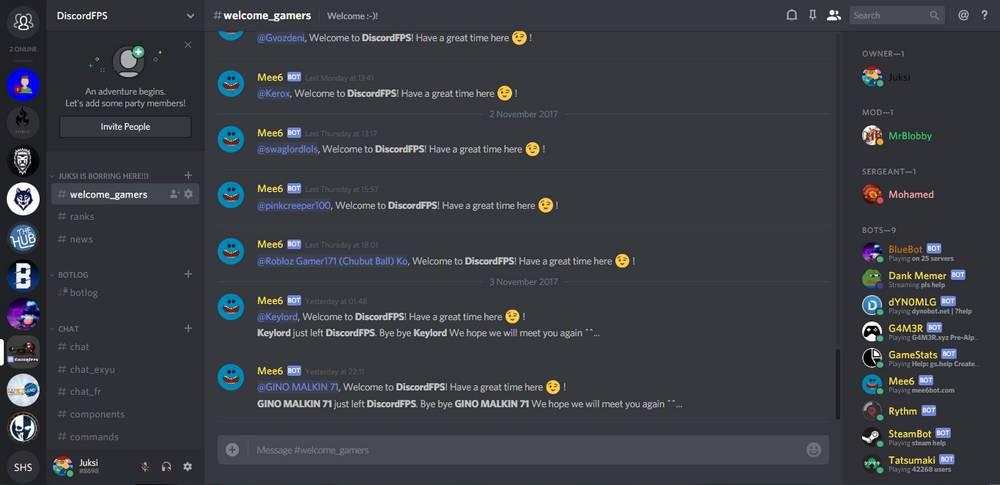 Tox
It is an application with which we can make voice and video calls , as well as write via chat, send files and make shared calls . It is multi-device so we can use it both on Windows, macOS and Linux computers, as well as on mobile devices with Android and iOS. Its main characteristic is security, since all types of communication that we do are secured through end-to-end encryption. In this way, an attempt is made to guarantee that no one else has access to the conversation. Tox does not have central servers that can be attacked, shut down or forced to deliver data, since the network is made up of the users themselves.
Tox is a completely free video calling program that we can download from the developer's page.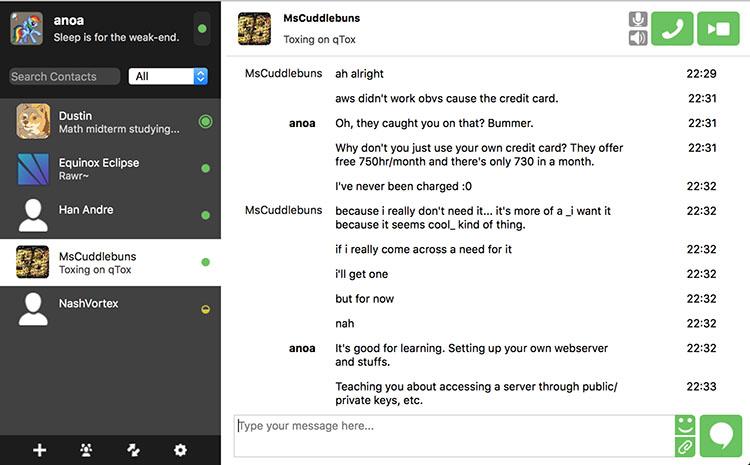 Blue jeans
It is a software specialized in video conferencing and developed for large organizations, small and medium-sized companies and people who need to work remotely in order to attend meetings without having to go to the office. Among its characteristics, it stands out for being a very intuitive and easy-to-use system, which allows you to transmit audio and video in HD . It also allows us to organize and broadcast live events on a large scale and has the possibility of transcribing meetings.
If we want to try Blue Jeans we can download a trial version from their website. To use it permanently we must pay from $ 9.99 per month with annual billing. With it we will have meetings with up to 50 participants and 5 hours of meeting recording.