Applications
That you do not pass even an appointment with these uwp calendars for windows 10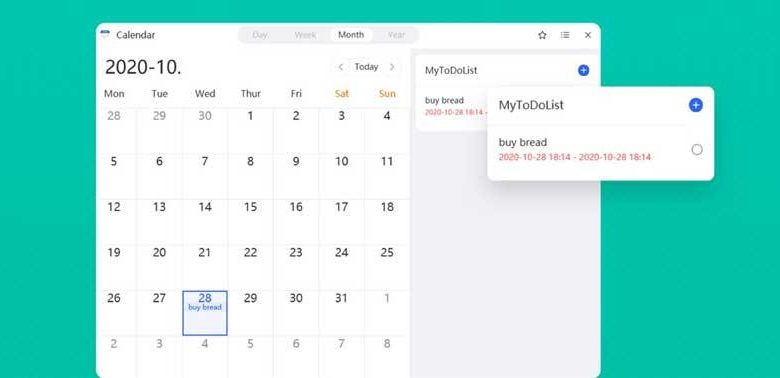 With the busy life we ​​lead today, a good calendar is vital to keep track of our appointments and the most important events, such as birthdays, to avoid forgetting them. The major mobile operating systems, such as Android and iOS, have their own calendars. Windows, of course, also has its own calendar, a calendar that has gained great prominence with the arrival of Windows 10 and that allows us to have all our appointments and events organized.
Calendar is a UWP application for Windows 10 that is installed by default in Microsoft's operating system so that users can write their appointments in it. This application is linked to the Windows Mail application, and in addition to allowing us to create our own local calendars, it is also capable of synchronizing with the cloud. It is an excellent option, for example, to be able to have the Google Calendar on our PC.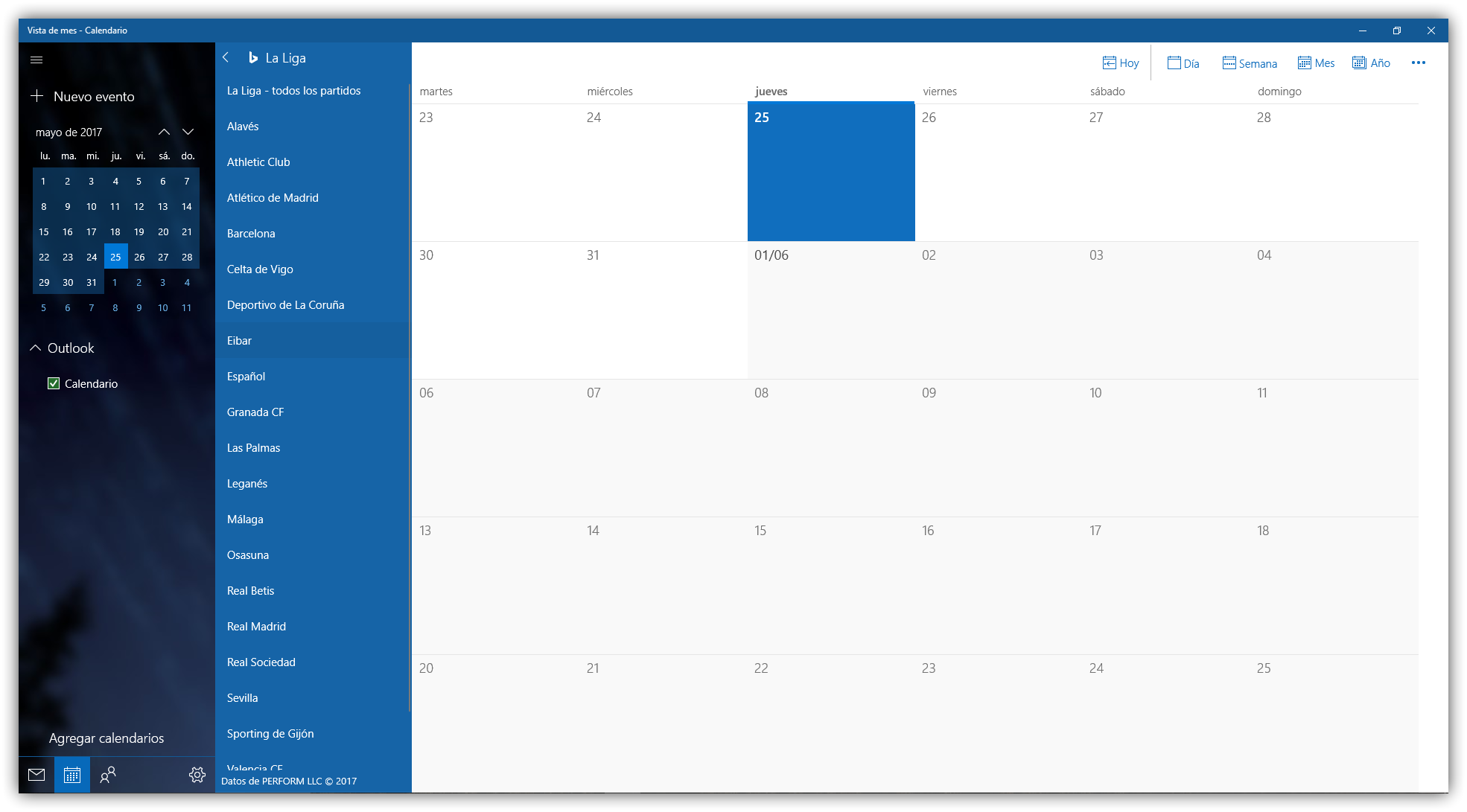 This application is installed by default with the operating system, so we do not have to download or install it from anywhere. Anyway, if for some reason it has disappeared, we can download it manually at no cost from the Microsoft Store.
UWP alternatives to the Windows 10 Calendar that we can find in the Microsoft Store
In addition to the Calendar application, within the Microsoft store we can find a wide variety of calendars for Windows 10. We suggest some alternatives to consider.
EasyMail for Gmail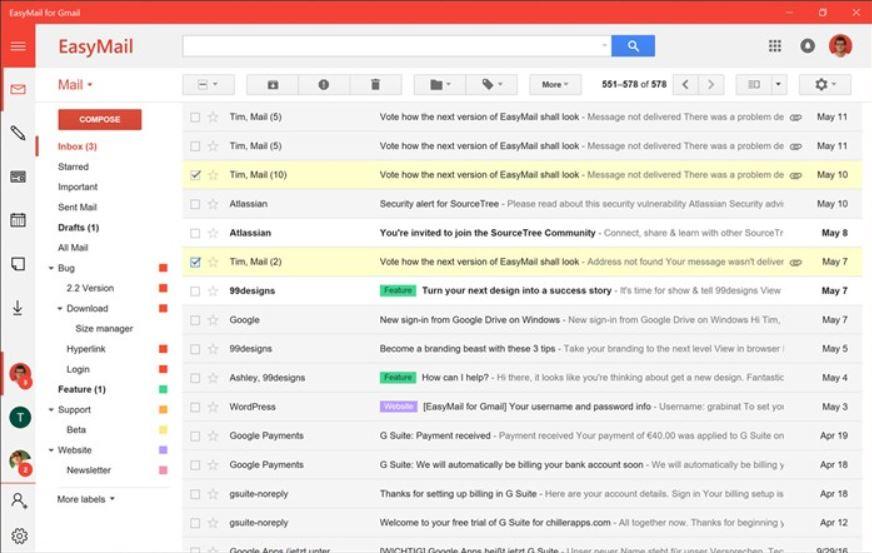 Many of us can see the Mail and Calendar application as one, although they are actually two different applications. So it's only fair to start with a two-in-one alternative like Microsoft's. This is EasyMail for Gmail .
This application allows us to have our Gmail inbox at hand, in addition to being able to see the Google Calendar from within it. In this way, if we are users of Google services instead of Microsoft services, we can have everything much more native without having to go through Microsoft services.
My Calendar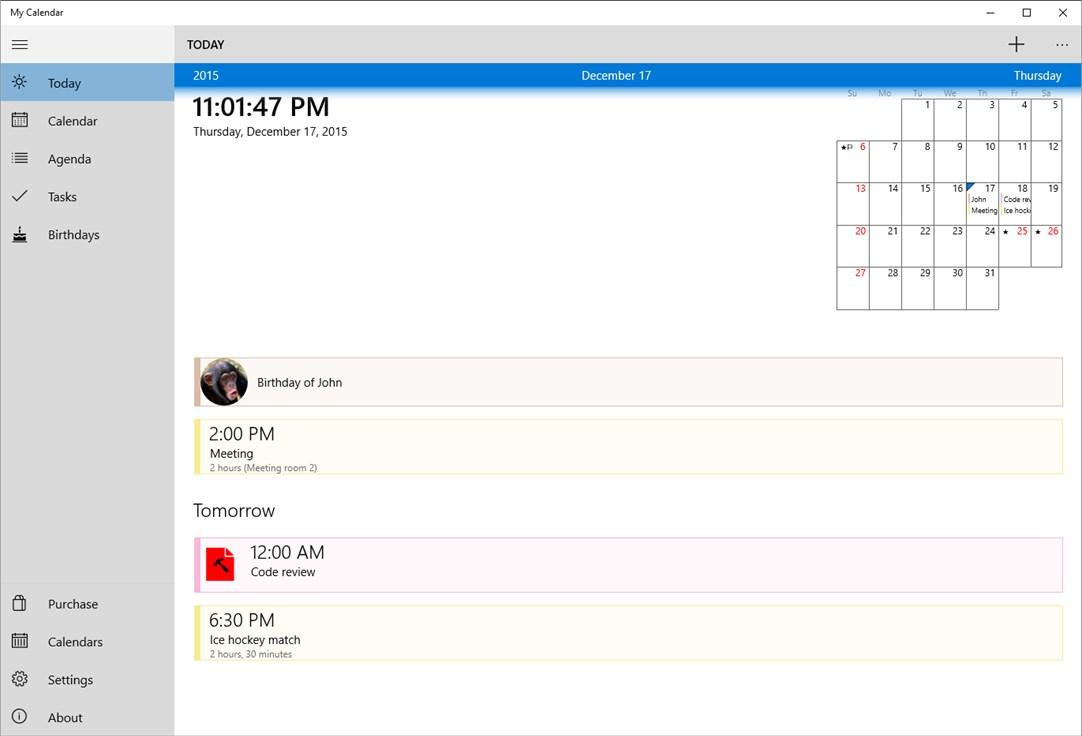 For users who are looking for a calendar with agenda functions, My Calendar is an excellent alternative to keep track of all our events. This application is characterized by being very light and, in addition, it has an agenda view that allows us to see, hour by hour, all the events that we have pending during the day.
This application has a large number of functions and features, in addition to allowing us to alternate between different views and offering us a large number of customization options to adjust the application to our liking. Their Live Tiles allow us to see upcoming events from the beginning.
Good Plan / Good Plan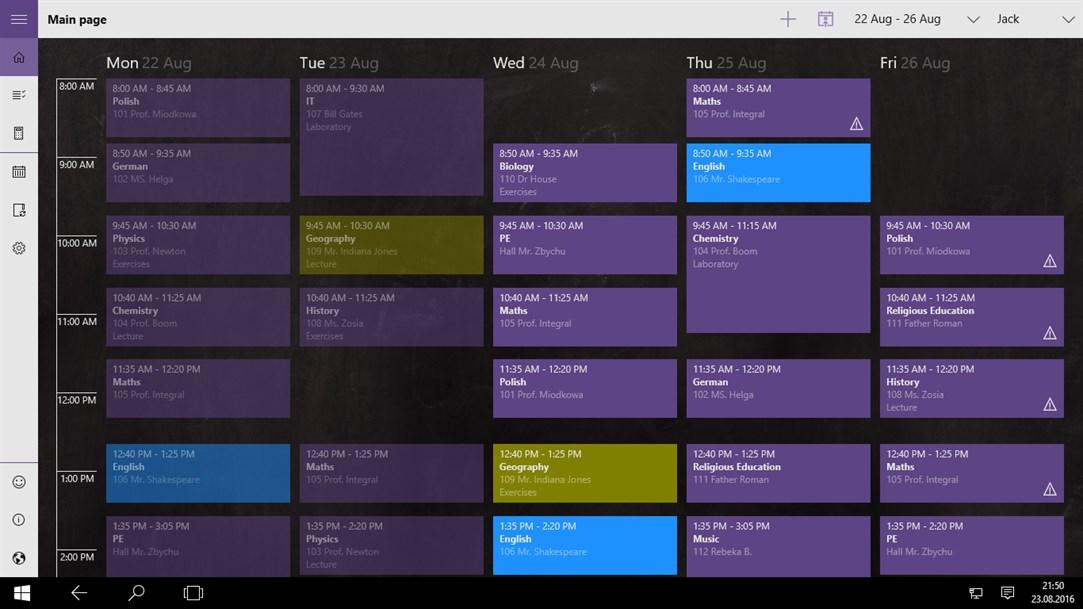 Back to school is around the corner. And the first thing we should start looking for is a good calendar that allows us to write down all our classes, as well as possible exams, homework and other types of tasks.
Good Plan is an alternative to the Windows Calendar that allows us to easily create a schedule on our computer so that we do not miss a single event.
Life and Calendar
Here we are going to talk about a proposal of the same type that serves as a calendar for time management and scheduling pending tasks . Thus, all this allows users to create and edit all kinds of their own events from an affordable and simple user interface. At the same time we will have the possibility to enable reminders for these events with customizable type and time options. We can also add places and other users can be invited.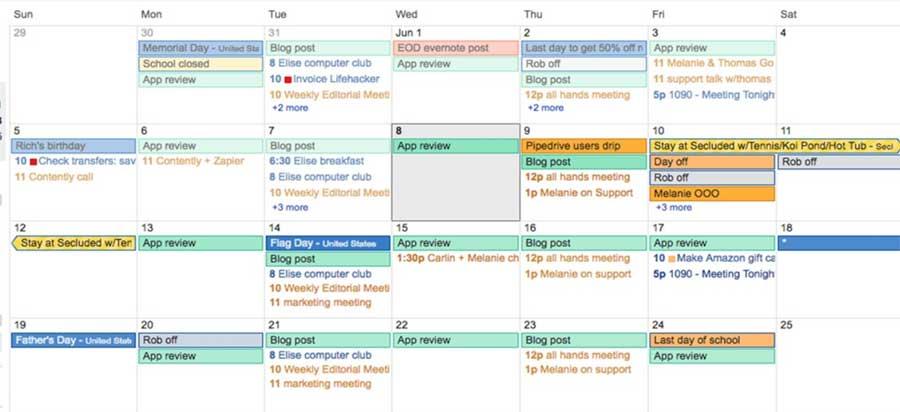 It supports the use of special calendars such as birthdays, since birth dates can be automatically collected from Google contacts. By leveraging the search giant's API , Life and Calendar has machine learning functionality so that Gmail message events are added here on their own.
iPlan Tasks
As we can see, current devices, including desktop computers with Windows 10, are perfect for leading a more orderly life. For this we can use certain software solutions such as those that we are showing you in these same lines. We have already told you about some calendars with additional functions that will be very helpful in these tasks. Well, we can also use iPlan Tasks, another UWP application that allows us to plan tasks in its user interface.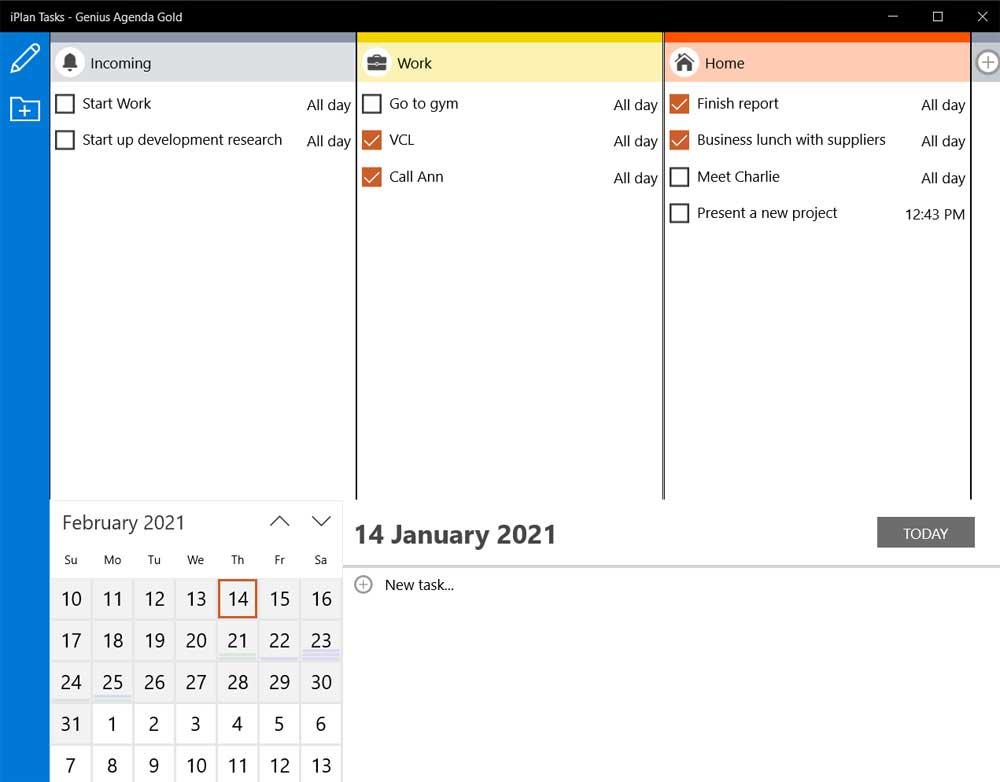 Therefore we can say that we have a tool focused on helping us increase our productivity. This is something that is achieved by being able to capture and translate ideas as well as all kinds of tasks in one place. It is also worth noting that thanks to this application, we can manage everything we have to do through many different tasks. Other functions that we find is with task management, notifications, comments, being able to sort tasks by categories, due dates, etc.
Calendar Live Tile
This proposal that we are talking about now, will be the most appropriate to have our own personal calendar on the Windows start screen . It generates a calendar for a month as a Live Tile application. In this way we will have the possibility to customize the font, size, lines and color of the set, among other things.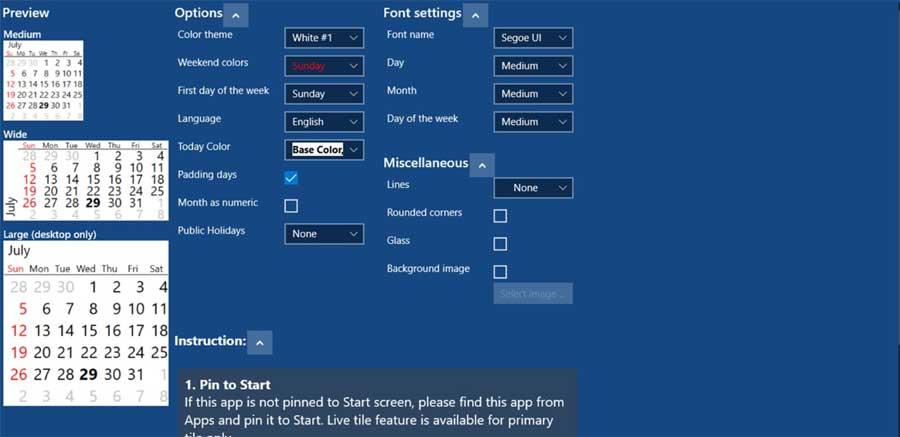 As you might expect, this calendar object we created here will update itself on a daily basis in the background . In this way we will have everything related to this issue in view as soon as we start the PC every day.
Weather Reminder Calendar 2020
This time we are talking about a 2020 calendar for Windows 10 that can be very interesting since it incorporates different extra functions. For example, we can find weather functions, to-do list and reminders. It also has floating desktop windows which will allow us to quickly and easily manage all the information related to schedules. In the event that we want to see all the calendars and see all the established schedules or reminders, it will only be necessary to activate the "day", "week" or "month" view that we find within the "year" view, to add any event that we do not want to forget (reminders, anniversary, birthdays, events, etc). All this from an intuitive interface that provides us with a more than satisfactory user experience.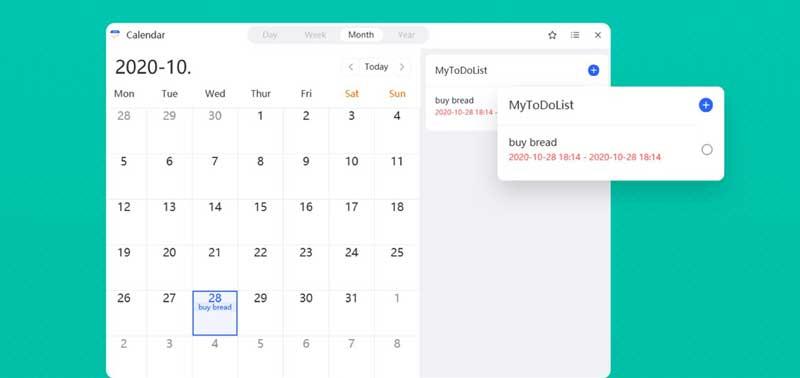 What is the best alternative to Windows 10 Calendar?
As we can see there are a good number of alternatives to the popular Windows 10 Calendar that we can find within the Microsoft application store. All of them are free, so we can test each one of them to see which one best suits our uses and needs. When it comes to highlighting one over all the others, we may stick with the My Calender, given its large number of functions, features and customization capacity, allowing through its Live Tiles to see the events that we have added from the Start menu.