Applications
Take care of the security of your personal data using good passwords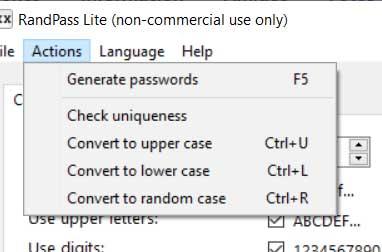 Everything related to security in these times is basic, largely due to the personal and sensitive data with which we deal. Therefore, certain precautions must be taken in order to protect them, as happens with the use of programs such as RandPass .
Keep in mind that there are certain applications that can be extremely useful at this time, as in the case that we are going to talk about. This is basically because having a strong and secure password is very important today. The reason for this is that we have more and more accounts, data and devices that we must protect so that no one can access all of it.
Therefore, at this time, a good part of the users are aware of the importance of having certain access codes that protect them from intruders. But they always meet the necessary measures or requirement.
Advantages of using RandPass to increase security
Due to everything discussed so far, in order to improve the security and reliability of those passwords we are discussing, the best we can do is use complex ones. In this way, the violation of them will be much more complex and we will keep what we want to safeguard safe. But of course, if the problem comes when it comes to remembering them, there is no better advice than to use a good password manager.
But of course, it is just as important to create those secure passwords so that no one can steal them. That is precisely why next we are going to talk about RandPass, a program to create those passwords that you can use in Windows . In this way we will have the possibility, quickly and easily, to generate our own complex keys automatically.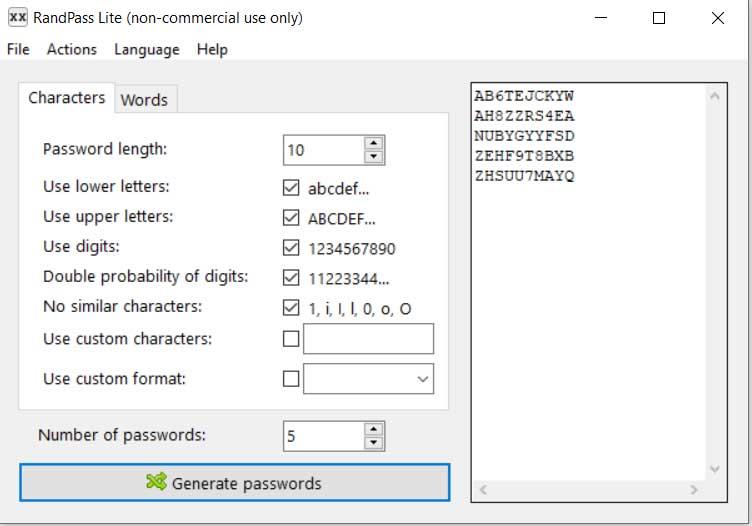 It must be taken into consideration that the use of this type of application is growing over the years. This is due to the need to use strong and complex passwords, as well as different ones, in all the sites where we register. For all this we can say that the importance of having key generators such as RandPass, is growing. All this, together with a password manager today, will help us to manage all the keys in our sessions with the computer. Therefore in reality what we can do with it is to have secure passwords in addition to not having to remember all of them.
How to use the RandPass password generator
Thus, something as common as logging into all the platforms that we access daily, will be much easier. At the same time, it will also be very useful to us when it comes to improving the security of all our data. The first thing we must know when working with RandPass is that we are facing an application that allows us to create keys that meet some prerequisites that we mark in its interface . In this way we ensure that all these keys that we believe are strong and complex, therefore difficult to decipher.
This is precisely what the program that we are talking about in these same lines offers us, RandPass. Thus, all through the user interface presented to us, we can choose passwords that contain letters uppercase and lowercase letters, numbers, and other special symbols. With this, what we really achieve is that they are unique, since everything we mention here is totally random.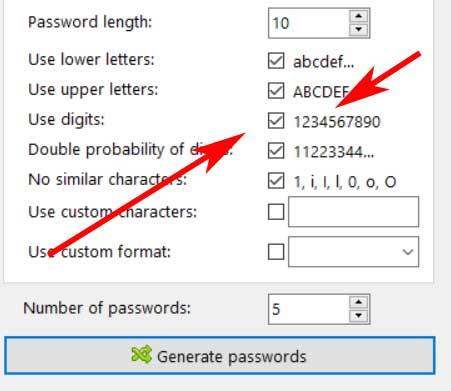 In this way, in RandPass we only have to mark the components that we want to be part of the key that we are going to create. Among these we find very useful parameters in this case, such as the use of numbers, uppercase, lowercase, duplicates, etc. The usual thing is that we create a normal password ourselves, that is, using words or numbers that we can easily remember in the future, but it is not the most recommended.
With this system what we actually do is create patterns that can be guessed by cybercriminals or by programs in charge of stealing passwords . Due to all this, the use of key generators, as is the case, becomes even more important. Therefore here, at first we do not have to mark the parameters that we want to be part of the password as such. Next, we click on the Generate Passwords button and a series of proposals will appear on the right panel.
Other features available in RandPass
We must also bear in mind that the program, by itself, offers us several alternatives in the form of passwords to choose from. It is clear that all of them based on the parameters defined previously.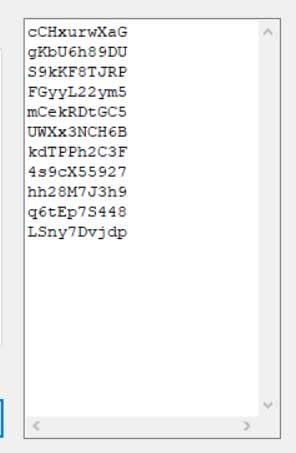 In fact, the number of proposals of this type that will be presented on the screen is something that we can also define ourselves. In addition, if we wish, we can generate and save a file with all of them to consult their content later if we need it. In the same way, we can automatically change uppercase letters for lowercase letters and vice versa with the press of a button.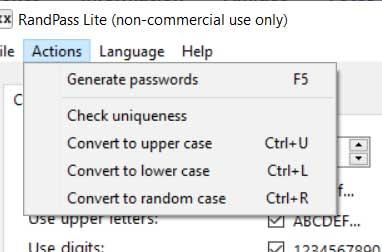 Alternatives to RandPass
Dashlane: this is another solution similar to the aforementioned one called Dashlane, that is, a strong password creator that is characterized by its simplicity of use. It also works online, so once we access the app's website , we can customize a series of parameters that will be taken into account when creating the key. Thus, in the web application we only have to specify the length of the password, as well as the types of characters that it will be composed of. You can achieve all this from this link .
PasswordGenerator: the same happens with this other proposal that we mentioned. Thus, if we choose to use this web application, we are going to find a good number of password customization options . We tell you this because here we find several options that we can select about the types of characters that are going to be used to create the new password. To prove what we are talking about, you can do it from here .
How to download RandPass for free
Well, if you want to try everything we have told you about RandPass, first of all we will tell you that you can do it for free. In addition, it is also important to know that we have an installable version, as well as a portable one to use in Windows. We choose one option or another, for all this we will have the possibility to carry it out from this link .